I've sort of wanted to eat at Almost Famous for a long time, sort of. I was certain that i'd love the food (based on photos, reviews and general reputation) but equally sure that I wouldn't be able to deal with that whole 'oh so cool', 'hey look at us, we're so frickin edgy' attitude. Not to mention the hipsters that eat there.
It turns out I was wrong, on all counts.
Let's start from the beginning, which thanks to the tedious 'no reservations' policy involved a long queue and an even longer wait. I'm really not a fan of queuing for food, especially outside on a cold winters night. It's another one of the reasons i've avoided Almost Famous for so long, so choosing to finally go at 8pm on a Saturday night wasn't my brightest idea. Still, at least there were plenty of bouncers to keep it under control (seriously, 3 huge security guards for a line to a burger place!). Perhaps it's a good thing that there was a queue though as otherwise we may have never found the place as they're obviously far too cool to have a sign.
After a 45 minute wait we were finally allowed up the 3 flights of stairs to the restaurant. I've read in other reviews that walking through the unmarked door at the top is some sort of 'Alice In Wonderland' type experience but for me after all that queuing and stair climbing it felt more like Alton Towers. Maybe I was just being grumpy after waiting in the cold for so long and being ridiculously hungry. The 'No Photography' sign on the door annoyed me too so I took a photo of it.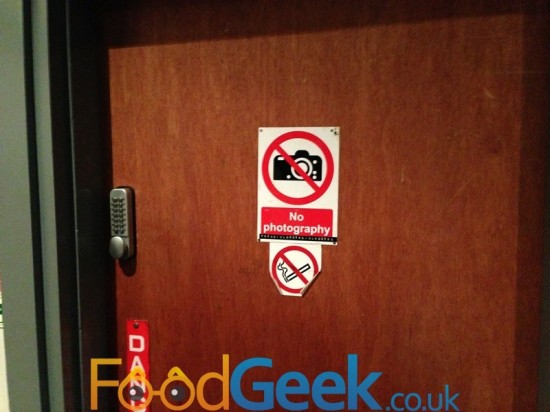 Everything improved after walking through the door, firstly they were playing Beastie Boys which is always a good thing. I was quite impressed with the decor and general style of the place too, particularly in the bar area. I'd wrongly imagined that it would be as 'dirty' as their burgers but it's actually pretty smart. Shelves behind the bar stretch right up to the ceiling filled with various bottles, very Harry Potter-esque. I liked the Union Jack Smeg fridge and giant bottles of Belvedere vodka around the place. I was less keen on the Charlie Sheen quotes scrawled on the walls.
We were shown to our seats but immediately headed back to the bar to place our order as they don't take them at the table and we were close to dangerous levels of starvation.
The menu is simple, a small number of burgers (plus a hot dog and rib roll) and sides including wings (with 3 different sauces) and fries with various toppings. The burgers all have hilarious names *rolls eyes* like 'Triple Nom' and 'DD' (DoubleD not D-D, you know, like the bra size!). I'd already ruled out the Triple Nom as the name is just to ridiculous to contemplate saying out loud so was undecided between the DD or the Smokey & Bandit. Since the other 3 members of my party went for the Smokey & Bandit I opted for the DD with sides of equally nauseatingly titled 'Redneck Wings' and 'Trailer Trash Fries'.
We returned to our table with a few beers and waited, it seemed like forever because of how hungry we were but it was probably only 20 minutes or so in reality. It gave us time to collect our cutlery, sauces and kitchen roll (no napkins, obviously). Seemingly the staff are only there to bring food to the table and nothing else.
The food finally arrived in plastic baskets which I thought would bother me but actually didn't. What did bother me was my 'Trailer Trash Fries' being stone cold, I complained and was given a sincere sounding apology and a new portion was sent out shortly afterwards. These weren't particularly hot either but at least they were slightly above warm so I decided to stop complaining and just eat them. Besides still not being hot enough they were very good fries, skin on with the occasional sweet potato included. Perfectly seasoned and topped with a generous amount of delicious mustard, BBQ sauce and fried onions!
The burgers didn't look anywhere near as big as I was expecting and my DD Burger didn't look as impressive as the Smokey & Bandits that the rest of the table received. It did taste good though. I liked the sweet brioche bun but felt the patties could have been cooked a little less. Topped with cheese, 'animal onions', 'slut sauce' and chipotle ketchup it was almost impossible to eat without making a mess but I suppose that's the whole point. The 'slut sauce' had a huge mustard kick which I loved and together with the 'animal onions' (apparently similar to those at world famous American burger joint In-N-Out Burger) it had a great traditional burger vibe. Unfortunately I didn't pick up much chipotle flavour which was a shame. Not the best burger I've ever had but a pretty good one, though it had to be after being described as 'like being roasted in a lay-by by Pamela Anderson & Ron McDonald' on the menu! *sigh*
I didn't taste the Smokey & Bandit, Almost Famous burgers are really not made for sharing but my 3 companions all assured me that it was a damn good burger.
I was unsure whether to order 'Suicide' wings as I've only read bad reviews about them. That they don't taste very good and they're not hot enough. In the end I decided against it and I believe I made the right decision as I tasted the bottles of Suicide Sauce on the tables which presumably goes into the wings. I can confirm that it's not that nice and it's definitely not very hot. I love spicy food and I've no doubt that they would be too spicy for many people but if you call it 'Suicide' sauce it really needs to be hotter.
My Redneck Wings were very good. Perfectly cooked, crispy on the outside with the meat tender and falling off the bone. The sauce was a deep BBQ sauce with a nice kick to it, much tastier than the Suicide. The only problem was far far too much sauce, the bottom of my basket was literally swimming in it.
After destroying my burger, fries & wings I turned my attention to helping a friend finish off his Chilli Cheese Fries which were pretty huge. A much larger portion of fries than the Trailer Trash and topped with chilli, jalapeños, sour cream and onion. The chili wasn't anything special really but it worked well with the other flavours and they were good fun. Unfortunately even with my help he wasn't able to finish them!
After enjoying a couple of beers with the food we decided to sample the cocktail menu. Besides having a stupid name, being served in jam jars and containing glow sticks I absolutely loved my 'Bitch Juice', a combination of gin, blackberry, elderflower and passion fruit. It was impressively made in minutes without any measuring and tasted great, really strong with an excellent balance of flavours.
So I arrived at Almost Famous with a negative attitude and expecting to hate it and I didn't at all, I really enjoyed it overall. Whilst the language and gimmicks are a little tedious it really didn't bother me as much as I expected once I'd been there a while. I was happy that the other diners appeared mostly normal with not a hipster in sight and the staff were all lovely too.
Strangely I was also wrong in my assumption that I would love the food, I liked it but I didn't love it, specifically the burger being slightly overcooked, fries cold and wings drowning in sauce. Much of that may have been due to how busy they were though. It is worth mentioning that Almost Famous is fantastic value for money, you're not paying much above high street fast food prices but for a significantly better product.
I wouldn't queue for 45 minutes to eat there again but I will definitely be back at a quieter time and look forward to trying some of the other menu items.
Date Of Visit: 02.03.2013
Follow @FoodGeekUK