I was recently invited to the Hard Rock Cafe in Manchester to sample their relaunched 'Legendary Burger' menu. I generally turn down similar offers for a variety of reasons but mainly because they're often not places i'm interested in visiting. However, as a bit of a burger connoisseur and a fan of rock music I thought it would be an interesting opportunity to see what a huge global brand like the Hard Rock are doing. They claim that they're "putting the burger back into the spotlight with their world-famous Legendary Burger menu" which sounded good to me!
As I arrived I wondered if they really needed any publicity from me since there was already quite a large crowd gathered waiting for them to open, at 12pm, on a Monday!
We were welcomed by the manager John who told us a little about the Hard Rock and their food, I was surprised to find out how much of it is prepared freshly on site including all of their burger patties and sauces. He then explained that we'd be sampling the entire burger menu, all 9 of them! And then dessert! Now, I am a pretty good eater and am capable of putting a lot away but I have to admit I was slightly worried. Thankfully he went on to say that they'd created special mini versions of each burger for us, using a quarter of each ingredient.
He left us with the menu to look at and shortly afterwards we received a glass of good prosecco as an aperitif.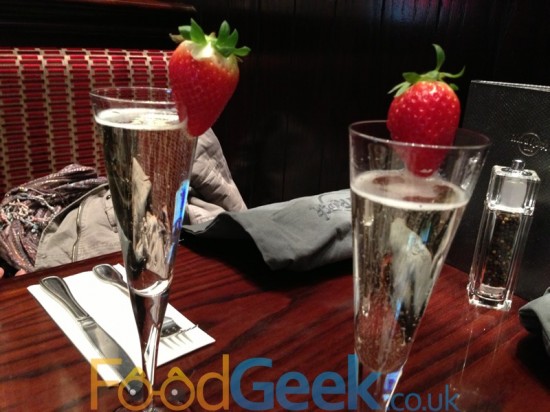 Looking at the menu I was again pleasantly surprised as i'd expected the usual uninspiring pub food to go with the burgers but there are some nice sounding dishes. Particularly in the 'Sandwiches' section with items such as 'Blackened Fish Of The Day Sandwich' with the fish blackened over a fire grill and the 'Smokehouse' offering smoked pulled pork and chicken.
Of course I was here to sample the burgers though, the 'Legendary Burgers' menu contains 9 burgers. One vegetarian, one lamb and the other 7 made from 10oz 100% beef patties with a range of toppings including 'Mushroom & Swiss', 'Hickory BBQ Bacon' and the one I was most looking forward to the 'S.O.B Burger' containing chipotle pepper puree and homemade guacamole.
When the first 3 burgers arrived I already had a smile on my face as they were served on 12″ vinyl. As an ex-wannabe DJ who only reluctantly got rid of my decks a few years ago and still own many of my records I loved the quirky presentation.
I was impressed with the quality of the meat in the patties and despite the menu warning that they'd be cooked 'Medium Well' I was grateful to find they were Medium at most and not at all dry.
The first burger I tried, 'The Big Cheese' was essentially a plain burger topped with 3 different cheeses: American, Monterey Jack & Cheddar. Personally I found it a little dull for my tastes, but i'm sure there is a market for such a burger. It was improved immensely by the addition of ketchup, mustard, onions & pickles which were all kindly provided.
The next was much better, which I suppose it has to be with a name like 'Legendary Burger'! Containing lettuce, tomato, pickle, two slices of cheese, an onion ring and seasoned bacon. Apparently the seasoning is made in-house and the bacon is seasoned daily by their chefs. The bacon was crispy and delicious, it added a great smokey taste to the burger and the seasoning really came through whilst the addition of the crispy onion ring added a nice crunchy  texture.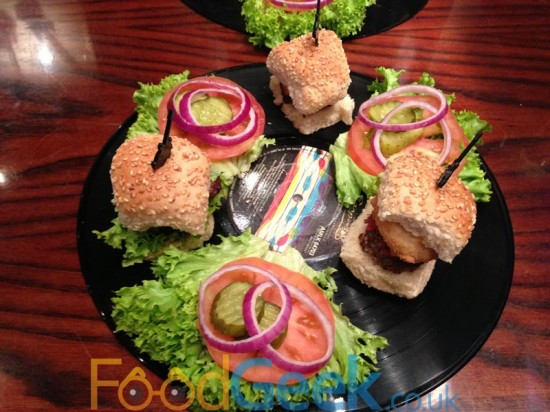 The third burger was the one I was least looking forward to from the menu because the 'blue' in the 'Red, White & Blue Burger' is blue cheese. Something I try my best to get on with but just don't. This was actually pretty nice though! There was still that distinctive blue cheese flavour but it was very subtle and combined well with the spicy buffalo sauce and cajun seasoning, I found myself enjoying the flavours by the end. When I mentioned to John how surprised I was that the blue cheese flavour was so subtle he said it was because the cheese is baked first to reduce it's strength, again I was impressed by his level of knowledge of the kitchen processes.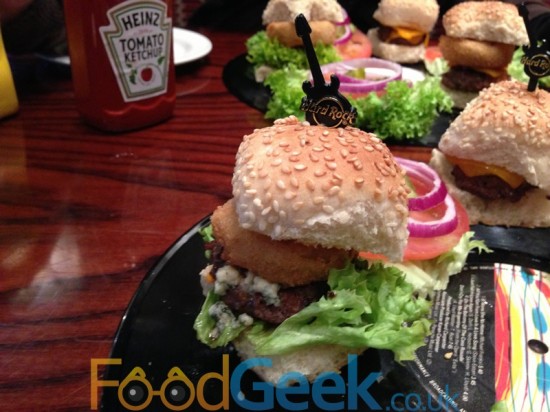 The barman came over to see how our drinks were going and asked if we'd be interested in trying a couple of cocktails. He knew that I love Mojito's (good research!) and offered us a variety of flavours. I generally stick to classic Mojitos but the mixed berry flavour did sound very good so I went for that. Mrs FG kindly ordered a classic so I could at least have a taste. Both were excellent and very strong, I was glad i'd chosen to come on the train!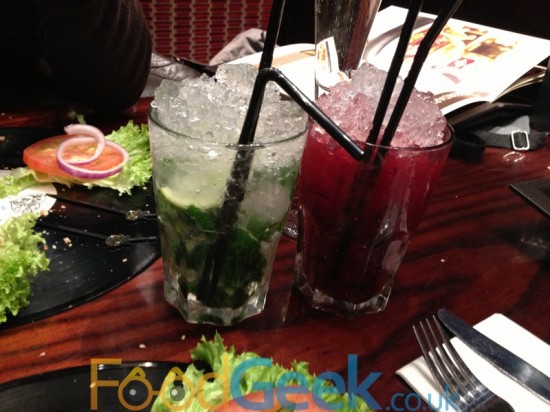 It was time for round #2. Three more burgers were brought out on a classic Whitney Houston record, including the exciting sounding 'S.O.B'. I decided to save the best til last and first ate the 'California' which was very fresh with it's cucumber, lettuce, tomato, ranch dressing and guacamole toppings and then the 'Mushroom & Swiss' which was tasty with it's topping of melted swiss cheese and juicy mushrooms.
I was right that the 'S.O.B Burger' was the best though, topped with grilled onions, Monterey Jack cheese, guacamole and with a nice kick from the chipotle puree it was definitely my favourite so far.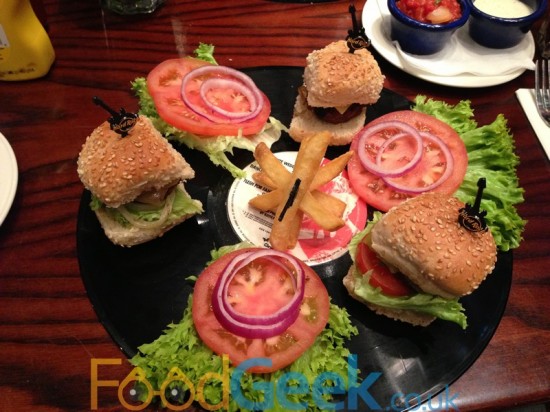 We also received a small portion of the 'Seasoned Fries' which usually accompany all of the burgers on the menu, they were fine on their own but even better dipped in the small pots of ranch dressing and house made tomato salsa we'd been given. The salsa was particularly good, lovely and fresh with a slight smokey flavour.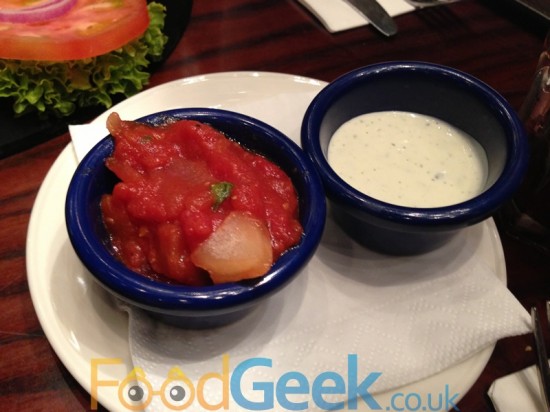 As the Mojito's were so good they didn't last very long. Luckily for us the barman had noticed and was quickly over to see what we'd like next. He recommended a new cocktail which was being rolled out throughout all of the Hard Rock Cafe's worldwide which was invented by a barman right here in Manchester! I was happy to support this achievement but after hearing what was in it I definitely would have ordered a 'Gini Hendrix' anyway. Firstly it's a great name but it also contains many of my favourite cocktail ingredients: Hendricks gin, Cointreau, pineapple juice, orange juice & elderflower. I've made several cocktails using various combinations of those ingredients, although not all together and they've never tasted this good. It was really excellent and definitely worthy of being sold in Miami, Las Vegas, Hong Kong, Paris and the many other more exotic places than Manchester that it will soon end up.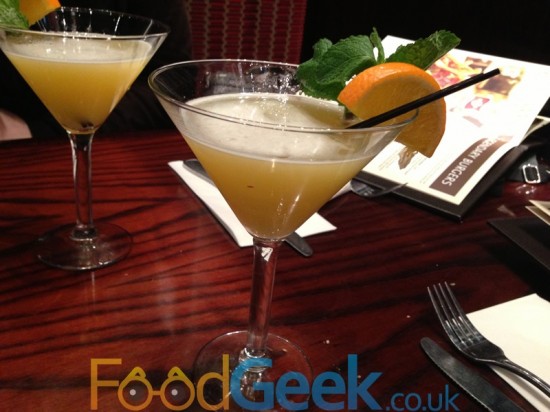 The final 3 burgers came with a tortilla bowl filled with fried carrot & jalapeños. Mrs FG felt they were a little greasy but I finished off all of mine and most of hers, I don't like to disagree but I think she was just very full by this point.
The first of the final selection of burgers I tried was another I really enjoyed, the 'Hickory BBQ Bacon Cheeseburger'. Smothered in a nice BBQ sauce and topped with caramelised onions, melted cheese and more of that delicious crispy bacon it was definitely the most comforting of all the burgers.
The 'Local Legendary' was next, John explained that each Hard Rock Cafe has a burger made with authentic local ingredients. For example the Edinburgh version contains a slice of Haggis with Whisky Maple mustard glaze. In Manchester we get a Lamb patty topped with caramelised onions, and a potato rosti, a take on a Lancashire hotpot! I wouldn't say it's the most original use of North West ingredients but it was a nice lamb burger, again the patty was decent quality, it made a pleasant change from beef and the rosti is a nice touch.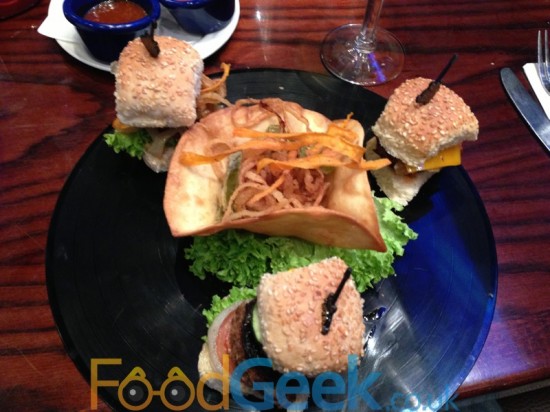 We'd made it to number nine! The 'Veggie Leggie' is the only burger suitable for vegetarians but luckily for them it's one of the best! The veggie patty was substantial and tasty, the various grilled vegetables including Portabello mushroom, courgette, yellow squash and roasted red pepper kept it nice and juicy.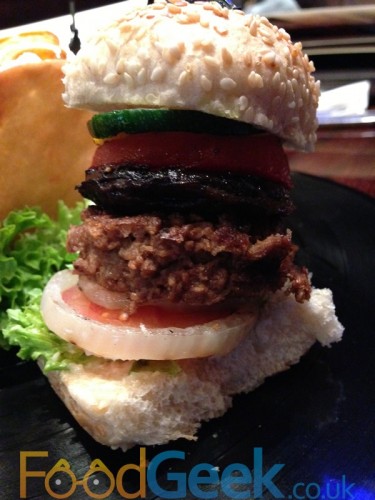 Overall I liked most of the burgers, particularly the 'S.O.B', 'Hickory BBQ Bacon Cheese', 'Legendary' & 'Veggie Leggie'. Some of the sauces and toppings are really good and I love the fact that everything is made fresh, oh and the bacon is brilliant. One thing i'm not at all keen on though are the burger buns. Maybe it's because i'm so used to brioche buns being used everywhere for the last few years but these felt like the type of buns you'd get from a supermarket. They were a bit bland and very dry which is a shame when the burgers are otherwise good. It wasn't enough to stop me from enjoying them though and i'm sure it's a personal thing that won't bother the majority of people.
As John mentioned earlier we'd be getting desserts we'd taken a look at them on the menu and although they had some fun sounding dishes like 'Chocolate Peanut Butter Pie', 'Apple Cobbler' and personal favourite 'Créme Brûlée' we wondered whether we'd be able to manage many of them after eating so much already. So it was a bit of a relief when instead we received a fresh mixed fruit salad. It's not on the menu but the chef thought it would be more suitable after 9 burgers and he was probably right. It was light and refreshing and exactly what we needed after all that bread and meat, thanks chef!
After dessert I had a nice black coffe and Mrs FG a pot of tea, she was very impressed with the selection of teas and especially that they had Earl Gray which many restaurants don't.
We both had a really good time, the staff were all brilliant throughout our visit and looked after us amazingly well. Of course they'd invited me so knew that I would be reviewing them and they can't possibly treat all their customers as well as they looked after us but I do believe they would if they could. All of the staff we met seemed very passionate about their jobs.
As a foodie I can't honestly say the burgers are the best in town. They are certainly better than most pubs are serving up though they are quite pricey. I do genuinely applaud what they're doing in terms of making the patties and sauces in house.
The Hard Rock isn't just about the food though, it's not a restaurant but an iconic venue with a great vibe and particularly good for anybody interested in music. There are loads of screens on the walls showing music videos and they have a 'Vibe Host' wandering around taking requests on an iPad.
The drinks we had were all really good and they have an impressive cocktail list, making it a place worth visiting for drinks too.
Finally, the place looks great and is decorated with an impressive collection of rock memorabilia. We sat in a corner full of Oasis memorabilia and there was others from the likes of The Beatles, Red Hot Chilli Peppers, Arctic Monkeys and even Elvis! There is a live concert stage and I can imagine it's a really good venue for their live music nights on a Friday which I believe are free entry!
Overall, I liked the Hard Rock Cafe as a venue, it's a cool place with passionate staff, a great vibe and excellent drinks. I'd be happy to go back and sample more of their cocktails but probably wouldn't choose to eat there again.
Date Of Visit: 08.04.2013