Last Thursday was one of my best days as a food blogger, though looking back feels slightly surreal. I started with a fabulous preview lunch at Aiden Byrne's new fine-dining, Michelin star chasing restaurant 'Manchester House' and ended up slightly worse for wear stealing pulled pork and pickles from a prolific food blogger.
Sandwiched in-between was the launch party of Simon Rogan's 'Mr Coopers House & Garden' at The Midland Hotel and before that drinks with several other well known bloggers who like me didn't bother going home between the events at Manchester House and Mr Coopers.
Leaving Manchester House full of food and wine it was a unanimous decision to wait at BrewDog, conveniently just around the corner from The Midland.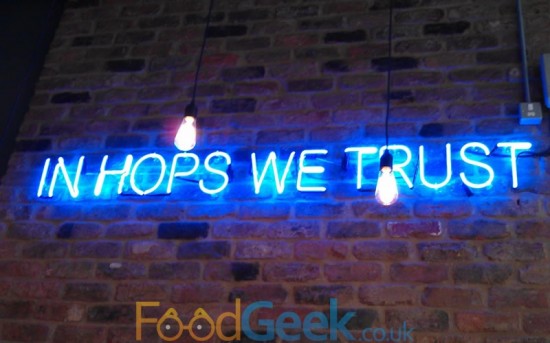 BrewDog was born in 2007 after 2 friends in Scotland "got bored of the industrially brewed lagers and stuffy ales" dominating the UK and started brewing their own craft beer which they sold at local markets. By 2012 they had 135 employees across 10 bars including Manchester which opened in May last year. Their beer is now widely available in restaurants, bars and supermarkets.
Despite being open for 16 months it was my first visit but most of my party were regulars and helped me choose my first BrewDog beer, 'Dead Pony Club', a Californian Pale Ale. I loved it and enjoyed a few more pints before meeting up with friends Rachel, aka blogger and baking queen DollyBakes and her husband Paddy, a beer expert. We then headed over to The Midland to check out 'Mr Coopers House & Garden'.
After enjoying champagne and cocktails but no food at Mr Coopers we found ourselves back at BrewDog for something to eat. I was still pretty full from a huge lunch at Manchester House but Rachel, Paddy and Mrs FG were starving.
The BBQ style menu is small with just 5 main courses and 4 sides but everything sounded fantastic. Both myself and Rachel ordered the 'Pork Ribs' but were later told that they only had one portion left which she very generously let me have since she'd tried them before.
I was hugely grateful as they were brilliant. Sticky, gnarly and charred on the outside but meltingly soft and moist inside. Served on a silver tray with a lovely light slaw, shredded red cabbage and sliced pickles. Main courses come with a choice of sides, I went for 'Burnt Beans' which were amazing! Soft beans in a smokey, spicy sauce with chunks of charred brisket making them a really hearty dish.
Mrs FG went for the vegetarian option 'Halloumi Burger', a good sized piece of halloumi was joined on the soft white roll by tomato, charred peppers, beetroot and amazing smoked mushrooms. She loved it and from the bit I tasted I could see why. Her side of 'Smoked Mac 'N' Cheese' was even better, pure indulgent comfort food.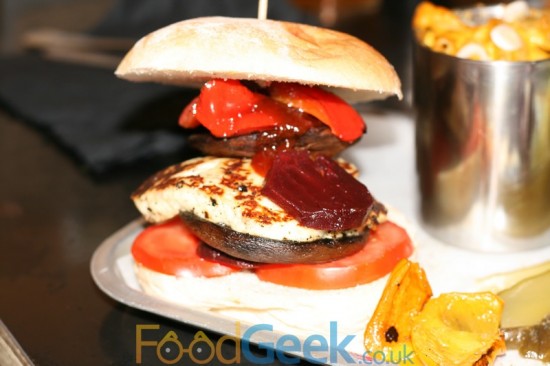 Despite supposedly always being hungry and one of the few people I know possibly even more obsessed with food than I am Rachel was struggling to finish her 'Pulled Pork Roll'. Being greedy Not liking to see food go to waste I happily obliged and really enjoyed it. We're supposed to be over pulled pork apparently but it still tastes good to me! I'm glad I got to try it although I can't help feeling slightly disappointed that she isn't as hardcore as I thought. She's since confessed to being a grazer when it comes to savoury food but it's desserts where she has no limits.
Apparently I also helped myself to both Rachel and Paddy's pickles but unfortunately by this point of the evenings things are a little hazy as the effects of the days alcohol consumption was starting to take it's toll. Hopefully I didn't embarrass myself too much but in my defence I don't often drink pretty much continuously for almost 10 hours starting with 8 glasses of wine at lunch.
One thing I do clearly remember is being shocked that BrewDog don't have a desserts menu, or indeed any desserts. I like to end with something sweet and it would have been great to see the real DollyBakes in action! It was the only disappointment in an otherwise brilliant first visit. The beer and food are excellent, service friendly and efficient thanks to the down to earth and knowledgable staff and all in all just a great venue.
Date of visit: 12.09.2013
Follow @FoodGeekUK