Manchester is at war! It is if you believe certain media anyway. It's nothing to do with gangs, drugs or music though, not even United or City. This time it's chefs; Simon Rogan Vs Aiden Byrne. Apparently they're fighting each other in a race to be awarded a Michelin star.
Simon has had a bit of a head start with his restaurant The French opening in March and next week sees Aiden get his chance when Manchester House finally opens to the public.
I was lucky enough to be invited to a special preview yesterday, as I'd been eagerly anticipating the opening for months I jumped at the chance.
I arrived at Tower 12 in Spinngfields wondering if I'd come to the right place as from the outside it looks pretty much like the reception of a regular office building. Reassured by the sight of a 'Manchester House' sign I cautiously entered. I was greeted before being sent up to the 'lounge' on the 12th floor.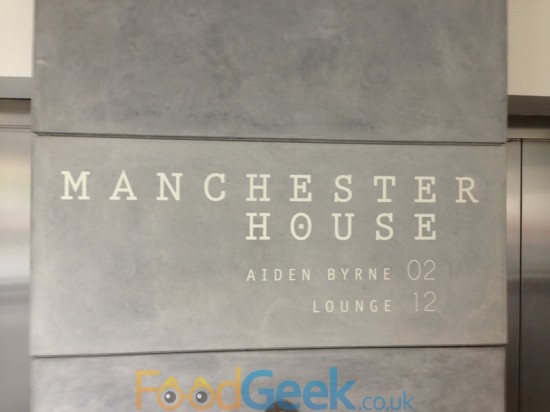 The lounge is really quite spectacular; from the stunning views of the city through the huge windows to the decor which is much more stylish than I was expecting. In my head Manchester House looked like a blinged up version of Living Venture's other high end restaurant 'Australasia' but it's actually much classier in my opinion.
The bar is both impressively large and ridiculously well stocked.
We were offered drinks and canapés; 'Red pepper tuille', 'Beetroot, foie gras and palm sugar macaroon' and 'Carrot water with crab and lemon grass'. All were good with the beetroot & foie gras being by favourite.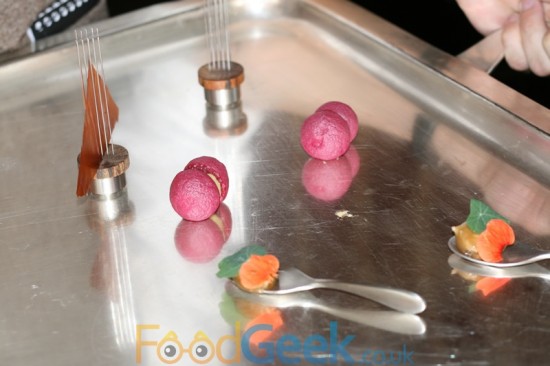 I'd have happily sat in the lounge for hours drinking wine, eating canapés and taking in the views but Aiden was providing lunch in the restaurant so another trip in the lift was required.
Entering the restaurant I was again impressed by the decor, the dining room is even less bling than the lounge and bar area! It immediately felt relaxing and a great place to eat. Despite apparently chasing Michelin stars it felt very informal.
The open kitchen is huge and about as open as you can get, there's nowhere for the chef to hide and it will be immediately obvious on every visit whether Aiden is in the kitchen himself or not. He certainly was when we arrived and looked very busy preparing the dry ice for what would be our second course.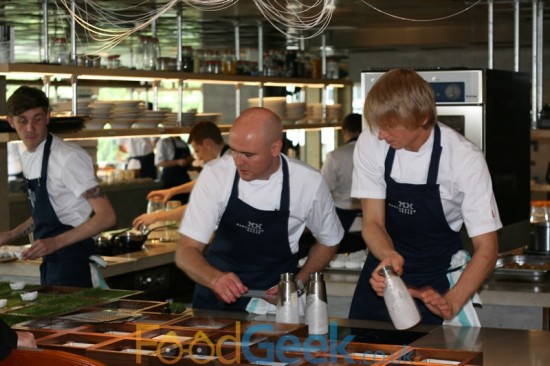 The first course was 'Ajwan Cracker Bread with Carrot Butter' a really good crispy cracker with a delicious sweet carrot puree.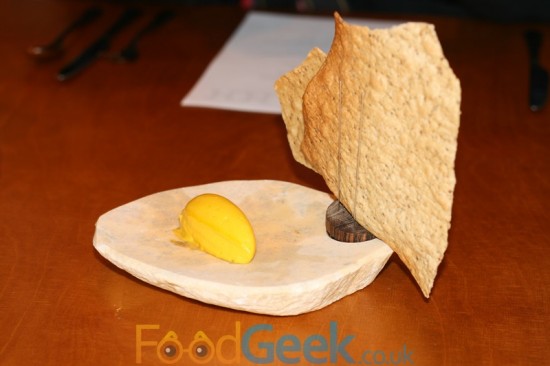 'Oyster, Beetroot, Oxtail' was a deceptively simple title as the dish was anything but simple. Presented in a very similar way to the quail & truffle dish at The Fat Duck with two of the elements sat upon a bed of moss, steaming theatrically. When a dish is presented with such wow factor it really has to taste fantastic to live up to it. For me this didn't quite do that but was a good dish.  I loved the beetroot infused single oyster but the oxtail consommé was a little lacking in flavour. The highlight of the dish however was a bread roll on the side stuffed with the most amazingly tender and tasty beef inside, I'd have been very happy with just a larger one of those! The bread came with a samphire and oyster mayo which was incredibly smooth but quite subtly flavoured.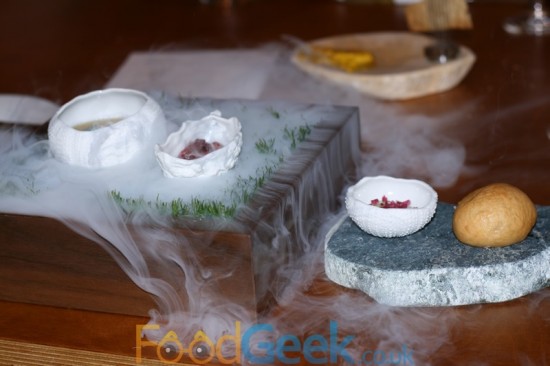 My favourite dish was probably the 'Roasted Pigeon, Black Cherries & Pistachio', Manchester Confidential's 'Gordo' announced it as his dish of the year. I can't say I agree with that but it is a very good dish. Full of different textures of cherry and pistachio and showing some seriously high end technique including an immaculate 'fake cherry' which looked almost identical to the real one. The flavours worked brilliantly well together to make a really wonderful dish.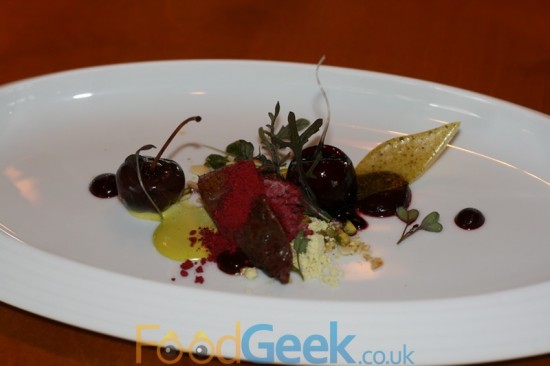 You don't often see a dish where the main component is bread but that's exactly what we got next with 'Bacon & Onion Brioche with Pea Butter'. The bread was seriously good and deserving of it's place at the centre of the dish, the accompanying pea butter and juice were incredibly light, sweet and refreshing with an intense pea flavour.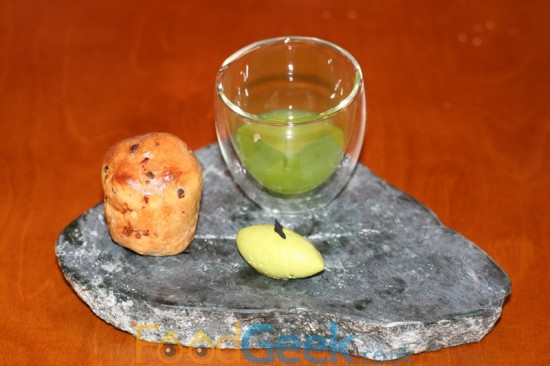 The 'Prawn Cocktail' dish was Aiden's winning dish on last years Great British Menu which resulted in him cooking it at the Comic Relief Banquet so it was great to see it here. It looks just as impressive in real life as on TV. The sphere is made from a sort of passion fruit sorbet which when broken reveals a deconstructed prawn cocktail inside. Personally I really enjoyed the dish as I'm a huge passion fruit lover and I thought it worked well with the prawns. The general consensus was that the passion fruit was a little too sour for most peoples tastes but it was just perfect for me.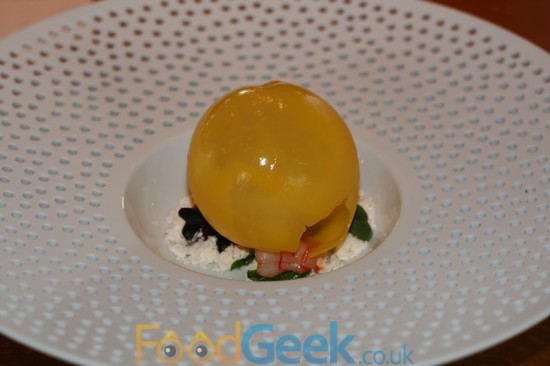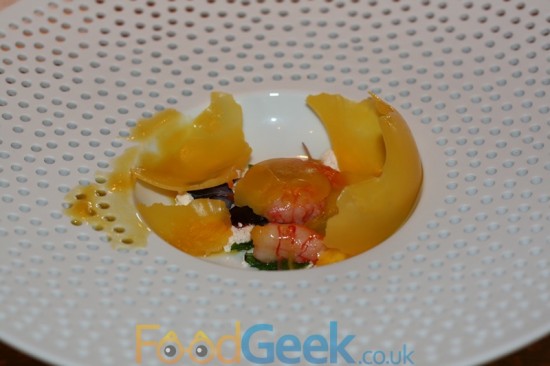 The main course was also from The Great British Menu although I didn't recognise it from the menu description of 'Welsh Black Beef, Grilled Mushrooms, Salsify', to me it's 'The Flintstones Dish'. Served theatrically on a custom made board complete with giant ribs and a hunting knife. Food wise there was a generous sized fillet steak which was perfectly cooked and seasoned but isn't my favourite cut of beef due to it's lack of flavour, much tastier was the slow cooked meat, possibly shin. The salsify was fine, the clay baked potatoes looked brilliantly like pebbles and tasted like a decent baked potato but the mushroom was fantastic. A rich and beautifully smelling truffle gravy brought all of the flavours together and was served in a fun horn shaped jug.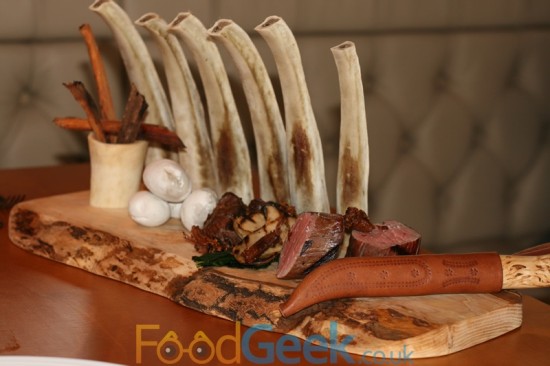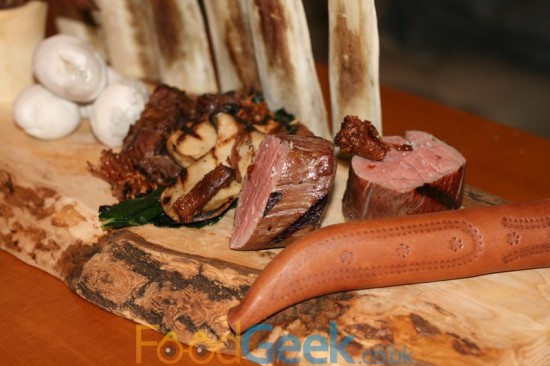 Dessert was a high end version of the classic 'Manchester Tart'. Not usually a dessert I'd pick but this was a really good version. Pretty, precise and tasted good too.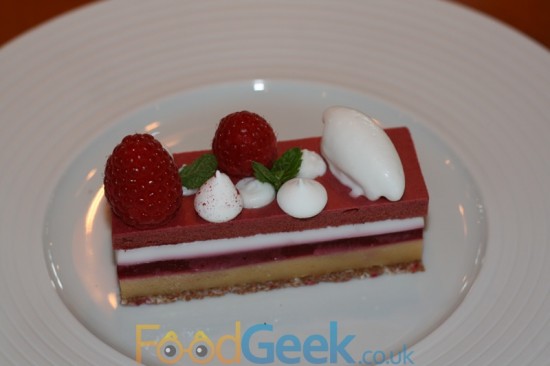 Coffee was served in cups that apparently cost £80 each! Petit fours were 'Macaroons', which I enjoyed. They were not quite as good as the ones I'd recently enjoyed at Bubó in Barcelona but then, most aren't!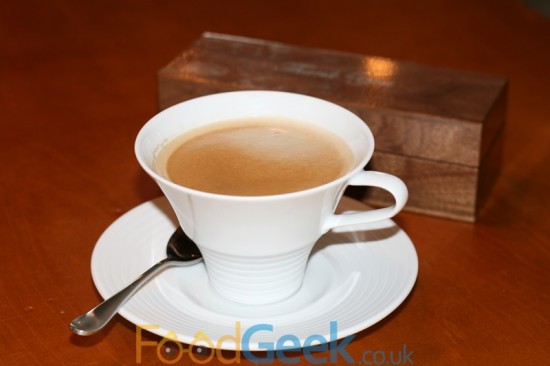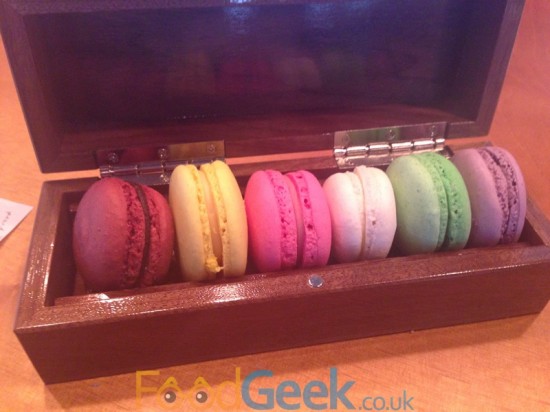 After lunch Aiden sat with us at our table and chatted honestly for a good 10-15 minutes about the restaurant, his motivation behind it and having to make certain compromises in the partnership with Living Ventures. I'd met Aiden previously at SoLita In The Street and thought he was a genuine and down to earth guy then and that opinion was reaffirmed during this conversation.
He was then joined by Tim Bacon, boss of Living Ventures who both answered more questions about the restaurant. Aiden revealed that one of his motivations was boredom, he'd been looking for a city move for a while and had looked at other properties before joining up with Tim. We also learnt that they'd spent around £3million on the refurbishment with £300,000 going on the kitchen alone (presumably the rest of it on cups and saucers). They both seemed very committed and up for the challenge, one thing they seemed to disagree on was making money. Aiden said the aim was for the restaurant to break even and the lounge/bar to bring in the profits whereas Tim seemed a little more keen for the restaurant to turn a profit too. Possibly one of the compromises Aiden hinted at earlier.
There was just enough time left for 'Gordo' to gatecrash the Q&A, not to ask questions but to make a speech and tell us that the pigeon dish was his dish of the year. He did go on a bit but Aiden isn't actually asleep there.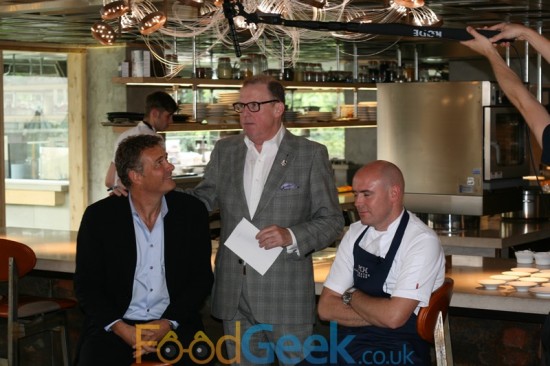 Overall I had a really good time at Manchester House, I expected to find the decor a bit vulgar for my tastes so was very pleasantly surprised that it wasn't and I actually really like it. The lounge upstairs will be a great place to drink before a meal, especially at night. The food didn't wow me quite as much as I expected if I'm totally honest but it's only because I had such high expectations. It's very accomplished cooking which I've no doubts will get better and better, I'm booked in for the full 12 course tasting menu next week which I'm looking forward to already. I'd put it slightly under The French at the moment in terms of quality but there's certainly no shame in being the second best restaurant in the city behind one as good as The French.
Date Of Visit: 12.09.2013
Disclaimer: I was invited to this special preview event and so did not pay for my food or drink. I wasn't asked to write anything and all opinions are genuine. I'm booked in for the £95/pp tasting menu next week which I wouldn't be if I didn't like it would I?