Arriving back from Spain a couple of weeks ago to a cold and grey Manchester with a touch of the holiday blues, sorting through piles of junk mail and bills only increased the depressing feeling. Until I came across a splash of colour that brightened my day and gave me something to look forward to, an invite to the exclusive launch of Simon Rogan's new restaurant in The Midland Hotel 'Mr Coopers House & Garden'.
Being a huge fan of Simon's other restaurant in The Midland, The French I already had a reservation for the following day – the first Mr Coopers was open to the public – but that was no reason not to attend the launch as well was it?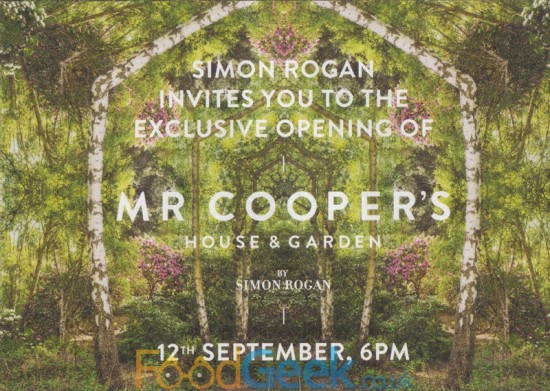 It seems Thursday 12th September was a good day for celebrity chefs to launch restaurants as it was also the date of the press lunch at Aiden Byrne's Manchester House restaurant.
After a great experience at Manchester House I was looking forward to seeing what Simon had planned for his new place. We arrived at Mr Coopers House & Garden for what seemed to be a Guinness World Record attempt for the most amount of people in a room. Somehow we managed to grab a table in the corner and spent the next hour watching more and more people squash into the restaurant. I'm guessing at least 80% of Manchester was in the building at it's peak.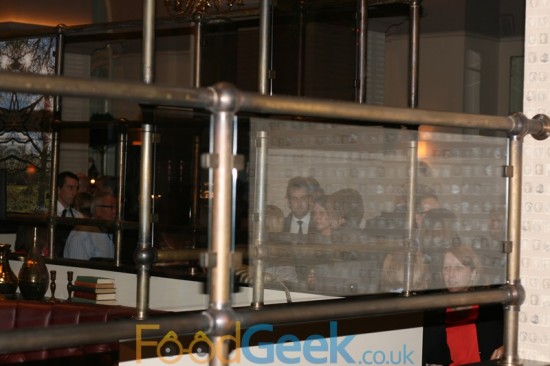 Although we were well looked after with complimentary drinks including champagne and gorgeous 'Autumn Punch' cocktails it became pretty obvious that being fed was unlikely. There were canapé versions of the restaurants new dishes being sent out but the chances of them reaching us through the crowds was remote, receiving enough to equal a meal was close to impossible. After a 2.5 hour lunch and 8 courses of Aiden's food I wasn't particularly hungry but the same can't be said for Mrs FG and the friends we were with including notoriously hungry food blogger Dollybakes! So we decided to cut our losses and head to BrewDog instead (review coming soon).
The experience of the launch party hadn't put us off, it just wasn't really our thing. Far too busy, noisy and with a little too much jazz for my liking. We returned at 7pm the next day to what felt like a completely different place. It was quiet and calm and we could really appreciate how beautiful the dining space is. As the name suggests the restaurant is divided into sections including a library and garden complete with tree and gazebo!
The menu at Mr Coopers House & Garden is a world away from that at The French next door. Whilst they're incredibly high end and use mostly British ingredients, Mr Coppers has a much more relaxed, bistro feel and takes inspiration and ingredients from all over the world. It's much cheaper in comparison too with starters from £4 and most main courses around £15. We wanted to try a range of dishes and ended up with 4 starters, 2 main courses, 1 side and 3 desserts.
On paper 'Millet bread, manchego, quince and pickled chillies' is my kind of dish and it would have been had the chillies just had a bit more heat.
My favourite dish of the night would also have benefitted from a little heat in my opinion but I loved it anyway. 'Mexican gazpacho, wasabi and avocado' is a beautifully fresh and vibrant combination of some of my favourite ingredients and packed full of flavour.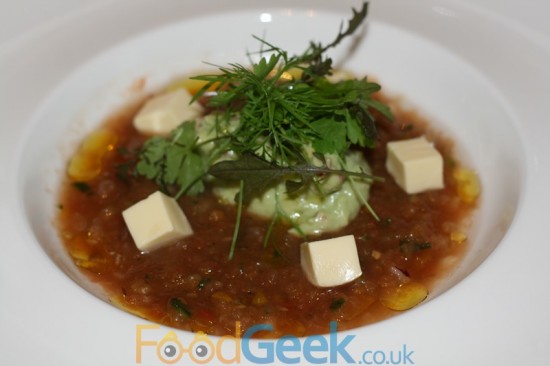 'Parmesan patties, mushroom ketchup and baby leaves' are the cutest mini burgers you're ever likely to see. The patties themselves appeared to be more mushroom than parmesan but regardless they tasted fantastic and were topped with a good amount of parmesan and delicious mushroom ketchup.
Perhaps the best looking dish of the night 'Grilled figs, ham, rocket and spicy popcorn' was slightly too sweet for my taste but the combination of top quality ham, figs and rocket is a wonderful thing. The popcorn added an interesting extra texture.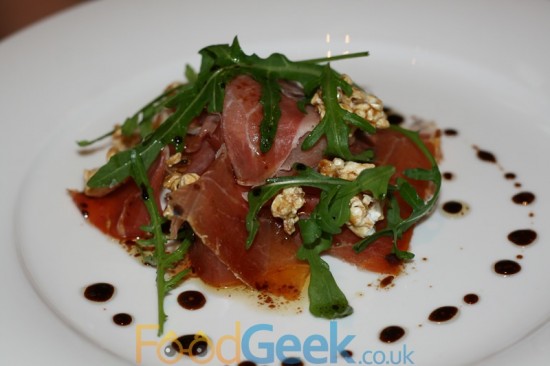 Main courses were just as good. The fish & mussels in the 'Mussel, monkfish and potato romesco' were cooked to perfection and the smooth, flavourful romesco sauce was delicious and had me feeling I was back in Spain for a few minutes.
'Chipotle polenta, hot smoked salmon, leeks and parsley coulis' was even better, although I'd have liked more chipotle flavour to come through the salmon was to die for, polenta wonderfully smooth and parsley coulis a revelation but the highlight of the dish was the topping of charred leeks.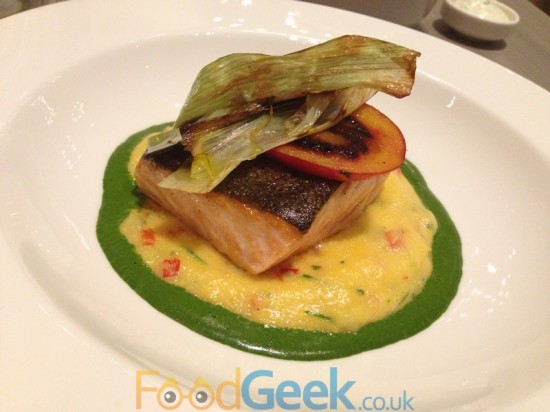 We were pleased to see one of our favourite sides on the menu 'Deep Fried Pickles', these were not the best we've ever had but a good attempt; tasty and very moreish.
One of the more intriguing dishes on the menu is a dessert called 'Chocolate Pizza'. I'm not sure how much in common it actually has with a pizza other than the shape as it was more like sheets of pastry than a dough but I didn't really care as it tasted fabulous.
'Peanut parfait, marinated strawberries and sweet cucumber syrup' looked stunning and tasted just as good. The addition of sweet cucumber syrup is genius and works so well with the other flavours.
The final dessert 'Passion pudding and coconut rice' was probably my favourite dessert and second best dish of the night after the 'Gazpacho'. A smooth custardy base bursting with passion fruit flavour and topped with a creamy, coconut rice pudding with crispy puffed rice and flakes of coconut.
Mr Coopers isn't just about the food though, they also have an amazing cocktail menu and very decent wine list. After a well priced bottle of wine we tried a couple of cocktails. Neither were quite as tasty as the 'Autumn Punch' the night before but both enjoyable all the same, the 'Cinema Swirl' a butter popcorn infused Bourbon served in a hip flask with a dried fig!
Service was very efficient and friendly, some of the staff seemed very nervous and a couple as if they were trying a little too hard but considering this was the very first night I found it perfectly acceptable and totally understandable.
Everything we ate was cooked to perfection which I suppose is to be expected as Simon was in the kitchen himself at the time but if head chef Gareth Jones can maintain that standard when Simon is not around then Mr Coopers is going to be a very popular place. I can't think of anywhere else with such an interesting menu and high level of cooking at these prices.
I only have good things to say about Mr Coopers House & Garden, I loved everything about it form the decor to the menu, quality of food and drink and good value. It's a very welcome addition to Manchester's growing dining scene and I can't wait to return.
Date of Visit: 13.09.2013
Follow @FoodGeekUK