I think eating at Casa de Tapas Cañota was my most fun restaurant experience ever. Not the best overall but probably the most 'fun'. Run by the Iglesias brothers who also own well loved restaurant 'Rías de Galicia' and 'Tickets' with Ferran Adrià my expectations were set pretty high.
You can tell it's a fun place immediately from the bright and funky cartoon characters all over the outside windows. Inside is just the same with colourful paper placemats and plates featuring cute cartoon sea creatures that wouldn't look out of place at a kids birthday party and a menu containing a cartoon cow called Tina and Samurai chickens!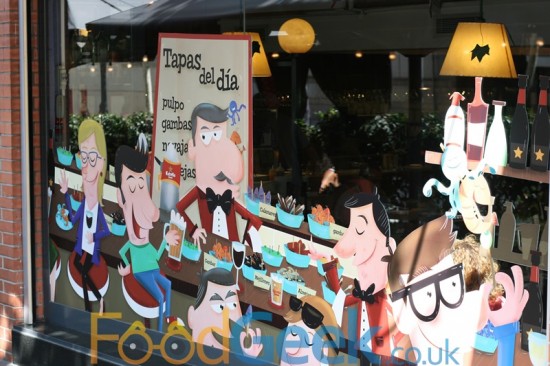 Right from the very start the food was just as fun too. 'DIY Tomato Bread' is an interactive twist on the classic starter. We were presented with a basket of toasted bread along with a couple of tomatoes and cloves of garlic to rub and squash into the bread ourselves.
A few conventional but fantastic dishes followed. A delicious salad of 'Tuna Belly, Tomato, Onion & Chilli Peppers' was fresh and vibrant with perfectly balanced flavours and top quality tuna.
'Mussels With White Wine' were the most traditional i'd had so far in Spain and by far the best.
'Iberian Ham Croquettes' were a good size and filled with wonderfully tasty ham.
'Small Tuna Pie' was more like a sort of open empanada full of tuna and peppers.
The one and only dish that slightly underwhelmed me was 'Galician Spicy Potatoes', essentially their take on patatas bravas. It wasn't a bad dish but bravas is one of my favourites and when you're promised 'sauce by Albert Adrià' you expect it to be really good. Actually, the sauce was pretty good but the potatoes were soft and colourless which I didn't really like compared to the usual crispy, fried potatoes.
At the top of the photo out of focus you can see 'Escalivada' an unremarkable but tasty plate of roasted red pepper, aubergine and onion.
A fun, inventive and utterly delicious 'Cherry Gazpacho with Goat Cheese Cloud' started a row of incredibly fun dishes. The gazpacho was bursting with cherry flavour while the goat cheese 'cloud' was initially an odd almost dusty texture but then melted in the mouth.
My favourite dish was 'Avocado, Spicy Tomato & King Prawn'. Served in the shell of the avocado it's flesh had been mashed with spicy tomato and topped with excellent king prawns and tortilla chips. For me an absolutely perfect dish that I loved.
There was a bit of theatre as a waiter approached the table shaking a cocktail shaker above his head! He then presented us with the bottom half which contained 'Molecular Wings'. Really good chicken wings in a nice, spicy sauce.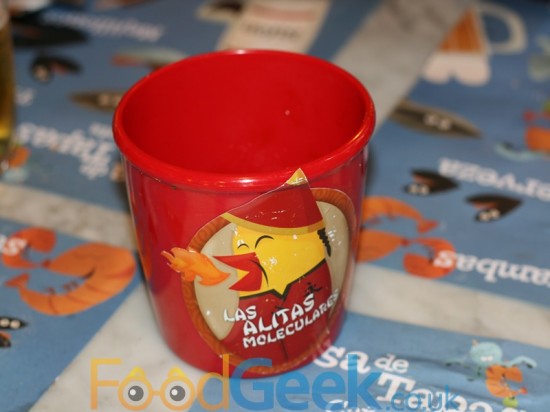 <
Two burgers next. First a 'Pig Burger' made from pig trotters with pistachio, an intriguing but delightful combination. The pork soft, warm and gelatinous with a lovely crunch from the nuts. I loved the soft, squidgy white bun which had been chargrilled.
The next burger or 'Burgerbull' is a recipe from Dani Garcia's two Michelin starred restaurant and contains melted cheese, vegetables and hot mayo. I'm not sure it was a Michelin standard burger but it was definitely very good.
Desserts continued the fun trend, first with the 'Giant Crema Catalana'. It was about the 239th i'd had that week but easily the best, probably the best ever. Not just because it was huge but it contained fresh strawberries and a delicious mango sauce which took it to the next level.
The final dessert 'Pineapple Cocorron (with surprise)' was a great way to end a brilliant meal. Large chunks of sweet fresh pineapple on a plate of crushed ice, topped with lime zest and popping candy (the surprise).
I absolutely loved the food at Casa de Tapas, most of the dishes are fairly traditional in essence but with some quirky and playful twists that really makes them stand out. As I said at the start i've had better meals overall but I can't think of a more fun one.
Service was very efficient and the staff all made a great effort to explain the dishes which I loved.
I've said it about everywhere I visited in Barcelona but I will definitely return to Casa de Tapas, i'd go back purely to eat the Avocado & Prawn dish and giant Crema Catalana but there are many more intriguing sounding dishes that need trying too. It's grown up sister restaurants 'Tickets' has moved right to the top of my wish list now too.
Date of Visit: 30.08.2013
Follow @FoodGeekUK