It's been barely four months since I bit the bullet and attended my first ever supper club at the Rusholme home of the very talented Jamie and Anna aka 'Manchester Foodies'. Back then it was a Middle Eastern feast inspired by Ottolenghi's 'Jerusalem' and I loved it. Since then, while they've been busy moving house i've attended several other supper clubs, all equally enjoyable for various reasons but you never forget your first time do you?
Having settled into their new Levenshulme home they released details of their latest event a few weeks ago and tickets sold out so quickly they immediately added another night! I was one of the few lucky enough to grab a spot at the much sought after event. It's not just the location that's changed, the menu couldn't be more different either. The fresh, aromatic and wholesome Ottolenghi dishes were replaced with pure, indulgent American comfort food!
Within moments of arriving we were presented with a welcome cocktail. As much as i've tried to love them the 'Old Fashioned' just isn't up there with my favourite cocktails, it's possibly too grown up for me. But then i'd never had a 'Maple & Popcorn Old Fashioned' before as I had no concerns with this one, the flavour of popcorn really came through having been infused with the bourbon.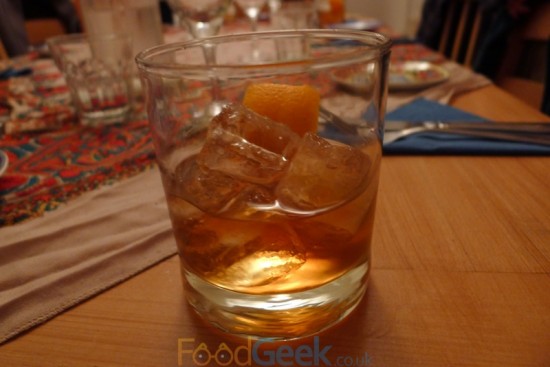 I like to think I make pretty decent homemade burgers myself but I now realise that I merely assemble them. OK, I do make my own meat patties but it's usually from mince. When Jamie & Anna made 'Sliders' they borrowed a professional mincer and made the patties from chuck steak. To further put me in my place they also baked the most perfect looking mini brioche buns and made their own take on McDonalds famous Big Mac sauce! As if that wasn't enough, they even went as far as making their own American style cheese!
But was it worth it? Well yes it was, very much so. I can honestly say it was one of the best burgers i've eaten for a while and i've eaten many. It tasted like a posh and seriously high quality Big Mac. The bread was soft and squishy, the patties although cooked more than I would personally like were still moist due to the quality of meat and had an amazing texture. The cheese was tasty, melty, stringy and utterly delicious while the sauce had that Big Mac vibe but was fresher and punchier. I'm only surprised they didn't grow their own lettuce.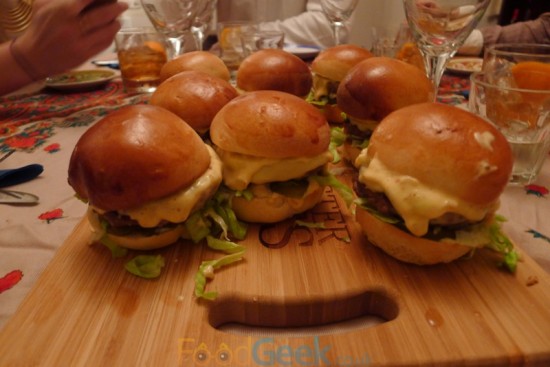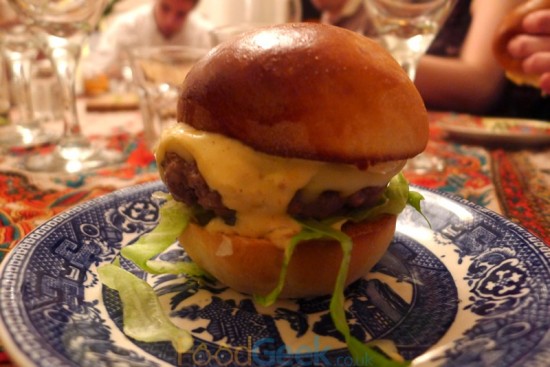 Next up was a Jamie & Anna speciality, fried chicken. They seem pretty fond of the stuff and have spent many hours (and chickens) refining their recipe and it shows. Apparently they further improved it after we left for the people attending the supper club the following day but I find that pretty hard to believe. This was damn good chicken; juicy meat that came easily from the bone in a crunchy, well seasoned coating with just a hint of background spice. Served with hot sauce and cooling celery smothered in a tangy whipped blue cheese sauce.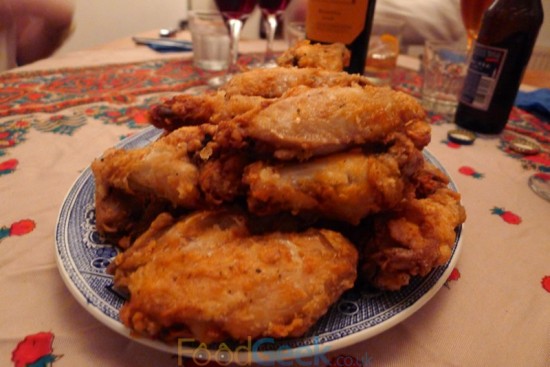 The main element of the main course 'Cold-smoked, Slow-cooked Pork Ribs' were perfectly decent; the tender meat easily came away from the bone and they tasted great. Personally I wasn't totally sure about the texture though, I presume this is how cold smoked ribs are supposed to be but not being an expert smoker could be completely wrong. I just prefer my ribs with a thick, charred and gnarly exterior I think. Not that it stopped me enjoying several of them though!
But nowhere near as much as I enjoyed the two side dishes. Having gone maybe 10 years without eating it I seem to have had quite a lot of 'Mac N Cheese' over the last few months, the best at the Farmers Arms, Home Sweet Home (not published yet) and the amazing smoked Mac N Cheese at BrewDog, the current benchmark.
Jamie & Anna's version is really excellent, it falls just slightly below BrewDog's but there's no shame in that. What it lacks in smokiness it more than makes up for in cheesy indulgence.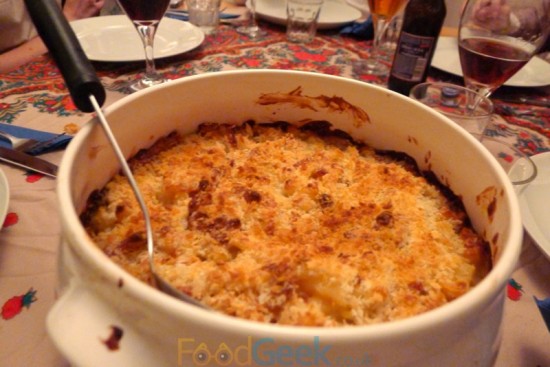 The 'Slaw' was also fantastic; fresh, zingy and crunchy. The perfect antidote to all the rich, meaty or fried foods.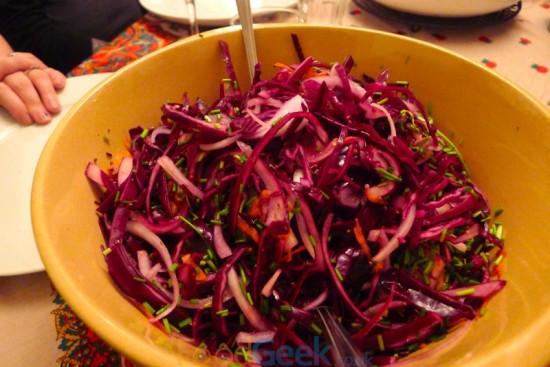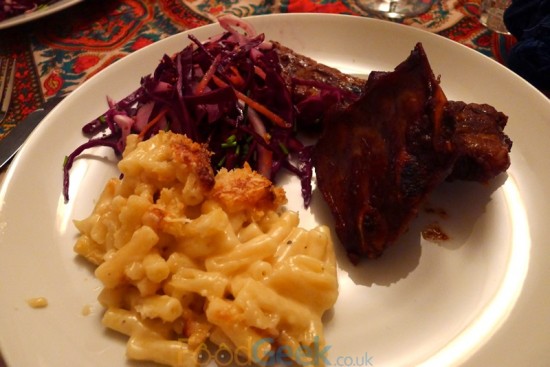 Dessert came in the form of a traditional American style 'Pecan Pie'. Sweet, sticky, crunchy, it was pure comfort. Everybody around the table agreed it was the best pecan pie they'd ever tasted. I foolishly asked whether they'd made their own ice cream, of course they had. And it was delicious, obviously.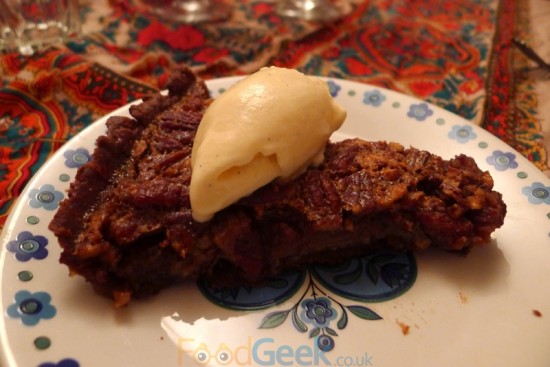 You can't have fancy pants petit fours after a meal like this, instead we were treated to rather large and very good 'Cookies'. Soft and chewy with generous chunks of chocolate they were a fitting end to a brilliant meal. Served with milk from a retro American Kellogg's cornflakes glass bottle!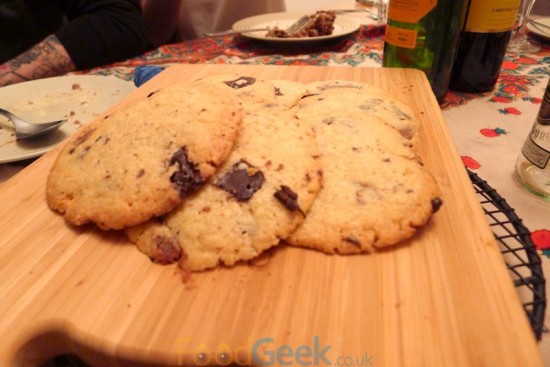 One of the joys of supper clubs is the 'Bring Your Own' alcohol policy. Generally I take wine but having drunk rather a lot of it lately and given the dishes we'd be eating I opted to take beer instead, pairing beer to food is something i've been doing a lot recently. All the beers were sourced from one of my new favourite places, Great Ale Year Round in Bolton market. I think I did a pretty good job with the pairings too. The Quantum American Amber and Brightside Amarillo made with American hops were the perfect accompaniment for the slider and wings respectively. Whilst the Quantum Elixium has an earthy, smokiness which paired wonderfully with the ribs. The best match though was fruity the Rhub 'IPA which I'd saved specifically for the pecan pie.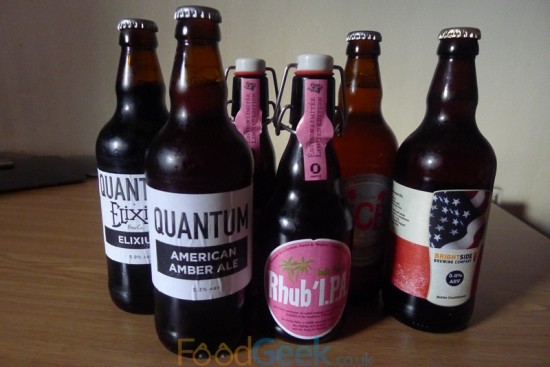 As ever with supper clubs the company is just as important as the food, i've not had a bad experience yet but this was definitely one of the better ones. We saw some familiar faces and much fun was had by all.
I have nothing but respect for how much effort Jamie & Anna put into these events and for how versatile they are to be able to switch between completely different cuisines so easily yet maintain such high standards. I can't wait to see what they decide to do next but i'm not looking forward to how much harder the tickets are going to be to secure.
Date of visit: 07.02.2014