You've probably already heard of Friday Food Fight, or #FridayFoodFight. There's been a big buzz on Twitter for weeks which seemed to increase significantly after the M.E.N described the upcoming events as "food raves". Launching on Friday 7th March and running for 12 consecutive weeks Friday Food Fight will combine some of the cities best restaurants, street food vendors and DJs.
I was already excited by what sounded like an interesting idea but that only increased after hearing some of my favourites are involved; restaurants, SoLita and UmeZushi and street food heroes Honest Crust Pizza and Arepa!Arepa!Arepa! being amongst the first names announced. Music comes from various Manchester based DJs including some from the Warehouse Project with drinks being provided by Craft Beer Project. The location is currently embargoed but it's a very cool place.
Along with the real restaurants and established street food vendors, organisers B.eat Street (see what they did there!) are also looking to promote upcoming foodie stars. Earlier this week at Penelope's Kitchen, MediaCity, four street food startups took part in a 'Cook Off', with the prize a place on the FridayFoodFight rota.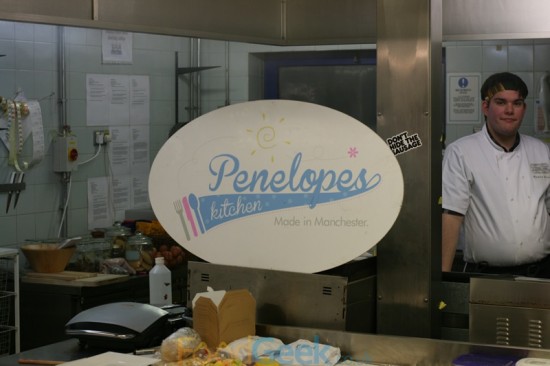 The competition was judged by Franco of SoLita fame, Manchester blogger Hungry Hoss, Asif from Castlefield Artisan Market and Friday Food Fight's own Jody (not in photo). I was invited down to watch and sample the dishes myself.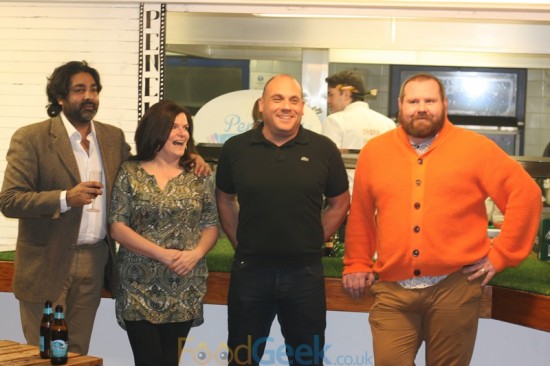 After braving some of the worst weather conditions i've ever experienced we arrived at the impressive Penelope's Kitchen very wet and windswept. We soon warmed up though, thanks in part to the Hawaiian beers provided by Will Evans of Craft Beer Project. These beers seem to be everywhere at the moment, a combination of Will's sales skills and the fact that they're seriously good. Fire Rock is a current favourite whilst I can't wait to try the fruity and refreshing Big Wave again on a hot summers day.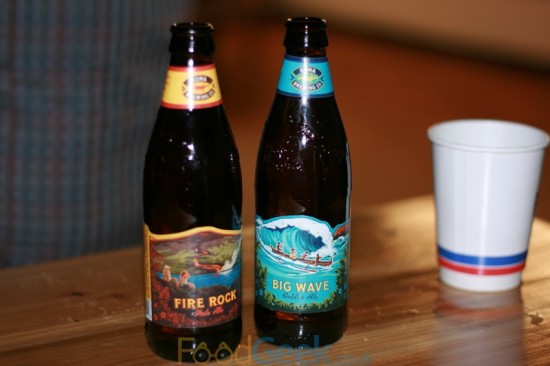 The four contestants were introduced to us as Shake, Moroc & Roll (Flavours Found), My Streetfood, Love From The Streets and Fair Game.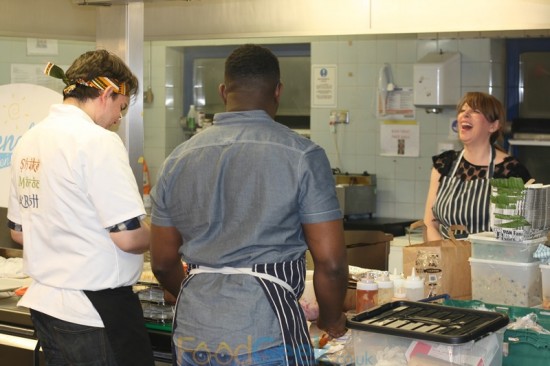 After a few more of those lovely Kona beers the competition began, starting with Moroccan streetfood from 'Flavours Found' under the name 'Shake, Moroc & Roll'. Richard has a good background and training having previously worked at several high profile restaurants including Gordon Ramsay's Claridge's. He'd also have won extra points from me for being the only contestant wearing proper chef whites.
He presented a variety of Moroccan dishes, starting on a high with two versions of cute mini flatbreads that resembled Mexican tacos from a distance. The first was topped with preserved lemon and coriander marinated chicken, personally I absolutely loved them but I did hear a few people say they found the distinctive preserved lemon flavour a bit overpowering.
The vegetarian option seemed to go down better and I enjoyed it just as much. The chicken was replaced with delicious slow roasted, smokey aubergine and peppers.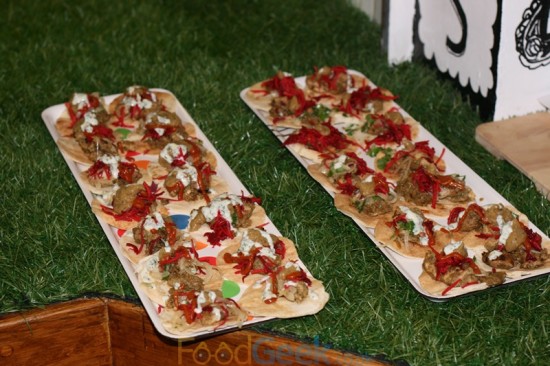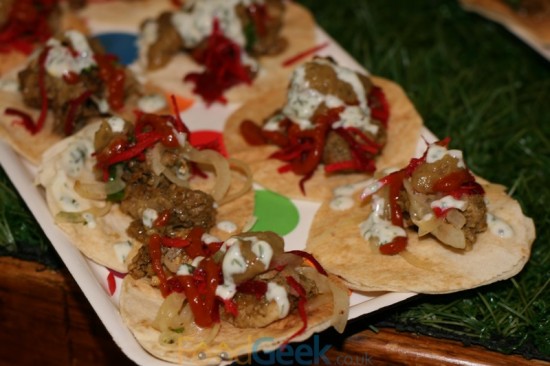 Also great were the spicy deep fried sweet potato cakes served with Harissa yoghurt and better still the little lamb Filo parcels. They looked like Asian spring rolls but were filled with the flavours of Morocco. The lamb inside had been marinated in 34 herbs and spices before being slow cooked to perfection and blended with a complex array of spices, mixed with couscous, onion, garlic, chilli and coriander.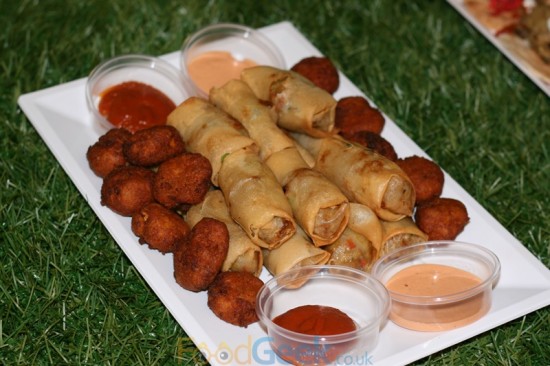 I didn't enjoy the colourful 'Far Far' as much, they weren't bad and did look pretty but I felt they didn't pack quite enough flavour. Although my only experience of them is from my favourite Indian restaurant Mughli so it's perhaps unfair to compare.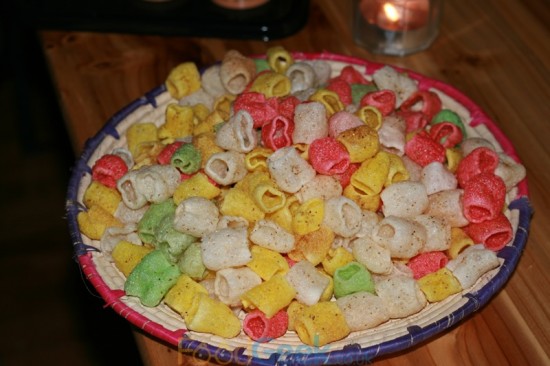 The most inexperienced of the startups was 'My StreetFood' who admitted she's at the early stages of her street food adventure. She seemed very nervous, understandably since she's so new to this and admits she's a foodie, not a trained chef as some of the other contestants are.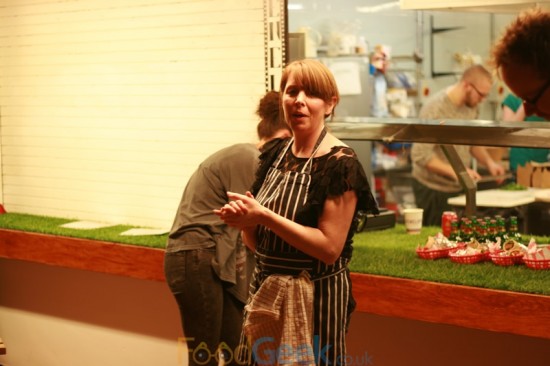 Her 'Lamb Kofta Wrap' was perfectly enjoyable, the kind of thing I eat at home on a regular basis but it didn't excite me in the way most of the other dishes did. Her inexperience perhaps came across in her other dish though as the 'Feta & Courgette Fritter Wrap' was under seasoned and lacked enough feta flavour for me.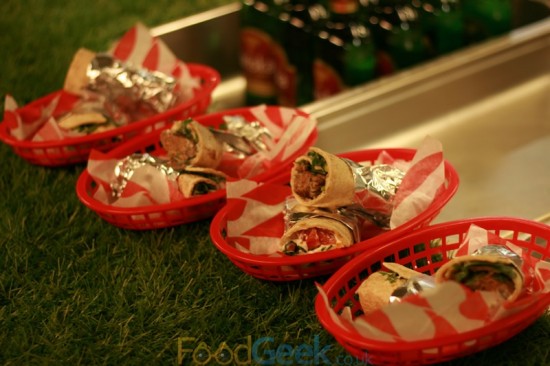 Next up was 'Love From The Streets', headed up by Jason Latham, former head chef of SoLita, 3TwentyOne and Lucha Libre. Having eaten Jason's food many times before I know he can cook, I also know he shares my love of chilli so expected his food to be full of heat and flavour. He certainly didn't let me down!
He'd been very busy as he served us a Caribbean feast including goat curry, jerk chicken with dirty rice, a spicy beef pattie and was the only contestant to make a dessert.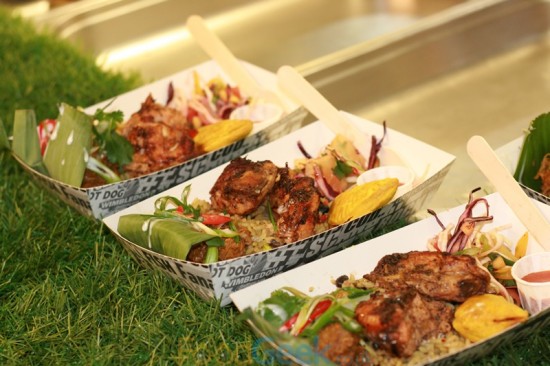 Of course Jason has a bit of an advantage given his experience but he completely blew me away with his food. I'd have been happy to receive most of it in any restaurant. The goat curry was fantastic with the meat slow cooked for several hours. The dirty rice was full of flavour, as was the jerk chicken. Speaking to Jason afterwards he was disappointed with his chicken as it's supposed to be cooked on a barbecue but due to the lack of one at Penelope's had to settle for cooking it in an oven. All I can say is I can't wait to try the proper version! Perhaps the best bit of his dish was the little Jamaican style beef pattie; crisp, flaky pastry filled with highly seasoned, meaty and spicy beef.
His 'Coconut, Chocolate & Chilli Dumplings' were less successful as unfortunately things were running behind by this stage of the evening and they'd started to dry out. I'm sure fresh they taste as good as the rest of his food.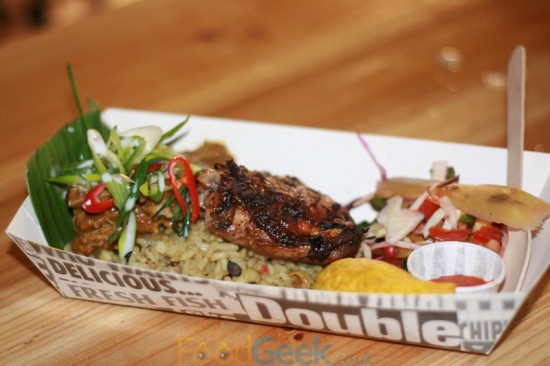 Last but by no means least was 'Fair Game', another very new trader. This time it didn't show as they presented some very accomplished dishes, albeit with a couple of minor improvements needed. Such as the 'Root Vegetable Crisps' made from deep fried sweet potato and parsnips which had unfortunately gone a little soggy, possibly due to being sealed in paper bags.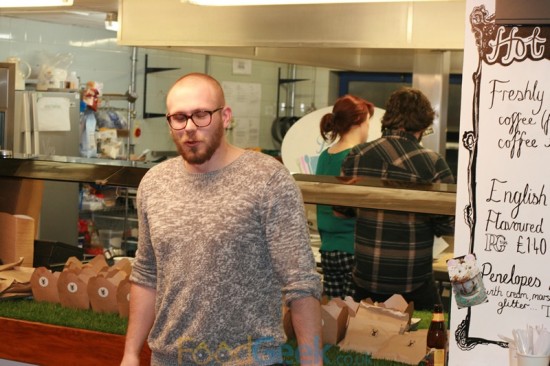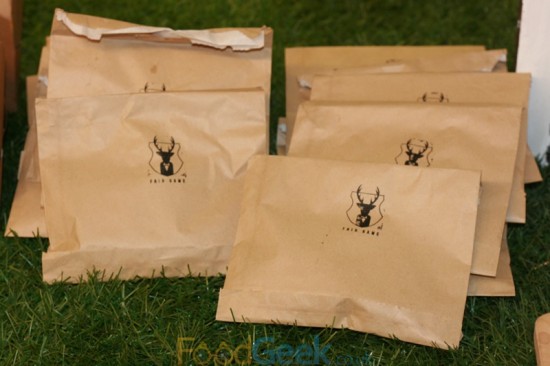 The 'Venison, Dark Chocolate & Chilli Burrito' was the dish that excited me most on paper, I really enjoyed it but it didn't quite live up to expectation. Firstly, i'm no expert but for me a 'burrito' should contain rice, otherwise it's just a wrap, semantics maybe but names do set expectations. Flavour wise it was very tasty but didn't have enough of a chilli kick for me, particularly after Jason's Caribbean food which we'd had immediately before. The biggest problem though, was that it was very wet, if I ate it on the street there's a good chance i'd have been wearing half of it. However, speaking to the judges later they said the 'Fair Game' guys were aware of all these minor issues and are confident they'll be ironed next time.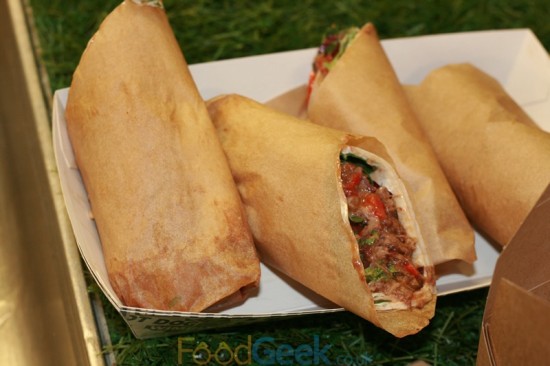 For me their final dish was perfect and one of my favourites of the night. 'Pulled Wild Boar Focaccia' was lovely, the bread soft, meat tender and full of flavour. Topped with a delicious 'Celeriac and apple coleslaw' which gave a sharp contrast and necessary crunch.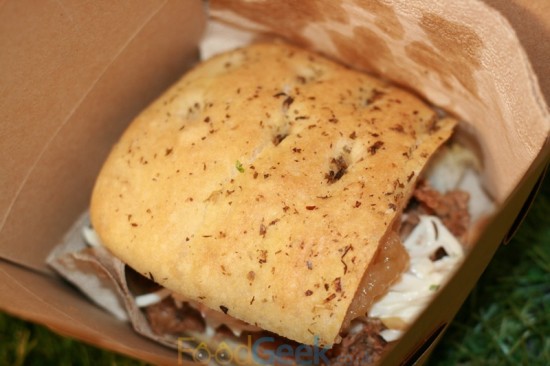 And The Winner Is…
Actually there wasn't one, there were three! The judges seemed to agree that 'My StreetFood' weren't quite ready for the big time just yet but felt all three of the other contestants were worthy of a place at Friday Food Fight.
I completely agree and can't wait to eat some of these dishes again once the first event comes around on the 7th March. Although I won't be eating the entire offering from four different vendors next time as it led to a pretty severe food coma and an uncomfortable journey home!
Keep an eye out for more announcements over the next few days including the lineups for the first week and confirmation of the venue.