Having enjoyed the first Friday Food Fight so much I couldn't wait to return the following week  to eat my way through a completely new line up.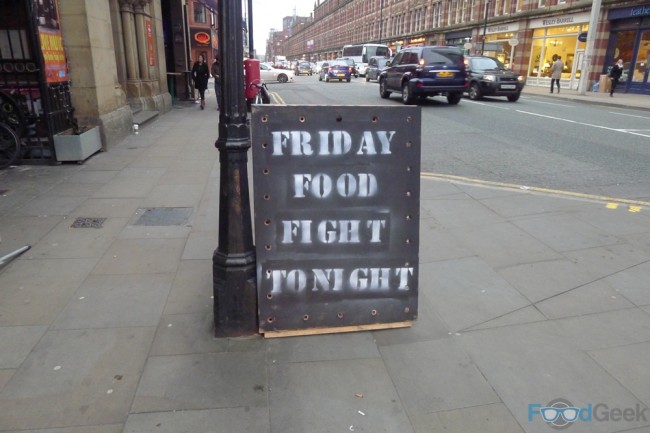 This time everything ran smoothly from the start and with no power problems we walked straight in. The venue was just as impressive as I remembered and there was already a great buzz about the place.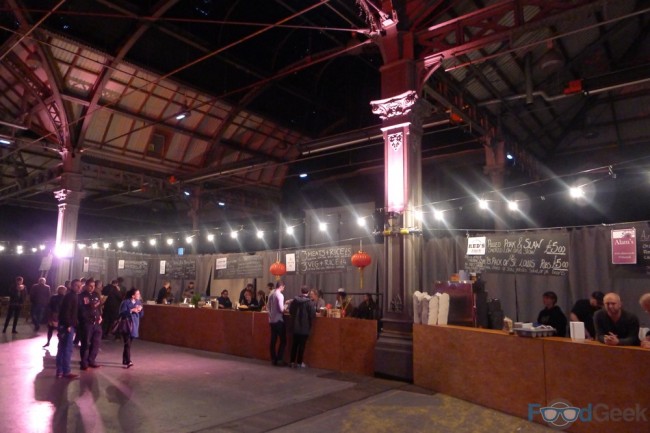 The soundtrack was provided by Juicy DJ's, the down tempo hip-hop playing when we arrived set the tone for the evening perfectly.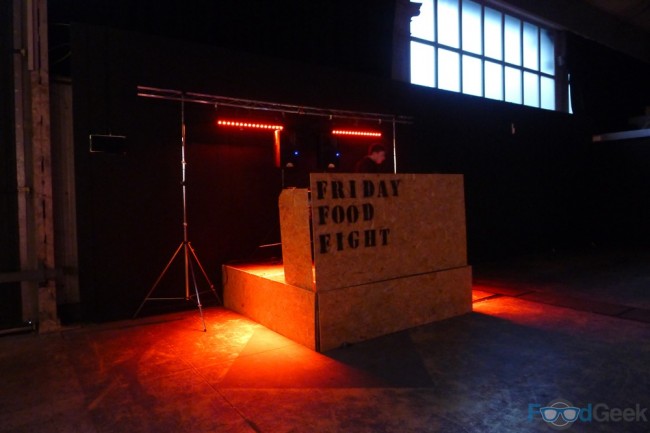 As ever it was all about the food though which also didn't disappoint. First stop was 'Bobby's Bangers' for a 'Bombay Badboy'; a wrap containing a gorgeous Bombay sausage with chickpea salsa, raita and salad. Every bit as good as it sounds.
Even better was the 'Piggin' 'Ell'; A chilli sausage on a stick! I didn't really get the point of the bit of bread on the end but the sausage itself was phenomenal. Even for a chilli head like me it had a good kick. There was also 'Roast On A Post', essentially a full roast dinner in a sausage, wrapped in a Yorkshire pudding! Unfortunately I didn't get chance to try this intriguing creation, next time!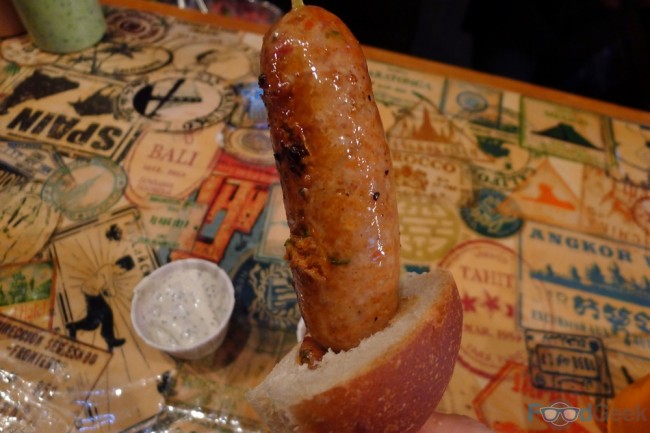 Next up was the exciting Moroccan street food of 'Shake, Moroc & Roll' aka Flavours Found that i'd enjoyed at the Friday Food Fight Cook Off and more recently at a private party. The 'Far Far' were looking as pretty as ever and despite them still not being as flavoursome as they could be (Sorry Richard!) I ate my fair share anyway.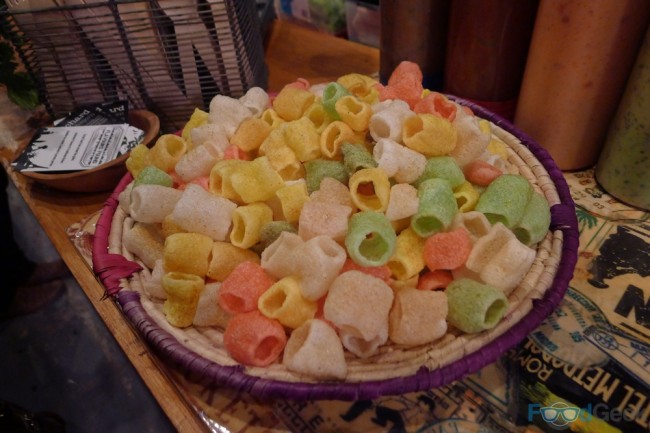 The 'Fez In A Box' was a much tastier affair. Containing a wrap filled with slow cooked Moroccan spiced lamb, Moroccan potato cakes, lamb pastilla and salad. Every element was fresh, exciting and full of flavour, street food at it's very best!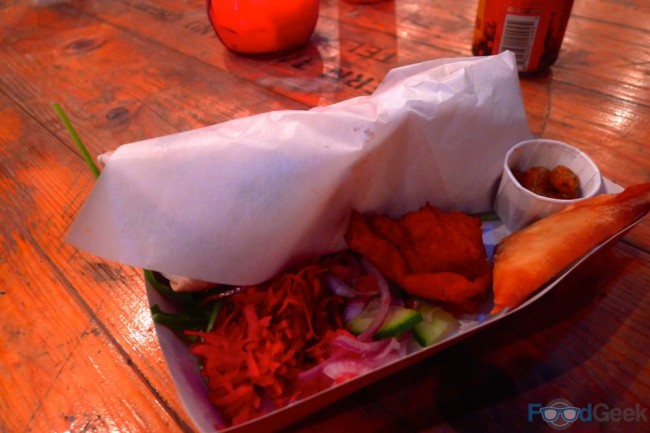 The established restaurants on show included Red's True Barbecue who won the award for biggest queue of the entire night. Not from slow service either, just because everybody wanted to eat their food, myself included. Not being good with queues I didn't end up getting any on this occasion but plan to head for them first when they return for week 4.
I did eat from another established restaurant, the legendary Yang Sing from Manchester's Chinatown. Their simple offering, served by the lovely Bonnie was either '3 Meats' or '3 Veg' with rice. I went for the meat option, not the prettiest box of food but absolutely delicious. Well seasoned rice was topped with honey roasted pork, roast duck and soy glazed chicken.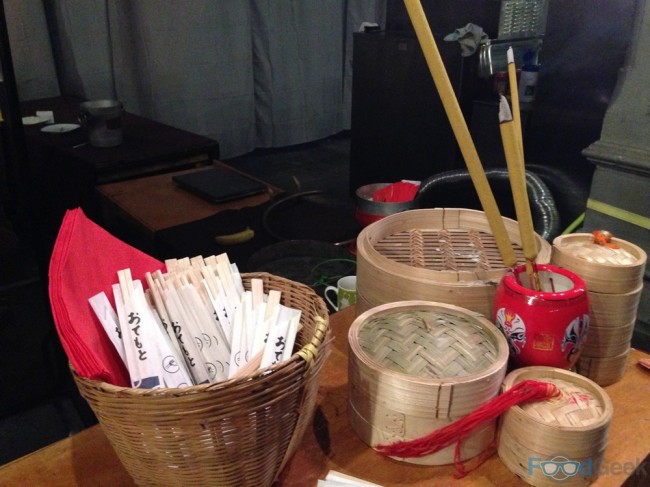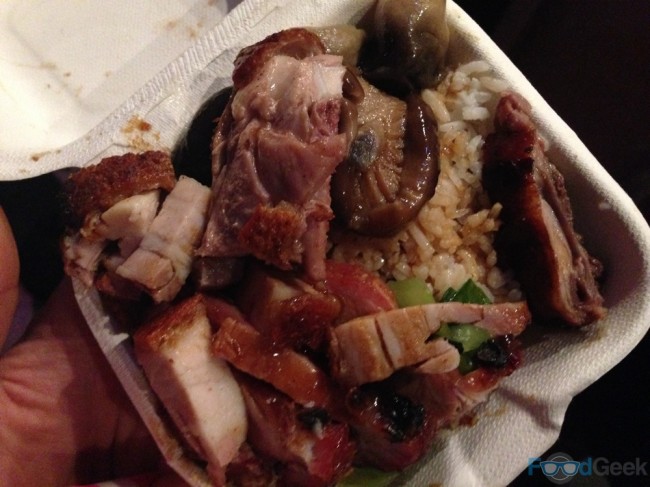 The award for second longest queue of the night went to newcomers 'Hip Hop Chip Shop', but unlike Red's it wasn't all about volume. They perhaps slightly underestimated how popular they'd be and seemed to be really struggling to keep up with demand using only one fryer. Thankfully their food was worth waiting for, especially the 'Fish Rap'; a wrap filled with chilli batter coated fish goujons and mushy peas. Their 'Fish Bites' were so good i'd eaten them before I remembered to take a photo.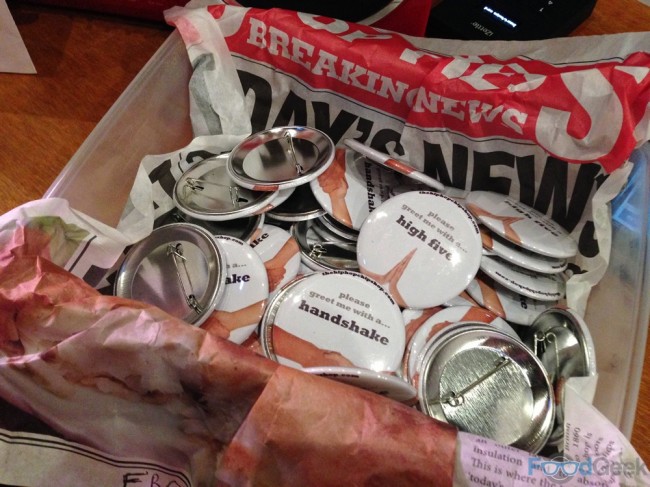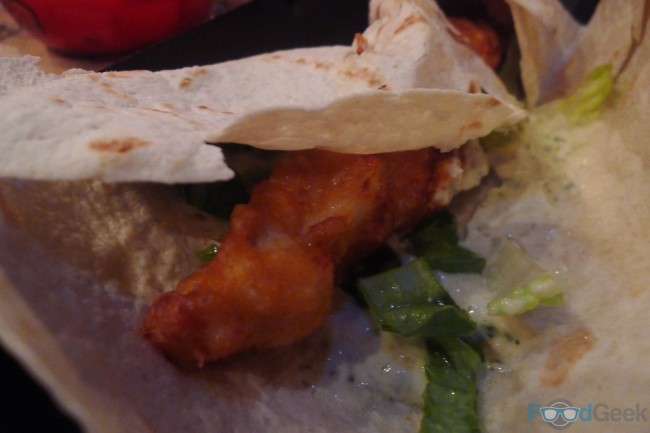 The final savoury stop was from the vendor I knew least about, Alam's. From what I could gather they make a range of chutneys and pickles to sell at various markets, for Friday Food Night they'd turned their hand to some simple Indian classics; Onion Bahji's, Chicken Curry & Samosas. I spotted they had some 'Lemon & Potato Samosas' ready whilst in the queue for Red's, always liking to support the underdog (OK and because I hate queuing) I decided to give them a go instead. They were worth leaving the queue for, lovely and crispy with a good range of spices.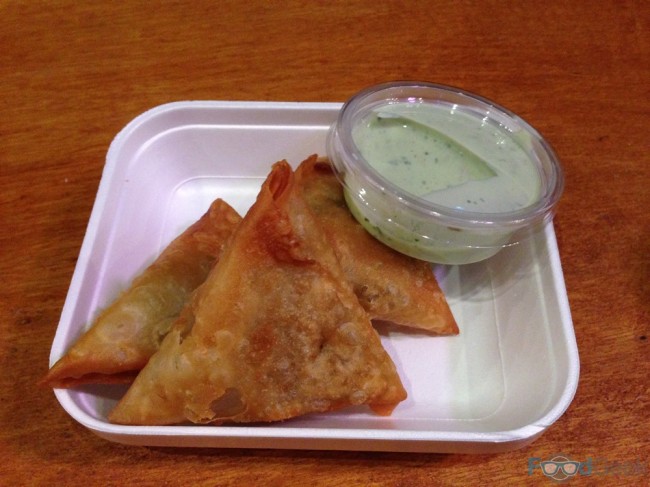 After running out of time the previous week and having to leave without dessert from the Sugar Rush Gals you'd think i'd learn but stupidly I almost did the same again. Remembering just in time to grab a couple of things on the way out to eat on the train. I didn't get a 'Caramel Candy Apple' as despite looking fabulous and being coated in all manner of icing and sweets it would still mean eating an entire apple.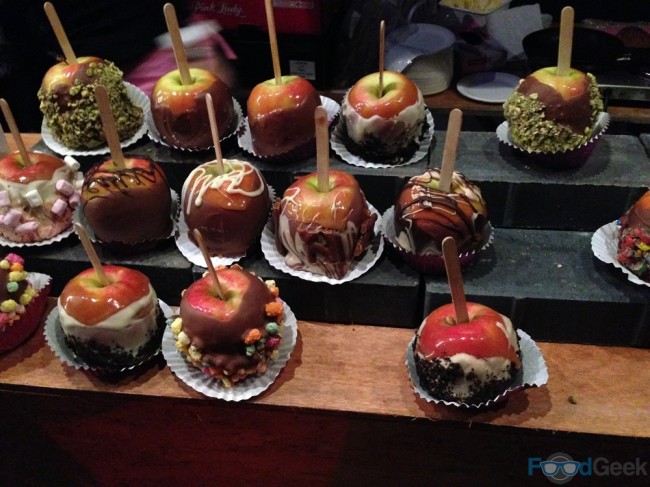 The 'Maple & Bacon Ice Cream' was stunningly good, topped with crispy, candied bacon and a giant cone. Had I been eating in the building i'd've gone for the 'Ice Cream Sandwich' (served in a brioche bun) but felt the Tub was the more sensible option for travelling. The gooey, Oreo topped chocolate brownie looked and tasted amazing. There were plenty of jealous looks on the train when we pulled it out.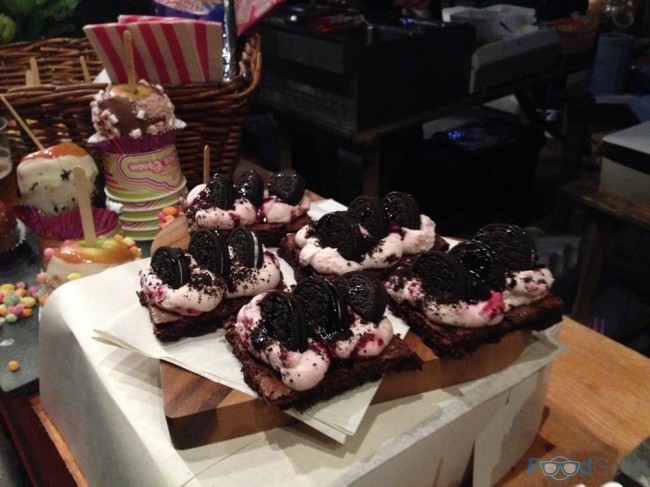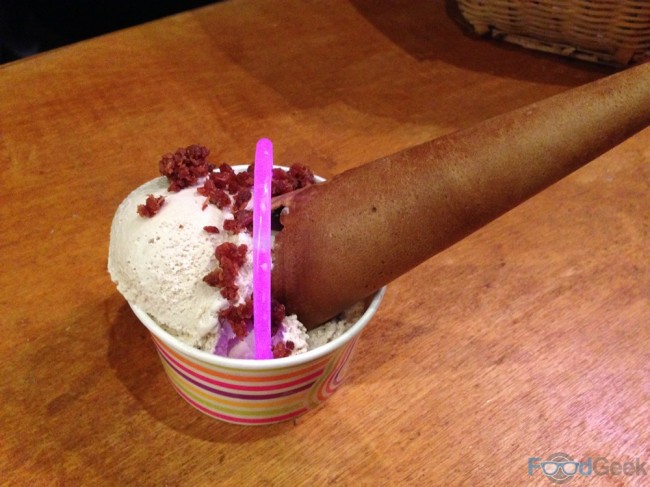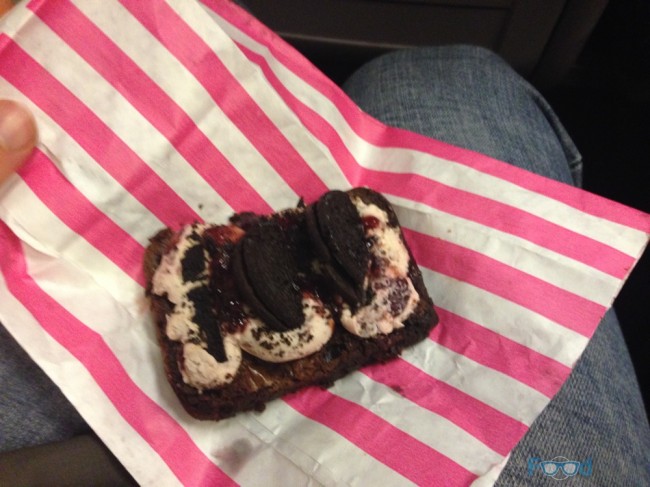 All in all it was another hugely enjoyable night, I loved the first week but this time was even better. Everything felt smoother despite the fact it was far busier than previously. The atmosphere was fantastic, music great and I just loved the range of food available. I can't wait to see what happens next time!
Date of visit: 14.03.2014