A couple of weeks ago I was invited to a 'secret supper club' by Bonnie, owner of Yang Sing. I didn't know at the time but later learned it was the first event organised by the 'Manchester's Finest' website who worked with the China Town Association. Bonnie wasn't joking when she called it a secret, I was only told: "Rendezvous at the Chinatown arch Thursday at 6.30pm and then you'll receive instructions from there!"
As somebody who likes to plan nights out with military precision I found the lack of information a little disconcerting but was intrigued enough to accept. After approaching a group of people at the designated meeting place I was handed a ticket and told to look for and follow chalk drawn arrows, eventually ending up at locked door in a dark back alley!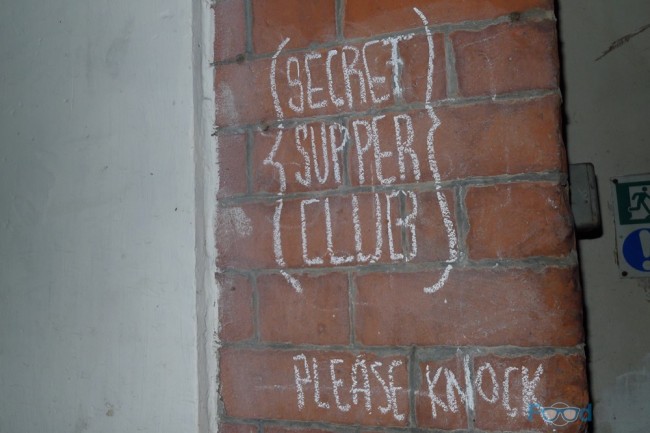 Upon knocking, the door was answered by an angry looking Chinese chef clutching a meat cleaver! After rushing past him and up several flights of stairs we entered a beautifully decorated Oriental dining room with six large round tables and a bar in the corner.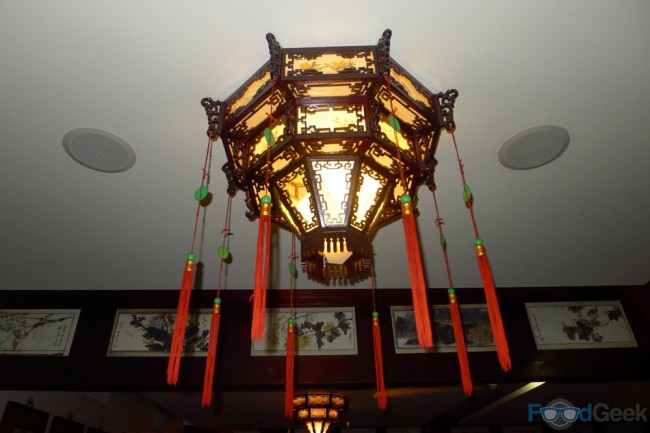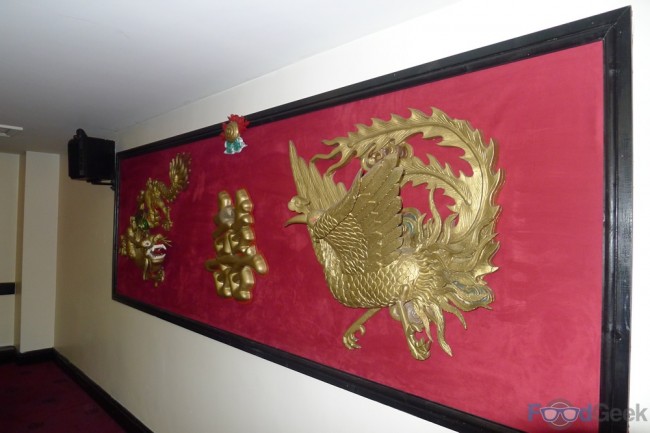 Once seated, the friendly and efficient staff kept everybody topped up with Chinese tea whilst I also enjoyed a few beers from the bar, a first for me at a supper club that needed taking advantage of.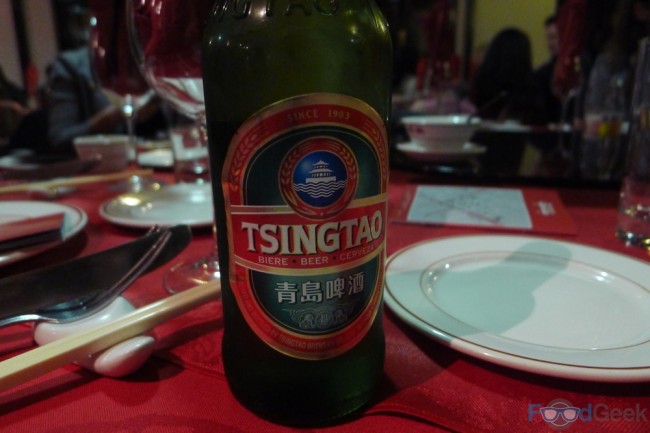 Like the location, the menu was also kept a secret, leading to lots of wild guesses when the first course arrived. Personally I could identify char sui pork, pork belly with incredibly crispy skin, some sort of beef and glass noodles. Sat next to me was legendary Manchester food blogger Hungry Hoss who identified the black mushroom like food as a type of fungus pickled in malt vinegar.
Despite generally liking to know what i'm eating I enjoyed everything on the plate.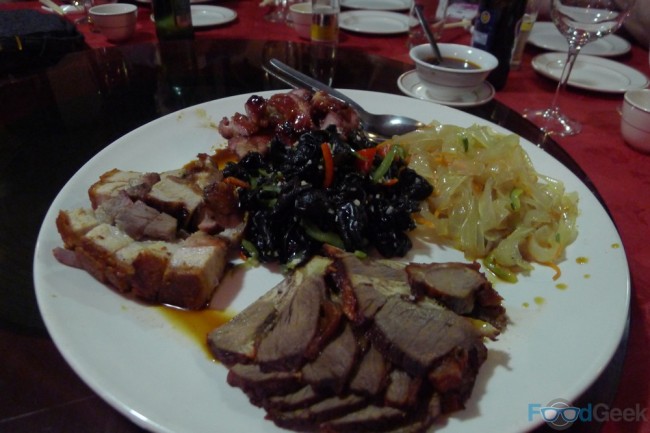 The second course consisted of several enticing dishes, though there was one that immediately stood out as it was garnished with a chickens head! Apparently nobody ate the head on any of the other tables but being the foodie table we were fighting over it. In the end I won and being my first time, Hoss talked me through which bits to eat and how to get to them. There's not that much meat on a chickens head and it's not that easy to get but with a bit of effort I ate the comb, tongue and brain. I can't pretend it was the best thing i've ever eaten but it certainly tasted better than it looked and i'd happily eat another.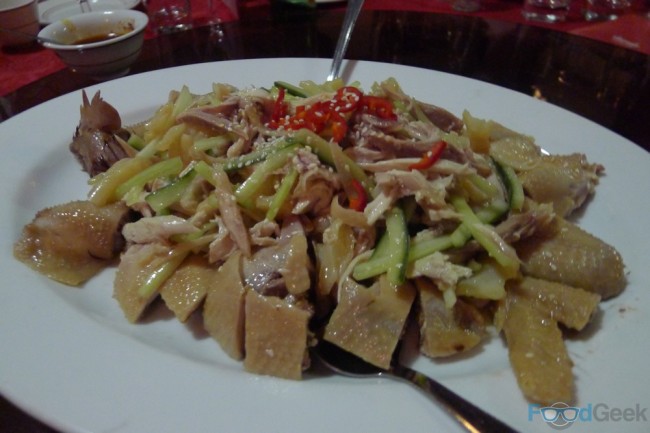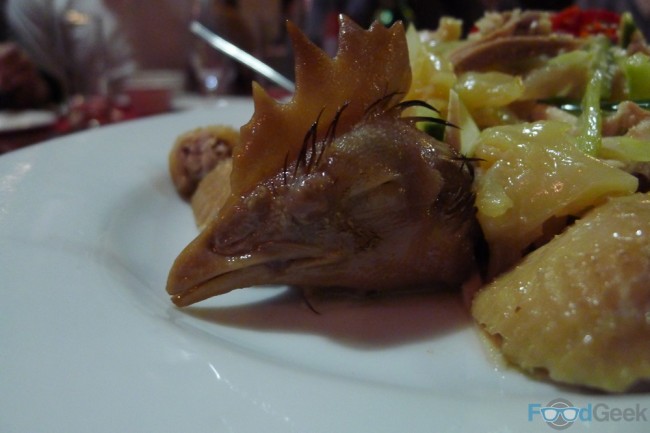 The other main courses were much more conventional, at least they seemed to be. Including some sort of Vermicelli beef dish and a very healthy broth containing tofu and pak choi. All were enjoyable with most people's favourite being some sort of meat patties.
Dessert was a giant custard fish! The retro 70's looking dish was silky, smooth and had a distinct taste of lychee.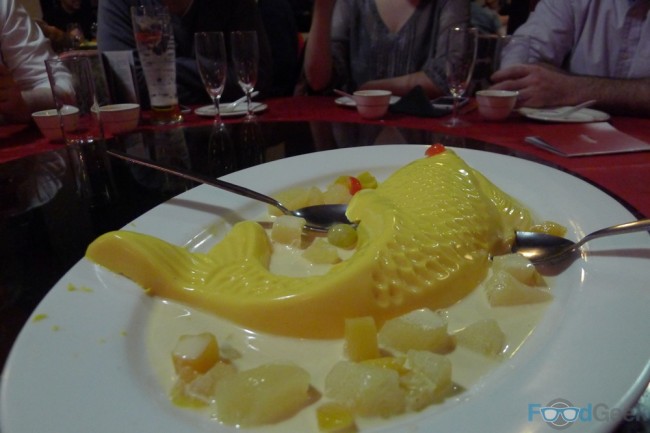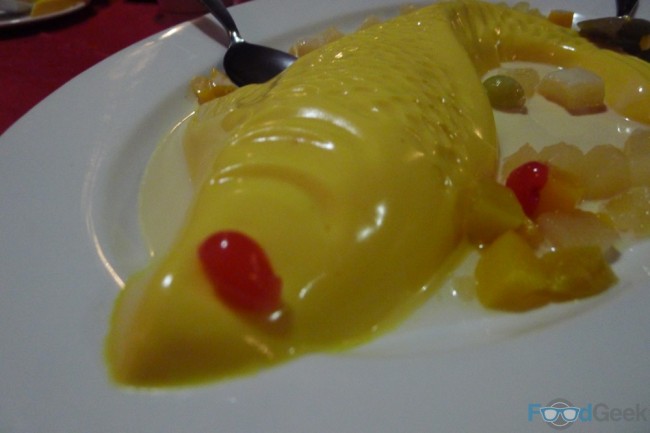 At the end of the meal Bonnie introduced herself and revealed the secret location as one of the upper floors of Yang Sing. This surprised many diners but our table had realised long ago, possibly at an advantage as most of us were invited by Bonnie herself but my geography is also pretty good and the room looked similar to others in the restaurant.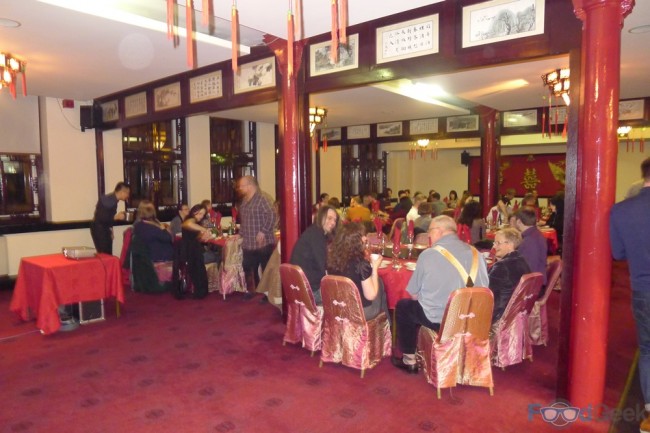 She also talked us through the dishes we'd eaten, explaining that they were the favourites of various members of her family, a lovely touch. She confirmed I was correct with the first course: Belly pork, shin of beef, honey roasted char sui pork and glass noodles. Hungry Hoss was also right with his vinegary fungus.
One of the biggest surprises was that the dish with the chicken head contained jellyfish and perhaps more shockingly the chickens anus, nobody on our table would own up to having eaten it but somebody definitely did! The popular meat patty dish turned out to be steamed minced pork with a fermented prawn sauce and the healthy broth was called 'Monks Vegetables'. There were more than a few gasps as one of the dishes was described as 'pigs intestine, stuffed with minced pork'.
Bonnie said they'd tried to push boundaries with the food but personally i'd have liked them to take it a bit further as other than the chicken head and jellyfish there wasn't anything too extreme. It's a difficult balancing act though as I did overhear some other tables claim it was too much. Perhaps there could be two versions of the menu in future?
Overall I had a very enjoyable evening though, the food was interesting and despite often studying menus before eating out I did quite like not knowing what I was eating until the end. Service was very friendly and there was a brilliant atmosphere all night. I'll definitely be looking out for future events.
Date of visit: 13.03.2014
Disclaimer: I was invited to this event and not asked to pay but wasn't told to write anything at all, let alone be positive. All views are my own and i'll happily attend future events as a paying guest.