I like beef and love puddings (both the sweet and savoury kind), so when I heard of a new restaurant in Manchester named 'Beef & Pudding' I was naturally excited.
You can imagine my disappointment then when I learned that rather than being due to a menu consisting of only beef and pudding dishes the name is actually a reference to a famous caricature of the Peterloo Massacre. The text reads: "Down with 'em! Chop em down my brave boys: give them no quarter they want to take our Beef & Pudding from us! —- & remember the more you kill the less poor rates you'll have to pay so go at it Lads show your courage & your Loyalty!"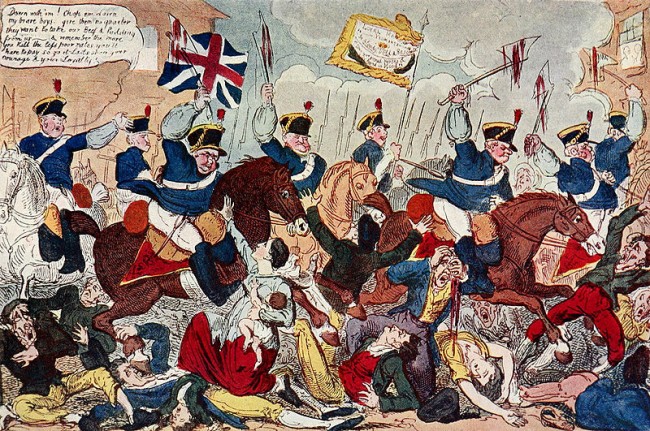 Not as exciting as beef and pudding but an interesting name nonetheless.
Beef & Pudding is the first Manchester venture but fifth pub/restaurant from the New Moon Pub Company; owned by Paul Newman and former TV chef Dave Mooney who worked under Raymond Blanc and Marco Pierre White before appearing on various TV shows, including as resident chef on Granada Tonight. They described the new venture at former pub 'The Crown' on Fountain Street as an 'urban pub & kitchen'.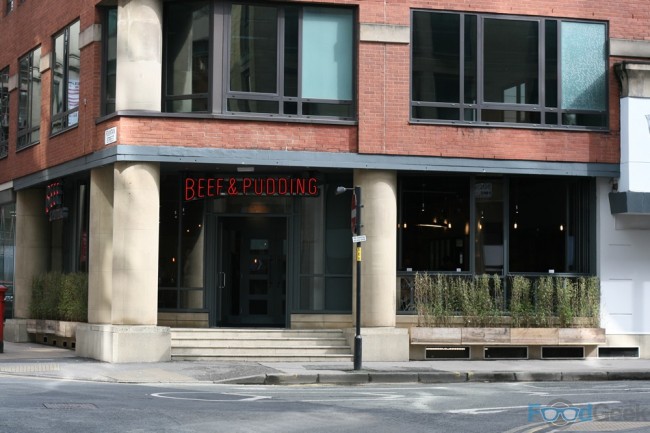 I was invited to try the restaurant during their soft launch which I'm always slightly nervous writing about since they're essentially still training. Thankfully, besides a couple of minor points I could have easily been eating at a well established restaurant.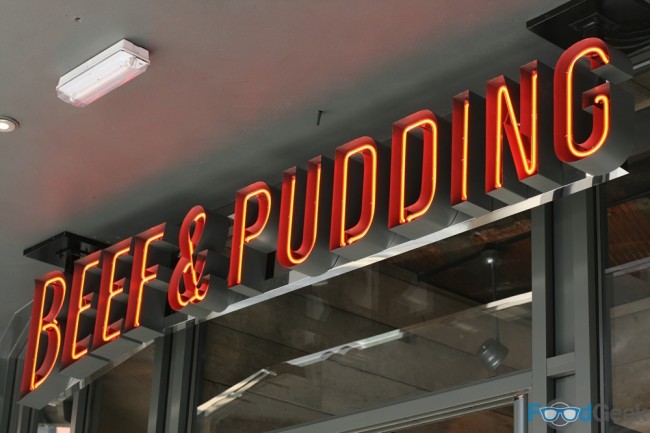 The decor is certainly 'urban' with it's exposed brick, metal fittings and unfinished (intentionally) ceiling, I like it a lot.
There's a touch of class too as thanks to Dave's love of champagne Tattinger features heavily.
And a big screen displaying tweets, so be careful what you say!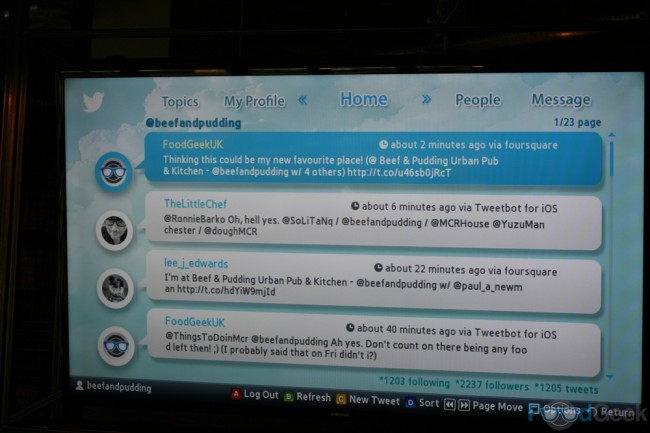 The menu is an intriguing mix of pub classics and more exotic dishes, many proudly made with some of the best local ingredients.
I started with a combination of the two, 'Bread Oven Duck Spring Rolls' contain Chinese spiced Peking duck, slow cooked overnight in their bread oven with slaw and a Vimto plum glaze. These were a fantastic start; the duck meat tender and heavily spiced in a crispy roll was delicious and the Vimto glaze, although slightly too sweet for my taste is genius.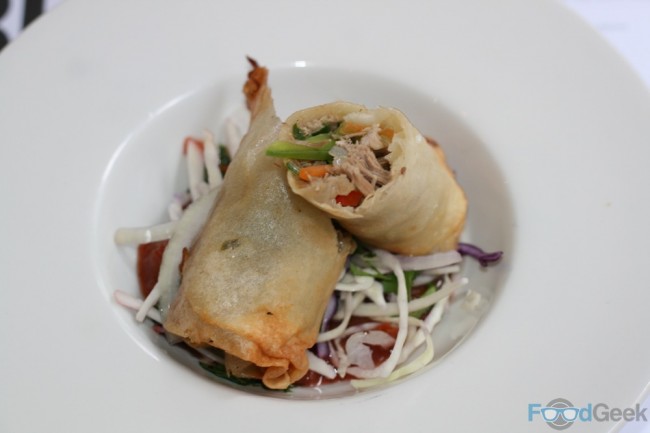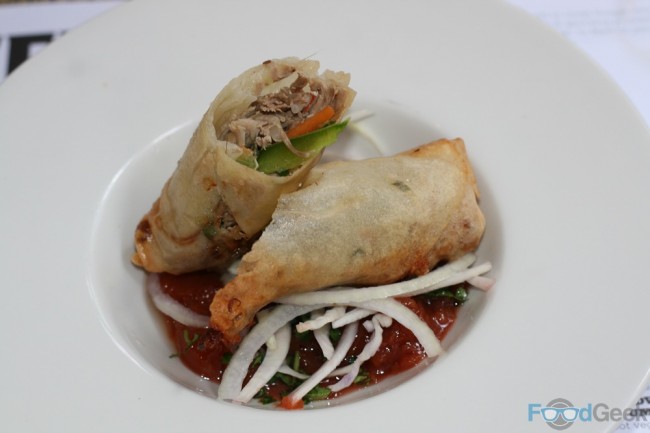 'Tempura Monkfish Cheeks' were even better, served with a gorgeous Tandoori mayo and a lime pickle that I actually liked (i've been trying for years).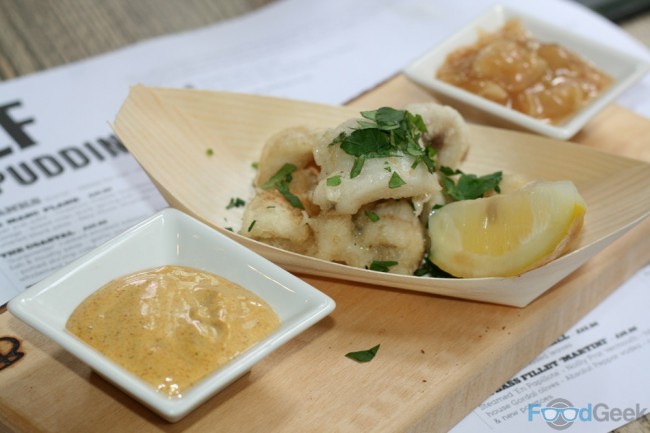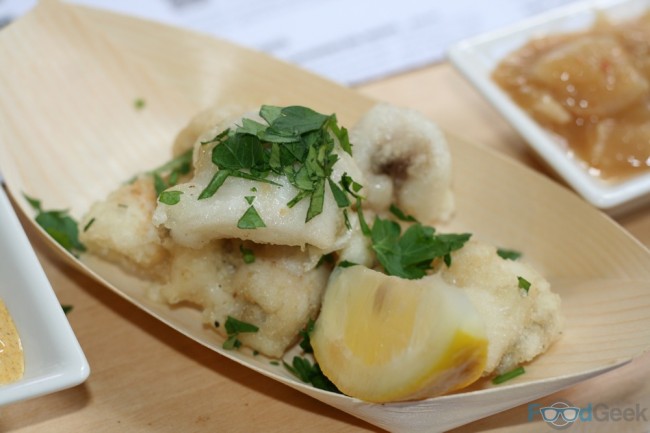 Either Dave and his staff have psychic powers or they keep a close eye on their Twitter stream as within minutes of me telling somebody I wished i'd ordered the 'Crispy Tripe' starter as well it arrived at my table! Served on a bed of Lancashire cheese and pickled onions it was a dish brilliant in it's simplicity and even made tripe sceptic Mrs FG happy.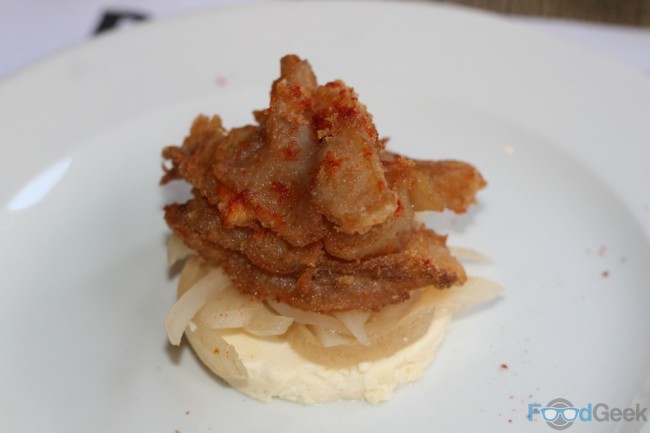 For my main course I wanted to go for something refined like the exciting salads or 'Poussin Curry' but in the end I just couldn't resist a burger created in tribute to Manchester's 'Beetham Tower' which sounded absolutely nuts. The 'Beef'ham Tower' contains a house-made burger, sweet chilli beef brisket, horseradish, suet pudding & mushy peas, onion rings & 'howling at the moon' sauce, in a brioche bun. With dripping cooked chips and proper 'chip shop' gravy on the side!
Mine arrived looking more like a famous Pisa landmark, but i've seen others since that were fully supported, i'll forgive them since this was the first day of their soft launch. It didn't stop it being a damn tasty burger and made little difference since there was no way i'd be eating it fully in tact anyway, after removing the onion rings I had a good go at the rest. The burger patty was a little over cooked for my liking but was flavoured with spices and mustard seeds which I loved, the horseradish flavour didn't come through which was a shame but otherwise it tasted great. It's probably the first and last time i'll have suet pudding & mushy peas on a burger but I enjoyed it.
The best bit was a pipette filled with a searingly hot sauce which arrived inserted into the burger. Squeezing it released the 'howling at the moon sauce'  – made with several different types of chilli, including scotch bonnet – and gave the whole thing a wonderful kick.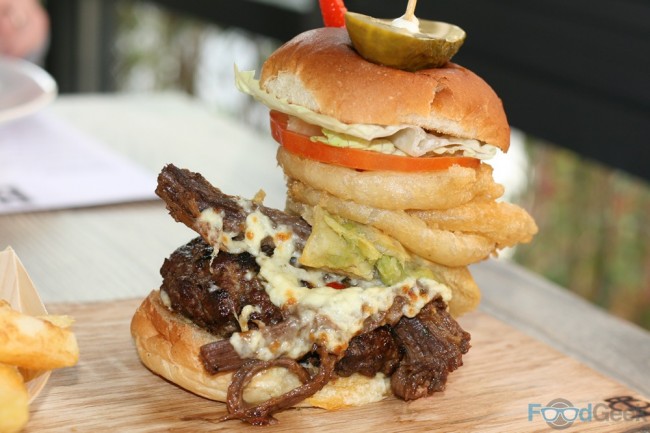 The dripping chips were very good, 'chip shop' gravy excellent.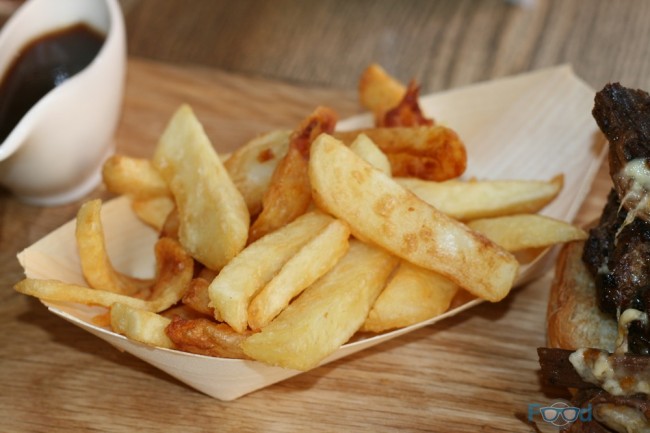 Mrs FG went for 'The Pudding' an impressive looking beef & venison suet pudding. We both agreed that despite it also lacking the horseradish flavour the menu promised it was otherwise fantastic, the best suet pudding either of us have ever eaten in fact. Served with perfect mash, black peas and more of that gorgeous gravy.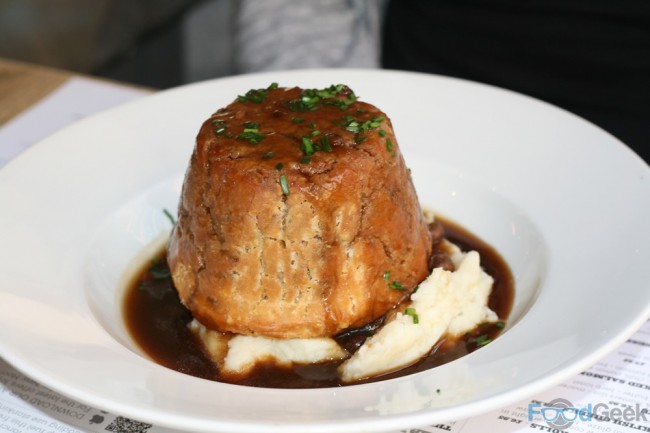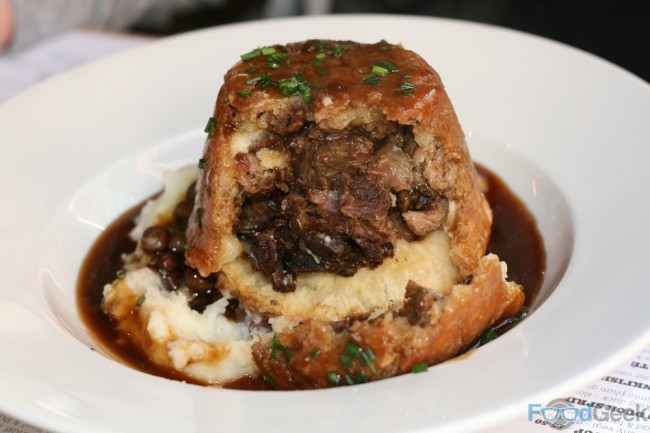 The dessert menu reads like a 101 of classic British puddings and if i'd had to choose between them i'd still be sat there staring at the menu now. Thankfully it wasn't necessary as they conveniently offer a 'Pudding Plank' which features five of them; Sticky Toffee Pudding, Chocolate Tart, Cheese Glazed Eccles Cake, Bakewell Pie & Banoffee Cheesecake with custard, whipped cream and chocolate sauce. Although when ours arrived I noticed we'd also got an unadvertised slice of Chocolate Brownie & Treacle Tart. Perhaps Dave really is psychic and knows that Treacle Tart is my favourite (I definitely didn't tweet it that time) but I suspect he was just making sure he finished us off.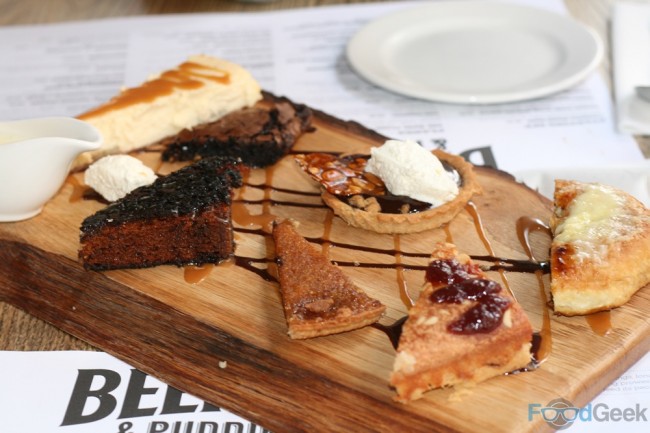 Which they almost did, almost. We finished them and collapsed in a happy, dessert filled heap. All were excellent with my favourites being the Eccles Cake with it's delicious slightly savoury Cheshire cheese glaze and the extremely chocolatey Chocolate Tart with crunchy peanut brittle.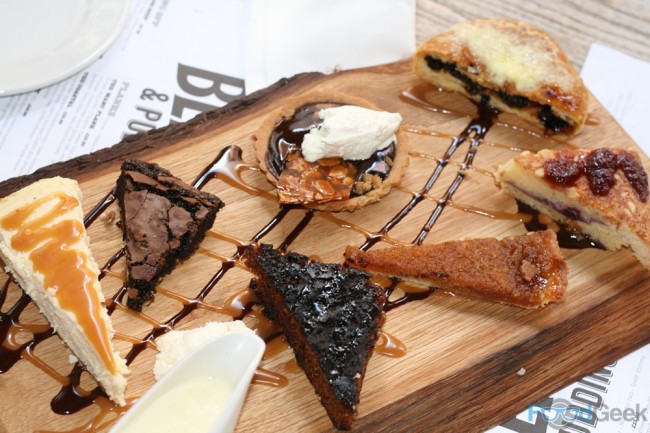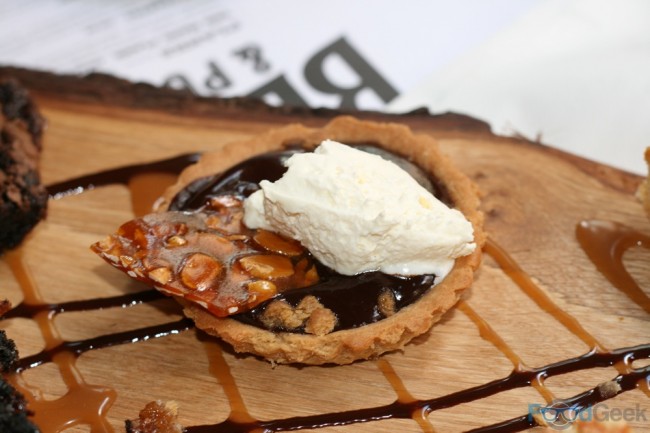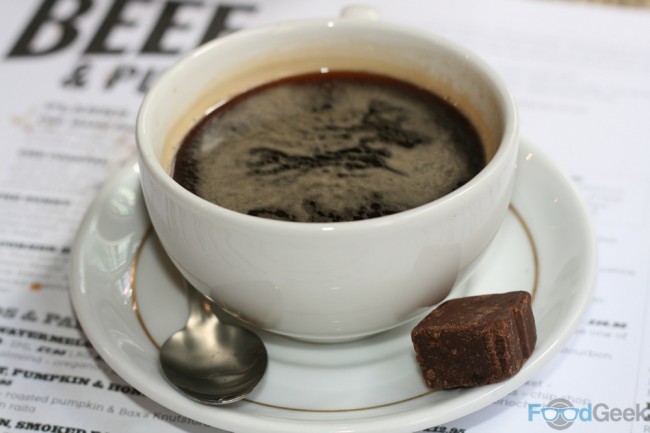 So Beef & Pudding gets a big thumbs up for the decor and food. Service was friendly and efficient with just a couple of minor hiccups which is to be expected on the first day of opening and the whole point of a soft launch to get them ironed out.
This drinks are great too, which is just as well since the place used to be a pub and sort of still is. There's an excellent wine list and extensive cocktail menu which I can't wait to try on my next visit but this time I was happy with the 3 guest cask ales including beers from Cheshire breweries Tatton & Frodsham Brewery.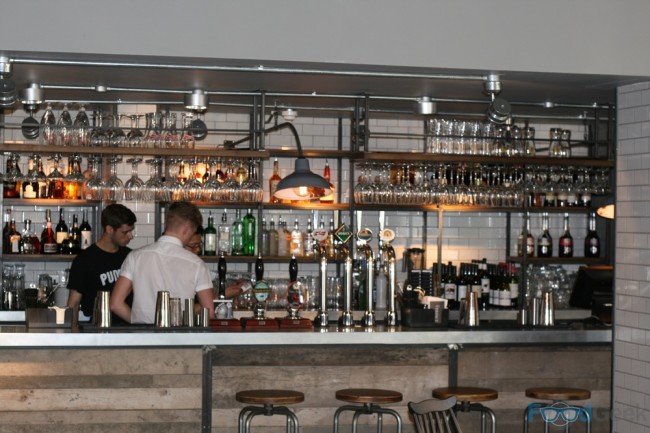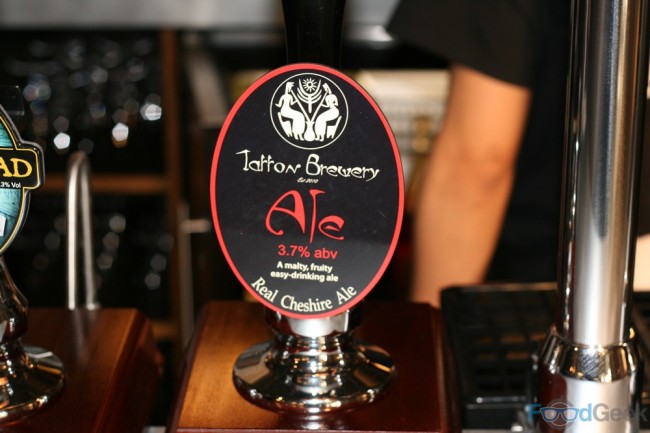 For me, Beef & Pudding is a great addition to Manchester which will more than replace the hole left by The Mark Addy's closure. It's great value with prices comparable to many pubs serving far worse quality food. I can see it being somewhere that i'll be visiting on a regular basis, starting tomorrow.
Date of visit: 01.04.2014
Disclaimer: I was invited to sample Beef & Pudding and not asked to pay for my food. However, all views are my own and I liked it so much that i'm returning (and paying) tomorrow.