I recently broke one of my own self-imposed rules by accepting an invitation to the VIP opening night of Zizzi's new Piccadilly restaurant. My stance on 'freebies' is that i'm happy to go to places i'd be likely to visit anyway, something I can't honestly say about Zizzi who appear to epitomise everything I dislike about chains. In fact, I turned down an invite to their Spinningfields restaurant last September.
So why did I accept this time? Good question; Partly because I know other bloggers who went to the Spinningfields event last year and seemed to enjoy it, so wondered whether I was wrong. Also, lately i've been thinking maybe my rule is illogical; perhaps it makes sense to accept invites to places I have no intention of visiting otherwise? There's a chance I could be proven wrong, but if not, at least it won't have cost me anything. Deep down though, it was probably the offer of Aperol Spritz and Prosecco that swung it on this occasion.
Anyway, for whatever reason, I did attend and actually had an enjoyable evening. Though it's fair to say it was despite the food, not because of it.
Things got off to a great start, when within minutes of arriving I had not one, but two Aperol Spritz in my hand which was quickly followed by a third and then a glass of Prosecco. The cold, dark, rainy day wasn't ideal weather conditions for one of my favourite summer drinks but still, so far, so good!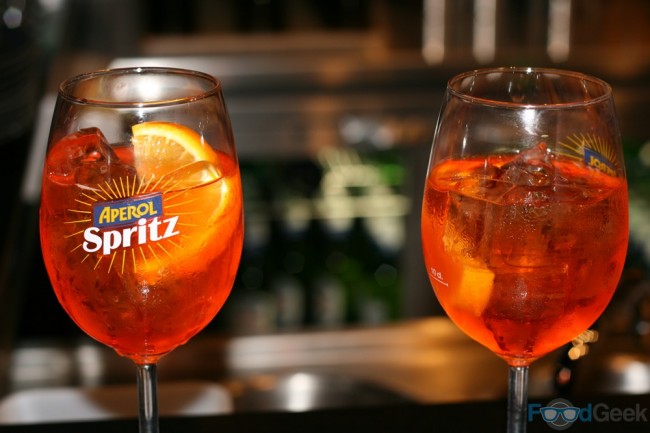 I was also impressed with the decor, although having no idea what the place looked like before I've nothing to compare it to, I don't even know what was there previously but i'm guessing they spent a bit of money on it and it looks good. Much bigger and more spacious than it seems from outside and I liked the overall style.
The staff too were incredibly friendly and helpful, as you'd expect after being invited to such an event but isn't always the case. Service was mostly excellent throughout the night, except for forgetting to bring Mrs FG dessert which would have surely ended in tears (theirs) had they not been so quick to rectify it.
But for me a restaurant is always judged on the food above all else and unfortunately Zizzi didn't live up to my expectations. Or rather it did, which is the problem. I should say it didn't prove my preconceived expectations wrong. As I suspected, everything we ate was unimaginative, average, generic 'Italian' food.
Starting with an Antipasti platter to share. Containing the usual suspects; calamari, garlic bread with mozzarella & caramelised balsamic onions, olives, tomato & pesto bread and cured meats. It was certainly a generous portion, even for four of us sharing but i'd prefer more focus on quality than quantity. The garlic bread was OK but the olives and meat really weren't great and the calamari a little soggy.
My main course 'Rustica Pescatore' was a pizza of two halves; the first topped with king prawns, courgette, mozzarella, roquito chillies and creme fraiche, the other contained crab, baby plum tomatoes, parsley, capers and rocket. Unfortunately it arrived almost stone cold, even after sending it back it's replacement was a little warmer but still not close to being hot. The staff explained that some of the toppings such as the crab are added after cooking and are supposed to be cold, that didn't explain the base being lukewarm at best though. In terms of flavour I really enjoyed the crab, capers and rocket side but the other just didn't work for me. The subtle flavours of prawn, mozzarella and courgette just mingled together into a sort of bland, watery, creamy nothingness.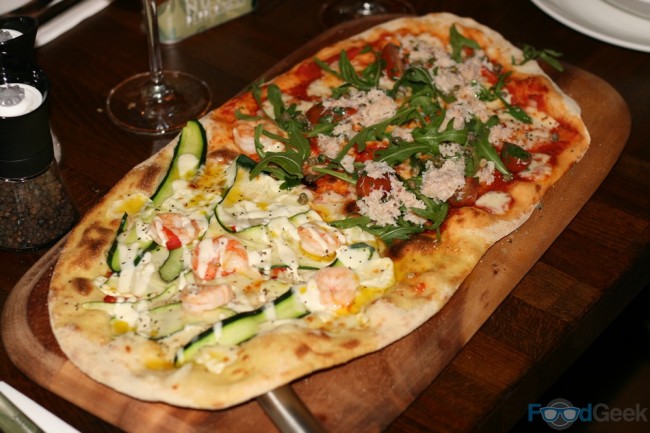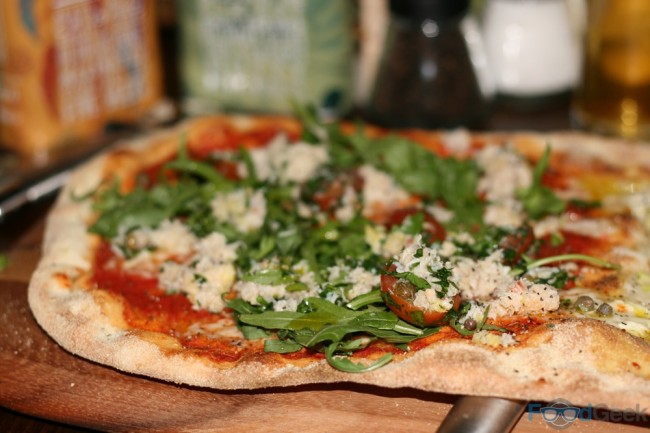 Mrs FG went for 'Ravioli Di Capra' which didn't look particularly appetising but thankfully tasted a lot better. The ravioli were probably a little too thick but the filling of goats' cheese and spinach was quite nice and topped with tomato sauce, basil pesto and pine nuts was a reasonably tasty dish overall.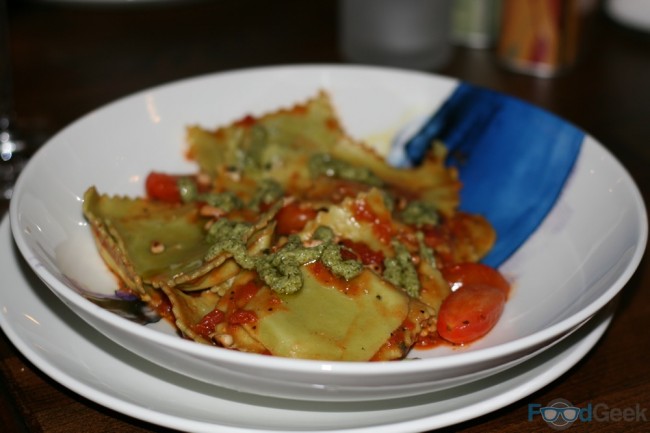 The 'Trio Of Desserts' consisted of chocolate tartufo, lemon meringue sundae and tiramisu. I'm not a big fan of the latter and this did nothing to change my mind, I liked the idea of the lemon meringue sundae, though it was a bit too sweet for a lemon based dessert I did enjoy it. The highlight was the tartufo, a really rich, intense dark chocolate mousse which did what it was supposed to do.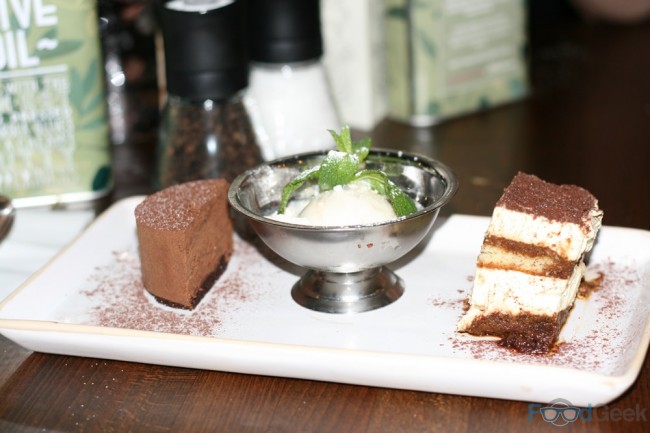 I can't say I hated Zizzi as I did have an enjoyable night overall, it was very much because of the company and not the food though. I know that's enough for some people and it's not for me to say they're wrong. I've no doubt this particular Zizzi will be as popular as the others clearly are with people looking for exactly this kind of thing but it's definitely not for me. I wish I could criticise the food more but it really wasn't terrible, just very dull and underwhelming. When I eat out I want the food to excite me and this just didn't, proven by the fact that it's taken me 18 days to summon up the motivation to write this post. By contrast I wrote last weeks Beef & Pudding post up within 4 hours of getting home. It would've actually been easier to write about had it been awful, it's the fact that it was so unremarkable that's meant i've struggled so much.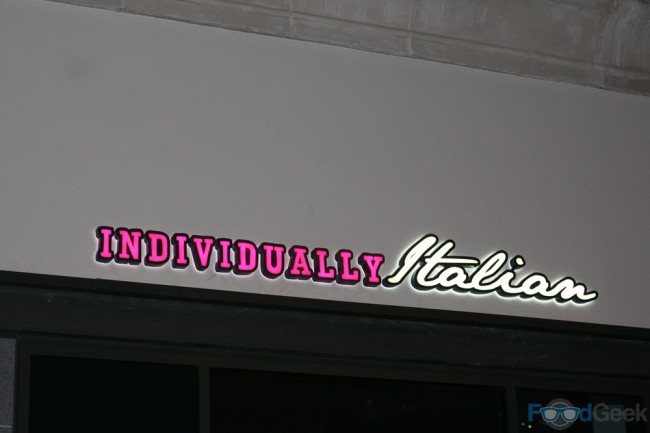 Date of visit: 28.03.2014
Disclaimer: I was invited to Zizzi and not asked to pay for my food (luckily) or drinks. As you can see this has no effect on my opinions which are always genuine.