So far my experiences of the 'Drunken Butcher' have mostly involved vast quantities of meat; huge pies, large roasting joints, steaks and burgers. Not that he's a one trick pony, there was recently a 'Healthy Eating' supper club and there's a Vegan one coming up too. I seem to have somehow missed them though.
I attended his latest event last week 'Viva L'Espana', expecting a menu full of ham, chorizo, black pudding and giant paella. It turned out I only got one of them right and things were not at all as I expected.
We arrived stupidly early, fully prepared to help but like usual everything was well and truly under control in the kitchen. Instead Iain treated us to a 'Vanilla Old Fashioned'.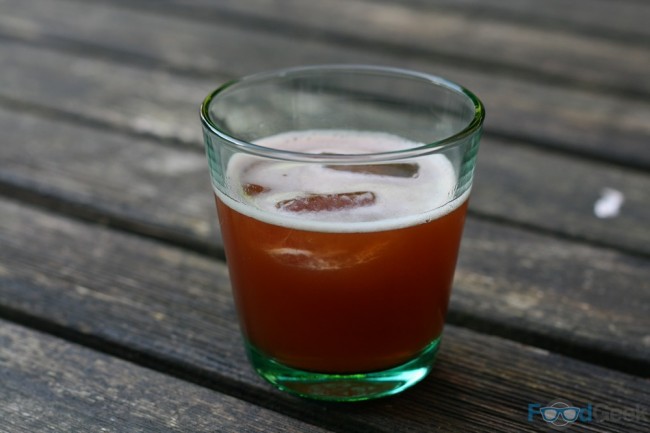 Once the other guests who can tell the time arrived we all enjoyed a welcome cocktail. Iain's classic 'Devine Intervention', a tasty concoction of red fruit whiskey and bitters with a touch of fizz.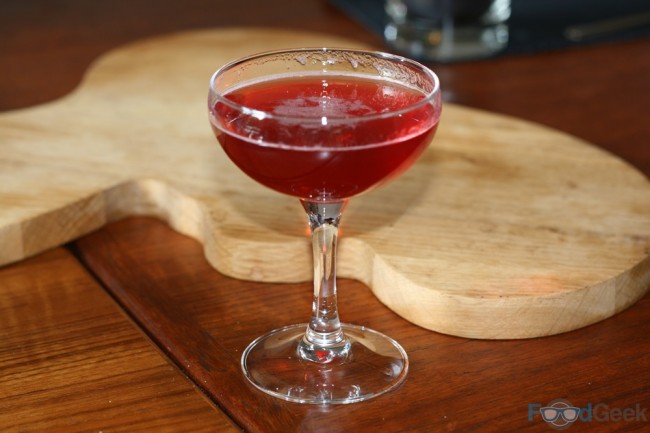 The cocktail was served with a 'Cod Cheek' canapé, not the prettiest start to a meal, largely down to the colour but tasted fantastic. I'm a massive fan of cod cheeks anyway and Iain totally nailed the cooking, they sat on a sort of tapenade which was lovely and didn't contain too much black olive which I often find overpowering.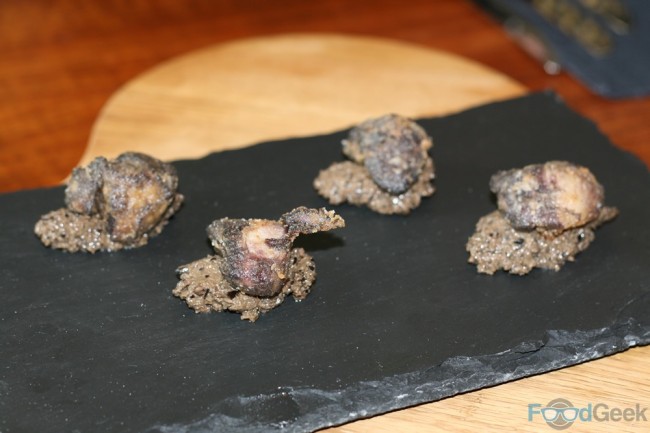 Next up, a frozen 'Sangranita'. A fruity, boozy, refreshing palate cleanser full of bold vibrant flavours of Rioja, brandy, citrus and vanilla.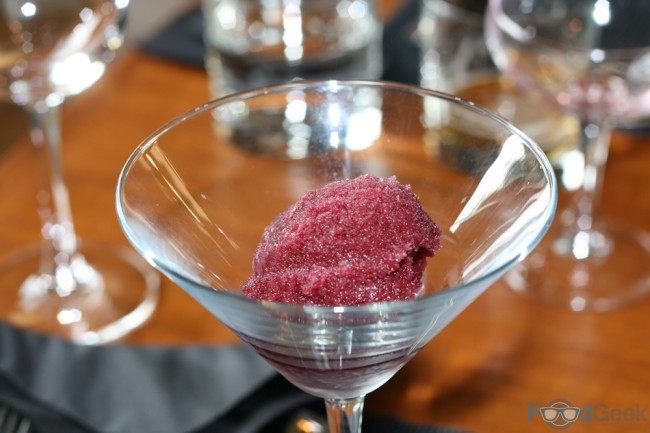 The first main course 'Kidneys In Sherry' quickly followed. Lamb's kidneys were cooked perfectly, just slightly under rare but it was all about the sauce. I don't even like sherry that much but the flavour in the sauce was actually quite delicate and worked wonderfully with the rich kidneys. Non-offal loving Mrs FoodGeek happily finished hers off too. Served with an extra shot of not quite as subtle sherry on the side!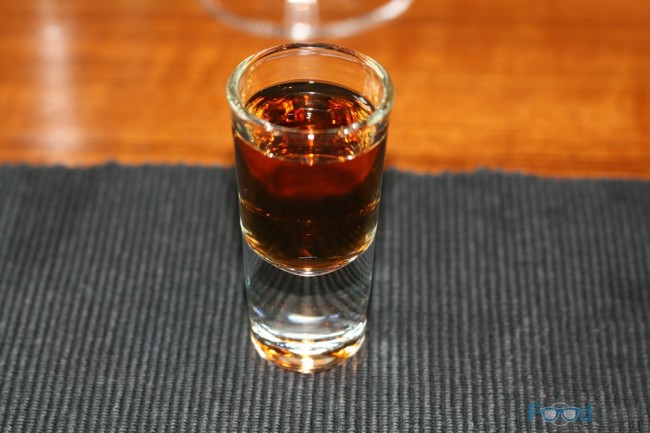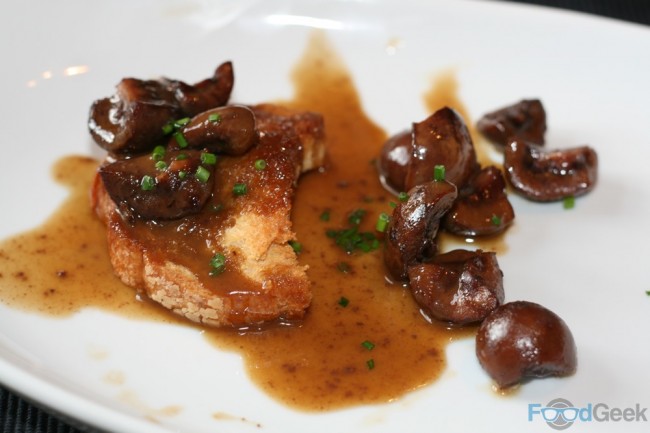 The next course 'Patatas Bravas & Saffron Chicken' was by far the most refined dish i've ever had at Iain's. It wouldn't have looked out of place being served in any top Spanish restaurant and it tasted just as good. The crisp, highly seasoned fried potatoes tasted incredible and though I'm all for beautiful plates of food like this i'd have loved a few more of them. The chicken too was fantastic, skin as crispy as you're ever likely to see with succulent, juicy meat beneath. But again it was the sauce that I loved the most, an intense tomato flavour with just a hint of spice.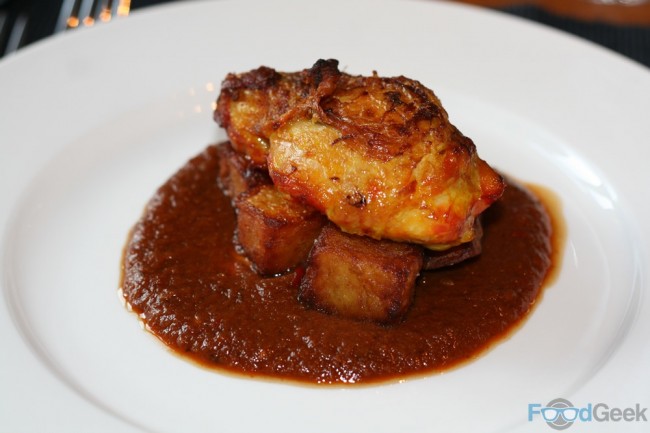 The following course was equally dainty and refined. A luscious piece of soft hake sat upon a rich, tasty bean and chorizo stew.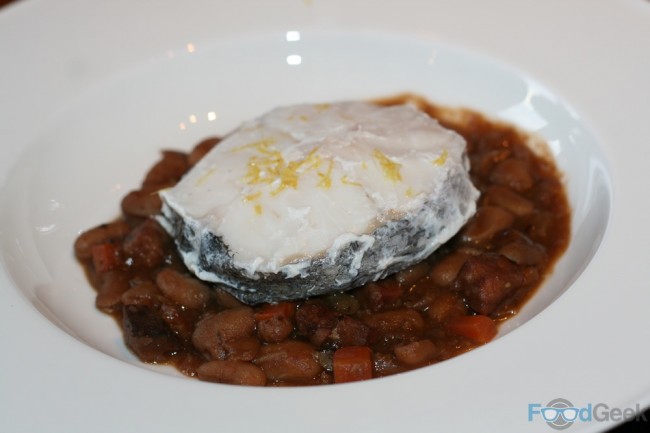 Somewhere around the hake course bowls of steaming hot, freshly cooked prawns were brought to the table too.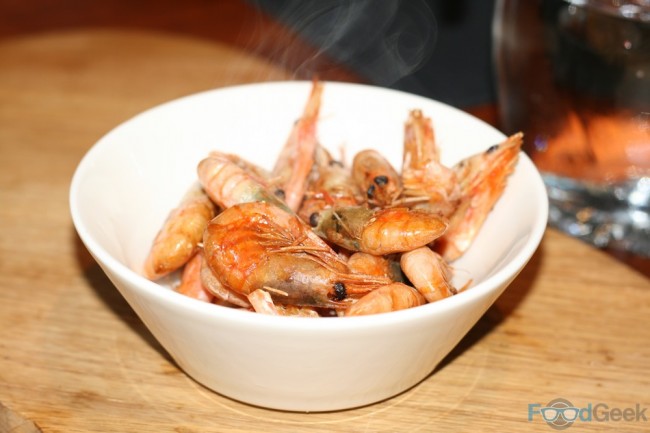 Unfortunately my dessert of 'Churros & Chocolate' didn't look so pretty by the time I took the photo below, whether it spilt on its way from the kitchen or I drunkenly knocked it we'll never know. Iain was hugely apologetic but I honestly couldn't care less what it looked like after one mouthful. The churros were just heavenly; dark and crisp on the outside with a soft, light doughy inside and a generous sprinkling of sugar. The chocolate sauce was rich and warm while the shot of Pedro Ximenez infused ice cream added a boozy, sweetness.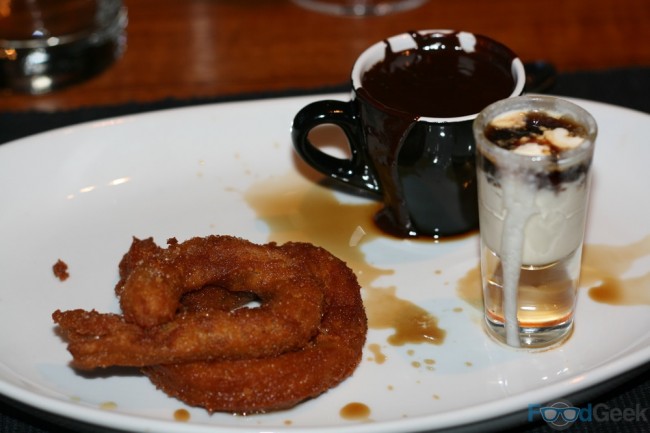 One of the best things about supper clubs is the 'Bring Your Own' policy, this time we selected a couple of nice Spanish wines along with a bottle of 'Estrella Inedit' a lovely light and fragrant beer designed by legendary Spanish chef Ferran Adria, a perfect accompaniment to Iain's new refined style of cooking.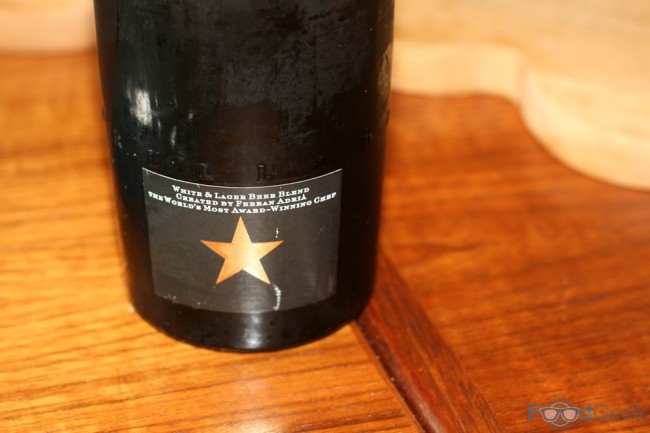 I've never been disappointed at any Drunken Butcher event but was genuinely impressed by the standard of Iain's food. Of course I always knew he could cook, it's why I keep going back for more but it's great to see that as well as big, hearty food he can also do fancy and refined, beautiful plates that still taste great.
With that being said, I'm back for his 'Let's Have A Meating' event this Friday and fully expect normal service to be resumed!
Date of visit: 17.05.2014