Just over a year ago I hadn't bowled for at least 10 years, but since my first visit to Dog Bowl last May it's become a bit of a regular occurrence. The latest a couple of weeks ago after being invited to preview the new menu.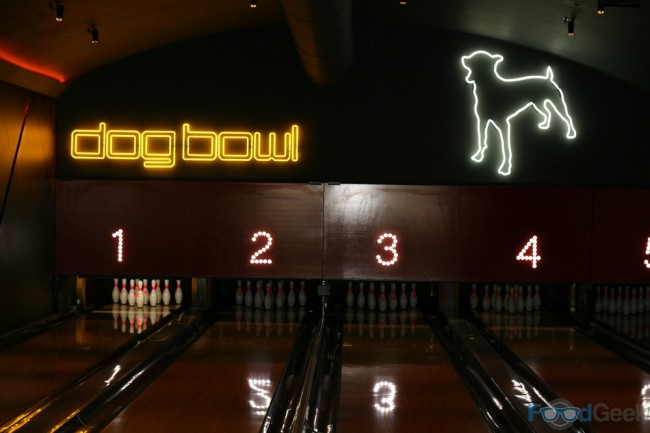 Not that the extra practice has improved my game much. In fact, on this occasion I shamefully lost to Mrs FG despite her suffering from a severally bruised arm after coming straight from the doctors having had blood tests.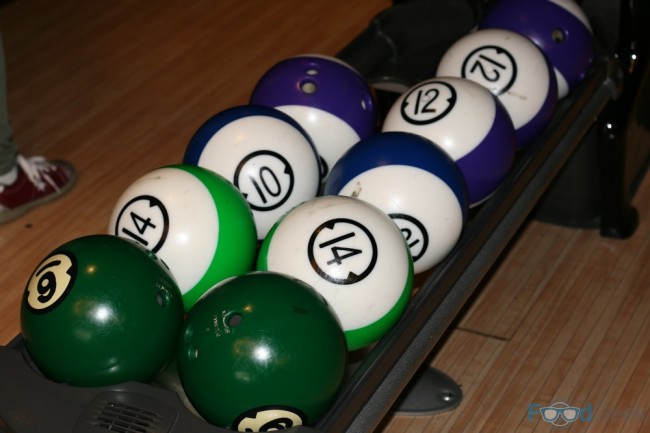 The great thing about Dog Bowl though is rather than drowning your sorrows after a crushing defeat with a plastic hot dog and cheap lager as you would at the mainstream bowling alleys, you can do it with good food and great beers instead.
The Dog Bowl dining room is a cool, urban space, just like the bowling lanes themselves.
Whilst perusing the newly updated Tex-Mex inspired menu we enjoyed a couple of beers including the brilliant Brooklyn Lager often seen in bottles but rarely on draught were it tastes so much better.
I started with 'BBQ Shrimp Skewers' which were very tasty; well cooked juicy prawns coated in warming cajun spices and smothered in BBQ butter. Served on a piece of toast which soaked up the juices wonderfully.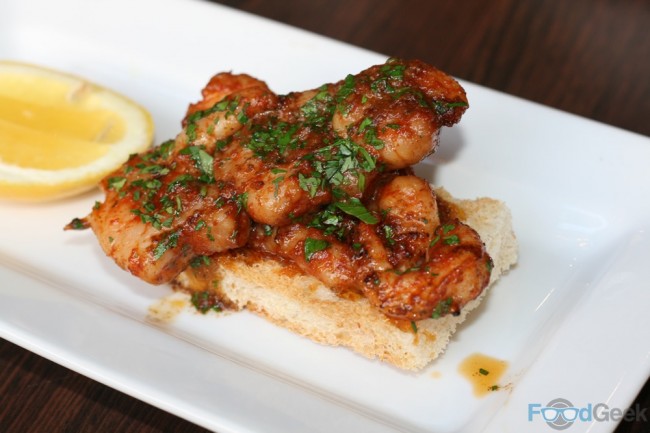 Mrs FG's 'Fried Tortilla Soup' was equally good; a rich and zingy, tomato soup with a hint of cumin & chilli topped with coriander and avocado. We both felt it was a little under seasoned initially but cleverly, the crispy shredded tortilla strips on the side were highly seasoned and added a necessary saltiness as well as a lovely crunchy texture.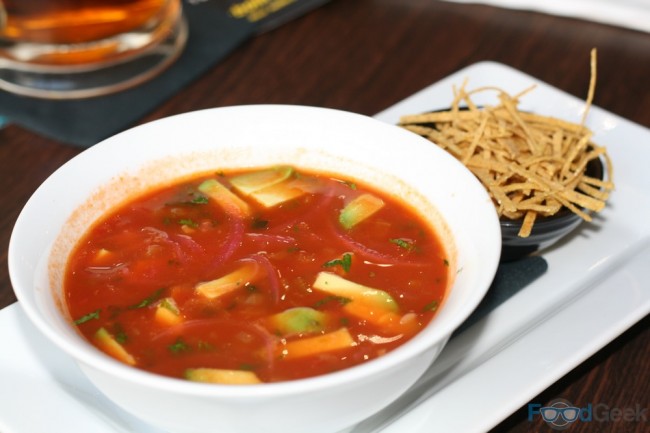 There are several new burgers on the menu, including my 'Big Gun'. A BBQ'd chicken breast with tomato salsa & chipotle sauce. I thought it was possibly a touch small (or perhaps i'm just greedy?) but it was really good. The simple toppings allowed the succulent chicken with a nice charring from the bars of the grill to shine. The sweet potato fries were excellent, crispy, not greasy and well seasoned.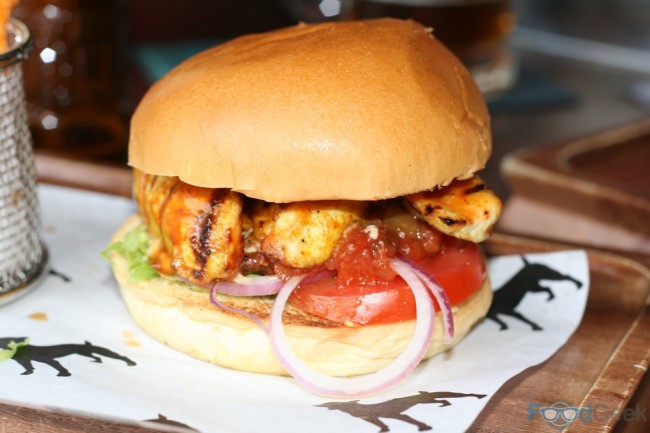 Mrs FG went for the 'Green Meany', I was immediately against it for having such a silly name but it was rather nice. The chickpea based patty was perhaps a little dry but this was compensated for by the juicy tomato, pickles and lashings of delicious paprika mayo.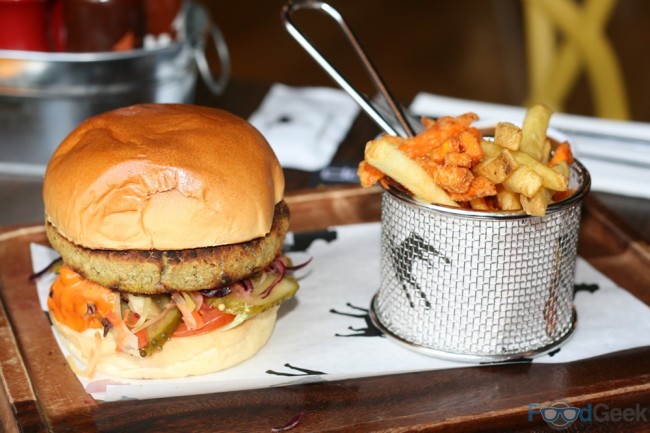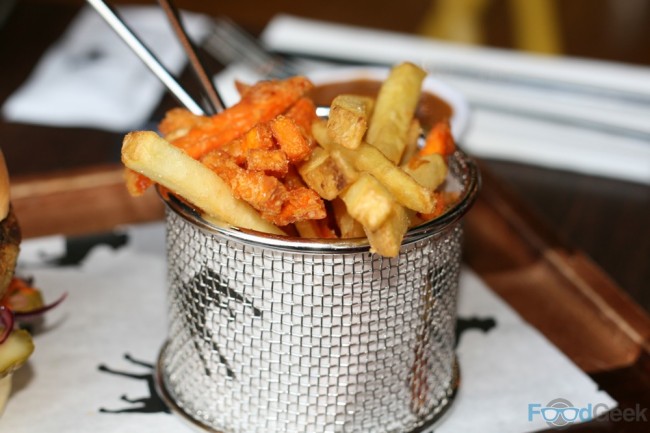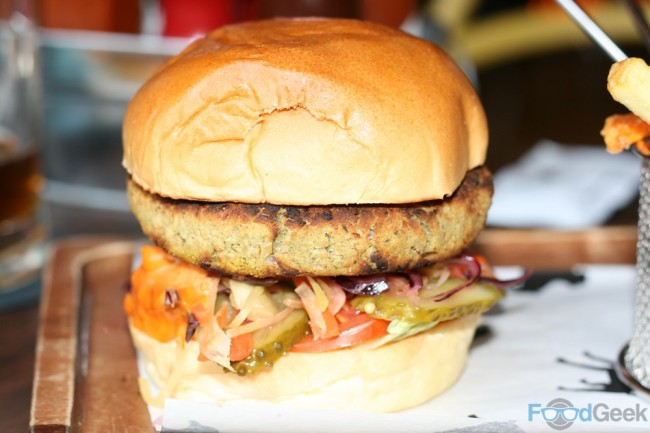 I was very much looking forward to my 'Apple & Muscovado Cheesecake' until it arrived. I don't really see the point of cheesecake being served in a jar, for me it adds nothing and is awkward to eat at best. I also couldn't help thinking that this one looked like a jar of chicken liver pâté or potted shrimp with a thin layer of clarified butter on top.
I soon forgave it though as it tasted fantastic, one of the best cheesecakes i've had for a while in fact. The distinctive molasses flavour of the muscovado was unusual but very enjoyable while the cream cheese filling had a lovely rich and creamy texture.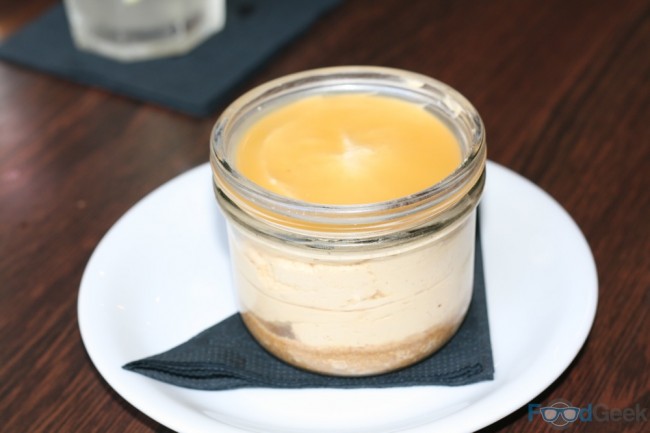 Mrs FG's 'The Big Bowl' was essentially a giant sundae, we both felt the marshmallow and fudge pieces tasted a little cheap but the chocolate ice cream and whipped cream were fabulously indulgent. Overall it was a good, fun dessert.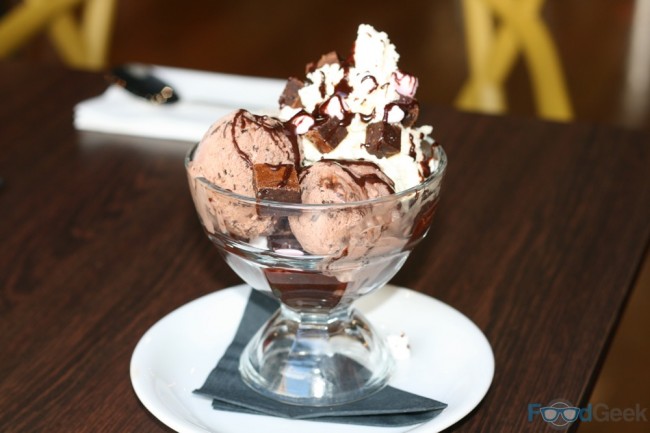 I've always liked Dog Bowl, I really love the venue and decor and have found the staff to be lovely on every visit. Previously I felt the food was decent, far better than your average mainstream bowling chain but possibly not quite good enough to warrant a visit purely to eat. However, I found the food on this occasion much improved and i'd be happy to eat there whether I was bowling or not.
Date of visit: 21.05.2014
Disclaimer: I was invited by Dog Bowl to preview the new menu and as such not asked to pay. As ever, all views are my own honest account of my experience.