Although Manchester's dining scene is thriving it's still lacking a couple of things for me. One of them being the availability of quality dim sum, as with the exception of Yang Sing most other options are inconsistent at best.
So when planning a recent trip to London I wanted to include a restaurant where I could enjoy some quality dim sum, I certainly found that and more at A.Wong.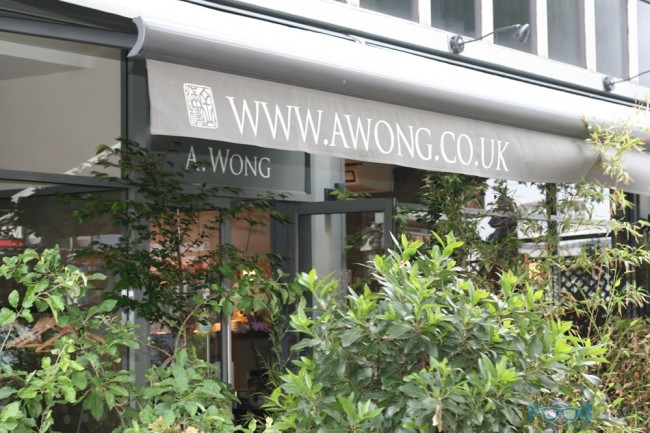 Situated just down the road from Victoria station the fairly small restaurant is simply decorated but more modern than many Chinese restaurants.
We were seated directly in front of the open kitchen with a perfect view of the busy chefs working.
The dim sum menu is smaller than I expected but choosing still required careful consideration which we did with the help of lovely dark Asahi Black beer.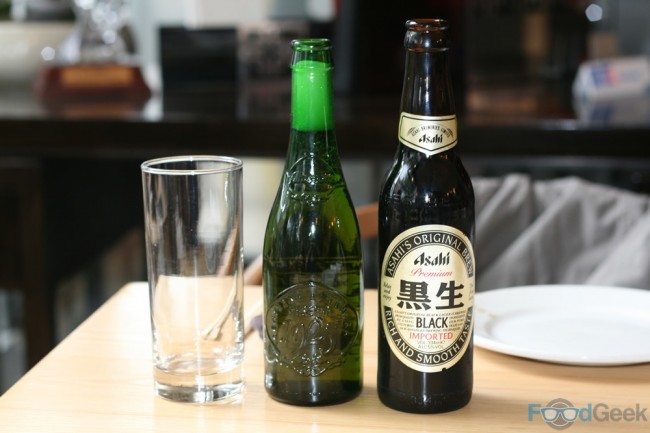 We ordered a variety of dishes which I won't discuss in detail, not least because I don't have a good enough vocabulary to do them justice. All were excellent and highly enjoyable with particular highlights being the 'Foie Gras Sticky Seasame Dumpling', 'Crab, Seafood & Bean Curd Cannelloni', 'Deep Fried Prawn Ball With Abalone & Chilli Vinaigrette' and 'Clear Shrimp Dumpling with Citrus Foam'.
The dishes kept on coming, each looking and tasting fantastic.
Some of the more unusual dishes included a basket of 'Honeycomb Oat Noodles' with a punchy coriander & chilli dip, 'Tea Smoked Sticky Rice, Dried Shrimp, Mushrooms & Sausage' wrapped in a banana leaf and the rather intriguing 'Ma Lai', an aerated sponge cake!
I'm a huge fan of Asian food but am almost always disappointed by the desserts, particularly in Chinese restaurants. I almost ordered an extra round of dim sum instead of dessert but thankfully didn't as A.Wong's desserts were by far the best i've ever had in a Chinese restaurant and up there with the best in any Asian restaurant.
The simplest, 'Chilli Barbecued Pineapple with Beijing Yoghurt' & Sichuan Pepper Ice Cream' was a brilliant combination of spicy, sweet pineapple with fragrant, peppery ice cream and luxurious but savoury yoghurt.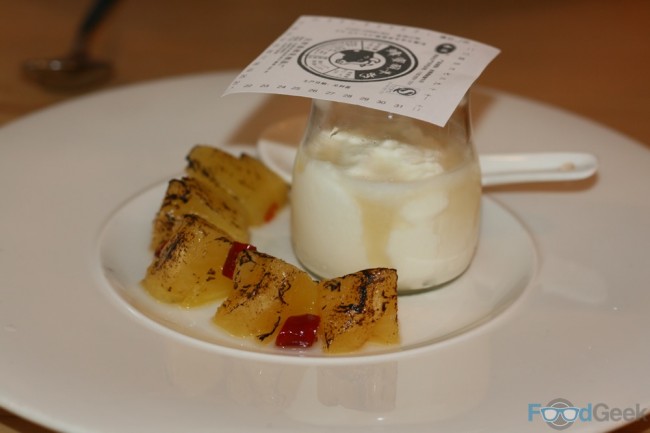 'Snow Ball Merengue, Lychee Granite, Mango Puree & Lime Sorbet' featured a wonderfully soft and gooey meringue orb with a crisp exterior on a cool and refreshing lychee granite.
The best dessert arrived looking quite beautiful; a perfect chocolate dome sat upon a bed of crumble. Unfortunately, before I had chance to take a photograph the waitress proceeded to pour hot caramel sauce over it causing it to melt and revealing chopped banana amongst the mess. Thankfully this mess tasted utterly divine, the combination of smoked banana, nut, chocolate and salty soy caramel is one of the best things i've eaten this year. Simply stunning.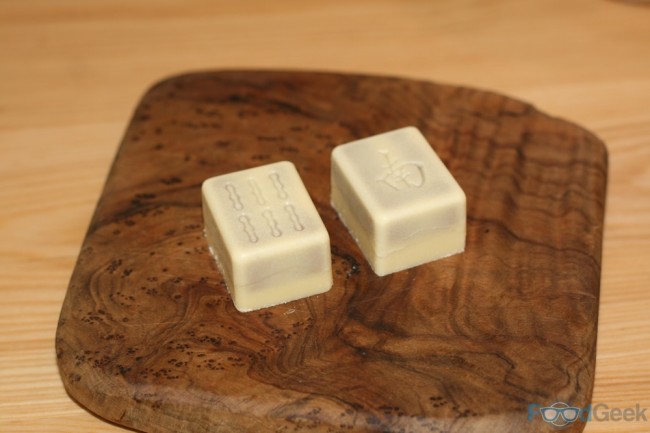 We spent a good couple of hours at A.Wong, enjoying the atmosphere in the dining room and kitchen every bit as much as the food. Service was equally fantastic but the finishing touch on an all round brilliant meal was receiving a bill of just over £80, including service! I can't remember ever eating a better value meal of this size and standard, let alone in London.
Date of visit: 23.05.2014
Follow @FoodGeekUK
Review Overview
Summary : One of the most enjoyable and best value meals i've had for years.