There aren't too many restaurant openings that I get genuinely excited about these days.
But Restaurant Story was definitely one of them when it launched in 2013. The 'book themed' restaurant where diners were asked to bring their favourite stories with them and dishes are inspired by chef Tom Sellers' childhood memories sounded totally unique.
It went on to earn a Michelin star within just five months too.
Naturally that made reservations difficult to come by, even two years later, but I finally bagged one earlier this year.
Inside is a little smaller than I expected but very welcoming.
It's bright and airy with an open kitchen and books everywhere, literally.
There was even one on our table, and a fairly hefty one at that.
I was slightly disappointed when I realised that I hadn't been asked to bring a book. But we soon forgot about it and relaxed with a couple of drinks.
Before we were served a number of small taster dishes.
They all looked stunning, so beautiful.
And they tasted pretty good too.
The 'Story-O' (squid ink & smoked eel mousse 'Oreo') was particularly great.
As was the succulent rabbit meat, coated in crispy polenta and topped with three slices of coloured carrot.
Another favourite was 'Black Pudding & Pineapple', a combination I've not come across before but one that works surprisingly well.
The final taster was equally pretty, but although I appreciate that tomato and vanilla does work technically, it's just not a flavour combination I can get behind.
And not for lack of trying.
Next up, an excellent loaf of freshly baked, still warm soda bread was brought to the table. Along with cubes of chicken jelly, veal tongue, horseradish & celery relish and a pot of beef extract.
All good bread needs something to dip it in, right?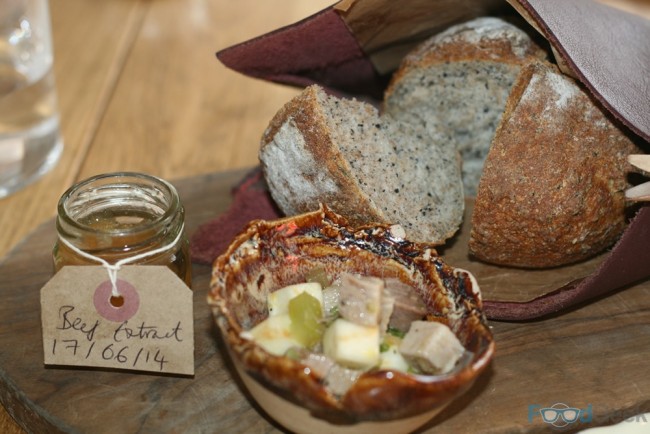 Remember that photo of a candle way back up there? That, along with this bread made up our first proper course, 'Bread & Dripping'.
It turns out the candle was made of beef dripping and whilst we were enjoying our amuse bouche it had melted down to a gooey puddle.
The pot of beef extract – apparently it takes a whole year to make – was stirred into the melted dripping to make the most intense, warm and meaty bread accompaniment of all time.
The next course 'Onion, Apple & Old Tom' was very pretty.
It consisted of many textures of onion, including: onion marmalade, burnt onion, onion crisps and others I've no doubt forgotten.
I loved the onions but found the consommé – which was made with local gin (Old Tom) – a touch too sweet.
I really wasn't sure about 'Scallop, Cucumber, Dill Ash' when I realised the scallops were raw.
I mean, I love scallops and have enjoyed them raw as sashimi on occasion, but much prefer them with a good sear on the outside and just cooked in the middle.
It was fantastic though, the supreme freshness of the scallop was the star of the show while the cucumber, dill ash and a hint of elderflower complimented it perfectly and made for a balanced, delicate dish.
I love it when a restaurant makes an effort with bread.
We were given a warm, pillowy soft loaf of brioche along with a sharp cucumber pickle that cut through the sweetness of the bread perfectly.
And better still; four kinds of butter: salted, foie gras, truffle and parsley.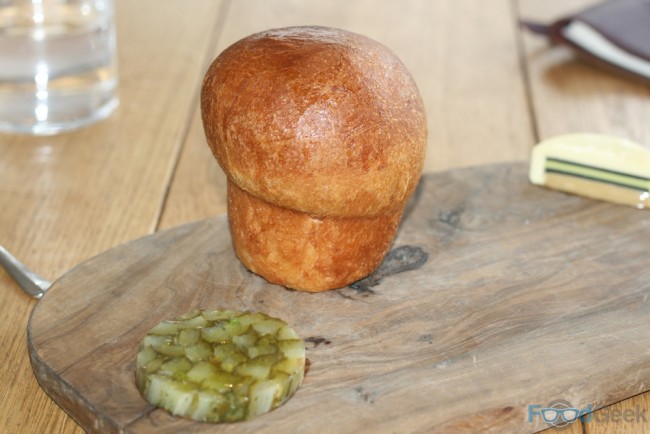 The next dish, 'Heritage Potato, Asparagus & Coal' was all about the most incredible mashed potato; ridiculously smooth and buttery.
The glossy, tar-like coal oil didn't add much flavour, but was a striking visual contrast.
The meat course, 'Herdwick Lamb, Sheep's Yoghurt & Ramson' was another very attractive plate of food.
The juicy pink rump of lamb on a pearl barley risotto with tangy sheep's yoghurt was a nice dish in itself.
But my favourite bit was the fried sweetbread with apricot emulsion, borage flower and lettuce.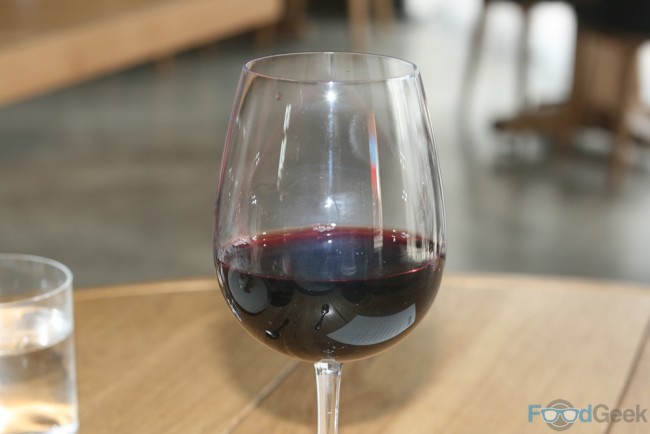 It's hard not to get excited when a fancy picnic basket arrives at your table. Particularly when it includes a bottle of beer.
The beer in question, a 'Lemon & Thyme Saison' from local Bermondsey brewery Partizan was a great pairing for the cheese provided in the picnic.
A lemony palate cleanser followed.
Milk ice cream with lemon curd, lemon verbena and lemon snow.
Feeling suitably refreshed, it was time for dessert.
'Chocolate, Lovage & Oyster' was fairly challenging. And not really that tasty.
The chocolate was OK with the lovage granite, lovage cream and lovage flower. But the oyster leaf just didn't work for me.
I wasn't mad about the last dessert, 'Almond & Dill' either.
It was an accomplished dish, no doubt, but there just wasn't enough sweetness or joy to be a fitting end to an otherwise highly enjoyable meal.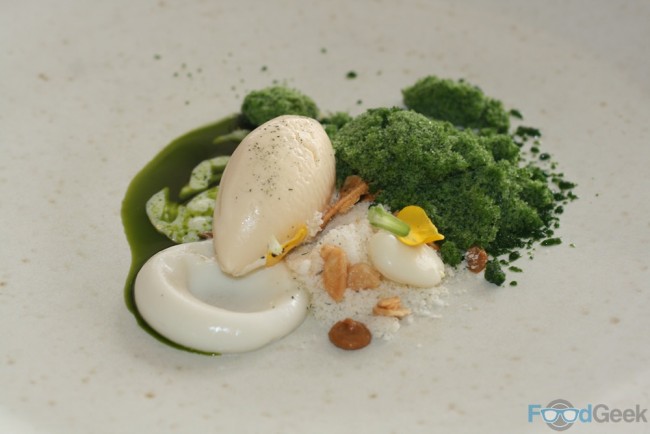 The little 'teacake' petit fours were a much better way to finish.
Sweet and chocolaty with a slight floral flavour inside.
While there were a couple of dishes that didn't really do it for me flavour wise, I couldn't fault a single dish at Restaurant Story in terms of the execution, the cooking was exemplary and well worthy of its Michelin star.
Service too was immaculate, as you'd expect from such a place.
Overall, I did enjoy my visit but couldn't help leaving slightly disappointed. The experience just didn't seem quite as it was originally sold.
I definitely remember when the restaurant opened there was an emphasis on books; guests were asked to bring their favourite story and dishes were supposed to be inspired by  Tom's childhood. But either that doesn't happen anymore or nobody bothered to communicate it with us.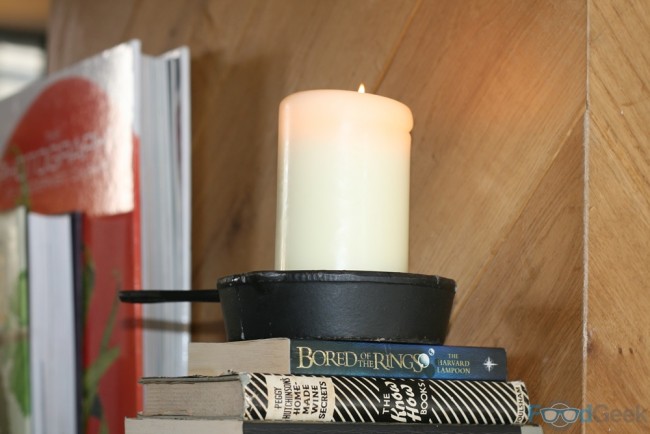 I also felt that whilst the cooking was exceptional, some of the dishes lacked a bit of wow factor. There's a quote on Restaurant Story's website stating that it's "the next best thing to the Fat Duck".
The comparison really doesn't do them any favours, it sets expectations far too high. For me, the only dish that comes close to anything at the Fat Duck is the 'Beef & Dripping' candle.
Forgetting that quote, the restaurants name and its original concept though, Restaurant Story is as good as any 1 star fine-dining restaurant in London.
Date of visit: 19.06.2015
Follow @FoodGeekUK