* Edit * On 30th June 2014 Gymkhana was named #1 in the National Restaurant Awards 'Top 100' *
I grew up eating in Indian restaurants on a regular basis but as my tastes evolved I somehow neglected them in favour of seemingly more exciting cuisines. Perhaps unfairly but more likely caused by one too many average meals in mediocre local 'curry houses'. Over the last 10 years i've travelled far and wide to eat in 100s of restaurants, many with Michelin stars but until recently had never been tempted by high end Indian restaurants.
That changed last year when Mughli in Manchester's Rusholme rekindled my love of Indian food. Since then i've been keen to eat at a more upmarket establishment to see how the food compared. A recent London trip provided the perfect opportunity. After considering Michelin starred places including 'Trishna' and Atul Kochhar's Mayfair restaurant 'Benares' I eventually settled on 'Gymkhana', the sister restaurant of Trishna which opened last year to rave reviews and recently won 'Best New Restaurant' at 'The 2014 Craft Guild of Chefs Awards'.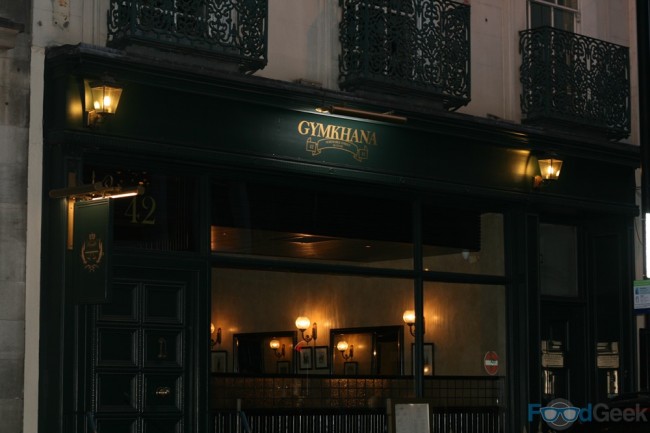 Also located in Mayfair, the plush interior is a tribute to Colonial India; oak panels, marble, green leather, dark wooden booths and hunting trophies including a giant warthog above our table.
Whilst browsing the various leather bound menus we sampled a couple of cocktails. My 'In Light of India' was pretty tasty; a combination of tequila, ginger beer & bitters with pineapple and cardamon, named after a book by Nobel Prize winning writer and poet Octavio Paz.
Mrs FG's 'Queens Club Cocktail' was far more interesting though; served in a fine china teapot the warm vodka, coriander seed and clove spiked Darjeeling earl grey tea is poured over a clove and apple jelly.
I also loved that they have their own Pale Ale which is gorgeous; packed with hops and perfectly suited to many of the dishes.
Thankfully the food is much more modern than the decor and the slightly irritating and overbearing 1920's music. We chose the exceptionally good value 6 course 'Tasting Menu', Mrs FG opted for the 'Vegetarian Tasting Menu' which brought a look of genuine shock from the staff who were simply baffled when she explained that she isn't actually a vegetarian.
We started with 'Poppadoms', something I don't generally order anymore, but since they were included with the tasting menu it'd be rude not to eat them. I'm glad they were, not only for the excellent poppadoms but they were accompanied by a fantastic savoury, spicy tomato and shrimp chutney, quite simply the best poppadom accompaniment i've ever tasted.
The first course of the tasting menus was a shared dish of 'Potato Chat, Chickpeas, Tamarind, Sev'. We were off to a good start as this was brilliant. A wonderful combination of flavours and textures; fabulous spicing with a good amount of heat contrasted perfectly by cooling yoghurt. I particularly liked the crunch of the crispy chickpea noodles.
My second course was 'Lasooni Wild Tiger Prawn', quite possibly the largest prawn i've ever seen. Cooked perfectly over charcoal, inside was sweet and juicy while the outside had a lovely char from the tandoori oven. Once again the spicing was sublime, both in the marinade of the prawn and the accompanying red pepper chutney.
The second course on the Vegetarian menu was 'Gol Guppas, Jaljeera, Potato, Sprouting Moong'. From the menu description we had no idea what to expect but when they arrived we recognised them as Panipuri. They were tasty but not a patch on the panipuri from Mughli.
I'm not generally good at making decisions but when asked to choose between Chicken Tikka or Quail Seekh Kebab for the next course it was a no brainer. I think I chose wisely; the quail was succulent, juicy  and delicious on its own but it was the intense pickled green chilli chutney on the side that really brought it to life. Another superb dish.
Mrs FG had her own decision to make and opted for 'Beetroot Kebab' over 'Tandoori Broccoli'. Oddly, it was more like a croquette than a kebab but it tasted good, the chutney was again excellent.
Despite the next dish being one of the best i've eaten this year it's sadly one I look back on with regret. I'd heard tales of the extremely flavoursome 'Kid Goat Methi Keema' and it more than lived up to my high expectations. Unfortunately i'd also heard that goat brains are offered as a supplement which i'd have loved to try but was never asked. Despite not having the chance to make the dish even better I still loved every single bite. Served with a soft white roll, charred chilli and finely chopped onion I made the best Indian spiced goat sandwich ever!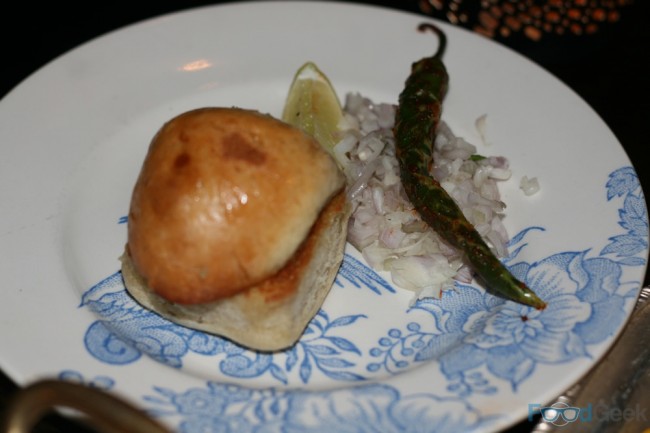 Over in the veggie corner the 'Paneer Tikka, Cashew Nut, Corn Chat' didn't seem like a worthy alternative to me but it seemed to go down well all the same.
I had another decision to make, this time for the main course and it proved much more difficult. In the end I reluctantly went for 'Suckling Pig Vindaloo' over 'Butter, Pepper, Garlic Crab'. Obviously I don't know how good the crab dish is, though i've been told it's amazing. But I absolutely loved my Vindaloo so I'm happy with my choice. The curry was rich and intense, very hot as you'd expect from a vindaloo but with an incredible depth of flavour too. The suckling pig was supremely tender, the very definition of melt in your mouth.
Like the previous course I didn't think the vegetarian main of 'Asparagus, Pea and Chanterelle Pilau' was anything like as good. It wasn't bad and Mrs FG seemed to enjoy it but there just wasn't the exciting depth of flavour and vibrancy of mine.
So far the food had been a very high standard, i'd loved everything on my own menu and enjoyed most of the vegetarian menu too but then things took a turn for worse. Starting with the main course accompaniments of 'Wild Mustard Baby Potatoes' and 'Dal Maharani' which were fairly average compared to the quality of everything that had come before and the stunning Suckling Pig Vindaloo they were served alongside. Worse still was the 'Bread Basket', I found the naans to be too hard and dry.
The decline continued with dessert, both menus offer the same choice so we decided to get one of each and share. Neither of us particularly enjoyed them, my camera seemed to agree and refused to photograph them properly. We both felt the 'Saffron Pistachio Kulfi Falooda' was too sweet and the saffron flavour very overpowering.
There wasn't anything particularly wrong with the 'Banana and Pecan Kheer' though, it was just rather uninspiring; essentially just a bowl of rice pudding with a couple of slices of banana and a few pecans on top. Hardly a fitting end to what had otherwise been a fantastic meal.
I left Gymkhana feeling slightly underwhelmed because of the poor bread and desserts, but looking back now the rest of the food was excellent with some real highlights. It was great to eat the flavours I know and love in refined, contemporary dishes. Service was good all night and besides the music there was a really good atmosphere. I did very much enjoy the overall experience and will definitely return, particularly as the tasting menu is such good value.
Date of visit: 23.05.2014
* Update * At the time of my visit & review Gymkhana had no Michelin star, however it was upgraded to 1 star in September 2014
Follow @FoodGeekUK