Whilst I certainly don't consider myself a regular theatre goer I have been to The Lowry at Salford Quays a couple of times. Besides an enjoyable meal at nearby Damson i'd always eaten in Manchester before the show as the only other options in the area are uninspiring chain restaurants. Or so I thought.
I was genuinely surprised when contacted by Mike, the food manager at The Lowry and asked if i'd be interested in previewing the new summer menu at their Pre-Theatre restaurant. Despite being inside The Lowry several times I had no idea that such a restaurant existed. The menu sounded great so I happily accepted the invitation and looked forward to checking it out for myself.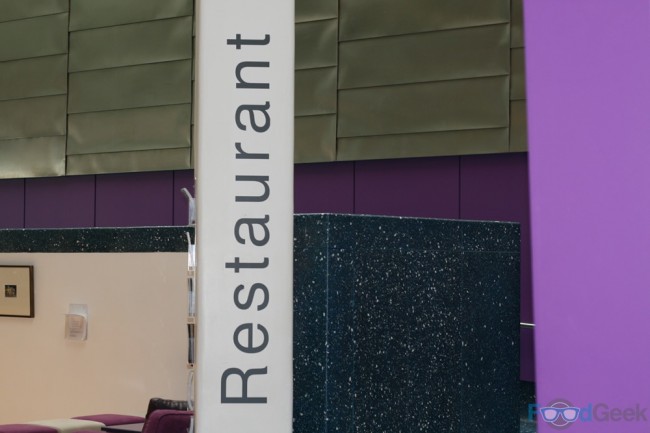 The Lowry Restaurant is indeed located within the Lowry theatre, tucked away on the left of the building, directly behind the bar that i've actually sat in on previous visits. The restaurant is smartly decorated, the right blend of formal but relaxing. It's very light and spacious thanks to huge ceiling to floor windows.
We took a window side table with a lovely view of the terrace, quays and Old Trafford football ground in the distance.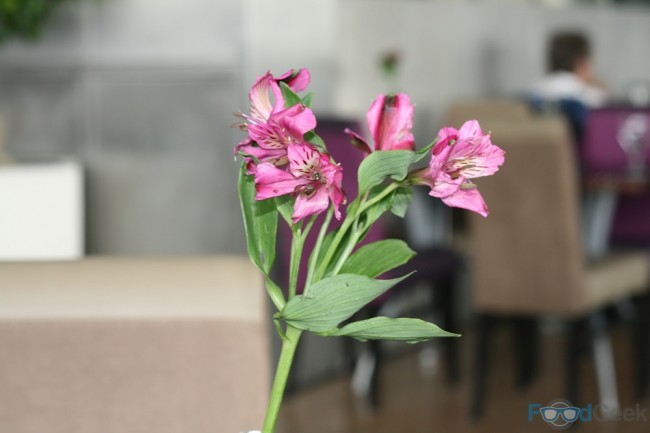 There's a good wine list with some excellent bottles listed, but since I was driving I sensibly decided to save my single glass until my main course. Thankfully there are plenty of interesting soft drinks available too including a delicious old fashioned lemonade and ginger beer.
The menu is fairly small with a choice of four starters and five main courses but choosing was difficult as they all sounded so appetising. In the end I went for 'Smoked salmon, horseradish panna cotta, beetroot salad, caper berries', it arrived looking beautiful and tasted just as good. The smoked salmon was excellent quality and worked perfectly with the earthy beetroot and lentil salad. My only minor critique was the level of horseradish in the panna cotta, whilst it was distinguishable when eaten by itself I felt the flavour was a little lost amongst the salmon and beetroot. A stronger horseradish flavour to stand up to the others would've improved the overall dish but it was still hugely enjoyable.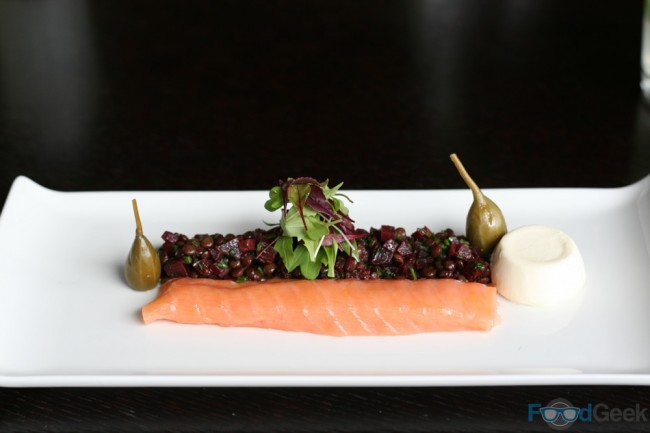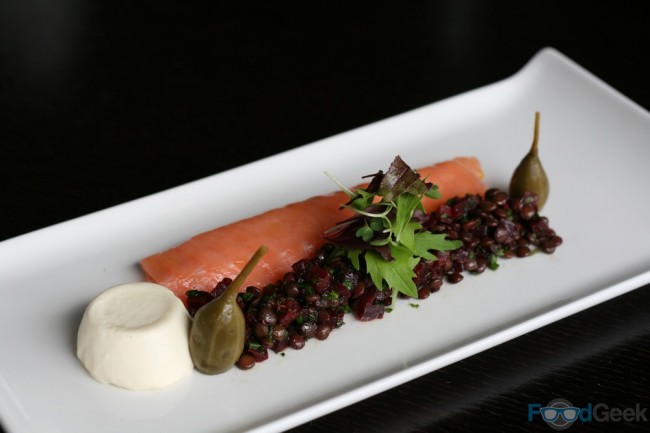 Mrs FG's 'Warm caramelised onion and tomato quiche, rocket pesto, Leagram's Lancashire curd cheese, pine nuts' was equally good. I've never seen a quiche look so neat and precise, I was impressed with the attention to detail too, such as the repeating pattern of curd cheese and pine nuts around the outside. The pastry was excellent and it tastedthere was a nice sweetness from the onion and tomato filling which was balanced perfectly by the tangy Lancashire cheese and dressing.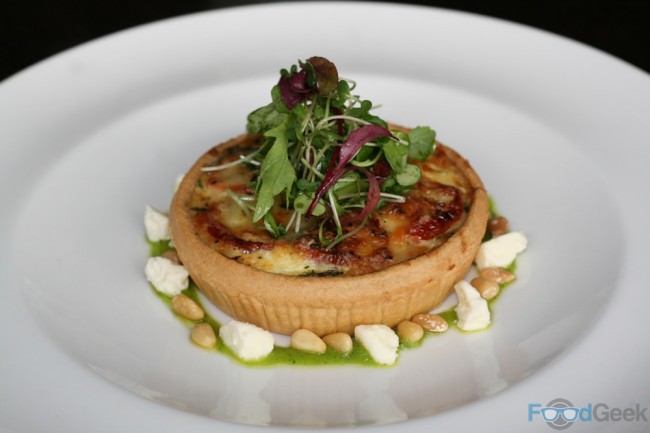 When my main course of 'Lamb rump, herb sausage, black pudding, sweet potato cake, artichoke puree, garlic jus ' arrived I was slightly concerned that the lamb wasn't quite as pink as i'd've liked. But I needn't have worried, it was still wonderfully juicy and tender. This was a fantastic dish; the sausage and black pudding were fabulous, sweet potato cake soft inside the crisp outer coating, the artichoke puree supremely smooth and a ball of spinach brought a touch of freshness. Most impressively, despite being essentially a plate of meat and fried food it didn't feel at all heavy. My glass of fruity Merlot was the perfect accompaniment.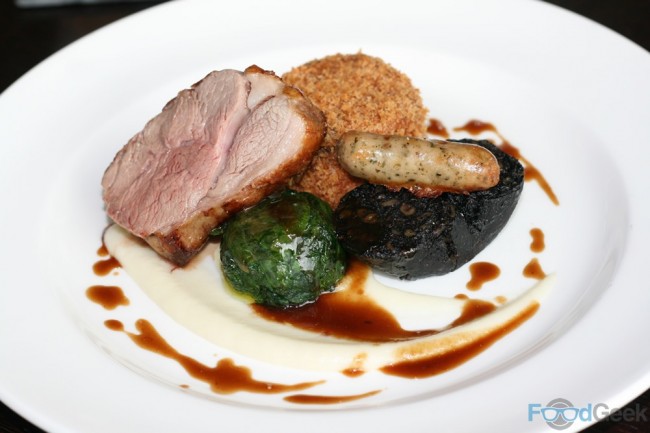 Mrs FG opted for another vegetarian dish, 'Grilled polenta, artichoke puree, courgettes, peas, broad beans, asparagus, herb veloute'. There was a lot going on with this plate yet it had been presented so carefully it still looked attractive and all the flavours worked together perfectly. The grilled polenta was golden and crisp outside, soft and creamy inside while the griddled courgette was a particular highlight of a delicious, light and summery dish.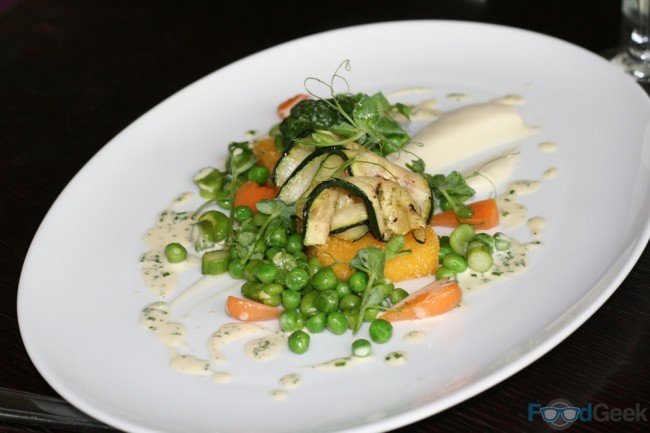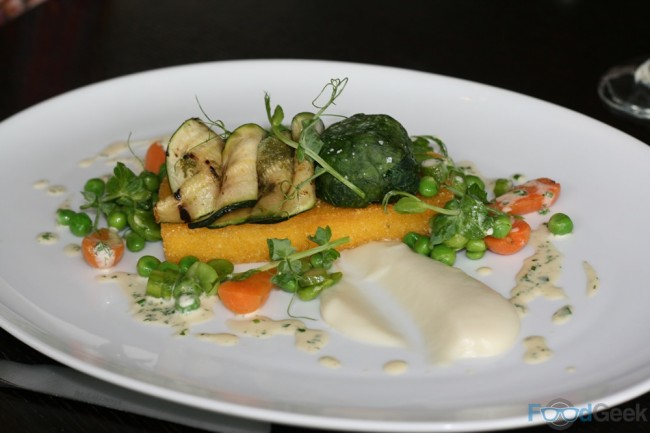 Sides were also good; the bread lovely and fresh, served with a nice salted butter but especially the chips; thick cut and almost certainly double or triple cooked for a crunchy outer coating and soft, fluffy inside.
I opted for the 'Cheese Board' for my dessert; 3 extremely generous pieces of cheese; Crumbly Lancashire Bomb, Brie & Stilton. All excellent quality British cheeses, served with a good amount of oat cakes, salted butter, celery and a sweet fig chutney.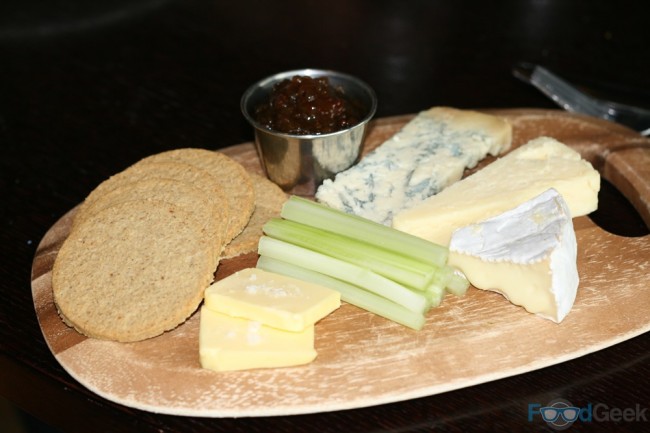 Like her quiche earlier, Mrs FG's Apricot Tart was immaculately presented, we were so impressed by the pastry work and once again it delivered on flavour too. The ice cream was incredibly well made, perfectly smooth and wonderfully creamy, we weren't totally sure about the flavour combination at first but it really worked with the apricot tart.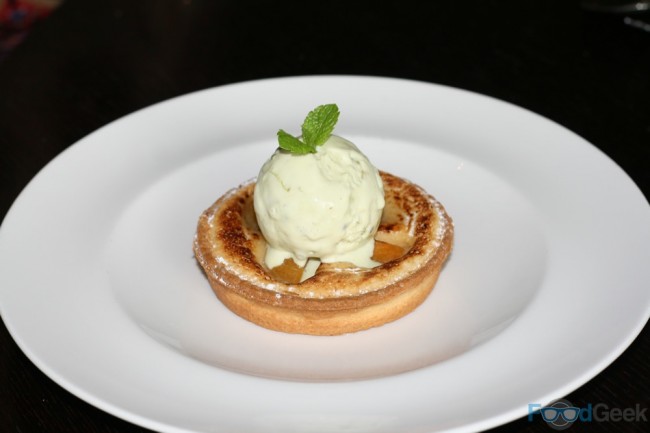 I thoroughly enjoyed my time at The Lowry Restaurant and can't quite believe I didn't know it existed until a few weeks ago. Service was faultless as you'd expected having been invited but from what I could see all the other diners received equal attention. The food is genuinely high quality, on a par or even slightly above the standard at Damson yet it's far cheaper. The 3 course set menu is already excellent value at £24.95 in the evening, better still at lunch time when it costs just £21.95. I'll absolutely be back to eat here next time i'm at The Lowry and if I lived or worked a little closer i'd be a regular whether I was seeing a show or not.
Date of visit: 04.06.2014
Disclaimer: I was invited to preview the new summer menu at The Lowry Restaurant and not asked to pay for my food & drink. All views are my own honest opinions of the experience.