It's ever so slightly awkward turning up to an event to find it's hosted by a man who threatened and upset your friends just days earlier, simply for asking a question. It happened when I was invited to a 'Suckling Pig Banquet' at Red's True Barbecue by Manchester Confidential and arrived to find ManCon's infamous founder 'Gordo', aka Mark Garner at the head of the table.
'The incident' feels like so long ago now and things have quietened down so I don't want to be responsible for stirring them up again. If you aren't aware of the situation you can read Jules' excellent account here and make up your own mind.
One thing I should address though is why I was there in the first place; whilst I agree with Jules' views on Manchester Confidential's advertising policy and have always felt that selling advertising to the same businesses they review is a massive conflict of interests i've actually had an excellent working relationship with them as a blogger. They've invited me to several other restaurants and events, some i've turned down others i've happily accepted. They've always let me write an honest, impartial review and never questioned some of the less flattering (ahem Artisan). Even on this occasion, to be fair to Gordo he stated that they're not expecting anything from us and we're free to write whatever we choose, if we choose. Of course the main reason I went is because I like Red's and i'm a sucker for a suckling pig!
Before the fun began there was a little speech from Gordo where amongst other things he insisted that Jules had 'spun' the situation. I strongly disagree with this but that's the last i'll say on the matter as from that point on I had a thoroughly enjoyable evening.
And what better way to start than with Picklebacks. That's a shot of whiskey followed by a chaser of pickle brine if you didn't know. If you've never tried one, you should!
As much as I love Picklebacks it was a Tuesday night so whilst the others were drinking cocktails I sensibly went for one of my favourite beers at the moment, Long Hammer IPA. Forgetting that at 6.2% a pint is probably going to do me as much harm as the cocktail would, ah well.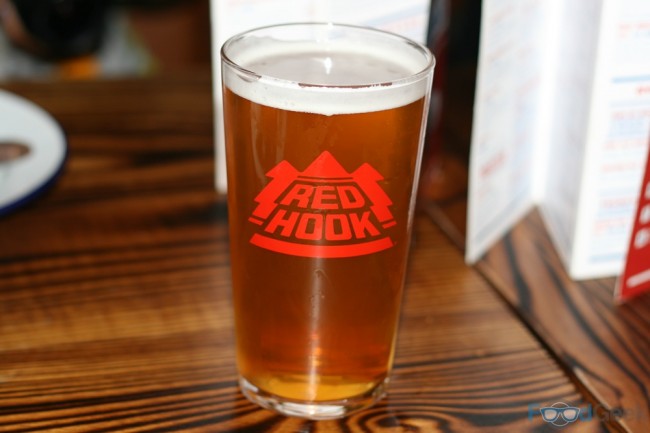 Then the food started to arrive, we were treated to a variety of Red's starters; Hush Puppies, BBQ Ribs and Jumbo BBQ Wings. I'd had each of the dishes on my first two visits and was happy to find them as good as I remembered. I was particularly fond of the 'Hot' Jumbo BBQ Wings which were too spicy for many of my fellow guests, much to my own benefit.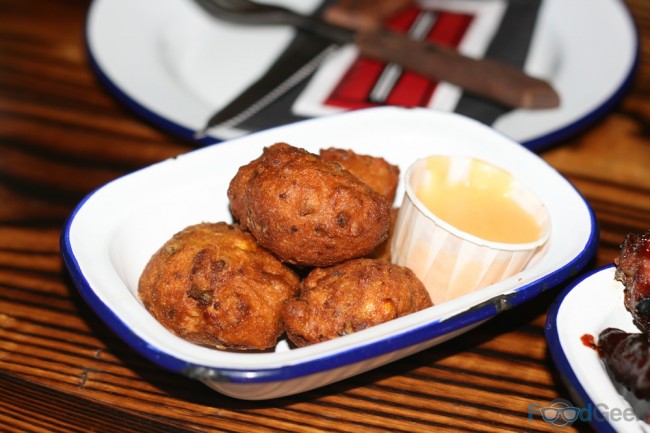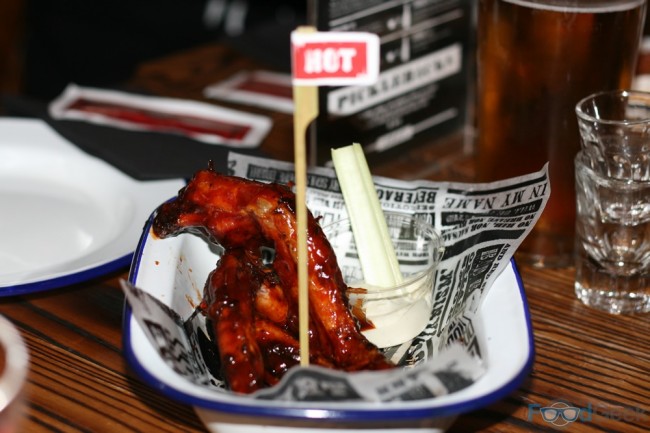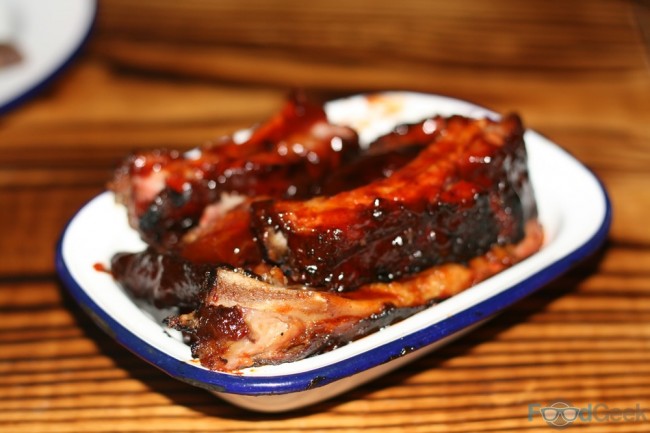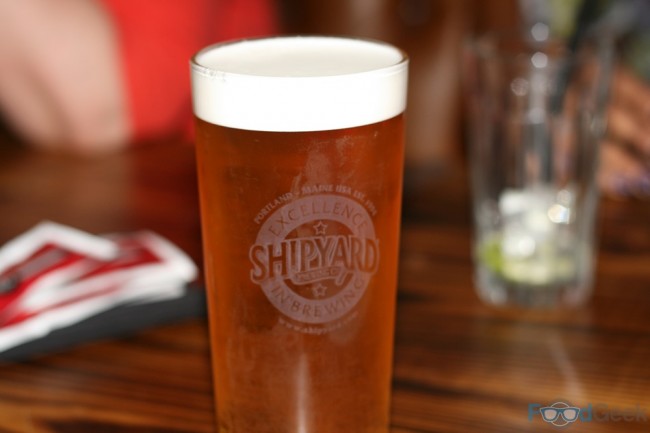 After another drink or two the main event arrived, a whole slow-smoked suckling pig. Looking mighty fine on it's wooden platter, surrounded by Texas smoked sausage, salad and pickles, topped with crackling and with the obligatory apple in it's mouth. Although – and i'm certainly no expert smoker – I couldn't help thinking it looked a bit TOO dark. I do believe I was right and the poor piggie was quite badly overcooked. The exterior was a bit too charred almost to the point of tasting burnt whilst the flesh inside tasted good but was rather dry. A real shame for such a magnificent creature. The crackling though was absolutely stunning, the Texas sausage good too with a real kick of spice to match the smokiness.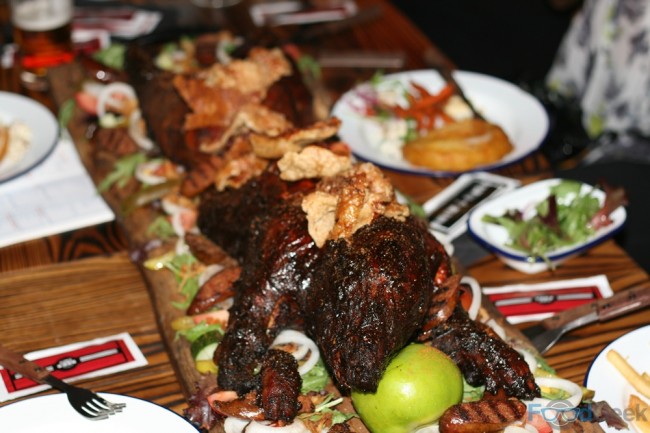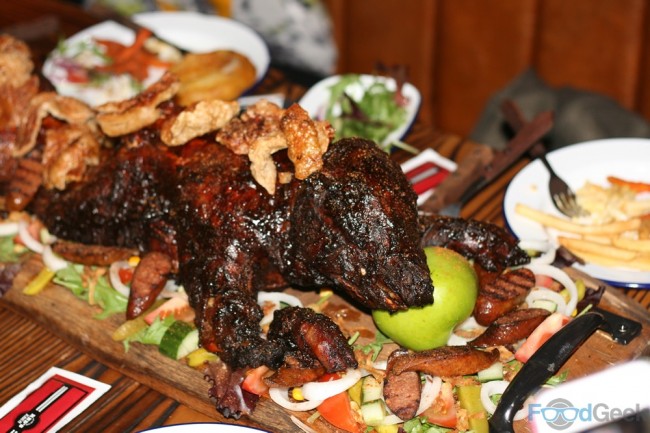 Along with the pig we were served a variety of Red's side dishes. I gave the regular fries a miss as they looked a little dull but the 'Sweet Potato Fries' and everything else were great.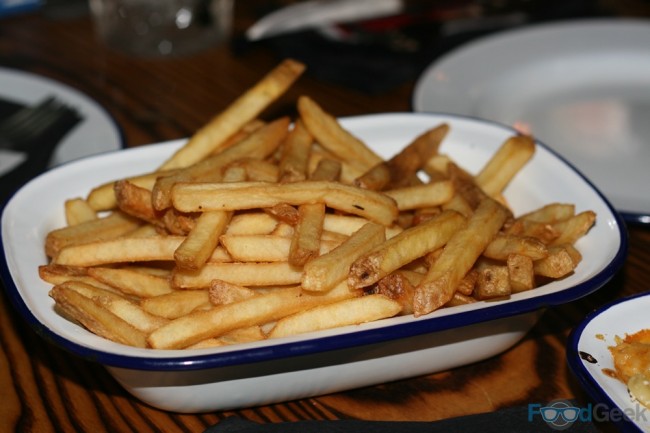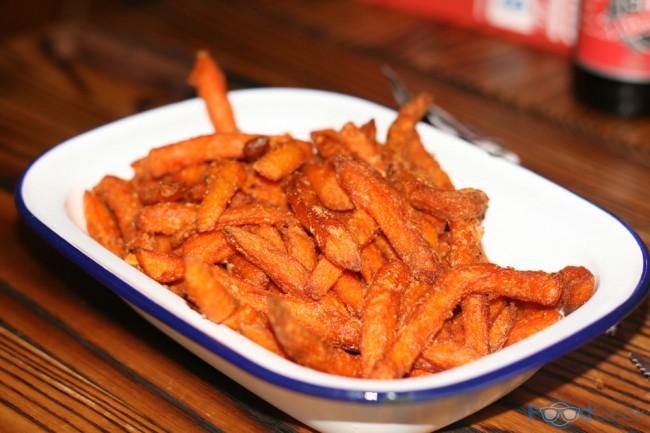 Favourites included the; Giant Onion Rings, Grits and Slaw.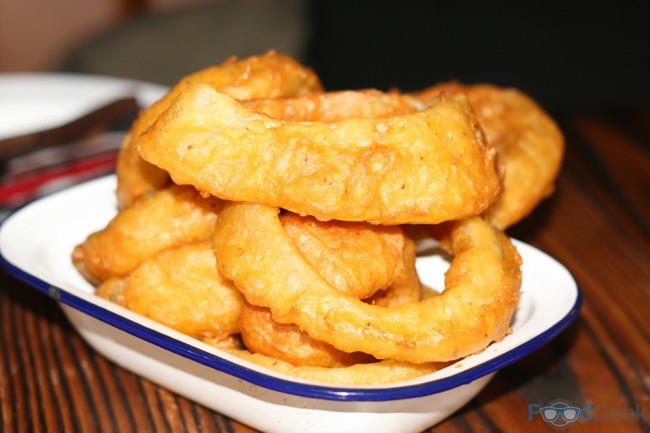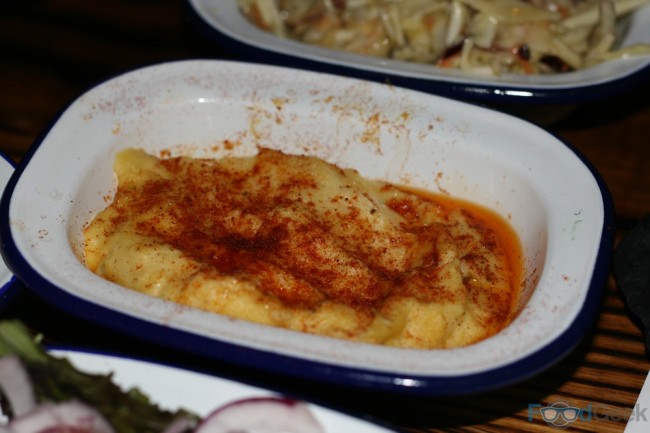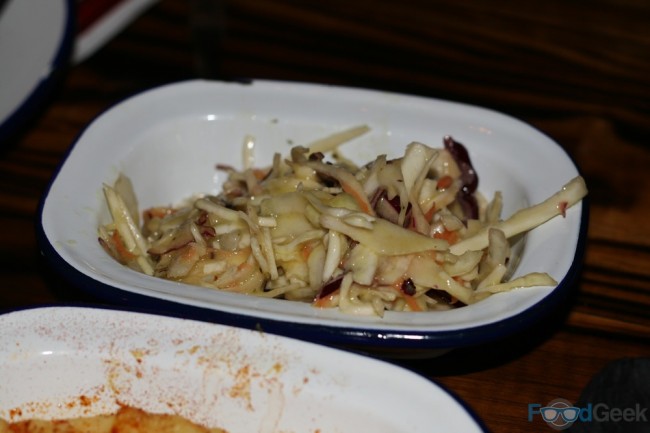 Even the salad wasn't bad!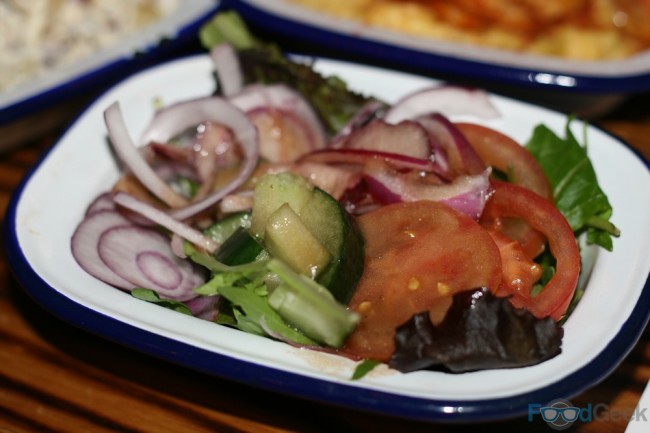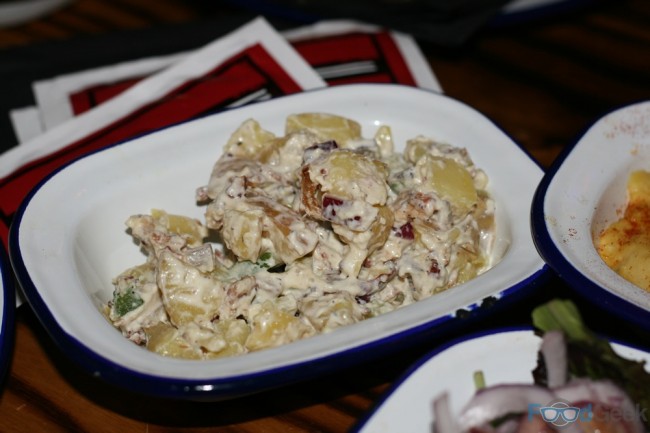 The one dish I hadn't tried before was the Mac N Cheese which was supremely cheesy and comforting. The only disappointment was that we didn't receive the 'Pit Beans', by far my favourite dish at Red's but I know i'm just being greedy!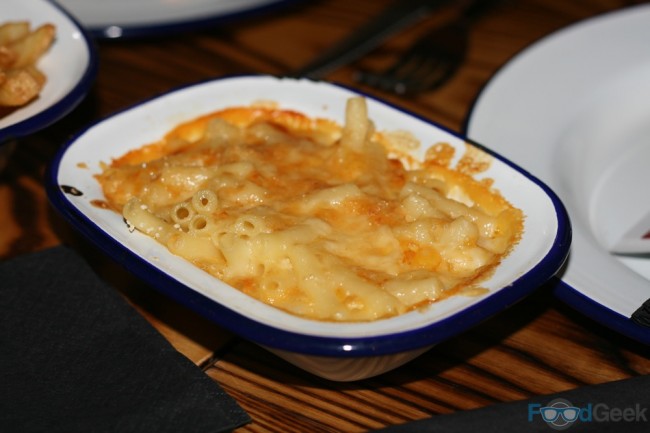 After demolishing the pig and sides we were asked about dessert. Much of the table groaned at the thought but being a bigger pig than the one we'd just eaten I was ready and waiting. But also outnumbered, so it was decided we'd wait a while, which at least gave me the opportunity to try a couple more beers from the fantastic range of American craft beers available, probably the best of any Manchester restaurant. Anywhere stocking Founders, Brooklyn, Anchor and Flying Dog along with great guest ales gets a thumbs up from me.
Finally dessert arrived in the form of 'Banana Pudding'; a rich, indulgent and very sweet combination of sponge wafers topped with fresh banana, vanilla custard and gooey meringue. It was a bit too much for some after what had come before but I happily soldiered on, enjoying every sweet and sticky mouthful.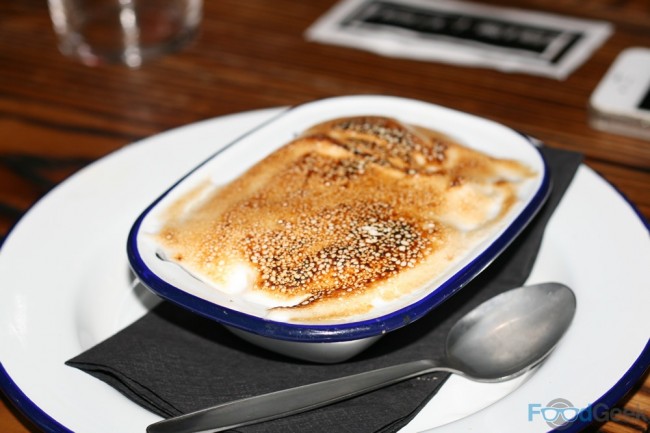 With my willpower on the wane and thoughts of Wednesday morning long gone I ended up with a cocktail anyway. 'Aztec Nectar' was a gorgeous intoxicating mix of aged Mezcal, Tequila coffee liqueur and pineapple juice.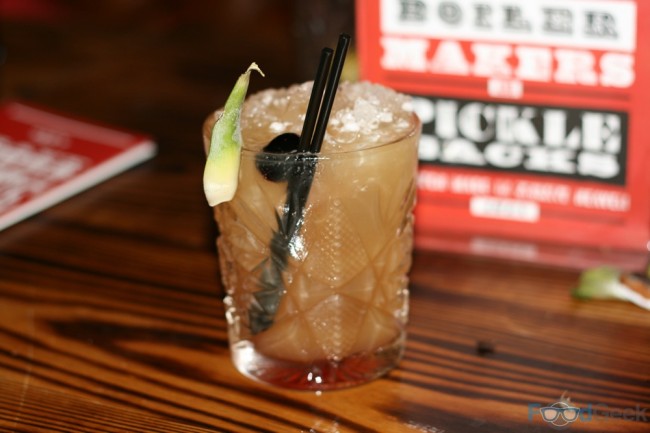 Despite the suckling pig being overcooked which was admittedly the star of the show I had a great time at Red's, everything else we ate was excellent and i've seen photos of others they've prepared since which are nowhere near as dark, I guess somebody forgot to take ours out on time. I still really like the place, it's whole vibe and of course the drinks menu.
It was also a fun night with great company from fellow bloggers, friends and yes, even Gordo himself. At one point in the evening I tweeted this….
Is Gordo growing on me or am I getting drunk! ;)

— Food Geek (@FoodGeekUK) June 3, 2014
I think the answer lies somewhere in between. Yes i'd had a few drinks but he was genuinely good company, I enjoyed talking to him about Manchester restaurants and we even almost bonded over the rather good and eclectic music playing throughout the night. Who knew he was a big Foo Fighters fan?
It obviously doesn't excuse 'the incident' though and i'm still firmly on Bailey & Jules side but it was a pleasant surprise at least.
Date of visit: 03.06.2014
Disclaimer: I was invited to Red's by Manchester Confidential who footed the bill. As mentioned at the start they made no attempt to influence what I wrote, which is an honest account of my experience on the night.