Last November I was incredibly excited when Lucha Libre brought their exciting Mexican food over from Liverpool to a large, plush new second site in Manchester's Great Northern Tower. Sadly it didn't quite live up to the standards of it's older sibling when I visited, though to be fair it was in the restaurants first week of opening. I always intended on returning to see if things picked up and although it took me a little longer than expected – eight months in fact! – I finally did in July.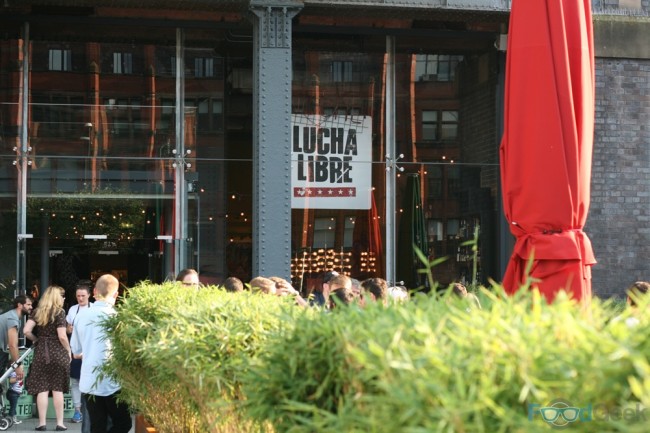 My visit was during the best couple of weeks weather of the summer so we took the rare opportunity to eat outside. Sadly I was driving but did manage to share a lovely Frozen Margarita, perfect for the hot summers day.
We started with 'Homemade Tortilla Chips, Guacamole & Bacon Chilli Jam' which were fine. Decent chips, not the best guac in the world (I am admittedly a guacamole snob) but with a nice kick from the bacon jam which had exactly the right balance of savoury, sweet and spicy to contrast with the smooth, cooling guacamole.
Followed by a 'Street Food Tray' containing a variety of their street food dishes including quesadillas, tacos and tostadas. These were mostly pretty good, although I found the bottom of the tostadas a little greasy I really enjoyed the topping of chicken, black beans and salsa. The quesadillas were 'Chorizo & Potato' and 'Maria Sabina' which I preferred and contained mushrooms, Mexican herbs and Spinach. I also loved the pickled red onion which topped the slow cooked pork on the 'Pil Bil' tacos.
The street food tray comes with a choice of two sides, we went for 'Red Rice' which I found a little bland and very dry and 'Refried Black Beans' which were much better.
We had a couple of burritos too, the 'Cali Steak Burrito' was great. Stuffed with marinated steak, caramelised onions, sweet potato fries, cheese, guacamole, sour cream & lettuce, it was a challenge to finish it but tasted great.
Unfortunately the same couldn't be said about the 'Veggie Burrito' which had almost certainly, in fact, absolutely had been microwaved. I've no idea why as everything else seemed fresh but this clearly wasn't. The sweet potato, peppers and tomato inside were insanely hot, the sort of heat that only comes from been nuked in a microwave, whilst the tortilla was soggy, nothing like the Cali Steak. It wasn't just the awful texture that was the problem though, it was far far too sweet as well. Being filled with beetroot puree, sweet potato, sweet peppers and tomatoes it really needed a massive hit of citrus or sour cream or something to counter all that sweetness. The tangy goats cheese it was supposed to include may well have done the trick but there was so little of it, it had no chance of standing up to the other ingredients.
At least we finished on a high though as probably the best thing we ate were 'Prawn & Mango Tacos', I'd enjoyed them last time and they were just as good here. In fact the prawns themselves were much better with a lovely charring on the outside but still super juicy, the mango salsa was a touch sweet for me but unlike the burrito it was countered by the sharp minted guacamole and the heat of the chillies.
Service was fine, if a little slow at times but it was Friday evening and the gorgeous weather brought out the drinkers too. Despite a few issues with the food it was mostly an enjoyable experience, however I don't feel that they've improved any since my first visit in their first week, if anything the food seems to have gone backwards somewhat. I would be happy to return but I'm certainly not in any rush, it could easily be another eight months. But by that time they may have a new competitor, one that really knows their stuff; there are strong rumours of Wahaca (a chain of Mexican restaurnts in London run by MasterChef winner Thomasina Miers) finally opening up in Manchester next year, if that is the case I'd suggest that Lucha Libre need to significantly up their game.
Date of visit: 25.07.2014
Follow @FoodGeekUK