What better way to recover from a long and tiring day at popular Algarve water park Slide & Splash than with freshly grilled seafood in the sun. That's exactly what I needed and what I got at 'A Paleta' in Lagoa, just a ten minute drive from said water park.
A Paleta doesn't have a website and isn't much to look at from the outside (or the inside to be honest) but they do fresh, simple seafood very well.
Excitingly, most of the menu changes daily depending on what fish and seafood is available.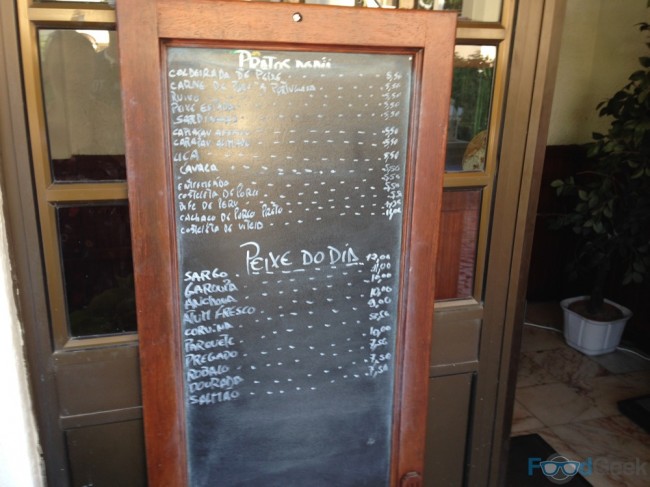 We ordered a selection including; halibut, mackerel and sea bass. All were supremely fresh and cooked to perfection over charcoal which imparted a lovely smokey flavour. My favourite was the halibut; big meaty flakes of wonderfully soft flesh that tasted fantastic. Garnishes were very simple; not seasoned and not particularly well presented, it's a shame they didn't receive as much care as the fish obviously did but it didn't really matter, it was all about the fish.
'Fish Stew' was warm, comforting and very tasty, perhaps not ideal for the 30 degree weather but it tasted great. I can't pretend to have a clue what most of the ingredients were though; it contained all sorts of bits and pieces, tail ends and cheap cuts of fish which made it all the more interesting for me.
We tried a couple of salads too, both 'Green' and 'Tomato' were again very simple but tasted good thanks to the quality fresh, local ingredients. You don't have to do much to tomatoes on the Algarve to make them taste amazing.
I really enjoyed A Paleta, like many traditional Portuguese restaurants the food is very simple, it's no frills and all about the ingredients. I'd've liked to see a bit more care taken with the garnishes but the grilled fish was as good as anywhere I've ever had in Portugal. The place seems to be frequented by locals which is always a good indicator and it's fantastic value with the bill coming to not much over €50 including several drinks!
Date of visit: 27.08.2014
Follow @FoodGeekUK