I've been to many supper clubs this year but they've always been run by individuals, usually in their own homes. Somewhat different from an event I attended recently; a supper club in an actual restaurant, with food cooked by a celebrity chef and hosted by a national government!
The 'Malaysian Banquet' was hosted by Malaysia Kitchen – a programme aimed at promoting Malaysian cuisine overseas – at Ning in Manchester, with head chef and celebrity Norman Musa doing the cooking.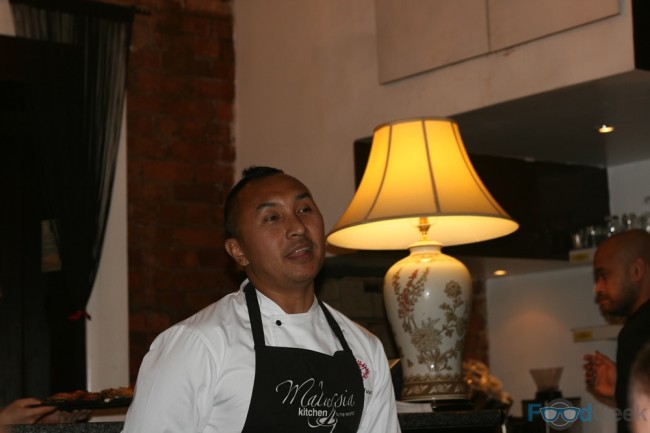 There were canapés and (non alcoholic) cocktails upon arrival; a refreshing 'Fruit Punch' along with popular Malaysian drink 'Sirap Rose' which I found way too sweet.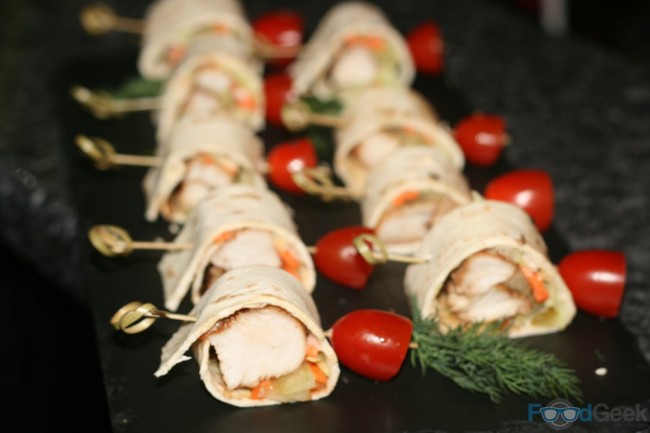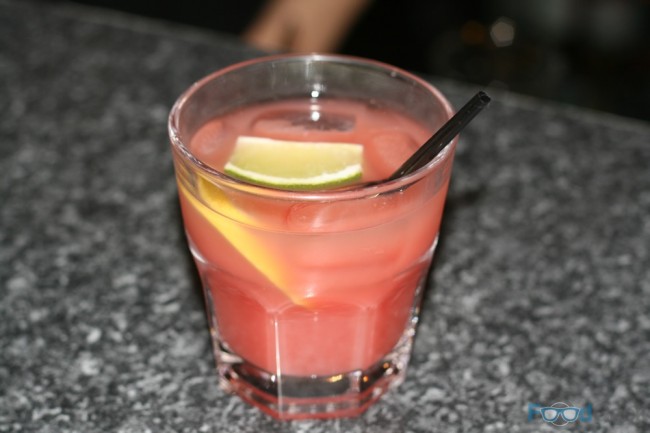 After taking our seats at two long tables – supper club style – the food quickly arrived. Starting with a 'DIY Mango Salad'; a bowl of leaves and chopped mango to which we added as much (all) crushed roasted peanuts, crispy fried anchovies, fried shallots, fish sauce, coriander and red chilli as we liked. The end result was a pretty tasty salad; a nice combination of sweet, salty and spicy with great texture from the peanuts and crispy anchovies. With a squeeze of lime it would've been perfect.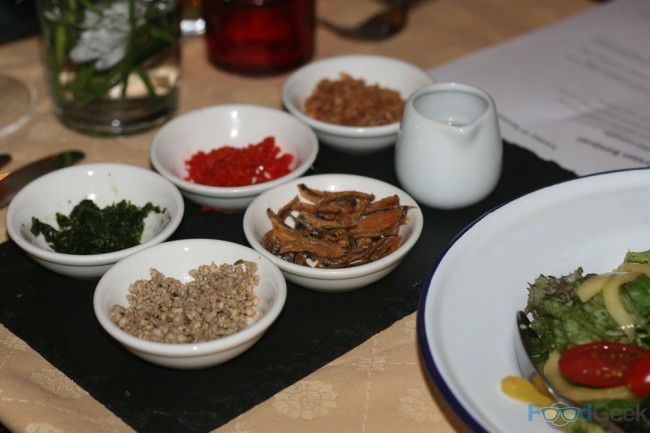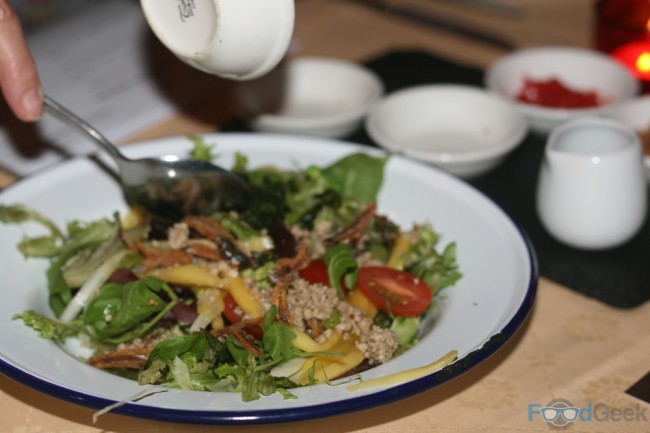 Followed by one of my favourite things to eat, 'Soft Shelled Crab'. Deep fried whole, in a light crispy batter seasoned with Malaysian herbs and served with a chilli sambal dipping sauce.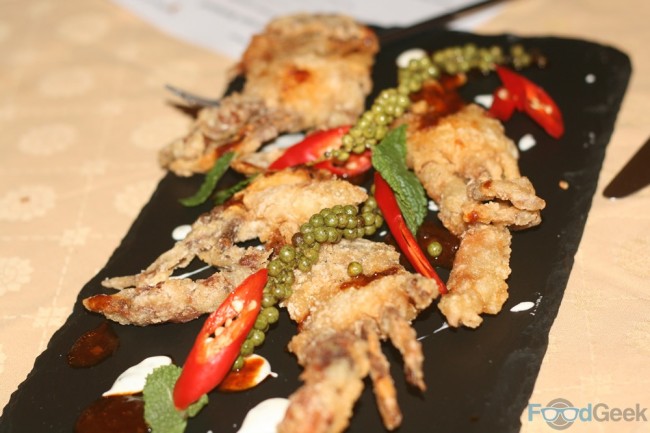 I had high hopes for the next dish after seeing chef Norman cook it on a recent episode of Tom Kerridge's 'Best Ever Dishes'. It didn't disappoint; the tender chicken thigh skewers marinated in turmeric, lemon grass and cumin were enjoyable enough on their own but even better when combined with the rich and flavoursome satay sauce.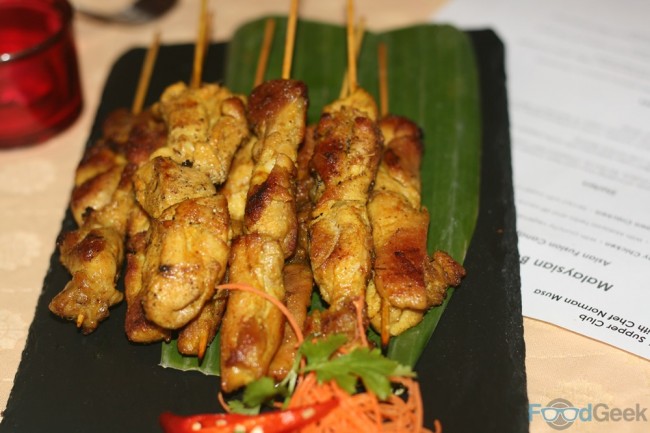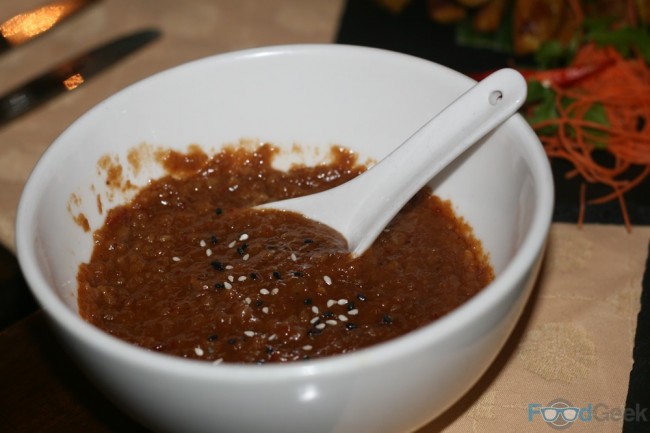 Main course consisted of four large dishes to share. An impressive whole wild sea bass, steamed with lemon grass, lime leaves, chillies, garlic and ginger (Siakap Kukus). Grilled marinated chicken breast in a coconut gravy (Ayam Percik) and roasted sweet potato and pumpkin also in an aromatic coconut gravy (Masak Lemak Labu & Keledek).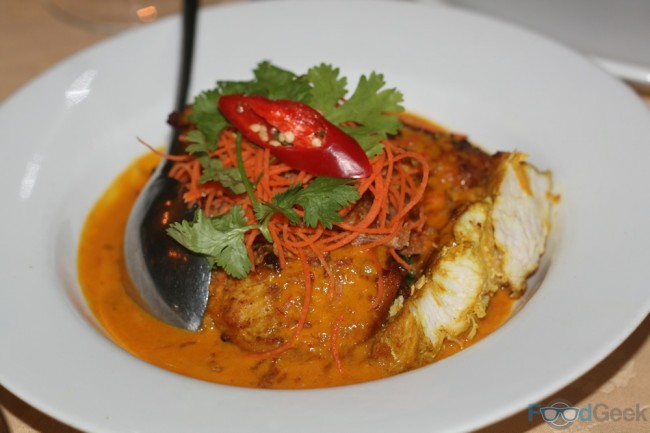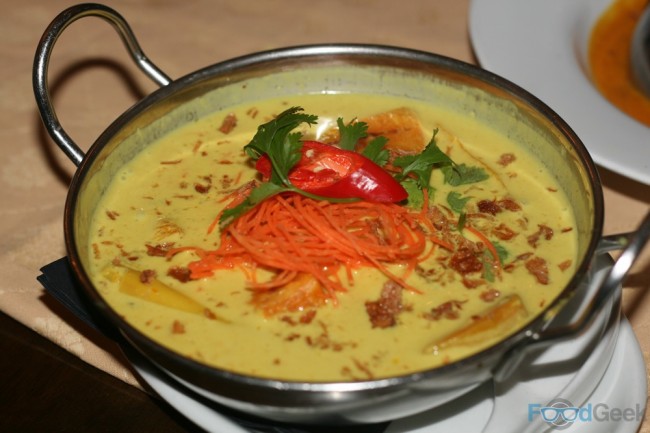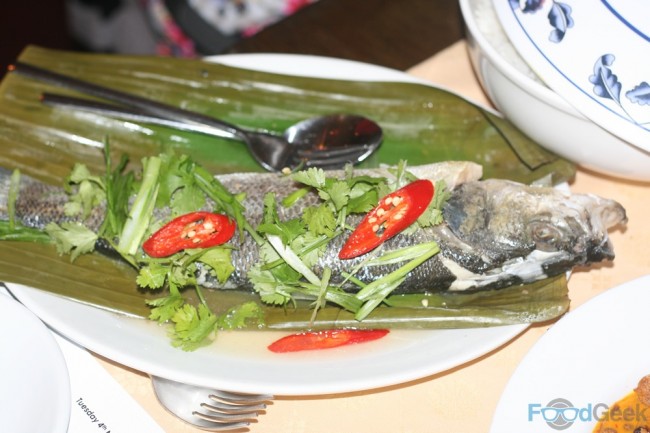 They were all good but I liked the 'Sambal Petai & Udang' most; large juicy prawns in chilli sambal with bitter beans. The thick sauce was full of flavour from chilli and spices and I loved the contrast of the bitter beans (petai).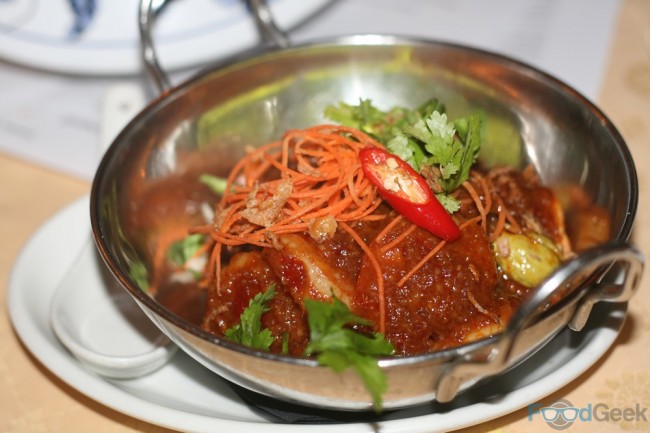 There was also a cooking demonstration as chef Norman Musa showed us how to make 'Roti Jala'. Some of the less camera shy guests took turns to make their own impressive net like pancakes.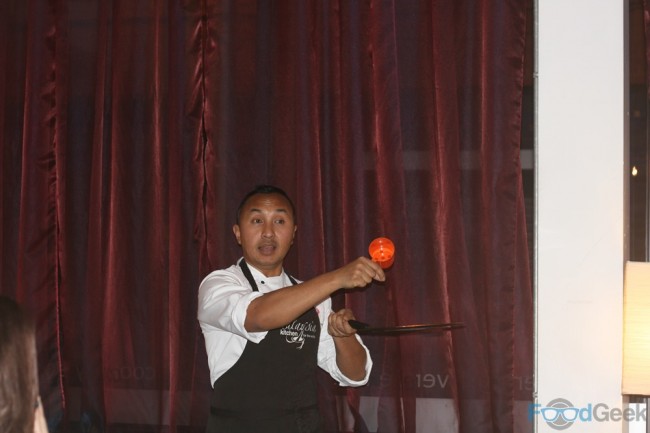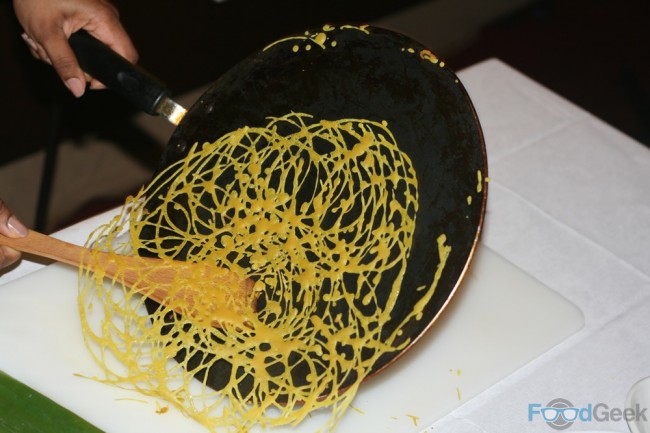 Dessert started with 'Seri Muka'; a delicious sweet cake of steamed glutinous rice topped with a set custard made of coconut milk, one of the most interesting desserts I've tasted for a long time.
Also 'Onde Onde Buah Melaka'; balls of glutinous rice with melted palm sugar filling. I enjoyed the filling inside these very much but would've preferred them without the desiccated coconut on the outside, one of the few ingredients I can't make myself like.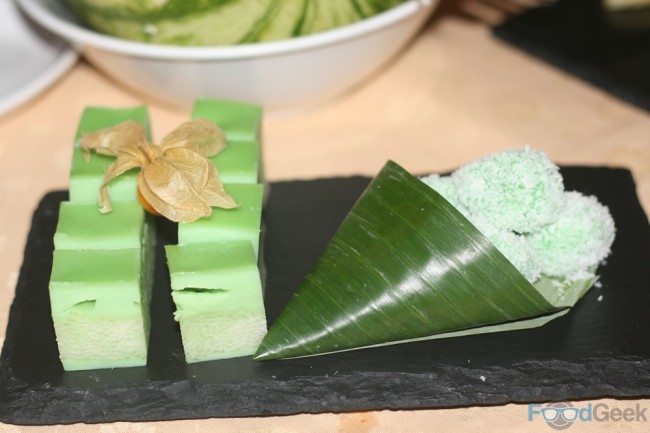 We ended with a beautiful platter of tropical Malaysian fruit; pineapple and watermelon alongside more exotic dragon fruit, lychee and longan. It tasted every bit as good as it looked.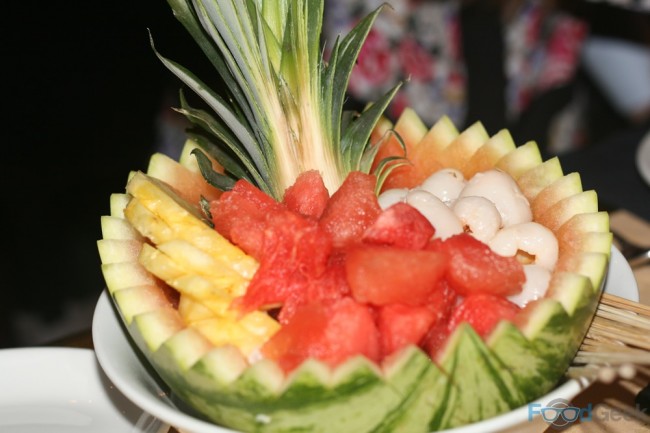 I really enjoyed the event overall and although Malaysian food wasn't totally new to me – I've eaten Norman's food before at Friday Food Fight as well as a lot of Thai food, a similar cuisine – it has inspired me to cook more at home than I have previously.
It appeals to my love of spicy food but it's also really interesting the way it's influenced by Chinese and Indian cooking. Most importantly it's about vibrant flavours and fresh ingredients, most of which are readily available in good supermarkets these days. So there's no excuse for us not cooking more Malaysian food at home.
Date of visit: 04.11.2014
Disclaimer: The Malaysia Kitchen Supper Club was a private, invite only event.