After attending EP 01 & 02 of Friday Food Fight but missing EP03 I was determined to make it to EP 04 last week, despite the fact I already had plans for the evening. The great thing about the event is you can come and go as you please, stay as long as you like and eat as much or as little as you want, so I called in shortly after they opened at 5:30 with the intention of just trying a couple of small dishes.
Each time I return the venue seems to be better than previously, this time a new bar had been assembled at the other end of the hall selling a selection of drinks. Although I still went to the main bar for my favourite Long Hammer IPA the new bar will almost certainly be quieter during busy times, great for people buying bottles or cans.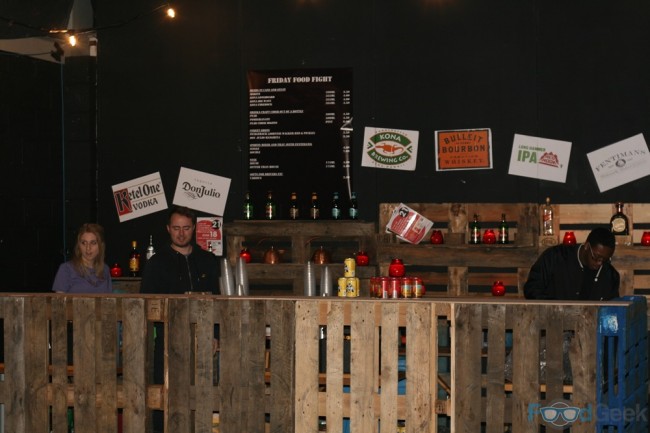 Apparently the previous week was the busiest yet with most people seemingly there to eat SoLita's burgers & wings. By all accounts they had huge queues most of the night, they returned last week with more staff and a menu easier to manage at such high volume. Unfortunately that meant they'd dropped the KFB (Kentucky Fried Bacon) which I had my heart set on.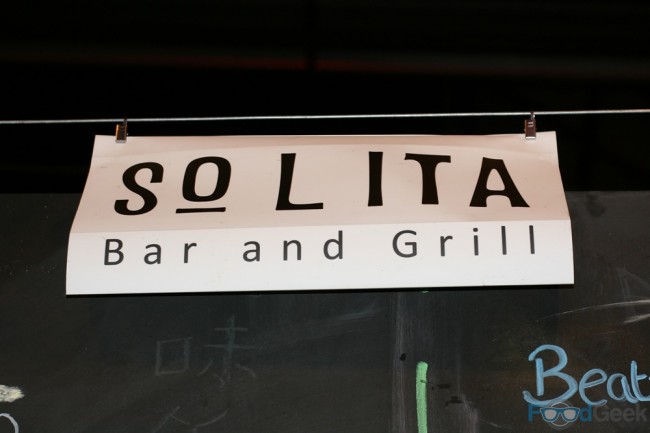 Luckily for me, Franco, SoLita boss and all round good guy took pity on me and got his chef to make one specially. Despite being one of my favourite ever SoLita burgers it'd been over a year since my last one, testament to how many amazing specials SoLita produce that stop me repeat ordering. This was almost as good as I remember the restaurant version and an absolute bargain at £6, no wonder people were queuing out of the door for them.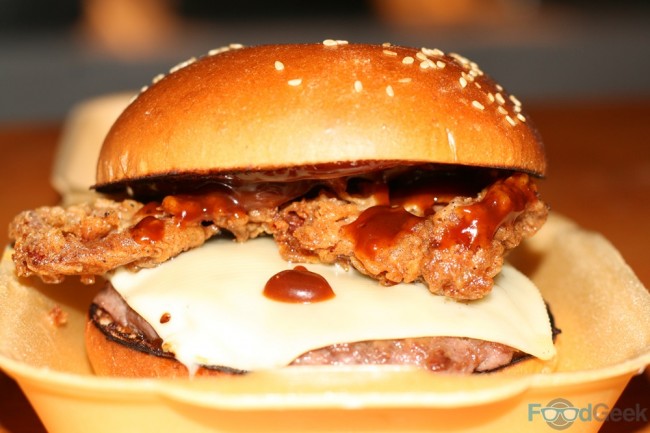 Next I got another taste of Moroccan street food from Flavours Found. I've got a long running joke with Richard after criticising his 'Far Far' at the Cook Off where he won his place at Friday Food Fight. To be fair, they're not that bad at all, just not as good as Mughli's but there's really no shame in that. They get better each time I try them too, this was no exception as they were more heavily spiced than before. I've no doubt that if Richard keeps working on them they'll be up to Mughli's standard by around 2047.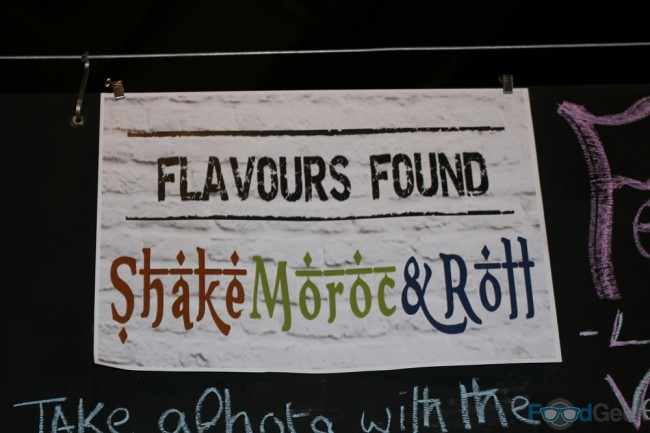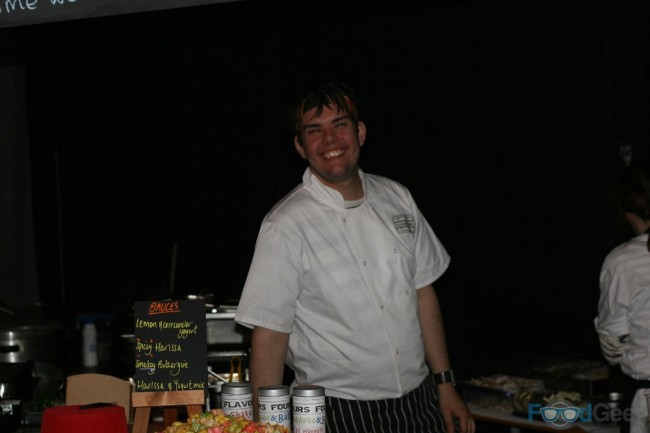 His 'Dirham Roll' though was absolutely brilliant; crispy lamb pastillas topped with gorgeous spicy harissa sauce and cooling lemon & coriander yoghurt. I loved the contrast between the two sauces along with the crunch and freshness from the salad.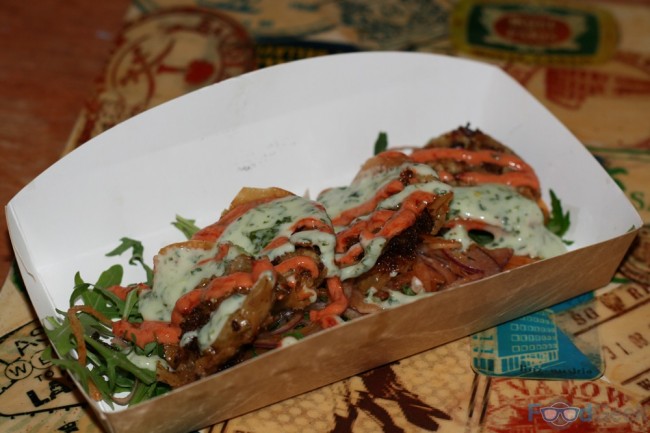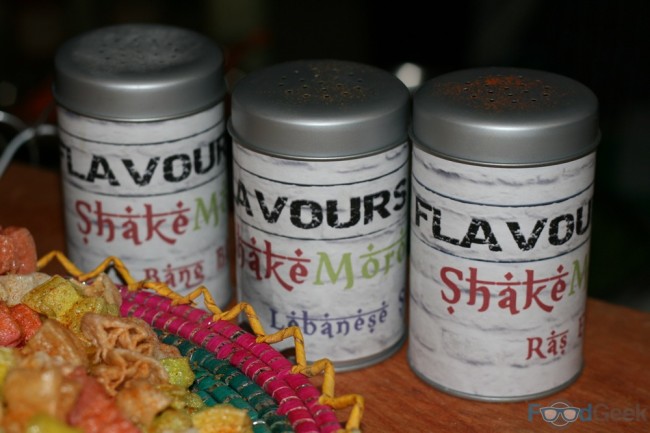 The best thing I ate was from Ning, the restaurant headed up by one of Europe's leading Malaysian chefs Norman Musa. I'm ashamed that I haven't been to either their Manchester or London restaurants but definitely will be doing after eating their fantastic 'Chicken Rendang'. Not the most appealing dish visually but proof that looks can be deceiving as it was stunning.
I've enjoyed Beef Rendang many times but never chicken. It was a revelation, the layers of flavours; lemongrass, galangal, coconut, chilli and complex range of spices just seemed to work better with the lighter and more subtle chicken. Served with jasmine rice it was one of the most accomplished dishes i've eaten at all three Friday Food Fight events.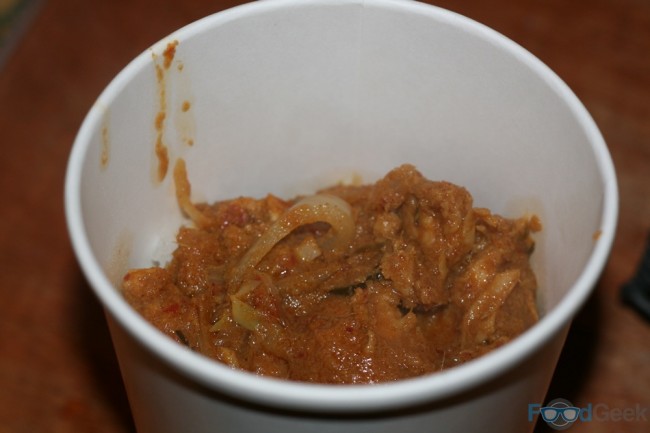 As usual the 'Sugar Rush Gals' were providing amazing desserts, this time chocolate brownies, strawberry blondies & a gorgeous Oreo banoffee chocolate cheesecake! With a variety of ice cream including the delicious Ferrero Rocher flavour!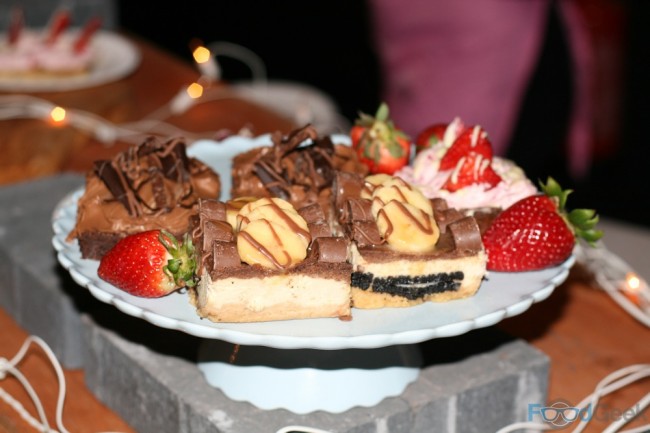 Despite not staying as long or eating as much I think EP 04 was my favourite Friday Food Fight so far, there was a really good vibe and atmosphere. As much as I would've loved to stay all night and try more food from the likes of Bobby's Bangers, Hip Hop Chip Shop and Red's i'd already eaten far more than anybody on their way out for a 3 course meal should. I'll be back for more at EP.05 though.
Date of visit: 28.03.14