As we approached Tattu – a swanky new 'Modern Chinese' restaurant – I couldn't help wondering if I was going to feel as out of place as I often do in Spinningfields.
This feeling intensified when I spotted the bouncers on the door who then looked at me in a 'You know this is Spinningfields not the Northern Quarter' sort of way.
I'm not convinced any restaurant in Manchester needs bouncers at 6pm on a Thursday evening but I suppose it is Spinningfields. Call me cynical but I can't help thinking they're there to ensure the right people get in rather than prevent trouble. I'm fairly confident I wouldn't have been let in had I not been invited to preview the menu.
Luckily my invite was accepted and I made my way upstairs to be greeted by a huge cherry blossom tree. I'd heard a lot about it before arriving but it's still an impressive sight in person.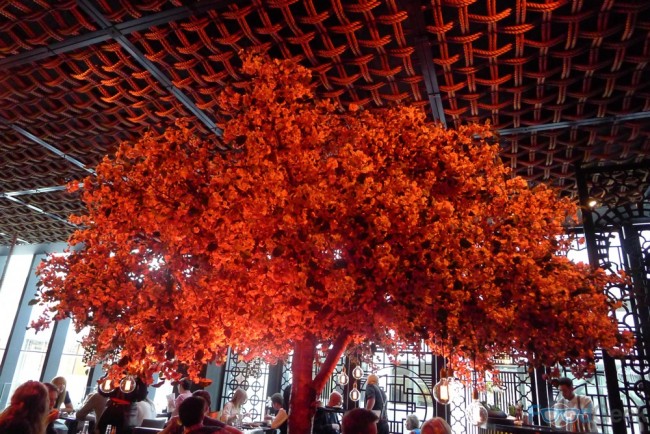 I admired some more of the striking, artistic decor; an intriguing mix of modern industrial metal and rope interspersed with floral touches.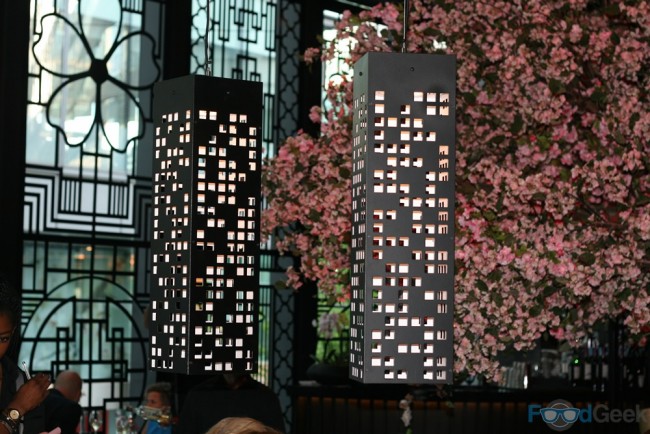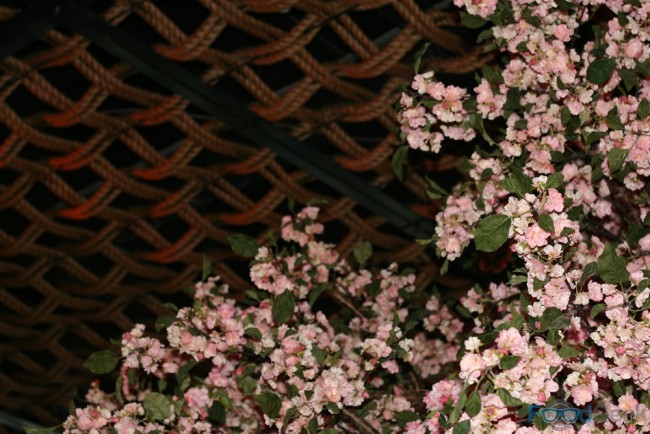 Before taking a seat in one of the booths under the cherry blossom tree.
Being a preview event we chose from a limited menu containing a choice of: four dim sum dishes to start, four main courses, four sides and a couple of desserts.
My 'Beef & Fois Gras Gyoza' looked great and tasted pretty good.
But I'd been warned to eat them in one as the liquid fois gras would explode, so it was disappointing to find they were quite dry and lacked any rich fois flavour.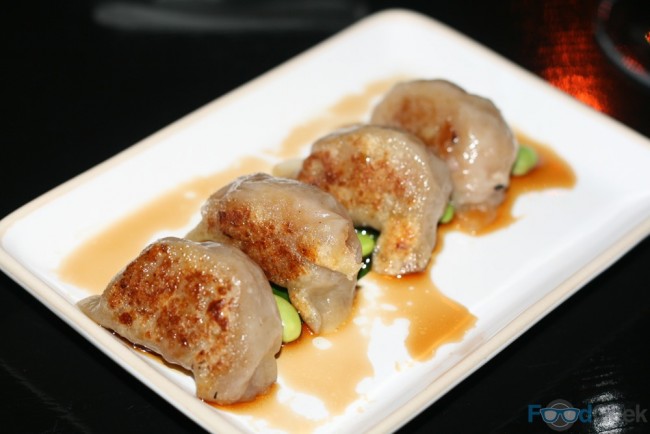 Mrs FG's 'Lobster & Prawn Toast' could've perhaps done with a bit more lobster, the main flavour was predominantly prawn but they were very enjoyable all the same.
A clever, refined twist on a classic Chinese takeaway dish.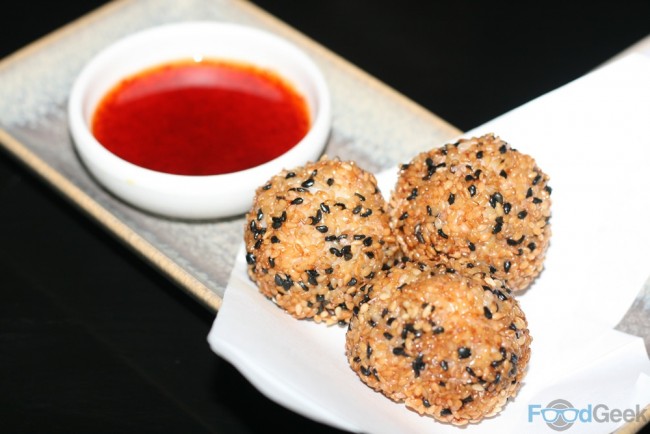 I'd chosen 'Red Pepper Lamb Chops' for my main course, which was excellent. The lamb was chops were just about medium rare, verging on medium. I would've preferred them slightly less cooked but they were still wonderfully juicy inside with intense flavour from the deep char marks on the outside and a spicy marinade.
I loved the 'Hot & Sour Pumpkin' on the side too. Shredded pumpkin and red pepper with a real kick and toasted pumpkin seeds for texture.
My only complaint was the size of the dish; it felt a bit small for a main course.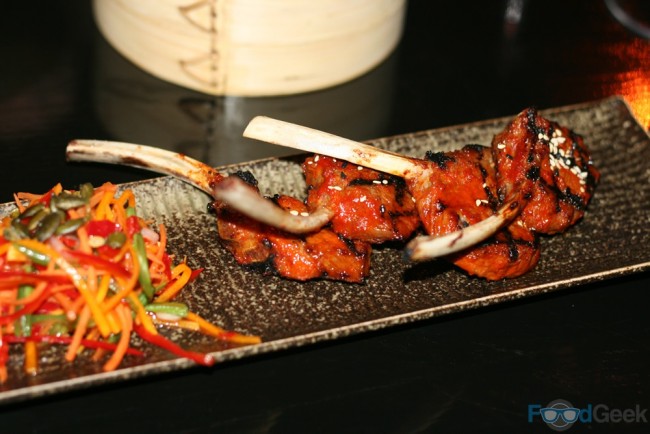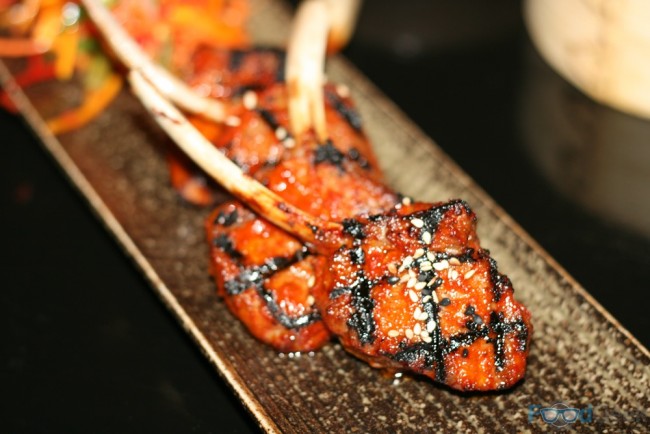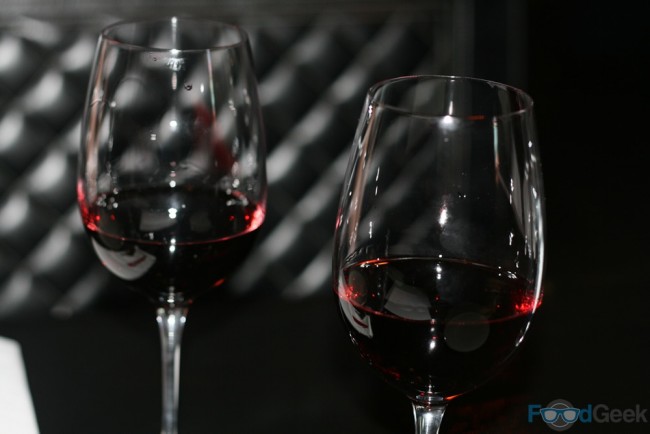 Mrs FG's 'Saffron Miso Black Cod' was also a fairly small portion but we soon forgave it as it looked beautiful and was very good.
The fish itself was perfectly cooked, we'd worried the saffron may be too much for the delicate fish but in fact it was very subtle. If anything there was a touch too much miso, and I say that as a huge fan of the stuff.
The razor clam shell placed on top contained bite-sized pieces of razor clams, Chinese sausage, kohlrabi and sweet wine jelly and added interesting flavours and textures to a classy dish.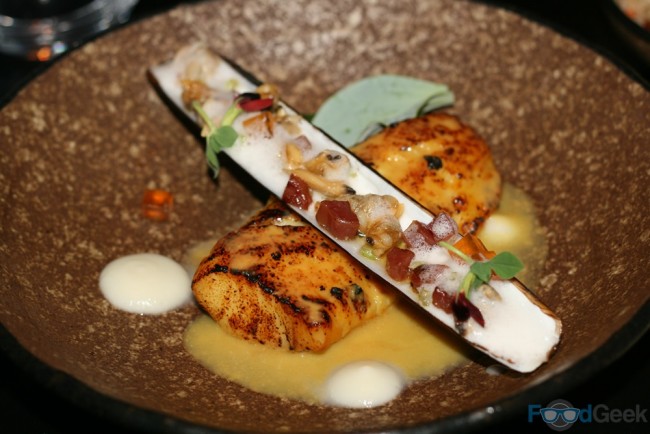 We shared a couple of sides; 'Steamed Vegetables' with garlic and chilli were fine, although lacking in heat but the 'Duck Egg & Sausage Fried Rice' was great.
Actually, the rice itself was quite dry but when you go a piece of sausage or duck it was just brilliant. Thankfully there was plenty of said meats to go round.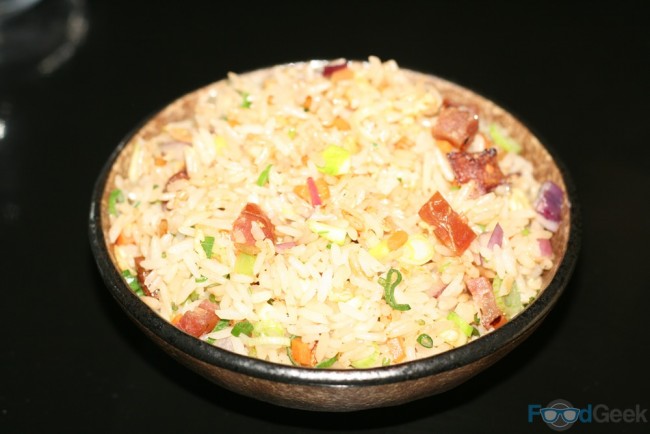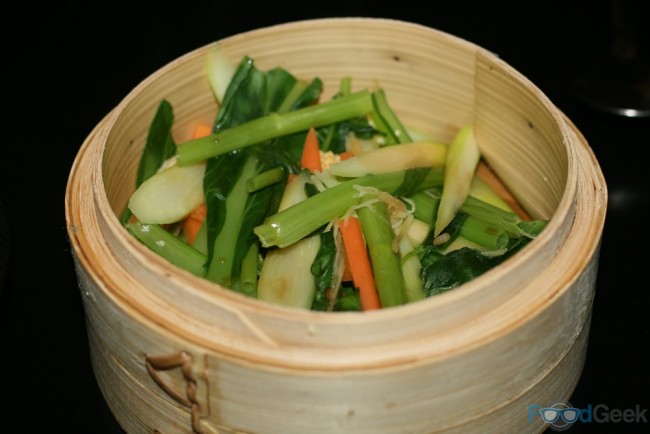 And then dessert. It's not often a dish takes my breath away but both desserts did just that.
Two long, shiny rectangular plates were placed in front of us, filled with a dizzying array of carefully placed colourful things. I've never seen anything quite like it. I really wasn't sure whether I was supposed to eat them or hang them on the wall with the other modern art pieces.
The first, 'The Silk Road' was some sort of deconstructed cheesecake with strawberry, lychee and rose in various guises. There were some nice individual elements in there, including: meringues, honeycomb, tuilles, edible flowers and who knows what else, but they came together to make a confusing mess.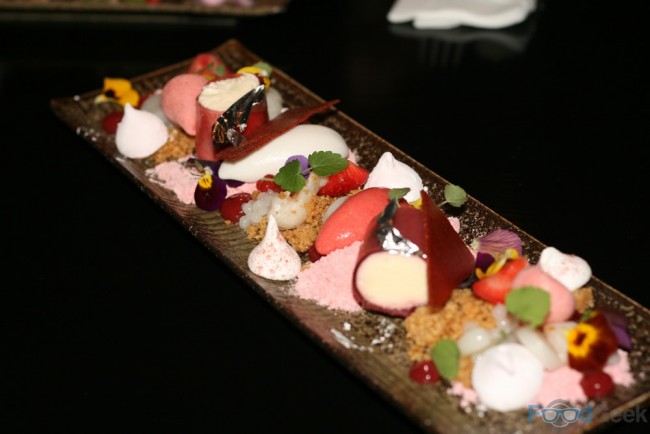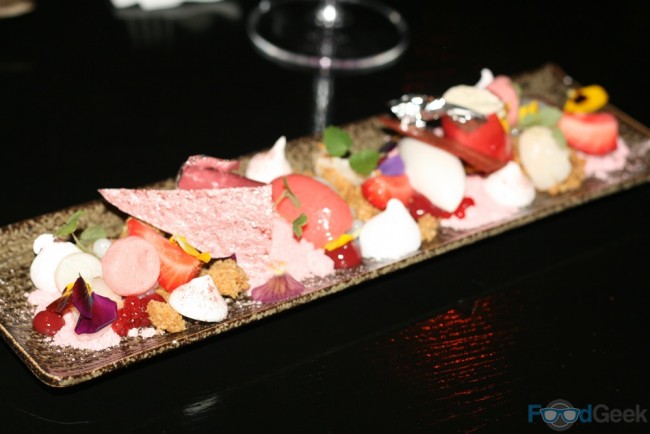 The second dessert, 'Cherry Blossom' is apparently inspired by the tree beneath which we were sat.
Like the first there was far too much going on, both visually and in terms of flavours. We're talking chocolate soil, cherry meringue, candyfloss, dehydrated chocolate and more. All topped off by a large chocolate twig.
Again there were a couple of nice touches hidden away; I quite liked the surprising combination of miso and chocolate but there wasn't enough room on the plate for all these elements just as there wasn't enough room in my brain to process the overwhelming flavours and textures.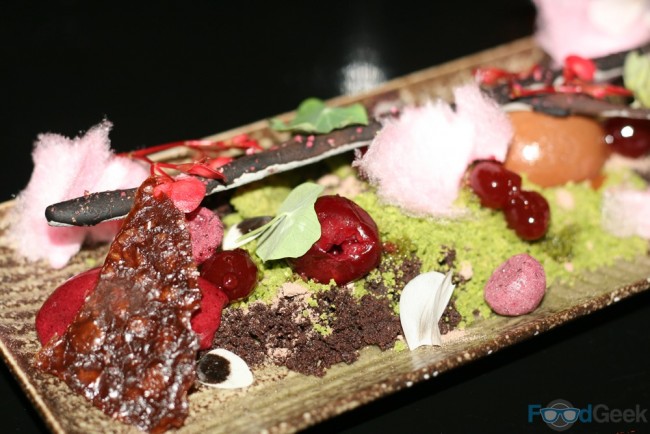 Finishing those desserts was genuinely exhausting and with the last spoonful I declared I needed a drink.
Luckily enough we were then whisked away to the plush downstairs bar and offered a couple, presumably to help recover from dessert.
It's a similar theme in there in terms of design, I imagine it'll get very busy on a Friday or Saturday night, it seems ideally suited to the Spinningfields crowd.
It's obvious that Tattu isn't really aimed at me but nevertheless I quite enjoyed my time there. Despite a couple of issues with the food it was mostly good, desserts aside – which definitely need toning down – I'd happily eat any of the other dishes again.
However, it's unlikely I'll be eating at Tattu again anytime soon though (even if the bouncers let me in again), as like many places in Spinningfields it seems more of a destination than somewhere focused on food. It's really not a 'Chinese' restaurant or even a 'Modern Chinese' restaurant, more like a bar that felt that 'Modern Chinese' would be a good fit with their style. I'd be amazed if they didn't spend far longer designing the decor than they did the menu.
That's not to say there isn't a market for such a place, I'm sure that there is and they're certainly in the right area to do well. Personally I'd just rather go to Chinatown and eat somewhere that cares more about their food than the interiors, DJs and bouncers.
It does look great inside though, the cherry tree in particular is well worth seeing.
Date of visit: 07.05.2015
Disclaimer: I was invited to Tattu to preview the menu and as such not asked to pay.