When people ask me for my favourite place to eat, as they often do, I usually struggle to give a definitive answer. But the more I think of it the more I reckon it's probably the Parkers Arms.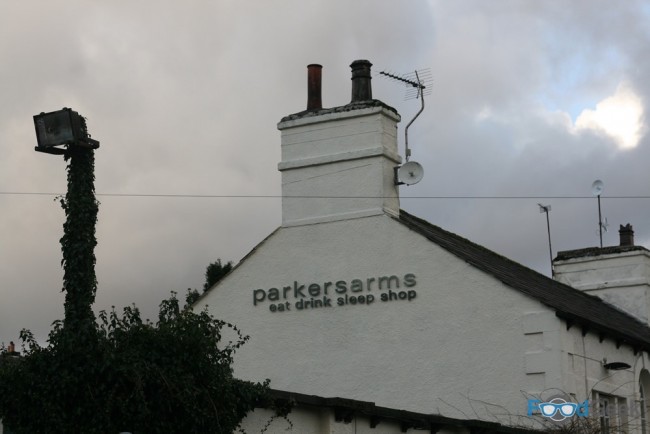 I know, it's not got a Michelin star or a celebrity chef attached. It's not glitzy, or in an up and coming part of town, it's not even in a town. There are no faddy menus bursting with the latest food trends.
But there is a passionate chef who knows her way around a kitchen, there's great food made from quality ingredients – mostly local, always seasonal – and served in a relaxed and friendly atmosphere.
Those were the reasons I chose to eat at the Parkers Arms on Christmas Eve in 2013, and two years later, I couldn't think of a better place to spend my favourite day of the year again.
Not just because I knew I'd be in for a culinary treat but the restaurant always looks so festive too.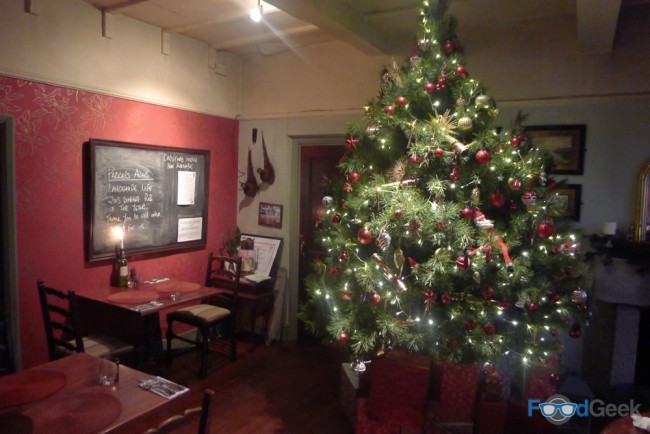 The special Christmas Eve menu consisted of five or six starters, main courses and desserts.
Everything sounded so good it was genuinely a struggle choosing what to order. The ever charming, front of house manager AJ advised us not to pick a couple of the dishes. I couldn't help wondering what was wrong with them but it did, at least, make ordering a little easier.
No sooner had we ordered than a basket of crisp, highly seasoned potato skins arrived. If you ever visit the Parkers Arms, make sure you tweet them first and you'll be rewarded with extra treats like these from owner/head chef Stosie.
I think I've had these skins every time I've been to the Parkers Arms but they never get dull. Don't tell anybody, but I actually prefer them to pork crackling!
Of course, there was nothing wrong with those dishes (I didn't really think there would be), AJ just knew that Stosie was also sending out sample sized versions of them for our #tweettreats.
'Fish Croquettes' were great but the 'Mushroom Foccacia' was even better; as the lovely mushrooms were joined by crisp, smoky bacon and stunning Bleasdale Bewety sheep's cheese.
Our starters were just as good.
The 'gin & fennel cured salmon' was fantastic but the salad on the side was just amazing. Full of sharp and zingy flavours to beautifully counter the fatty fish; horseradish, pickled pumpkin and pomegranate.
There are many things that Stosie does well but few better than her parfaits. I've previously loved her mushroom, scallop and crab parfaits and while not quite as delicate as those, I enjoyed the festive 'Game livers & port parfait' too.
This was also served with an acidic salad containing pickled celeriac – amongst other things – to cut through the richness of the parfait.
I've had venison on most visits to the Parkers Arms and it's always excellent, of course because Stosie is a great cook but also because it comes from a local estate (on one of my first visits AJ pointed out of the window to the field it came from).
Actually, on this occasion, it was a bit overcooked for my liking, though it still tasted great and was juicy enough.
The creamed mash was unbelievably good and I loved the simple garnish of sautéed watercress and pickled damson.
Main courses were equally impressive; Venison haunch braised in red wine with a creamed mash crust was like the best Shepherds Pie ever.
The mulled damson vinegar pickled red cabbage was sweeter than I expected but full of lovely Christmassy spices that worked well with the venison.
'Beef & ale pot pie' saw a rich meaty stew topped with wonderful buttery, flaky pastry. Served with really good triple cooked chips.
And probably the best main course I ate in 2015; pheasant breast, stuffed with herbs and wrapped in bacon with festive trimmings.
Those trimmings included kale, baby sprouts, roast potatoes and carrots, more of that lovely creamed mash and the best bit, pigs in blankets.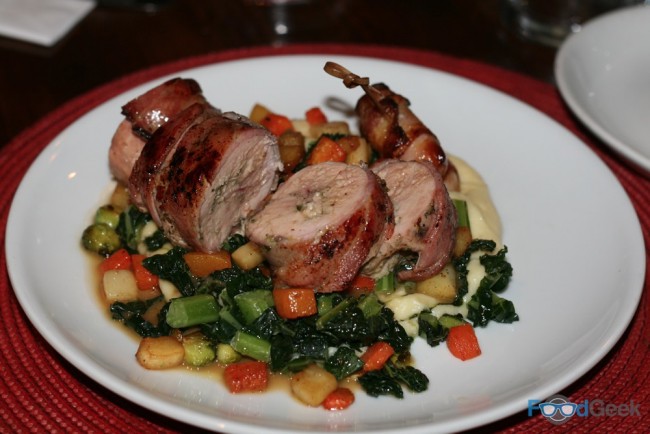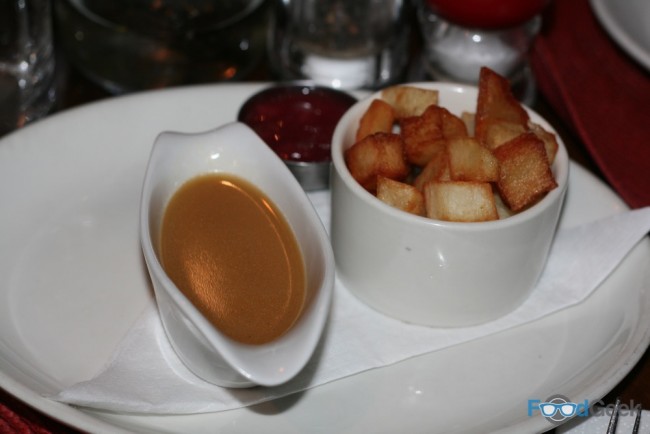 After all that we could've easily left without dessert, but it was Christmas!
I can't resist anything with mincemeat at that time of year and Stosie's famous mincemeat ice cream didn't disappoint. I'd've been happy with just a bowl of it, but it was even better stuffed between two spiced cinnamon Palmiers.
I was a little confused when my 'Chocolate Mousse' arrived looking more like a brownie.
But a quick glance at the menu showed it was my mistake, I'd missed one key word, 'baked'.
I'm not sure I've ever had a baked chocolate mousse before but I'd like to again. The top and bottom form a cake-like crust but the middle remains soft and almost mousse like.
My favourite dessert was the 'Chocolate & chestnut melting pudding', essentially a top quality chocolate fondant. Made from 70% Valrhona chocolate, incredibly light and perfectly gooey in the middle, served with both Chantilly cream AND pouring cream.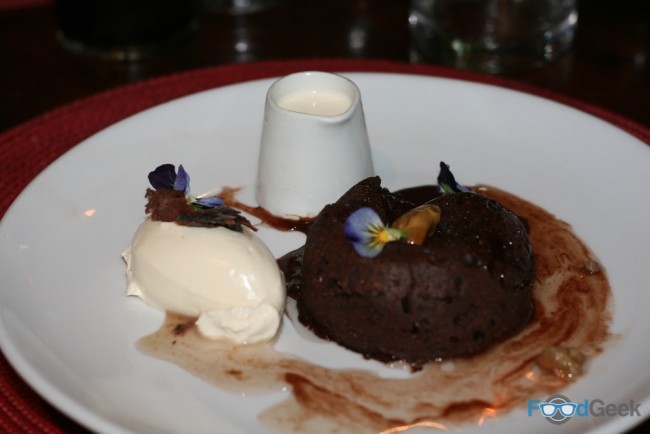 And finally, a board of good old Lancashire cheeses.
I say finally, Stosie had one last treat up her sleeve. We were defeated though and couldn't eat another thing. We did take the lovely homemade chocolate truffles home to enjoy later, though.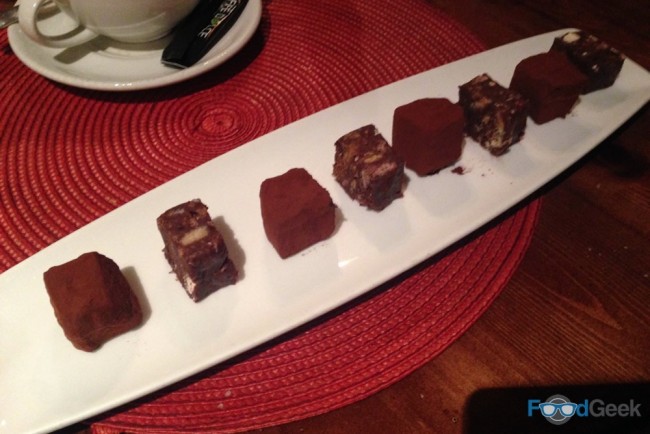 After several relaxing hours, we left the Parkers Arms very full but, more importantly, happy and full of festive cheer. I definitely made the right choice and will struggle to ever find anywhere else as enjoyable to spend Christmas Eve in  future.
Date of visit: 24.12.2015
Follow @FoodGeekUK