I love Christmas, especially exciting festive foods. Cranberries are one of my favourites, they just look and tastes like Christmas and go well with all sorts of sweet and savoury dishes.
This cranberry syrup is gorgeous, it's sweet but with a bit of sharpness left and amazing flavour. It's red colour is brilliant and it's really versatile, it can be used for almost anything that you want to add a touch of Christmassy sweetness too.
I use it most often in my Cranberry Mojito and Christmas Porridge recipes.
It's really simple to make too.
Ingredients:
300g fresh cranberries
200g sugar
250ml water
Method:
1. Put the cranberries, sugar, and water in a pan on a medium heat.
2. Bring to the boil and then reduce the heat and simmer gently for around 10 minutes.
3. When the berries start popping remove from the heat and leave to cool. Don't leave on the heat for too long or you will end up with cranberry jam!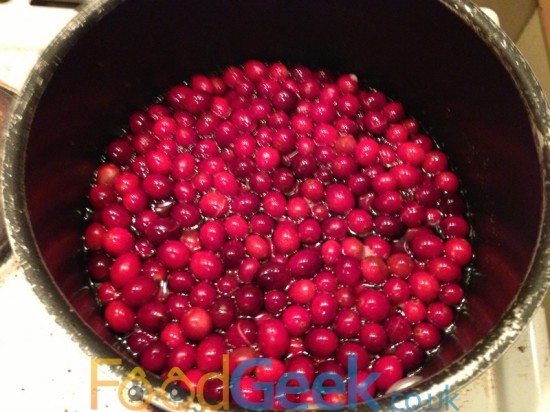 4. Once cooled strain and discard the berries, keeping the delicious syrup.
I told you it was simple!