I grew up in Horwich, a small town, part of Bolton in Greater Manchester which has a disproportionate amount of restaurants in the town centre for some reason. Most of them are situated on either Lea Lane or Winter Hey Lane just a few streets away from my childhood home. I have fond memories of early Italian & Cantonese dining experiences there which no doubt sewed the seeds for what was to come and even this blog.
As well as childhood dining, Horwich was the scene for many early dates with the future Mrs FoodGeek including fabulous Greek restaurant Sokrates which remains today. But having spent the last 10 years or so eating my way through the fine restaurants of Manchester, London and other more exotic locations I thought it was time to go back to my roots and see how things were going in little H-Town.
One restaurant that I hadn't visited, presumably as it opened just before I started to venture further afield in 2002 is Spanish tapas restaurant Viva España. So last Tuesday I did just that.
As we were with children we arrived early at 6pm, being a Tuesday and the day after Easter weekend it was understandably quiet. First impressions were very good, it's a lovely small and intimate room with just a few tables (though I believe there are more upstairs for busier nights), I loved the decor which felt genuinely authentic and the single member of staff was welcoming.
It began well in terms of food & drink too as we started with an enjoyable glass of sangria, decent bread, good olives and even better aioli.
It was much more inconsistent once we moved onto the main dishes though. We selected a large number and fairly wide range of vegetable, seafood and meat dishes.
There were some real highlights such as 'Garbazos a la Castellana', a casserole of chickpeas, chorizo & pork which was fresh, vibrant and full of flavour, easily the dish of the night.
Other successful dishes included  'Costillas de Cerdo', beautifully tender, slow cooked pork ribs in a rich, sweet & sticky clove sauce and a delicious grilled aubergine dish full of wonderful Mediterranean flavours and topped with comforting melted cheese.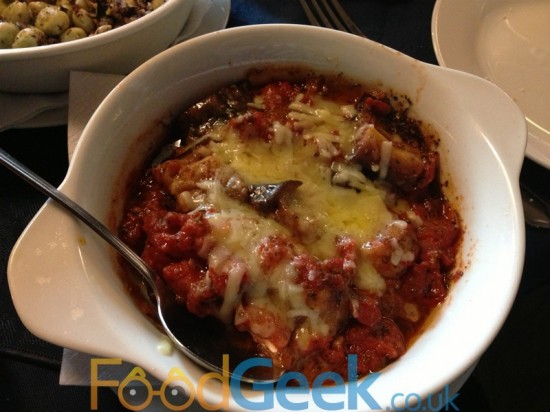 Asparagus & Serrano Ham was simple, tasty perfection whilst the patatas bravas was just a little more spice in the sauce away from being amongst the best i've ever had. The potatoes certainly are up there.
The Paella de Carne, traditional meat paella with chicken & chorizo was perhaps not as flavoursome as it could have been but perfectly decent.
Unfortunately that was where the great and good dishes ended. Of the remainder a number had decent elements but were let down by other parts whilst a couple were simply not good enough.
The two biggest culprits being a bowl full of Mussels still containing their beards which I have absolutely no desire to eat and the meatballs that my children were most excited about which were inedible due to an excessive amount of salt. Seasoning is subjective and I'm not at all adverse to highly seasoned food but they were ridiculously salty.
Thankfully the other disappointing dishes at least had something positive to be said about them. Such as the 'Tortilla' which i'm sure would have been lovely had it been fresh but it had almost certainly been reheated, probably from frozen which resulted in a dry and grainy texture.
The panfried 'Mixed Seafood' would have been an excellent dish had it not contained those same mussels with beards. Also, if there'd been a little more of the other seafood as what little there was was actually very well cooked and tasty. It was disappointingly small for a dish priced at over £5 though.
The chicken in 'Pollo al Chillindron' was well cooked, soft and moist but the paprika & chilli sauce was both gloopy and lacking in any chilli heat.
Finally the dish i'd been looking forward to the most 'Habascon Mocilla' described as "Black Pudding with Rice sautéed with broad beans, onions & herbs" may have been great had it contained a better balance of ingredients but it was sadly lacking in black pudding, contained almost no rice and essentially tasted like a bowl of broad beans.
Despite not enjoying all of the food we were very full by this point which was just as well as the desserts were a particularly uninspiring selection including ice cream, Tiramisu and chocolate fudge cake which we ordered for the children. I tried a little and it was fine but a pretty unremarkable way to end a meal.
Like the food, service was hit and miss, although it was absolutely no fault of the single waiter who tried his best all night but as the restaurant got busier he simply couldn't keep up and was often unavailable for long periods of time. He was however always courteous and friendly and should never have been working alone.
Whilst there is much to enjoy about Viva Espana such as the intimate, charming setting and menu which is certainly more authentic than the likes of La Tasca ultimately I left feeling underwhelmed and even slightly disappointed.
But I do know several locals who love Viva Espana and being around for well over 10 years they're clearly doing something right. In fact, as we left the downstairs dining room was completely full which is impressive for a Tuesday evening. So I found myself wondering whether perhaps my expectations were too high but actually I don't think they were. I don't think it's unreasonable to expect mussels to be debearded, for somebody to have noticed that the meatballs were too salty or for dishes to contain a decent amount of the ingredients that the menu claims.
Of course all of the issues i've mentioned could have been avoided which means that it's entirely possible I simply caught them on an off night and if I returned may not be repeated. Unfortunately as somebody with a seriously long list of places i've yet to visit it's unlikely i'll ever find the time to revisit somewhere I'm not convinced by but i'm sure it won't stop them continuing for another 10+ years as there are clearly plenty of others who are.
Date Of Visit:02.04.2013
Follow @FoodGeekUK