For my first time in Scotland I wanted to eat somewhere fairly traditional. After a bit of research I narrowed down to a small list of possibilities and finally decided on Stravaigin. It was the intriguing menu that swung it for me, made up of both traditional Scottish fare as well as several exotic sounding dishes from Africa and Asia.
Stravaigin are clearly well loved as not only have they been awarded Michelin's Bib Gourmand & 2 AA Guide Rosettes but the restaurant was also completely full at 4pm and people without reservations were being turned away.
I immediately got my wish for authentic Scottish as we were greeted on the stairs by a shaggy haired, long horned cow wearing a tartan scarf! You don't get much more Scottish than that! A very good start.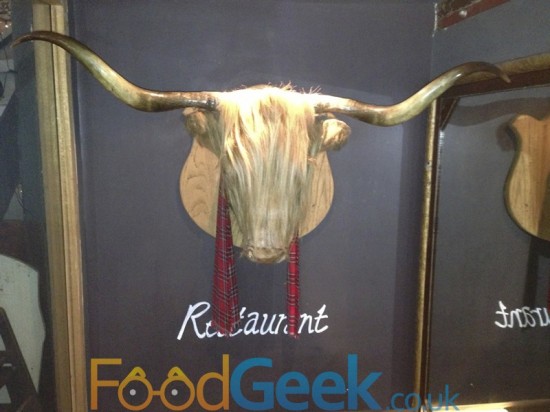 I really was fascinated by the menu, I loved the way traditional Scottish produce was combined with ethnic ingredients in dishes such as 'Ras-el-hanout cured Scottish salmon, fennel and pomegranate salad, preserved lemon dressing', 'Steamed West coast mussels, sweet chilli and coriander broth' or 'Pan-seared sea bream, curried haddock and cauliflower risotto, Scotch egg, spiced hazelnuts, curry butter'.
Needless to say, choosing was incredibly difficult. Whilst deciding we were treated to a basket of excellent freshly baked sourdough with a dip of deliciously spiced Moroccan hummus.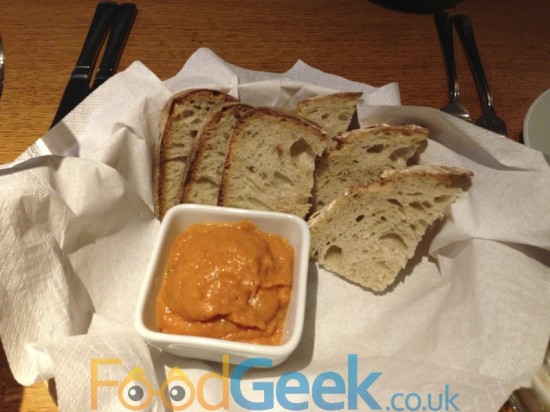 I eventually settled on a starter of 'Scallops, pigs trotter nuggets, pickled apple, pistachio & pink peppercorn tuille' which was visually stunning and tasted as good as it looked. The pan seared scallops were cooked perfectly and worked beautifully with the soft meaty pigs trotter nuggets. Tiny pieces of intensely flavoured pickled apple added a lovely sharpness and whilst I couldn't pick up much pistachio flavour from the tuille it's crunchy texture was very welcome.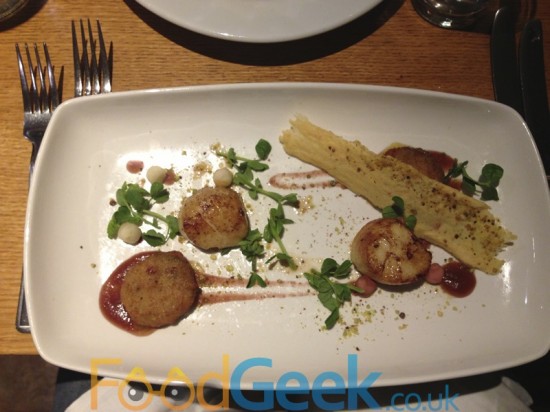 Mrs FoodGeek went for the most Scottish sounding dish on the menu 'Haggis, Mashed Neeps & Champit Tatties'. It's won awards apparently although they didn't say which and I didn't ask but it got a big thumbs up from us anyway. The savoury, meaty and slightly spicy haggis was accompanied by wonderfully soft and buttery champit tatties (mashed potato) and mashed neeps (swede). It was even better with an amazing thick and creamy whiskey sauce recommended by our waitress which turned it into something very special. Thank you Scotland!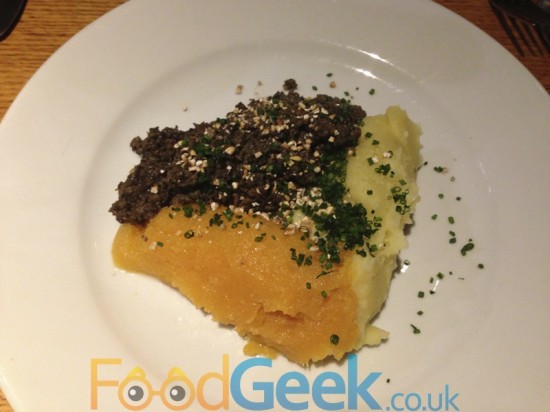 My main course of 'Gressingham duck wings, duck liver pate, gnocchi, rhubarb & walnut salad' was almost as good as my starter in both appearance and taste. Rich duck liver pate inside a pastry tube was silky smooth, the duck wings sticky, tasty and melt in your mouth soft. The slightly sharp rhubarb in the salad worked brilliantly with the duck and the walnuts were a nice crunchy addition. I was a little confused about the 'gnocchi' as they appeared to be pan fried potatoes, more like fondant potatoes than gnocchi. I'm not complaining as i'm a fan of fondants and these tasted great.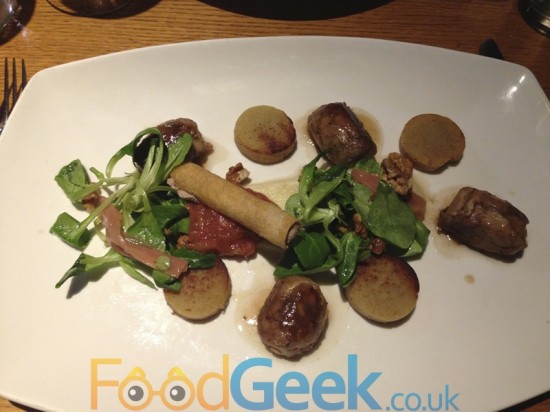 Mrs FG's 'Bulgar wheat, labneh and char-grilled pepper cakes with baby gem and wild rice fattoush' were interesting but didn't totally work for me. We both loved the zingy flavours but felt it needed much more of the sauce to hold it together and it was really quite dry.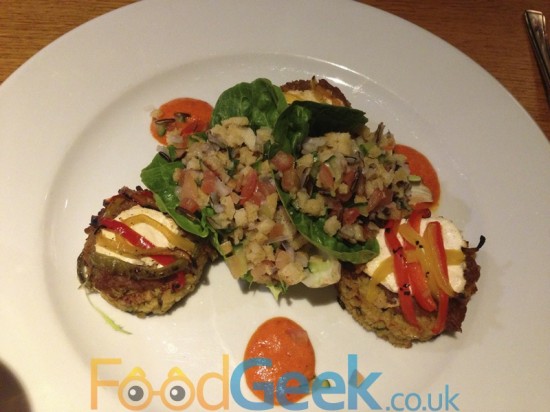 We were right back on track with the desserts though. Firstly my 'Lemon baked cream, mascarpone ice cream, passion fruit strip, kataifi bundles, tangerine sugar'. I had no idea what to expect from this dish and i'm struggling to describe it now.
It was a wonderful concoction of different tastes and textures, from the super smooth mascarpone ice cream to the soft baked lemon cream with a perfect balance of sweet and sour which was complimented brilliantly by the passion fruit flavour. The highlight was the kataifi bundles though, really crispy, fine shredded pastry that breaks into shards as you cut and bite it. One of the most interesting desserts i've eaten for a long time.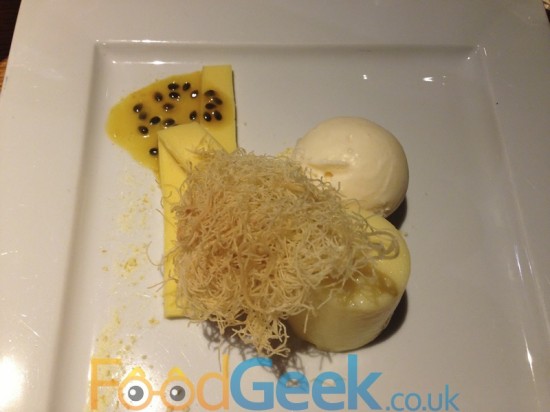 As good as my dessert was, Mrs FG's just about topped it. 'Banana & peanut baklava, salted caramel popcorn ice cream & sesame popcorn' sounded and tasted amazing. I love traditional baklava but this can certainly give it a run for it's money.
The baklava itself was just fantastic, perfectly crisp layers of sweet pastry which absolutely works with banana & peanut in place of the more commonly used pistachio. I don't know which I liked best between the salted caramel popcorn ice cream or the sesame popcorn as they were both amazing. The sheet of what I can only describe as a set raspberry jam was very delicious but perhaps not really necessary. I found it very difficult to restrict myself to just tasting this dish as I would have happily eaten it all and my own.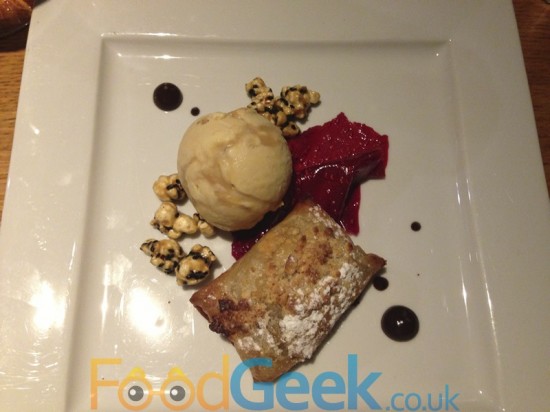 Other than one of the main courses being slightly dry we loved everything that we ate at Stravaigin and were seriously impressed by a few of the dishes.
Service was very friendly and we were eternally grateful to one waitress for fixing our extremely wonky table but it was rather slow at times. It took around 2 hours to get all 3 courses which I consider quite a long time. Whilst it was busy when we arrived it certainly wasn't by the end of our meal. Luckily we weren't in a huge rush and were able to enjoy a couple of bottles of wine while we waited but often wouldn't have over 2 hours to spare and may have ended up going without dessert.
Still, it wasn't enough to put me off and I thoroughly enjoyed my time at Stravaigin and would very happily return next time i'm in Glasgow.
Date Of Visit: 15.06.2013