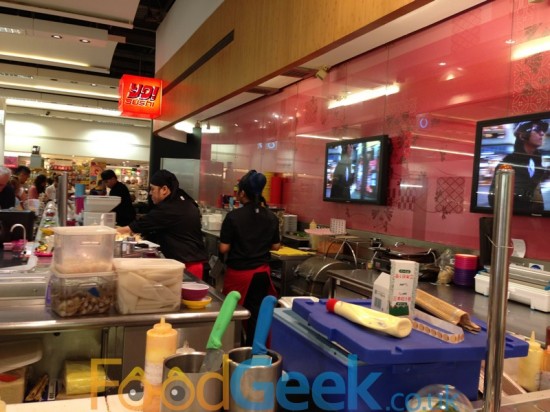 I'm not going to lie, i'm really not a fan of chains like Yo! Sushi. But when I heard of their new invention which combines two of my favourite things in the world – sushi & burgers – I just had to try it.
I headed for the Yo! Sushi inside Selfridges at The Trafford Centre.
The Yo! Burgers are a limited edition special currently available in 5 flavours: Chicken, Prawn, Tilapia, Salmon & Tofu. The novelty is that instead of using bread for the bun they use compact toasted Japanese rice!
It was really quite odd watching the staff stop preparing sushi and making burgers in a very traditional manner. The rice 'buns' are toasted in sandwich toasters, they're dressed exactly as you'd expect in any burger bar and they're even wrapped in authentic waxy paper.
The wrapped burgers are served on a tray with nori crackers, daikon slaw and misochup. The accompaniments are all very enjoyable, the nori crackers similar to prawn crackers but much tastier. Simple slaw of pickled daikon with a hint of ginger was palate cleansingly fresh whilst the misochup was a clever, delicious umami rich take on tomato ketchup.
Being notoriously bad at having to choose and knowing that they're limited edition I felt the only sensible thing to do was try all 5. Here's what I thought of them in reverse order, starting with least favourite.
#5 Tilapia Yo! Burger: This burger finds itself in last place purely because it uses a slice of awful plastic cheese which I really hate. To be fair it is supposed to be a play on the McDonalds Fillet 'O' Fish which also uses awful cheese but if they'd used something better it would have ranked higher on my list as otherwise it was good. The two pieces of white fish katsu were crispy and flaky in all the right places while the wakame tartar sauce was really good.
#4 Chicken Yo! Burger: The generous sized chicken thigh was well cooked, still juicy and moist inside with a lovely sticky glaze but the teriyaki sauce was a bit lost and overall it was slightly too sweet for me due to the pineapple. I did learn that the combination of pineapple and toasted white sesame seeds is delicious though.
#3 Tofu Yo! Burger: Most of the staff we spoke to didn't like the Tofu burger but I think it's because they just don't like tofu. It obviously needs some help to stop it being totally dull but I enjoyed this burger. The tofu katsu is served with a coriander pesto, and topped with sliced avocado and cress. I'm possibly biased as I love anything with avocado but whilst the flavours here were definitely the most subtle I thought it tasted good overall. It also wins points for being by far the easiest to eat.
#2 Prawn Yo! Burger: There's definitely nothing subtle about the flavours in this one. The prawn cutlet is sweet and flavoursome and worked perfectly with the curry mayo and beni shoga which I believe is pickled ginger. Using shredded white cabbage and spring onion rather than lettuce also added an extra depth of flavour as well as freshness.
#1 Salmon Yo! Burger: This was a clear favourite and it was all down to the Kimchi. The wonderfully soft salmon made this the hardest to eat but also the juiciest burger  and the kimchi pickled vegetables packed a real spicy punch which was tempered slightly by shredded nori. It was the best taste and texture by far.
Overall I kind of enjoyed all of the burgers (except the cheese on the Tilapia!). They're certainly interesting but I do wonder if they're really necessary. Yes they're a bit of fun but they're nowhere near as good as either a good real burger or decent sushi so why try and make something in-between when both things are better individually?
I'm also not sure I approve of them essentially Westernising their food even more than it already is. I'd prefer them to go more authentic not less. I am glad I tried them but do hope they really are limited and don't end up permanent.
They're priced at £8 each which I thought was a bit expensive at first but they are quite filling and with the sides are probably reasonable value.
Of course I didn't manage to eat just the burgers. Despite them being really rather filling, sitting at a bench in front of a conveyor belt with lots of enticing food whizzing past me was just far too tempting for me to resist. I did manage to sensibly restrict myself to just 2 plates though and one a very healthy portion of edamame beans. The other, a temaki (hand roll) filled with tempura fried soft shell crab, rocket, pickled daikon, yuzu and sweet chilli mayo was very good.
Date Of Visit: 19.06.2013
Follow @FoodGeekUK