I've returned to Umezushi a few times since my first visit back in March, each occasion was enjoyable but I chose not to write them up since the food was very similar. I couldn't resist writing about my latest visit last Wednesday though.
It was a typically cold and miserable Manchester evening as we rushed the short distance from Victoria Station to the warm and cosy restaurant. We were greeted warmly too, as ever, by Jenna, one of the best servers in Manchester. There's been a lot of talk recently about Maria from Mr Coopers being the best waitress in Manchester and whilst I agree she is brilliant, Jenna is definitely up there too!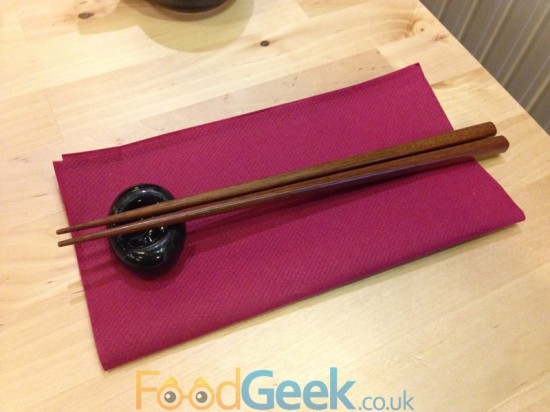 We were quickly served complimentary pickles whilst we perused the menu and specials board.
A couple of items on the menu pick themselves, I can't imagine ever going to a Japanese restaurant and not ordering edamame and miso soup. The miso here is one of my favourites, although I was a little disappointed that it didn't come with clams as it has the last few times.
Something I love about Umezushi is the variety of dishes available on the specials board, 'Tempura Whitebait' caught my attention here. I've always enjoyed whitebait and was intrigued as to how it would taste in tempura batter. It's brilliant! Umezushi is very good at tempura anyway, it's always supremely light and crispy and this was no exception but it worked so well with whitebait. It's such a simple idea I just wonder why i've never seen it anywhere before.
I never thought the whitebait I had at Tom Kerridge's 'Hand & Flowers' would ever be beaten but this certainly gives it a run for it's money!
I was happy with the whitebait but Mrs FG wanted more tempura so we also ordered 'Squid Tempura. I'm glad she insisted as it was also excellent.
The best thing about Umezushi is of course the sushi which is easily the best in Manchester. We enjoyed 'Aubergine Nigiri' and especially the 'Tuna Nigiri'. The high quality of the tuna is immediately obvious.
My favourite was the 'Unagi Nigiri', possibly the tastiest sushi i've ever eaten. Unagi is freshwater eel and whilst i've eaten eel several times it was my first as a sushi dish but I loved it. The unagi is homemade and so fresh that owner Terry often posts photos of the live creature swimming around on his Instagram page just hours before it's on sale in the restaurant.
'Avocado Hosomaki' tasted great but I was surprised by the presentation. All of the maki rolls i've ever had here have been immaculately formed but this was really quite messy. They were loose, inconsistent in size and shape and with rice and avocado escaping. It's easy to forgive when they taste so good but definitely not up to their own usually high standards.
Another intriguing dish from the specials board was 'Teriyaki Mushroom Steak'. Thick, large slices of oyster mushrooms, grilled and glazed with a sweet teriyaki sauce and topped with tempura greens. I loved the meaty mushrooms but the sauce was a bit sweet for my tastes, the tempura greens were delicious though.
For dessert there was a choice on Banana or Mango tempura. I'm useless at making decisions so ordered both but I wish I hadn't. The 'Banana Tempura' was fabulous as ever, a simple but comforting dessert with the wonderful combination of hot, soft banana inside crunchy, batter served with cold vanilla ice cream.
The 'Mango Tempura' however was far from wonderful. In hindsight it was never going to work and I don't know why I didn't realise before ordering. The high water content of mango caused it to go too soft and mushy, besides lacking in texture it didn't even taste that good with the flavour seemingly impaired by being heated. I've been trying to think of any other hot mango dish i've ever had or even seen before and struggling to come up with any. There's probably a good reason for that!
In an attempt to warm ourselves up before leaving we tried the lovely plum liqueur which we've previously enjoyed with sparkling water with hot water instead. Not only did it do a great job of warming our insides but it was really good too, a completely different experience but one which works well. I'll definitely have it with hot water again on cold days.
Other than the Mango Tempura which is best forgotten about and perhaps the less than perfect Avocado Maki it was another successful trip to Umezushi. The quality of ingredients sets it way above the likes of Yo! Sushi and the interesting, regularly changing specials make it a fun place to return to regularly. Service is always efficient and friendly, especially when Jenna is working, overall it's one of my favourite places to eat in Manchester.
Date of visit: 23.10.2013
Follow @FoodGeekUK