When I visited Dog Bowl for the first time in May I loved the bowling and was pleasantly surprised by the quality of food being served too.
I was invited to check out their new Sunday lunch menu which I happily accepted.
Located under one of the arches on Whitworth Street West if you approach from behind as we did there are handy painted dogs to show you the way.
Once inside I remembered how much I liked the cool, urban decor as we made our way to the restaurant to be seated.
The roast menu is limited to just three options: Smoked Chicken, Pulled Pork & Smoked Beef Brisket so you'd think choosing would be easy. It wasn't, of course I wanted all three.
Eventually I settled for the 'Smoked Chicken' which turned out to be a wise decision. The chicken itself was really very good. Moist, juicy, perfectly cooked chicken was coated in a crispy skin and deep smokey flavour. The accompanying mash was super smooth and well seasoned while the roast potatoes were pretty good too. I found the vegetables a little uninspiring but improved considerably when drenched in the rich, tasty gravy.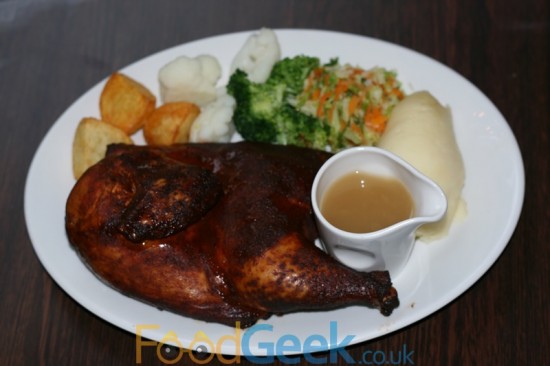 It was a similar story with the 'Smoked Beef Brisket',  the succulent strips of beef with a smokey charred crust were delicious and the beef gravy was even better than the chicken.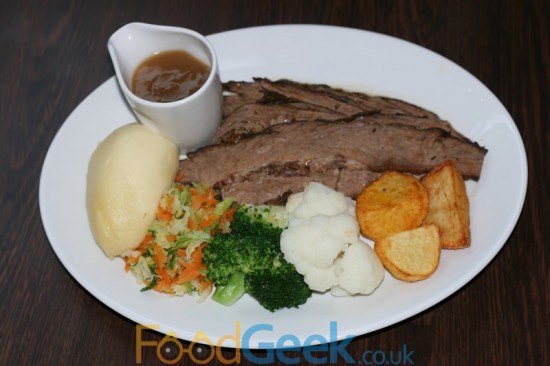 Dessert is a choice of Sundaes, i'm not sure if this is somebody trying to be clever for the 'Sunday' menu or if it's all they do usually. It was freezing outside so I'd have preferred a warm, comforting pud but thankfully i'm quite fond of sundaes and these were really good.
I had 'Millionaires Row' containing scoops of shortcake ice cream, fudge ice cream and topped with plenty of caramel sauce, whipped cream and chocolate shavings. It's big, indulgent and lots of fun.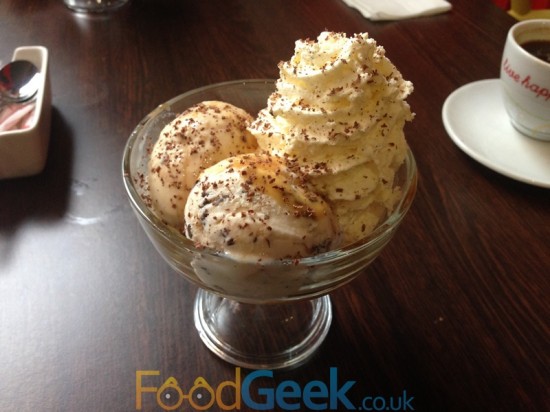 Mrs FG's 'Strawberries & Cream Sundae' was also good. Though we'd have liked to see a few extra fresh strawberries the few that we got were delicious with the strawberry ice cream, clotted cream ice cream and whipped cream.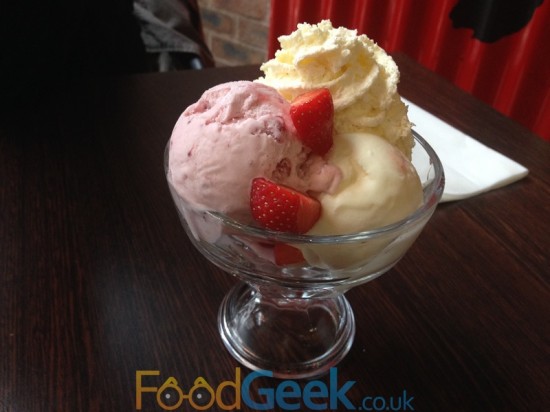 Feeling rather full after lunch as we made our way to the bowling alleys at the back I made a mental note that next time we'll bowl before eating. I'll blame my pitiful performance on eating too much, although I did at least manage to beat the slightly worse Mrs FoodGeek.
Overall I enjoyed my time at Dog Bowl. I really like the venue, it's a cool bowling alley and the staff were great. I can't say it's the best roast i've ever had but that's not really the point. It was was perfectly decent, the meat and sundaes excellent. It's definitely the best roast i've ever had in a bowling alley that's for sure. You wouldn't come here looking for the very best roast in town, but it's great to be able to enjoy a game of bowling in a good venue with a proper bar and eat decent food all under one roof. Especially on a wet and windy Sunday afternoon.
Date of Visit: 27.10.2013
Disclaimer: I was invited to Dog Bowl to review the Sunday Lunch menu and not asked to pay. All opinions are my own.