Although my favourite cuisine changes on a fairly regular basis (it's probably Japanese at the moment), Mexican is never far from the top. It's definitely the style of food I cook most often at home. So I couldn't help get excited when I heard about the Mexican Fiesta Night at The Farmers Arms.
Arriving on a typically cold Bolton night I was slightly disappointed not to find the staff in Mexican attire, I think chef Jon would look great cooking in a sombrero! Luckily the food was more than good enough to make up for it.
Starting with a 'Mexican Sharing Platter' containing; Mojito chicken strips, jalapeño cornbread, pulled pork with pot mole sauce, tortilla chips and a Mexican bean dip. This is how you start a meal! The freshly made cornbread was fantastic and not too sweet like it often can be, the bean dip was light and refreshing, almost like a salsa more than a heavy bean dip. I was slightly confused by the 'Mojito chicken strips' initially as I could only detect lime flavour from the chicken itself, sensing my confusion (or possibly just a coincidence) Jon came over and instructed me to dip the chicken into the mayo. The moment I did I was well and truly eating Mojito chicken, the rum and mint flavours were there and worked really well.
Despite thinking I was totally over pulled pork it was by far the star of the show. The soft, rich and tender slow cooked meat packed a real punch from the mole sauce.
My 'Mexican Bean Lasagne' was most enjoyable; a tasty, comforting combination of beans and cheese which again had a good chilli kick. The 'Pico de Gallo' salad on the side was fresh and fairly tasty but didn't seem to contain any chilli which I believe it should do.
Mrs FG went for one of my personal specialities, 'Salmon Tacos'. Although i'm not prepared to accept they were quite as good as my own they were very good. Fresh and zingy flavours that work so well together, I especially liked the avocado sour cream and chipotle ketchup.
The 'Dirty Rice' was excellent and genuinely spicy, I heard a couple of people complaining about it but I loved it.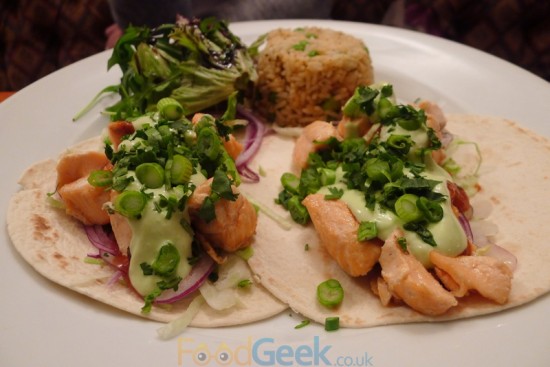 There was a choice of three desserts but knowing how bad I am at making such choices Jon kindly sent out a sharing platter containing a bit of everything. Fruit Empanada with caramel sauce & ice cream, a lovely sweet and refreshing Mango Sorbet with chilli & mint syrup and my favourite, 'Spiced Chocolate Soup'. Essentially a bowl of melted chocolate spiked with lovely warming spices and served with amazing homemade honeycomb. I thought I didn't really like honeycomb but I now know I just don't like the crappy mass produced honeycomb you find inside a crunchy bar, this stuff was seriously good.
Other than the repetitive and slightly annoying Mexican music I really enjoyed the night. I'm already a big fan of the Farmers Arms, it's a great local pub with a couple of nice cask ales and a decent selection of bottles too. The food is far better than anything else in the area and I love that they're always coming up with special events and themed nights such as this. There are plans for Indian and Tapas nights in future which i'm sure will be just as good.
Date of visit: 25.02.2014
Follow @FoodGeekUK