Friday Food Fight is all about good food, good music & good drinks, you know the score by now i'm sure (but see here if you really don't).
I wasn't actually planning on eating at EP06 since i'd been to BrewDog for their Honest Burgers popup, but after missing out of EP05 the previous week couldn't resist it, especially as I was literally walking past. Despite having just demolished the BrewBurger I still managed to eat a few things from the weeks exciting street food lineup.
Heading straight for Mumma Schnitzel, who I (unintentionally) seem to have been avoiding for the past few months. They've been teasing me with amazing looking photos of their food during that time so I had particularly high expectations. Thankfully it more than lived up to them! Their 'Halloumi Bites' are crispy on the outside, gooey and melty on the inside, nuggets of pure cheesy joy.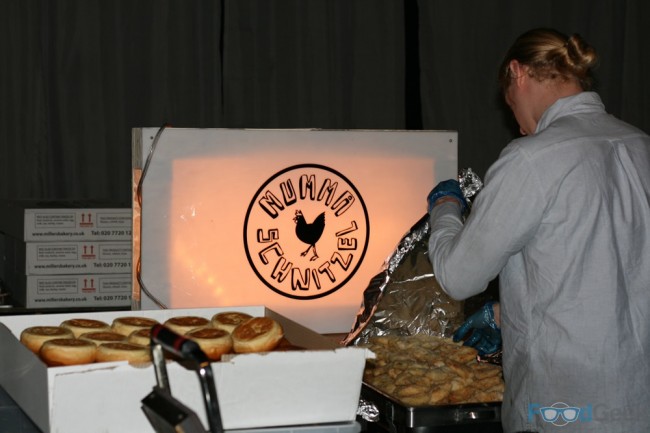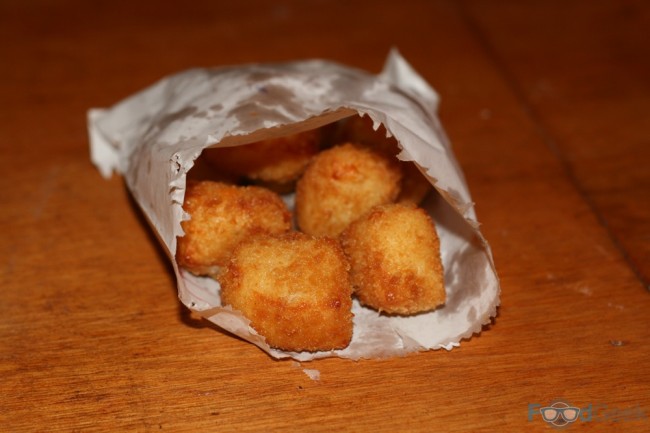 Better still was their 'Shmokey Jo Burger', one of the best things i've eaten at Friday Food Fight so far. Super crispy, Panko coated chicken in a brioche bun on a bed of red cabbage slaw, topped with a generous amount of smoked streaky bacon, smoked cheddar and BBQ sauce! They don't call it 'Shmokey' for nothing! It tasted fantastic and the combination of textures from soft bun to crispy chicken, melted cheese and crunchy slaw was also excellent.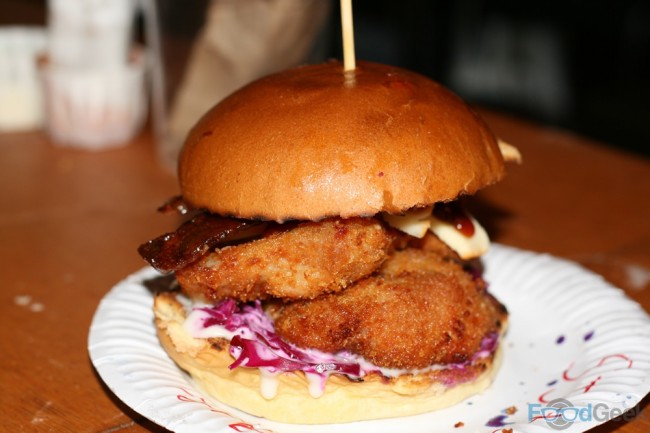 Next I headed to Flavours Found to tease Richard about his Far Far which are getting better every week but are STILL not quite as good as Mughli's.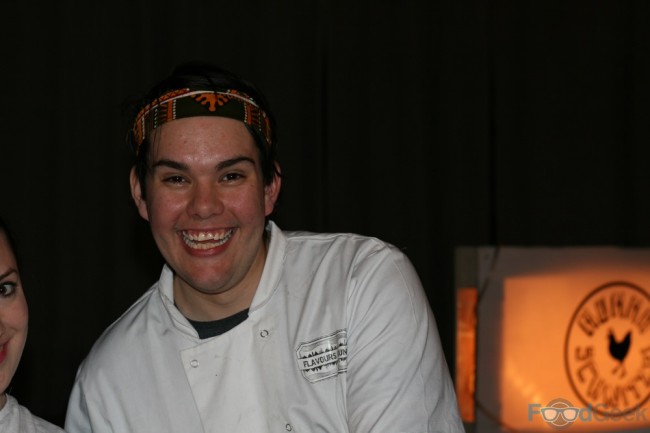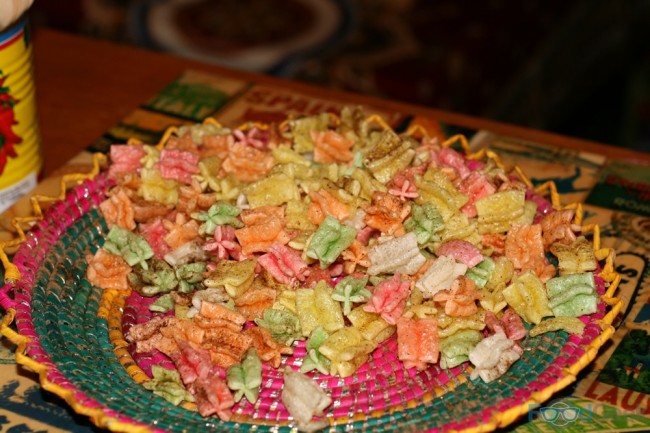 He makes a mean lamb wrap though. I'd eaten this 'Moroc The Kasbah' box in it's previous guise as the 'Fez In A Box' back at Friday Food Fight EP02, it was good then but on another level this time. The Lebanese 7 spiced pulled lamb was incredibly flavoursome and beautifully tender, so tasty wrapped in a flatbread with spicy harissa sauce. Also in the box was a Makhunda (spiced potato cake) and crunchy pastille which i've had about 6 times now but will never get bored of.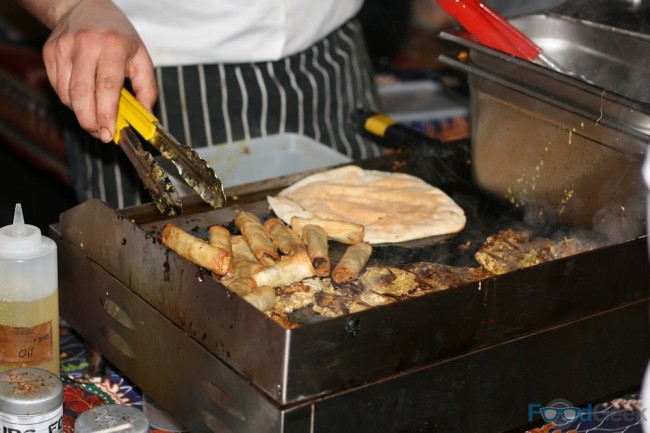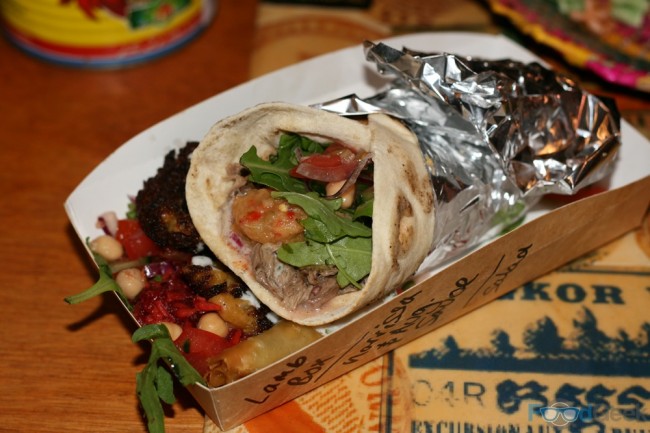 Starting to get a little full I was pleased to see a lighter option available from newcomers 'The Vegetarian Kitchen' who can usually be found serving their intriguing veggie hot dogs outside the Unicorn in Cholrton. Their menu included Classic Dog with Fried Onions, Spicy Veggie Chilli Dog, Dog topped with Asian Slaw and a Mexican Dog. Being the indecisive type I asked whether it'd be possible to try all 3, Matt duly obliged. Not the best photo unfortunately, but I can assure you each element was delicious on it's own as intended and was also strangely enjoyable as they mixed together. The Spicy Veggie Chilli was my favourite, more than tasty enough to keep this meat eater happy and it was great to eat something that felt healthy for a change.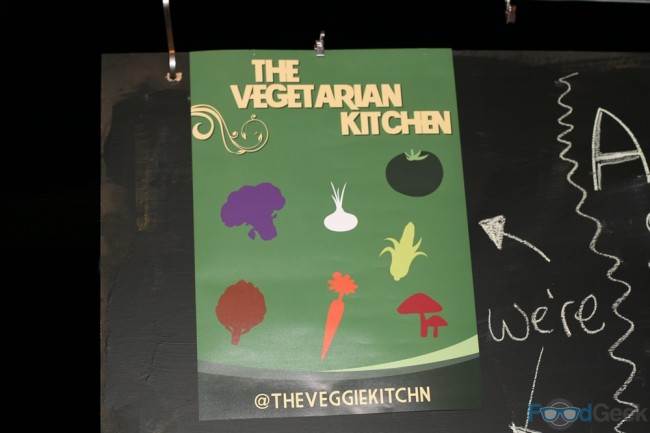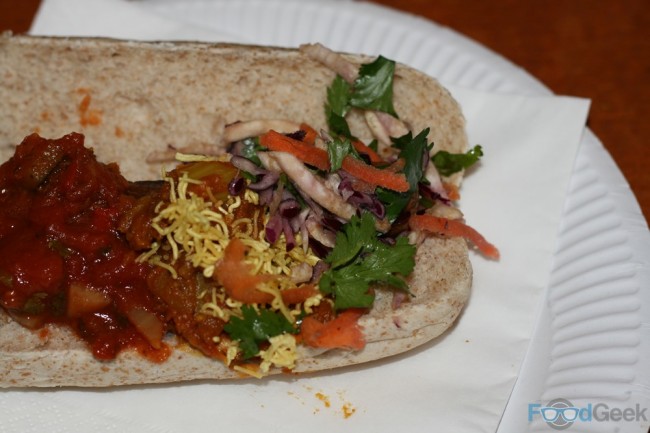 The one constant at Friday Food Fight events has been the 'Sugar Rush Gals', presumably because they can't find anybody to provide better desserts. They've changed their menu each week from brownies and cheesecakes to amazing ice creams and this week it was trifle! Not just any old trifle though, 'Pimm's & Lemonade Trifle'! I'm thinking back and remembering the awesome Oreo brownies and bacon ice cream but I think this was their best yet! The gorgeous Pimm's jelly was topped with lush lemon posset and a strawberry & lime drizzle cake, it was basically summer in a plastic cup. If only it wasn't raining outside.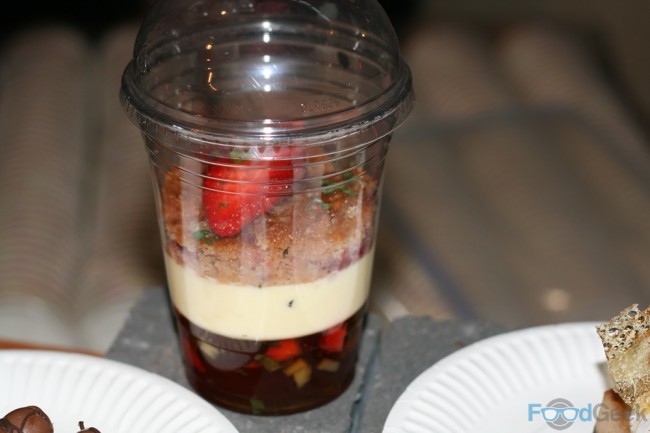 That was about all I could manage on this occasion but i'll definitely be back for more at EP 07 on Good Friday!
Date of visit: 11.04.2014