Being rather fond of burgers and beer I was naturally excited by talk of a beery, beefy collaboration between BrewDog and London burger experts 'Honest Burgers'. Particularly when I heard the details; it's made with two of my favourite BrewDog beers, Punk and 5am Saint as well as their smokey stout, Paradox.
I've not yet had the pleasure of eating an 'Honest' burger but know from their reputation that they serve some of the best burgers in London using quality ingredients. The BrewBurger has been available in all 5 Honest Burger joints since 3rd March for lucky London folk and then went on tour to selected BrewDog bars around the country. Last Friday it arrived in Manchester!
I'd been looking forward to getting my hands on one for weeks, even more so after hearing that it contains so much alcohol it'd been given an ABV, a world first for a burger. There were even stories of people in London being refused them without I.D.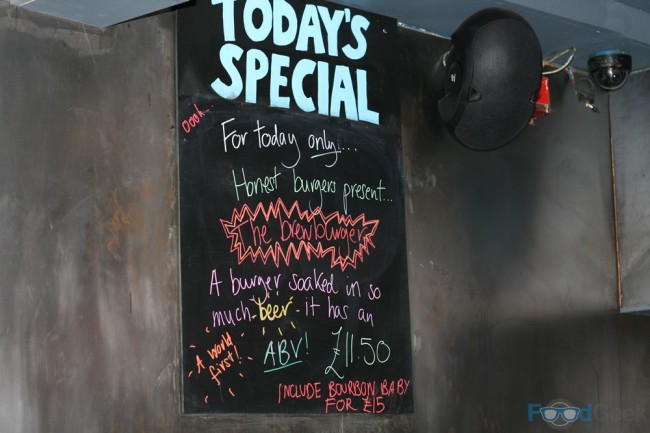 It was available from 6pm and not a moment earlier, they wouldn't let me order when I arrived at 5:50 so I settled for sampling several new beers whilst I waited. Including Hoxton Special IPA and a brilliant wheat beer from Mikkeller, fast becoming my new favourite style.
After ordering on the stroke of 6pm along with many other hungry burger fans I was one of the first to receive it. First impressions were good, although it was slightly smaller than I was expecting it was perfectly formed, the bun shiny and the generous amount of onions looked inviting, it smelled wonderful too. The 'Rosemary Salt Chips' served with it were really good.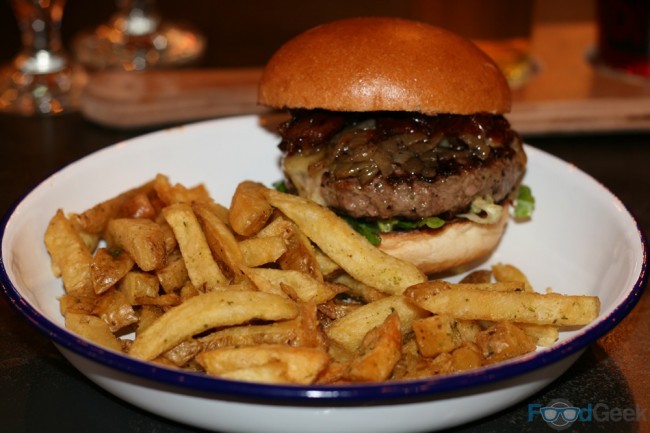 It was a great burger; from the excellent brioche bun to the phenomenal quality beef patty – cooked just under medium, the sharp vinegary pickles to the oozing, melted Comté cheese.
Unfortunately, I had a problem distinguishing the beer flavours though, even when tasting each beery element separately. The bacon was supposedly '5am Saint Candied Bacon' but I struggled to detect even a hint of 5am Saint flavour despite it being a beer i'm very familiar with. Similarly with the onions which are described as 'Punk IPA and beef dripping onions', they were delicious but didn't have any of the distinctive taste of Punk. Having never tried the Paradox stout I can't say how much of the flavour of the BBQ sauce came from it but it was a good, smokey sauce all the same.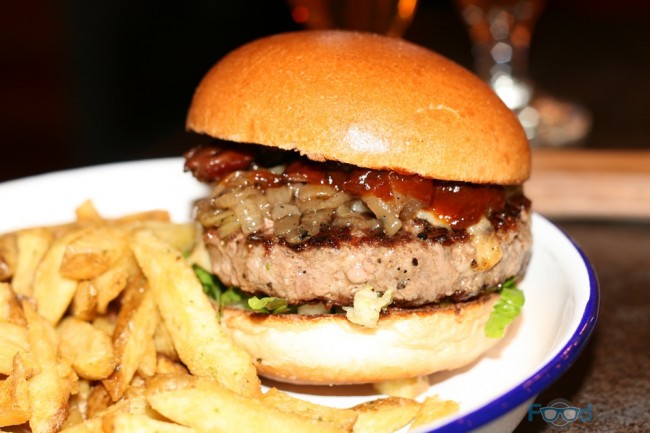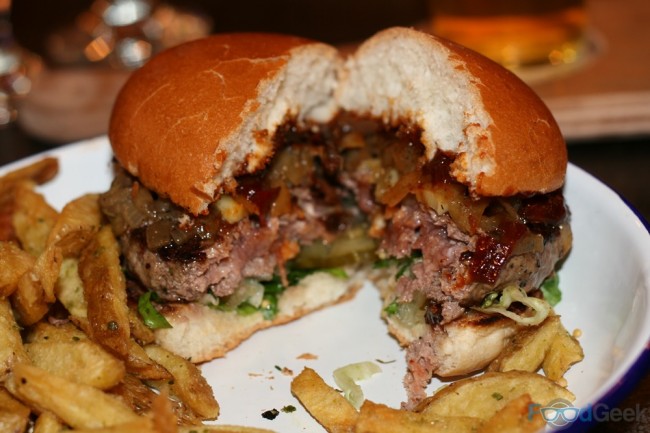 Overall I was glad i'd tried it as I did enjoy it. Had it been sold as simply an 'Honest Burger' I would've been impressed but ultimately it didn't quite deliver as the 'BrewBurger'. Not that it stopped me finishing it off in record time though.
A special beer had been created to compliment the burger. 'Bourbon Baby' is a scotch ale which has been barrel-aged to give it a complex flavour. With a little sweetness, spiciness and a touch of smoke it worked brilliantly with the beef, bacon and BBQ sauce. I really liked the beer and hope it sticks around for longer than the one night.
Despite being a little disappointed about the lack of beeriness in the burger I enjoyed the event as a whole and hope to see more of the same in future.
Date of visit: 11.04.2014