I'm usually so excited to visit a town or city for the first time as I generally have a list of places I want to eat at. I've been known to squeeze as many as nine restaurants into a little over 48 hours in an attempt to see (and eat) as much as possible. Not necessary when I visited Leicester for the first time in June, I ended up with only a single name on my list and not for a lack of trying.
It seems Leicester is far from a culinary hot spot; there's only one listing in the current edition of the Good Food Guide (it actually sounded pretty good to be fair but is unfortunately a few miles out of the centre and I didn't have time to travel). Usually when I ask Twitter for recommendations i'm inundated with replies but got very little response when it came to great places in Leicester. The only name that came up a couple of times was Kayal, an Indian restaurant specialising in Keralan cuisine who were featured on The Hairy Bikers show some years ago.
Due to a lack of other options I ended up staying in Leicester for as short a time as possible, spending most of the day in Sheffield instead. I did make time to visit Kayal though, but was it worth it?
First impressions left me unsure, it's a small place and was really quiet for a Saturday evening, albeit quite early. The decor wasn't particularly reassuring either, I found the hanging lanterns, fake brick walls and random collection of ornaments more than a little tacky while the large red motorbike just looked odd and cluttered the place up.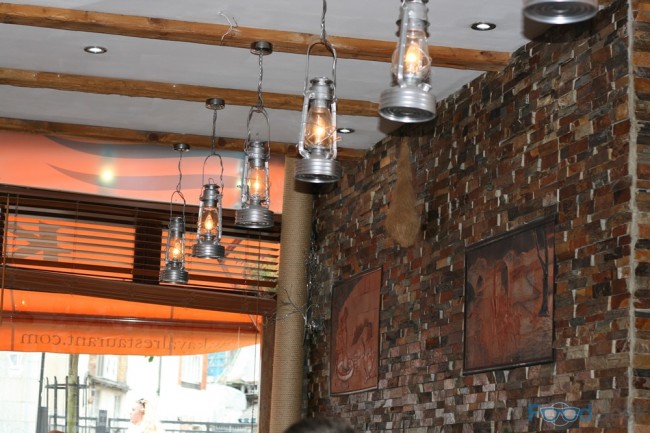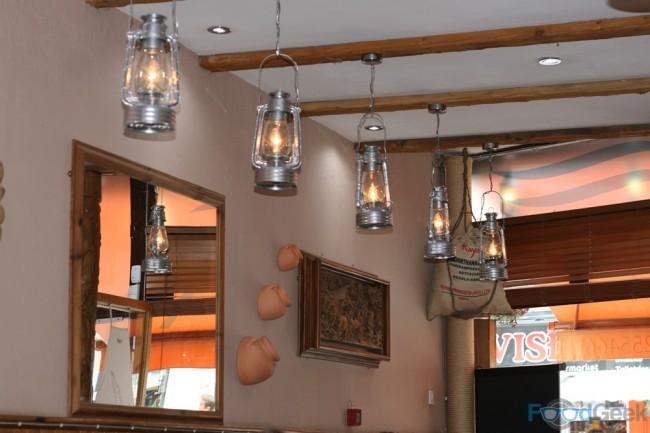 The food was generally much better though, particularly the starters.
I'd never had or even heard of 'Uzhunnu Vada' before. They're fried lentil doughnuts, crispy on the outside but light and fluffy inside. Quite delicately spiced in themselves but served with a selection of spicy dips and chutneys they were really interesting and delicious.
I have eaten many Dosa before but never seen one quite as big as this. It was literally bigger than my head, almost half the length of the table. I had to stand up and take several steps back to get it all in the photograph and the only option when it came to eating it was to start from the middle since both ends hung off the plate.
The dosa – a rice and lentil pancake – was really good, having a delicate and light texture. Inside was filled with spicy potatoes, onions and peas to make an excellent, tasty and comforting dish.
The chef's signature dish 'Cheera Erachi Curry' consisted of lamb cooked in rich and spicy sauce with onions and spinach. It was perfectly enjoyable, the lamb tender and sauce plenty flavoursome, though i'd have liked a bit more heat to it.
'Cheera Parippu Curry' was almost like a dal but packed with many more flavours; garlic, tomatoes, curry leaves, spinach and mustard seeds. It had a lovely, thick and creamy texture and tasted great too. Just perfect for mopping up with fresh chapattis.
I like places that do fun things with the rice, 'Naranga Choru' sees it tossed with lemon juice, fresh curry leaves, mustard seeds and dried red chillies. So much more interesting than boring old pilau.
Not many Indian restaurants do good dessert, I was even disappointed by the puds at Gymkhana recently despite them having Michelin aspirations and being named 'Restaurant Of The Year'. Sadly Kayal proved to be no exception, their desserts sounded good on the menu but were very disappointing.
'Vattayappam Fudge Cake' was described as a 'steamed rice cake stuffed with toffee and topped with chocolate sauce'. I'm no expert when it comes to Kerelan food so it's quite possible that this was exactly how a vattayappam or rice cake should taste. I'm doubtful but either way I really didn't like it. The texture wasn't light and fluffy as i'd expected but really stodgy and quite unpleasant. The cheap ice cream and nasty glacé cherry on the side didn't help much.
'Pineapple Kesari' was a little better but far from perfect. The semolina based pudding is cooked with pineapple, raisins and cashew nuts. It actually tasted quite nice but again the texture was a problem for me. As was the cheap ice cream and cherry topping. It's rare that we don't finish two desserts but they really weren't nice and not worth the calories to be honest.
Service was fine and the bill came to a very reasonable £60 including three beers and a cocktail.
Overall I liked more about Kayal than I disliked, considering the lack of options in Leicester and my first impressions I wasn't sure that would be the case.
It did feel like the kind of Indian restaurant I went to 5-10 years ago but I think i've been spoilt by modern places like Zouk and particularly Mughli in Manchester recently.
If I do ever find myself back in Leicester I'd happily eat there again, but i'll get an extra portion of Uzhunnu Vada and skip dessert.
Date of visit: 21.06.2014
Follow @FoodGeekUK
Review Overview
Summary : Nice enough place, decent curries but a real shame about dessert.