The life of a food blogger isn't always as glamourous as it may seem. I was reminded of this in June after eating at two new restaurants in the same evening; one incredibly dull and uninspiring, the other mediocre at best. The first part of the underwhelming double bill was Wahu in Spinningfields, where food comes in cardboard boxes that probably taste better than what's in them.
Believe it or not, I don't actually enjoy writing about negative experiences, I wrote up Wahu soon after the visit but only to restore some balance after seeing a number of envelope opening type bloggers raving about the place. It's taken me seven weeks to summon up the motivation to write about the second part of the evening at Miller & Carter.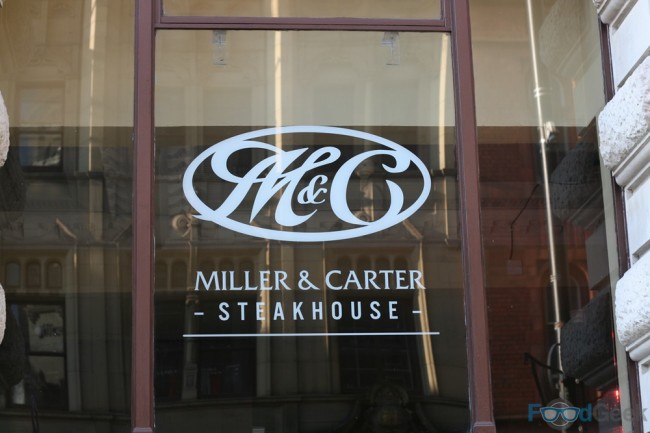 I didn't know much about Miller & Carter when I was invited to check out their latest venue, although I had been in their Wilmslow restaurant a couple of years ago but it was only for drinks and from what I can remember, it wasn't particularly memorable.
They've got a great location in Manchester though, right on the corner of King Street, the building – previously a bank – looks pretty impressive from the outside.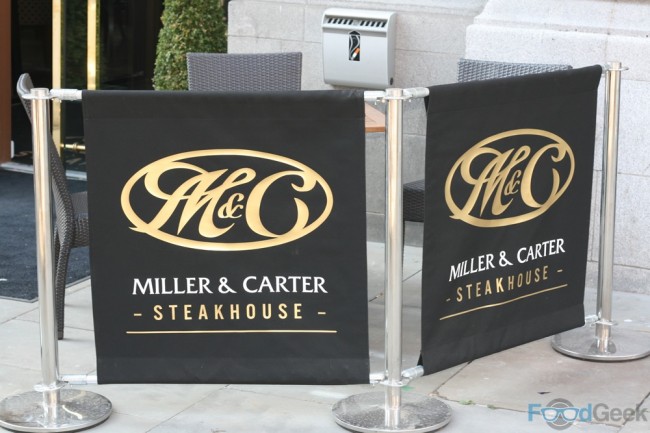 It's not too bad inside either. Perhaps a little generic and slightly cheap looking given how nice the building is and the area they're in, i'm guessing as they're a chain this is how all their restaurants look though.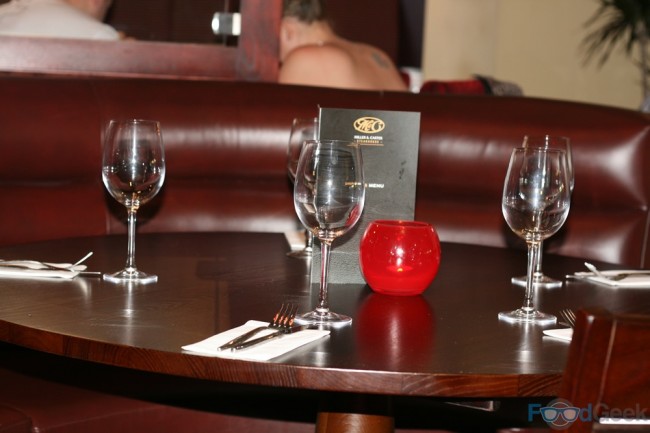 And they do 'The Best Steak In Manchester', apparently!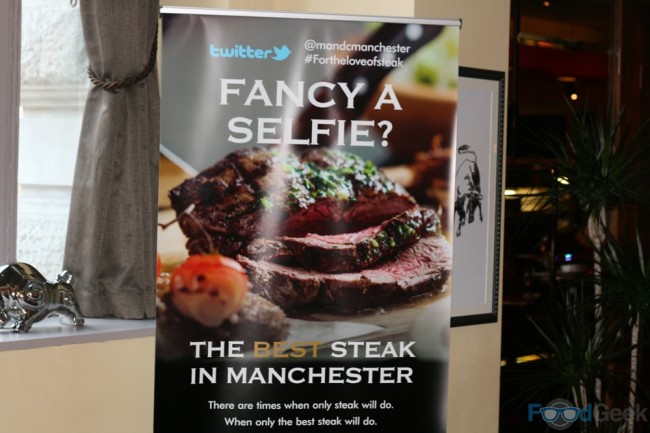 The positive vibes continued as the cocktails were also pretty good, I really enjoyed my 'Summer Sling', a fruity combination of gin, elderflower, mango, mint and apple juice. Although I found Mrs FG's 'Southern Soul' – Southern Comfort with orange, lemon and mango – a touch too sweet but she seemed to enjoy it.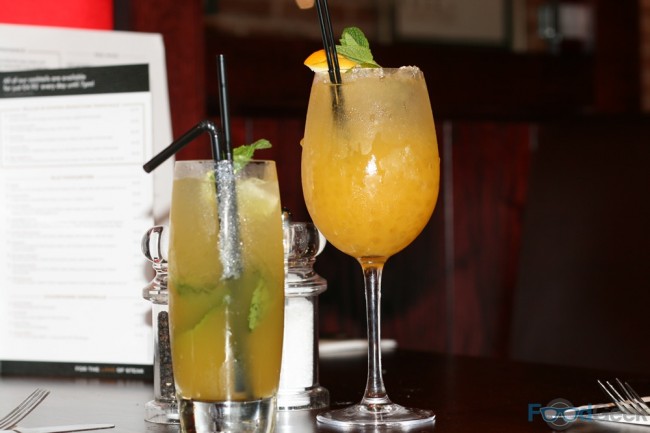 I was more than impressed to find one of my favourite beers, 'Meantime Pale Ale' in amongst the uninspiring, mainstream usual suspects.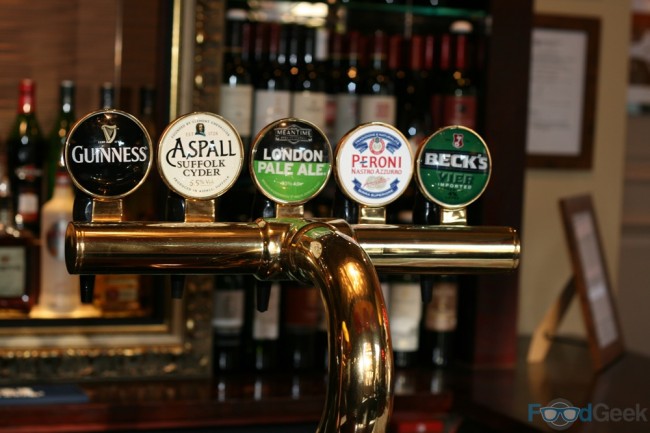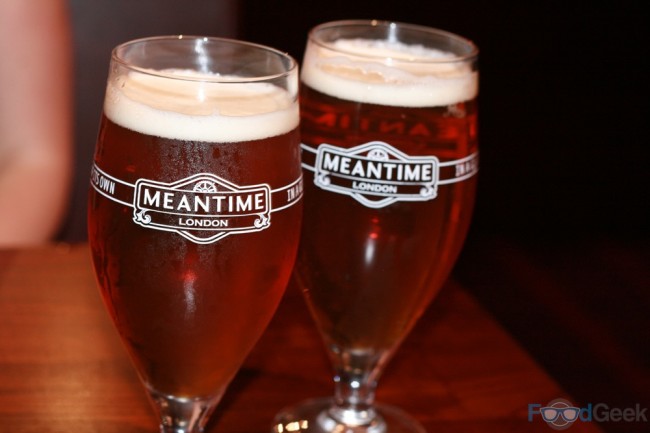 Things didn't go quite so well when it came to the food though. My starter of 'Black Pearl Scallops' looked reasonably pretty at first glance, in fact it would end up being the best presented dish of the evening. The scallops themselves were cooked well but unfortunately the bacon wasn't. It was floppy and limp with no colour whatsoever, a far cry from the 'crispy pancetta' that the menu described. The leaves on top were looking a little worse for wear too, slightly wilted and not hugely appetising. I did enjoy the scallops with the mango, chilli & coriander salsa though.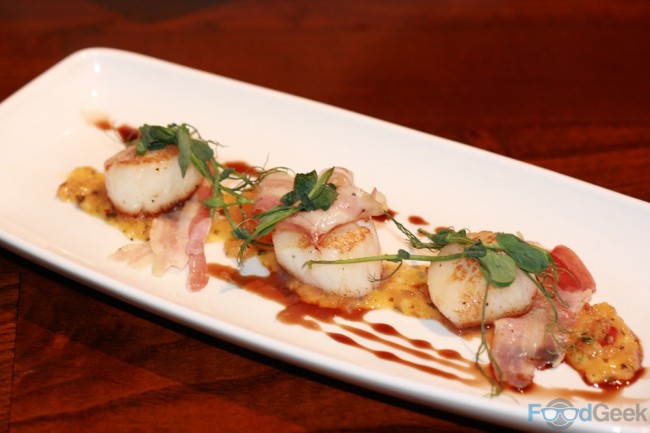 Mrs FG fared much better with her 'Dusted Calamari', it was crispy on the outside and not too chewy, pretty much how calamari should be. Served with a garlic mayo that tasted fresh and homemade, no complaints at all.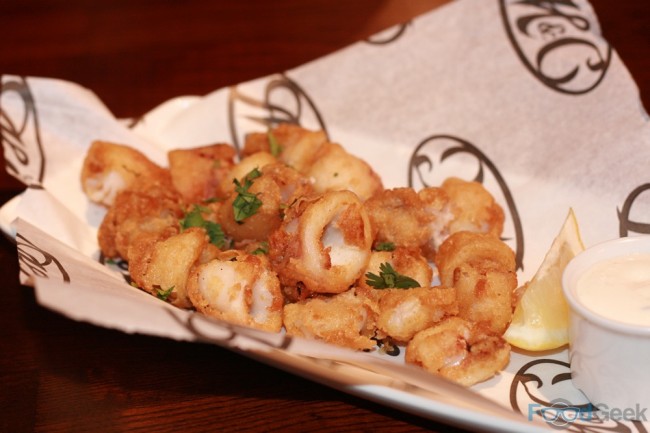 Besides the undercooked pancetta we'd had a pretty pleasant time to this point, so I was unprepared for what was to come. Being a steakhouse we'd both ordered steaks, they come with a variety of things including a 'Lettuce Wedge' with a choice of toppings. It turns out what they meant by lettuce wedge was simply a quarter of a (not particularly fresh) iceberg with some toppings dumped on. I chose garlic mayo & parmesan which is exactly what I got, a couple of spoonfuls of mayo and far too much cheap tasting parmesan. I'm not usually one to leave food as I hate waste but finishing this was such a challenge, I just don't get it.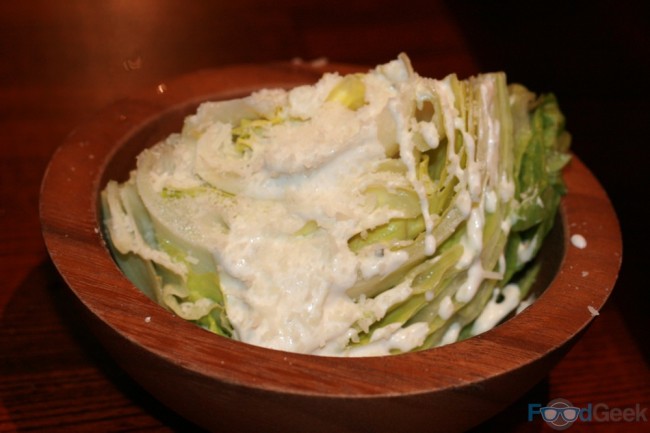 Mrs FG's was hardly any better, the 'Honey Mustard Dressing' was OK but like the pancetta earlier the bacon could've done with seeing a hot pan as again it was limp and a little chewy, not crispy as it should be.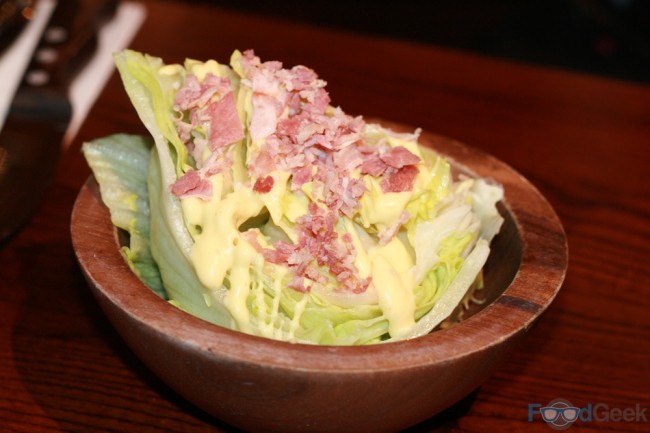 Still, at least there was steak to come. 'The Best Steak In Manchester' remember! There are so many options when you order a steak here; which cut of steak? How would you like it cooked? What sauce? Fries or baked potato? Anything to compliment the steak? Head spinning, eventually I went for the 12oz Ribeye, cooked medium rare with 'Bacon, Blue Cheese & Mushroom' sauce, fries and a 'grilled half lobster tail' to 'compliment', other options included mac & cheese, prawns and ribs.
The plate arrived looking a little untidy, the steak itself looked OK but everything else appeared to have been dumped on the plate including the lobster tail, hardly a way to treat an expensive ingredient. There was a slice of 'our famous onion loaf' along with more of that lifeless salad.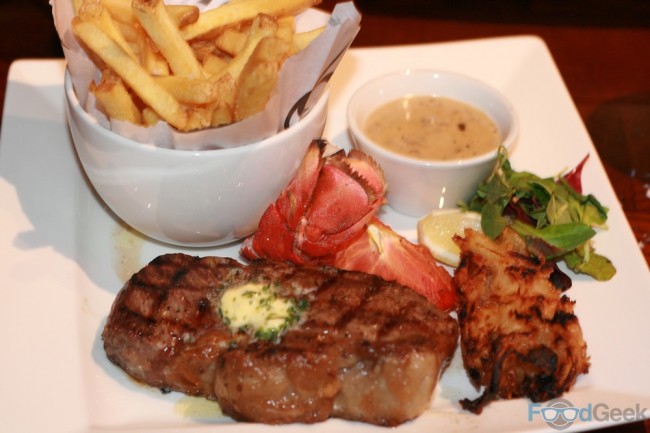 It didn't eat much better than it looked unfortunately. The steak was fine, cooked medium rare as requested but not the best quality and certainly not even close to being the best in Manchester. The lobster tail was a little chewy and almost certainly frozen while the onion loaf is just boring. I can't think what it could possibly be famous for, it's essentially just a clump of bland, under seasoned fried onions, almost like an Indian style onion bhaji but with zero flavour.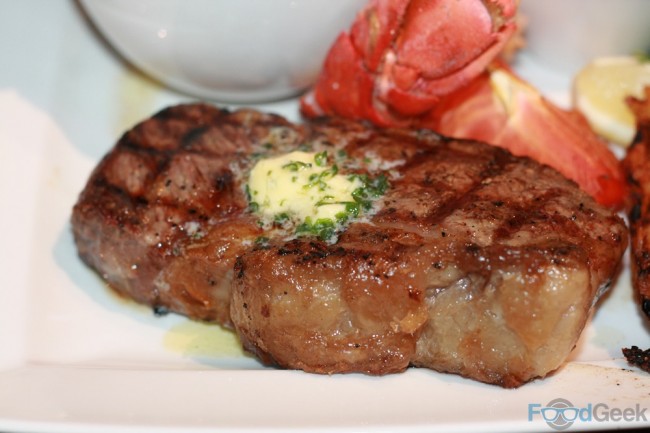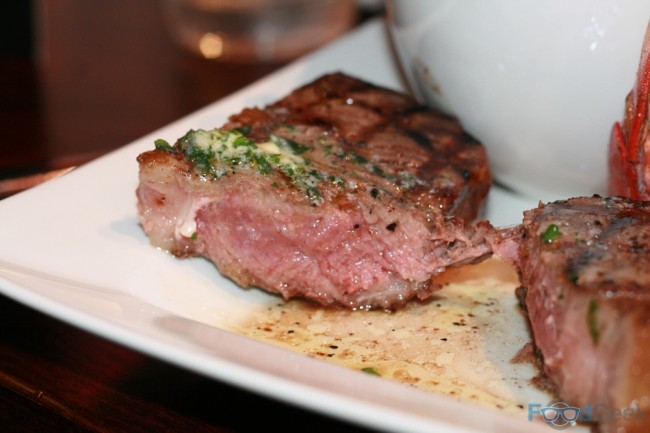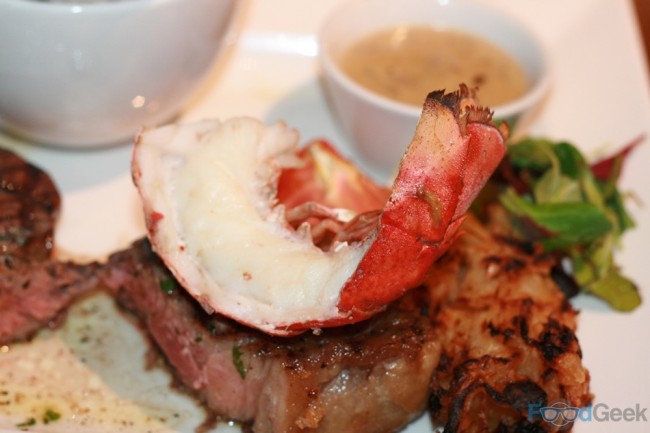 While my ribeye was just about fine, MrsFG's 'Fillet Wellington' was less so. Firstly it was pretty small, conveniently they don't mention the size of the beef on the menu, the fillet sold separately is 8oz, i'm guessing this was quite a bit smaller. It was smaller than the small baked potato it was served with. Again it was plated up with little care but the real problem was with the wellington itself. The meat tasted cheap, it was quite dry inside and the bottom of the pastry was like something from a Paul Hollywood nightmare.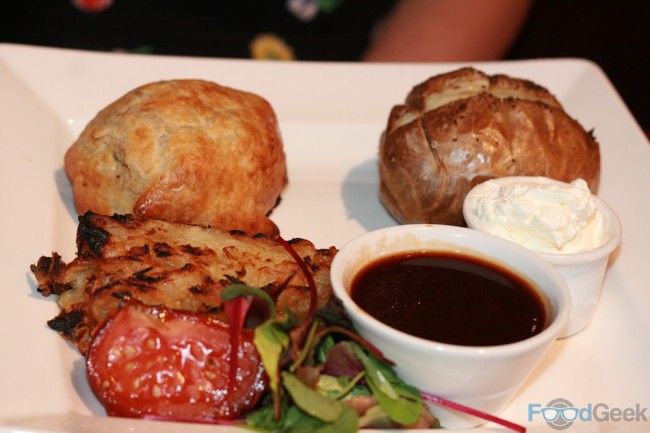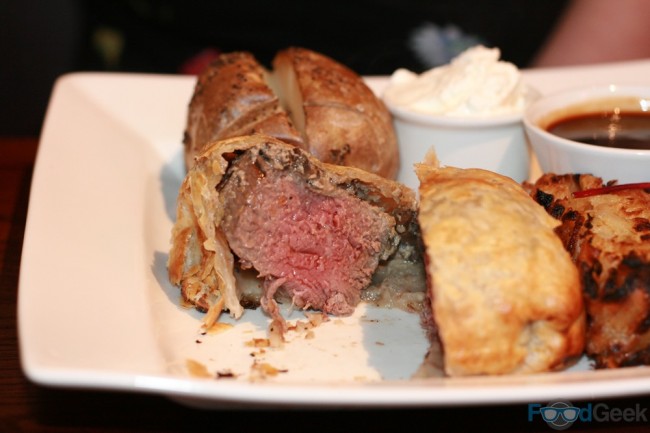 We'd had enough by this point so decided to skip dessert, just like Wahu we left Miller & Carter thoroughly underwhelmed.
It's not that all of the food at M&C is awful, bits of it were fine but it's definitely no more than average at best. Had it been a cheap 2 courses for £10 type place it would have just about reached expectations and while they're not somewhere I'd choose to eat there is clearly a market for them. But it certainly doesn't live up to the expensive prices, grand King Street setting or their own 'Best Steak In Manchester' hype. The already average food isn't helped by the dishes being plated up with such little care and glaring errors like bacon not being cooked properly. It's worth remembering that we were invited here to review the food, so I can only assume that this is as good as it gets and sadly for many people it could conceivably be much worse!
Staff were excellent though, both our waitress and the manager we spoke to were incredibly friendly and helpful throughout. Despite being underwhelmed by the overall experience I happily left a sizeable tip purely for their service.
Date of visit: 18.06.2014
Disclaimer: I was invited to review Miller & Carter and not asked to pay. As you will have noticed, this does not guarantee a positive review, only an honest account of my experience.