There are countless Italian restaurants in Manchester but unless you like dining with footballers wives there aren't that many good ones. In fact, I haven't eaten at one since Italia early last year and that's sadly no longer with us.
I'd never visited a 'Gusto' before – a chain of Italian restaurants by Living Ventures with branches in cities including Liverpool and Newcastle, as well as several closer to home in the likes of Alderley Edge, Cheadle Hulme and Didsbury – but I'd heard good things about them.
Earlier this month I was invited to preview their new Manchester restaurant, I went along to see if they were any better than the average Italian chains I'd got so bored of.
Located in the Grade II listed Elliot House on the corner of Lloyd Street/Deansgate, from the moment I walked through the door I was wowed by both its size and grandeur. It's huge and the decor is stunning; welcoming yet luxurious, they're certainly not trying to compete with Zizzi or Pesto.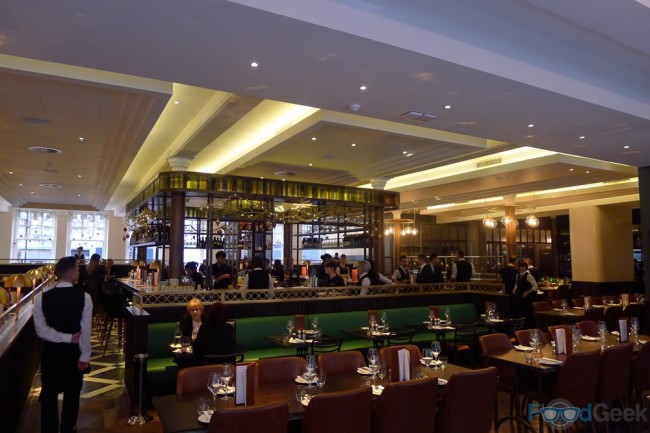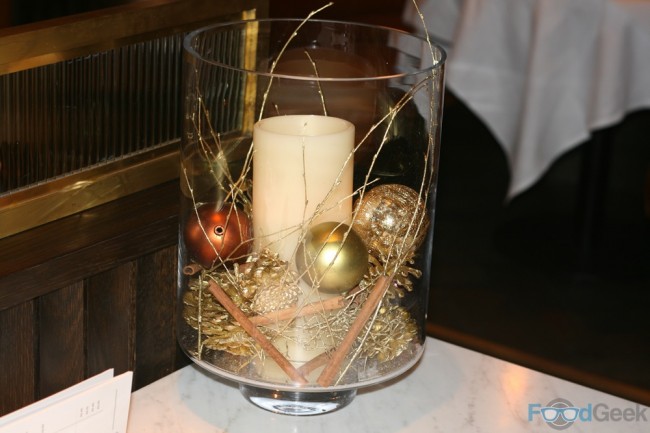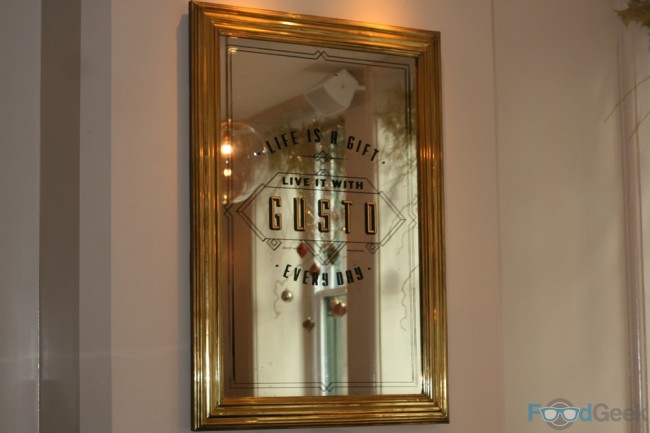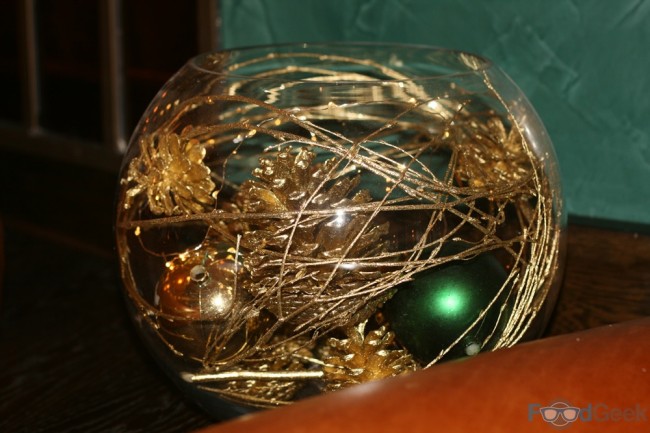 We were lucky enough to be seated at one of the best tables in the house, a super comfy plush leather booth.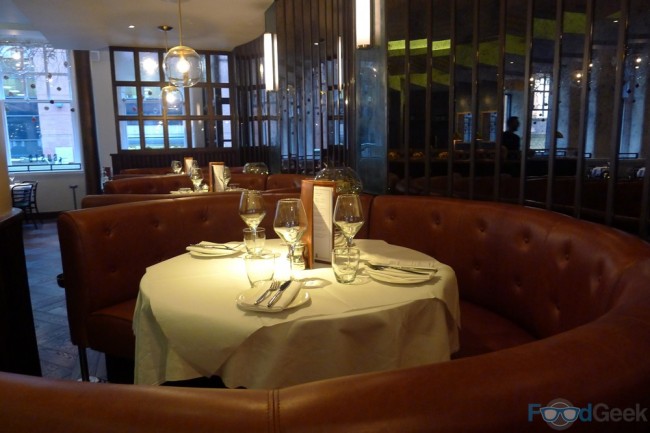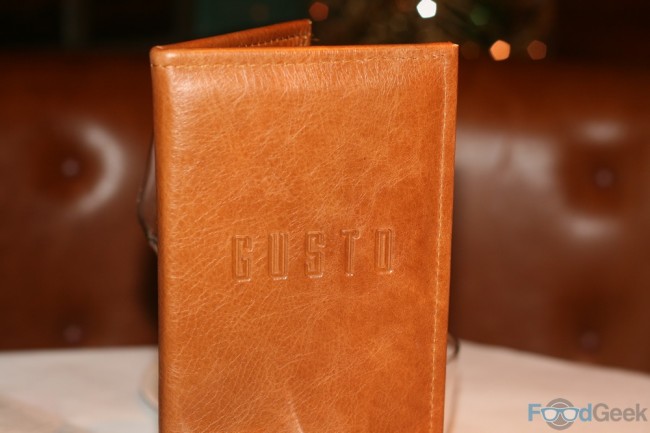 Whilst perusing the extensive menu we enjoyed a couple of cocktails. My 'Rosemary Twist' was fantastic. Short, strong and intriguingly flavoured; a combination of Havana rum, stirred with muddled rosemary, maraschino and orange liqueur.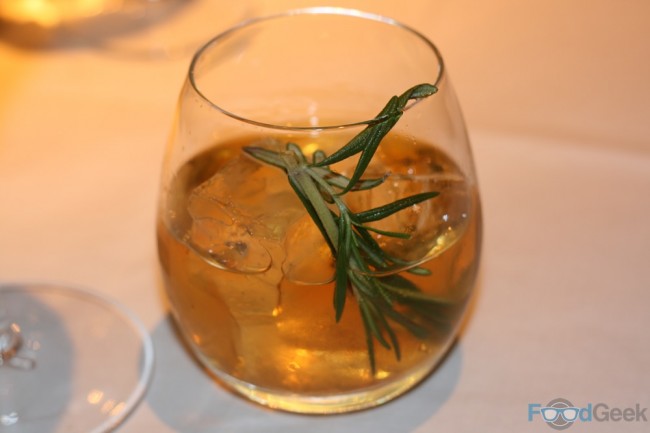 Mrs FG's 'Milk and Honey' was equally good. A sweet and creamy concoction of honey vodka and Havana rum, with a couple of fresh raspberries on top.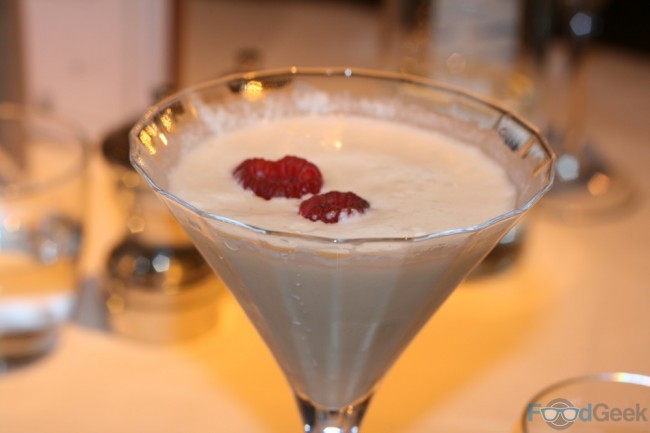 Before we'd even decided what else to order we received a portion of 'Dough Petals', similar to the famous Pizza Express style dough balls but much prettier and better quality too.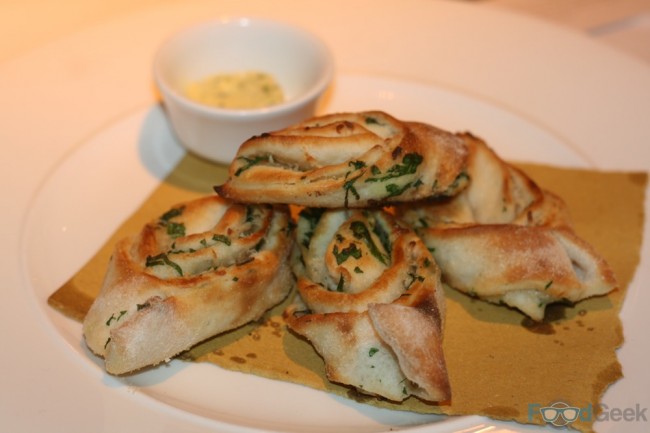 I went for 'Hand Rolled Meatballs' to start. Nothing groundbreaking here but nice and juicy meatballs in a tasty, slightly spicy tomato sauce topped with Grana Padano and griddled ciabatta on the side.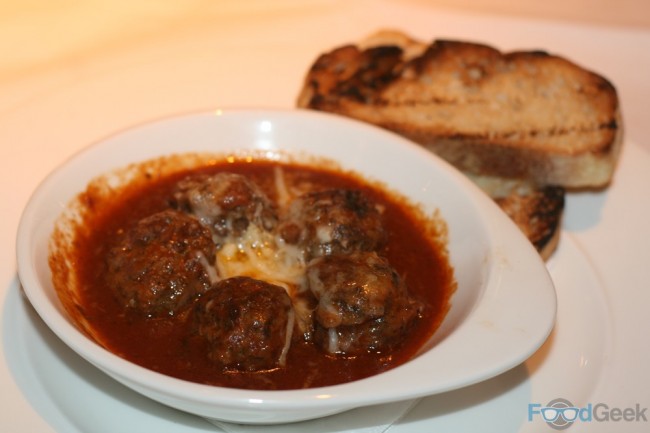 For Mrs FG, 'Goats Cheese, Pear & Beetroot Salad'. A generous portion for a starter, with a good amount of beetroot, pear and particularly the tangy goats cheese. We could've done with perhaps a little more of the walnut dressing that held it all together, but it tasted great.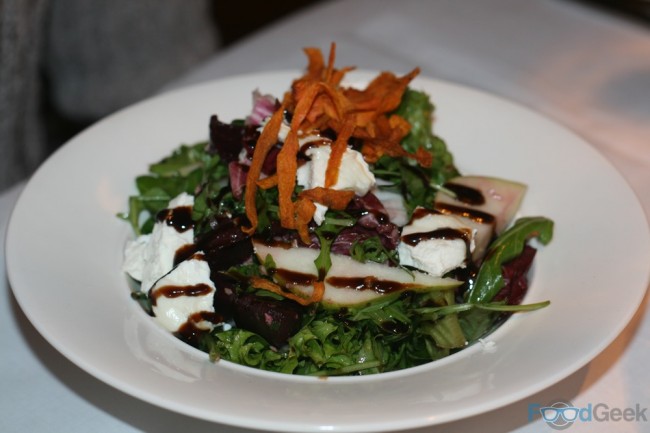 Despite the A La Carte menu already being on the large side there's a 'Specials Menu' too with several enticing dishes that we both chose from.
My 'King Scallops' were good but not excellent. I felt the samphire was slightly overcooked and I would've liked more colour on the scallops. I really enjoyed the combination of flavours though; it wasn't far from being a really impressive dish.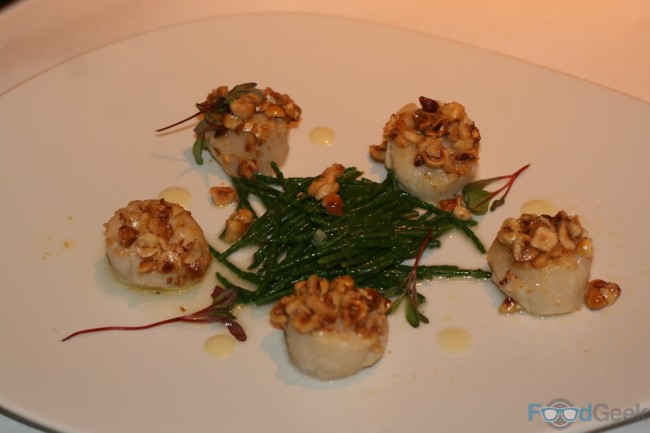 On the other side of the table Mrs FG was enjoying her 'Rosemary Cured Monkfish'. We didn't get much rosemary flavour but it didn't matter, it was all about the intensely rich lobster sauce. The texture of the fish was fantastic too; meaty but soft and succulent while the crispy speck ham added some bite as well as a deep smoky pork flavour. The ultimate surf n turf?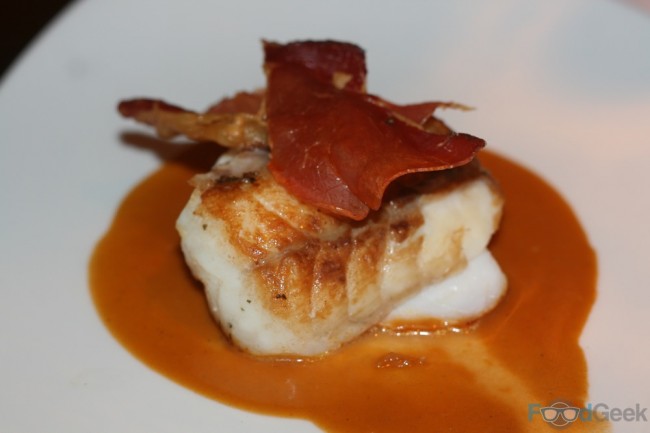 My only complaint about the Specials menu is that non of the dishes come with any sides. There are plenty to choose from of course but when dishes are already costing upwards of £20 and the sides are £3.25 each it soon mounts up.
We had 'French Beans with Shallots', 'Buttered Winter Vegetables', 'Rosemary & Garlic Roast Potatoes' and 'Roast Butternut Squash'. The roast squash and roast potatoes were very good, the other two were OK but like the samphire, maybe a touch overdone.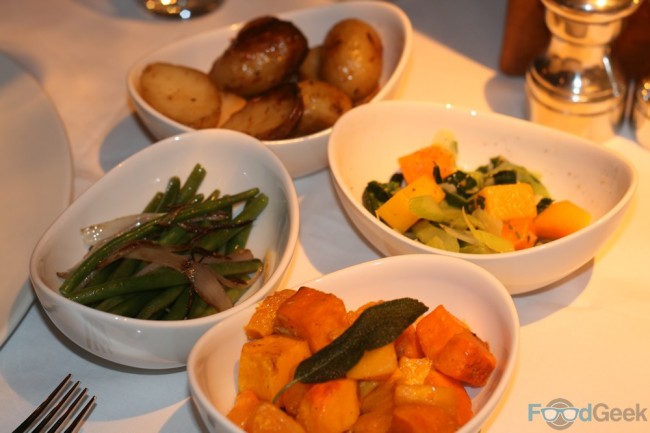 Choosing two desserts proved impossible, they all sounded so good. We eventually settled on three to share. A 'Ginger Panna Cotta' was served turned out on a plate, proudly showing off its impressive wobble. It tasted as good as it looked, rich, creamy and silky with a nice amount of ginger coming through. The strawberry and clementine on the side felt a little rushed and wasn't really necessary but it was a most enjoyable dessert all the same.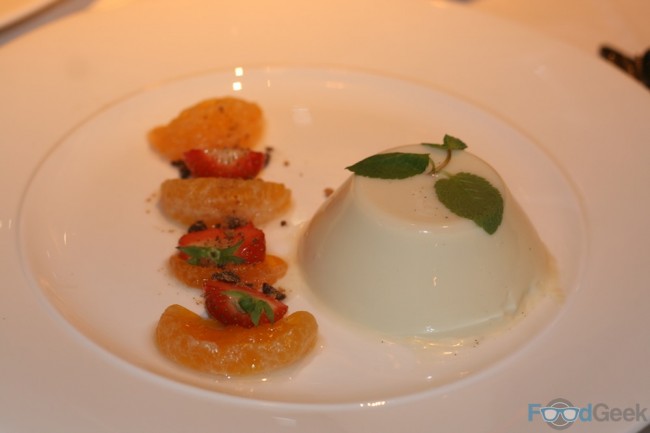 Also, 'Chocolate, Pistachio & Clementine Mess', a seasonal twist on a classic Eton Mess. The combination of flavours worked really well together and made for another good dessert. Although it was really difficult to eat from a plate and surely should've been in a bowl?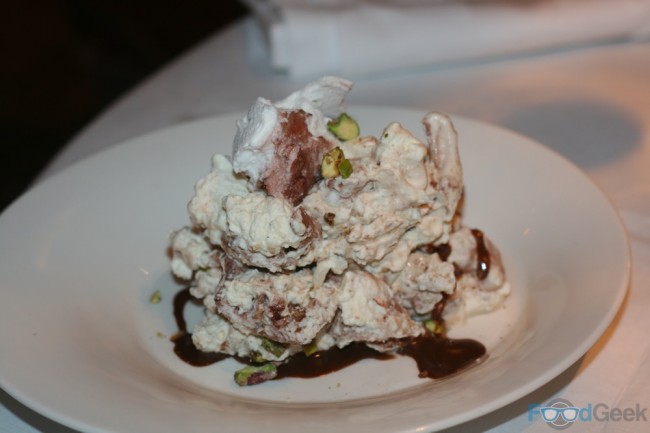 But my favourite was the 'Nutella & Mascarpone Calzone'. We were warned that there'd be a 15 minute wait for this dish, it was actually closer to 30 minutes which would've annoyed me had it not been as good as it was. It's sweet, chocolaty and indulgent, worth every second of the wait.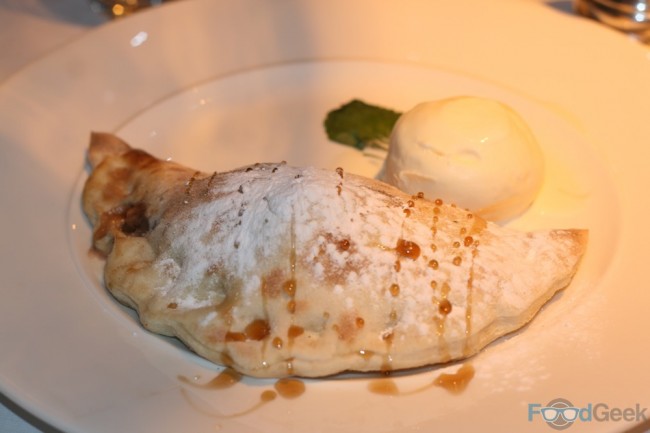 My pet hate in restaurants these days is not having a decent beer selection. Gusto only have two draught beers  – Becks Vier and Lowenbrau (I think)  – but a much more interesting range of bottles including many from Italian brewery Theresianer. It baffles me that the list isn't mentioned anywhere on their website (every other menu is, from cocktails to dessert, even children's and specials) nor listed on any of the menus in the restaurant either. Had I not specifically asked I'd never have known.
Thankfully the wine list is good and far better advertised. We had a couple of lovely glasses of red, a Malbec being my favourite.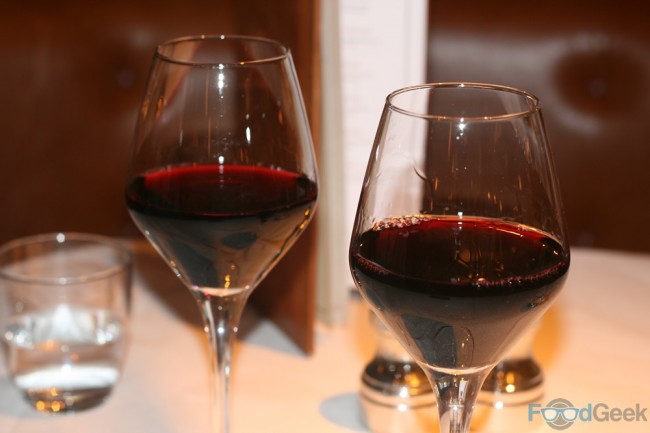 Overall I really liked Gusto. The interior is seriously impressive and in true Living Ventures style service was slick. Our waitress was so good we were surprised to notice towards the end of the meal that she was being shadowed by another member of staff who was essentially training her on the go.
While the food wasn't absolutely perfect it's important to remember that this was a preview event and the restaurant wasn't even officially open yet. There were no significant issues so I'm quite sure with a few more days experience these minor points will have been ironed out. Although it's not the type of place I visit regular, I'll certainly return at some point to find out.
I did feel the Specials menu is perhaps a bit expensive but the A La Carte is very good value. If the standard of food is kept high I think Gusto will be another huge success for Living Ventures.
Date of visit: 03.12.2014
Disclaimer: This was a press preview event held before the restaurant was officially open. As such our food & drink was complimentary in exchange for our opinions.