I love food and I love beer, but I hate the cold. So I was torn as to whether a freezing railway arch at the end of January was the ideal time and place for a beer festival in Manchester. But I trusted the people involved and rightly so, as what Grub Winter Beer Fest lacked in temperature, it more than made up for in other ways.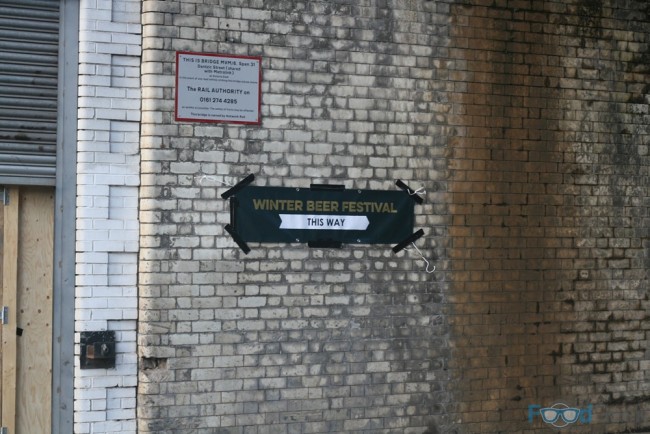 Grub are a new street food company founded by Bailey, half of the Arepa!Arepa!Arepa! guys. Their aim is to help passionate home cooks establish themselves in the industry as well as bringing quality existing street food vendors to their events. A refreshing change given that much of Manchester's 'street food scene' at the moment appears to be passing off established restaurants as street food whilst charging extortionate prices for crap drinks.
Winter Beer Fest was a collaboration between Shebeen Events, Blackjack Beers and Grub of course (and later Runaway Brewery).
The event should have been the first at Grub's own Green Quarter arch but delays meant it wasn't ready in time. Fortunately, kind neighbours – and makers of great beer – Runaway stepped in and offered the use of their brewery just a few arches down, which turned out to be a fantastic venue.
* Remove joke about piss up in brewery after reading it in another review. Must blog faster *
Taking place over three days, Friday – Sunday and with two separate sessions on the Saturday, I struggled deciding which to go to. Not wanting to miss any of the 66 beers that were to be spread across the weekend, I did the only sensible thing, attended all four sessions.
Beers were curated by local brewery Blackjack; I was impressed with the selection listed in the program. Almost every taste was catered for from sour beers to black saisons, double IPAs to dark, strong stouts.
Serving beer in thirds is another must at a beer festival; yet amazingly many don't. There's no point having so many beers if people don't get to try them. According to my Untappd checkins I managed 31 over the three days at Grub (although one was a bottle I'd sneaked in myself, sorry Bailey!).
I didn't have a bad beer all weekend, coming from quality UK breweries like Marble, Weird Beard, Siren, and Brew By Numbers they were all a very high standard. With a couple of really exceptional ones including the limited 13% Wild Beer sake based Yadokai. Other favourites were: Weird Beard – Rye Smile, Marble – Roggen Schwarzbier and Runaway's own 'Smoked Porter', the first and apparently only time on cask.
As their name suggests Grub are serious about food, so the event was as much about what there was to eat as drink. I managed to order from eight of the ten street food vendors over the weekend.
Friday
Starting with Maiden Taiwan on the Friday. You'd never have guessed it was their first appearance. Not only was the food excellent but service was fast and efficient too, thanks to a simple but highly effective numbering system that more experienced traders might like to take note of.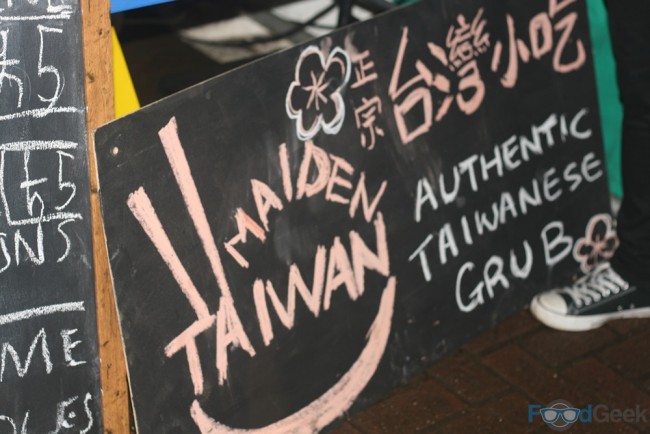 'Leek & Aubergine Stew' with rice was warm and comforting with plenty of flavour, perfectly suited to the cold evening.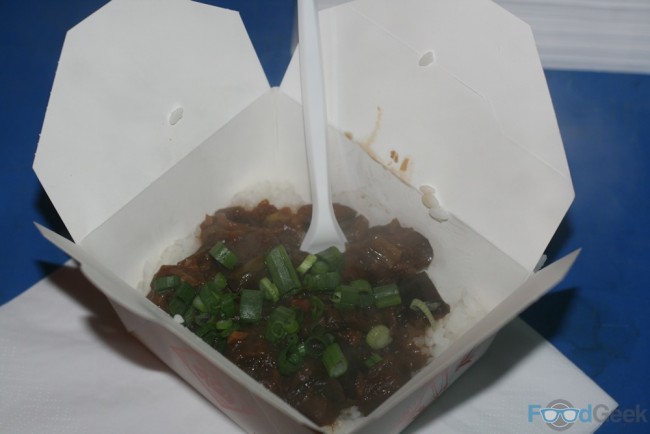 Better still were the 'Pork Wontons'; gorgeous little steamed dumplings filled with pork and vegetables on a bed of beansprouts, with a fragrant savoury soy dressing and loads of hot chilli on top. I loved the Chinese style take out boxes too, a really nice touch.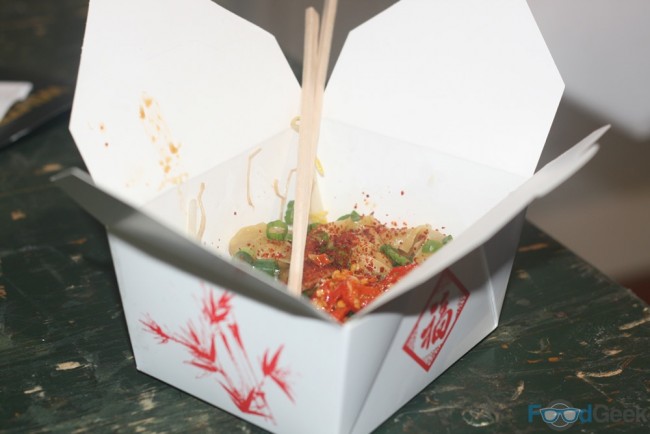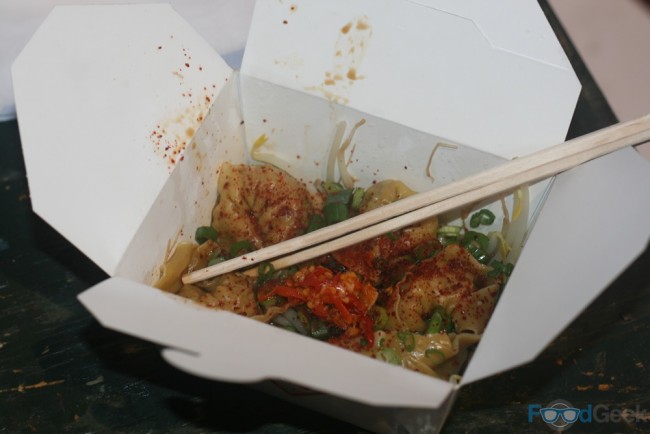 Followed by a cheese plate from the award winning Epicerie Ludo. I'd seen so many people eating them at Indy Man last year but despite them looking fabulous didn't try one myself. I'm glad I did here; just £5 bought three generous slabs of cheese and a whole, freshly baked baguette!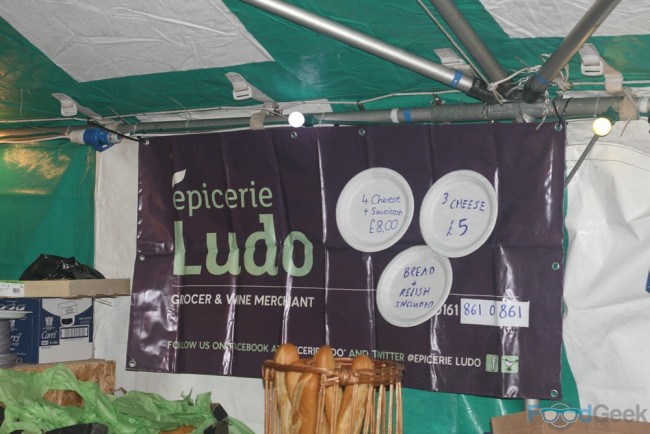 We went for a young goats cheese, Brie De Meaux and Tomme de Savoie, a French alpine cheese. All excellent quality and a beautiful match for the saison we were picked to drink with it.
Supposedly served with one relish but we cheekily asked for two, because you know, decision-making is hard. The spicy tomato was great, though not particularly spicy while the apple and cider was my favourite.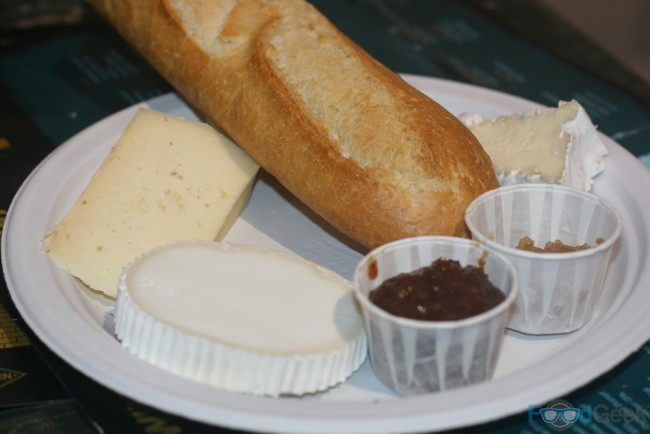 I didn't try anything from 'Cowboy Burger', but was tempted by the fresh doughnuts I spotted them selling on the way out, along with some decent looking burgers.
 Saturday
After a few hours sleep I returned at midday on the Saturday to find a much calmer and warmer venue and four new street food traders.
This time I started with Fu Schnikens who were recently crowned 'best street food in the UK' for their Taiwanese steamed buns.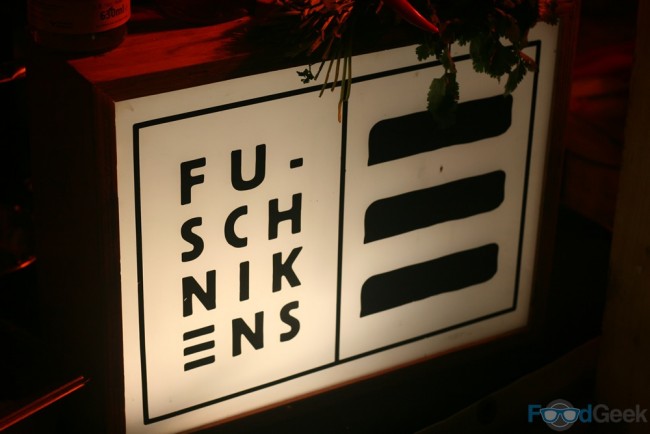 I enjoyed both the 'Glazed Pork Belly' and 'Sticky Soy Ox Cheek' buns; the handmade hirata buns were outstanding and the meats were very tender but I found the fillings a bit sweet. Both had been cooked with palm sugar and for me it needed more acidity to balance the sweetness. With a squeeze of lime they could've been perfect. I did love the pickled mooli (or daikon as the cool kids call it) and carrot that came with the pork belly, as not only did it counter some of that sweetness but added a lovely crunchy texture to the soft bun and meat too.
I'd more than happily order them again but couldn't help remembering the steamed buns I had from Yum Bun at Street Feast, London which I preferred and were the same price but bigger.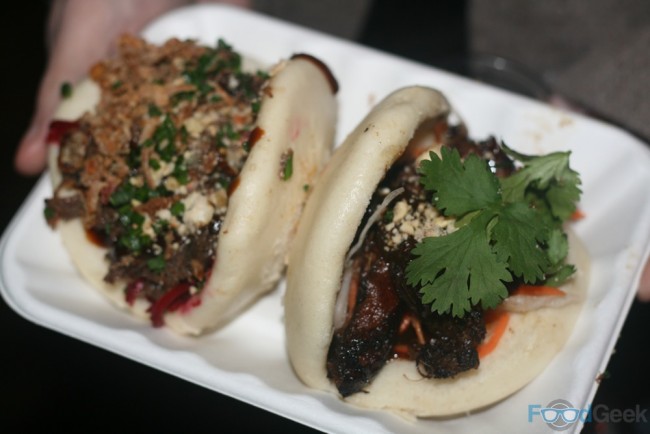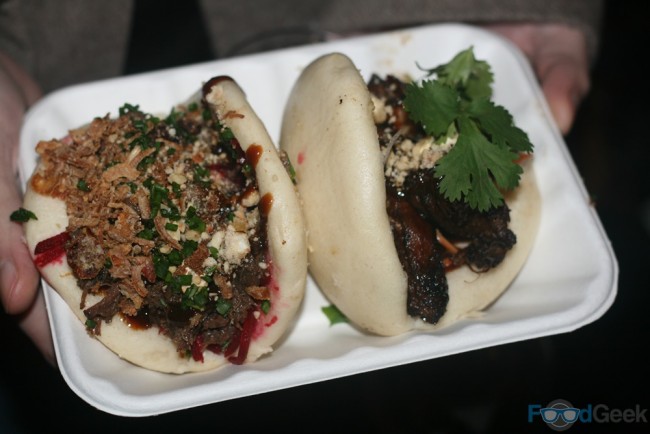 With an hour to wait between the afternoon and evening session we took the opportunity to spend some time in one of my favourite pubs, the nearby Marble Arch. Although we were allowed to stay at the festival, the bar wouldn't be open during that time and I didn't fancy my chances of making a drink last that long.
Whilst warming up at Marble Arch I ate the biggest cheese board of my life, but despite that I returned to Grub determined to eat more.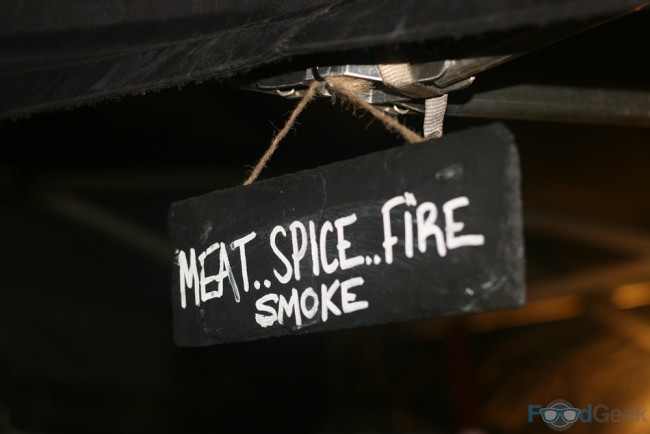 Starting with Andy's Low 'N' Slow, a BBQ expert from Birmingham, another new trader for me.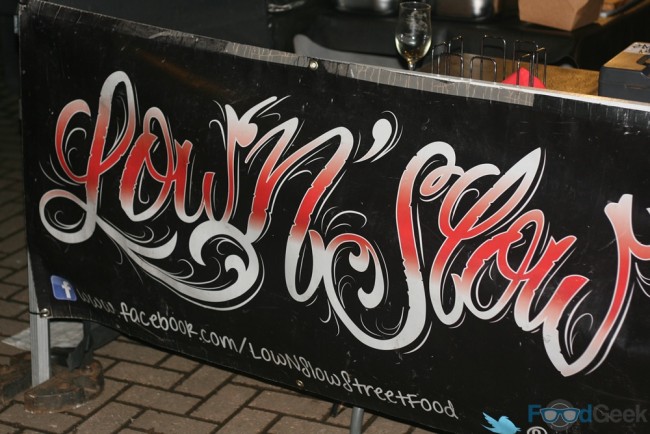 The 'Hickory Baby Back Ribs' weren't quite as tender as I'd expected but tasted fantastic, I loved the sweet and spicy glaze.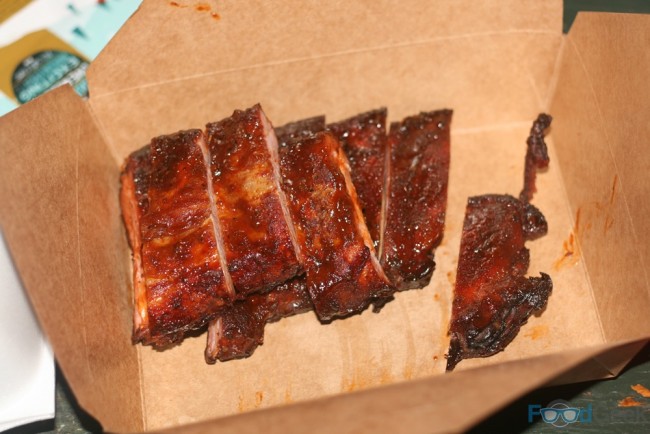 Meat doesn't get much more tender than their 'Smoked Brisket' though.Wonderful layers of spice and smoky flavoured succulent meat served in a brioche bun with bacon, mustard slaw and pickle. Perfect for this crowd, and the weather too.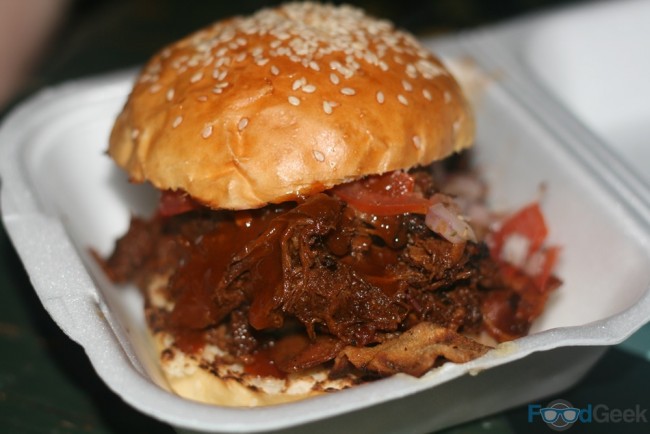 Dessert came from yet another new street food trader; The Ginger Tart.
Both the 'Salted Caramel' and 'Bacon' brownies that I tried were great, but my favourites were the 'Raspberry Macaroon' and particularly the 'Lemon Meringue', which was brilliant, with just the right balance of sweetness and sharpness.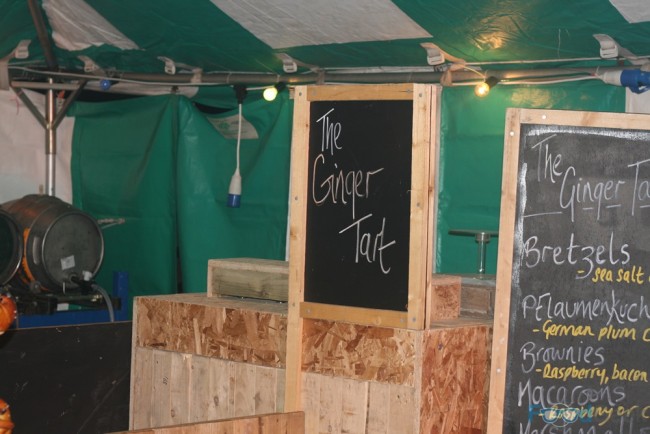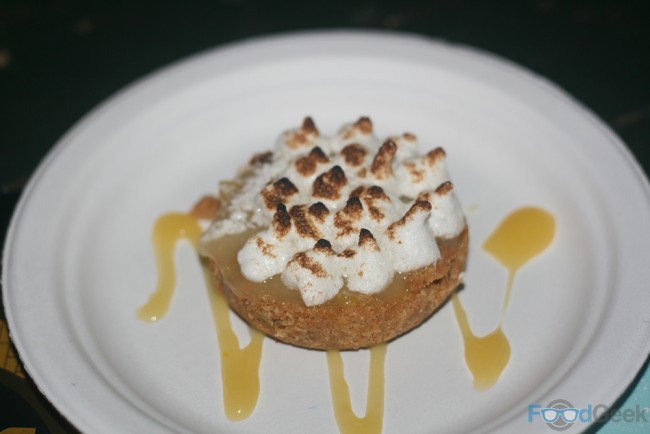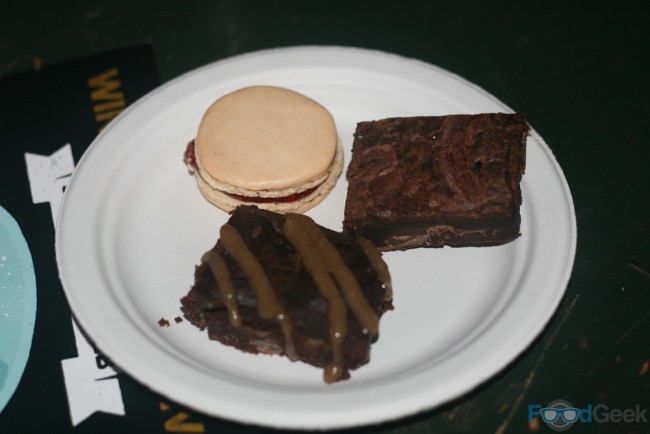 My only regret was not getting to taste the food of Comida, run by friends Jamie & Anna. Their Spanish inspired dishes looked and smelled amazing, I knew how good they would taste too after attending (and loving) their Spanish supper club last year where a couple of the same dishes featured.
I left genuinely gutted about it, I'm totally blaming that cheese board at Marble.
Sunday
On the final day 'Season's Eatings' produced by far the most beautiful looking food I've ever seen at a beer festival. It tasted every bit as good as it looked too.
'Guinea Fowl, Chicory, Apple, Chestnuts' might not be the most obvious set of ingredients to serve to a crowd of hungry beer drinkers but it went down brilliantly well. A superb combination of flavours and textures.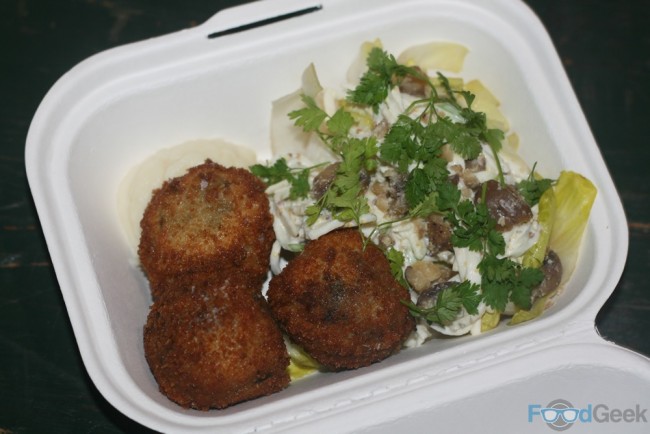 And their 'Chickpea Chips' were a revelation. Despite being the worlds biggest chickpea fan I'd never heard of them before. Presumably they're made from chickpea flour, they taste similar to polenta chips with a creamy interior and super crisp exterior. So good.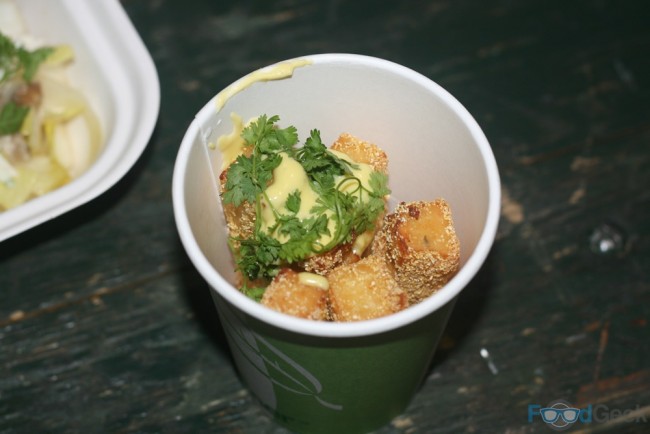 Again, 'Mackerel Sourdough' wasn't necessarily a natural fit for the crowd but I loved it. The fish was supremely fresh and complimented by the other ingredients such as carrot, samphire and ricotta.
It's great that they were confident enough to do this type of food and to such a high standard. Proving that you don't have to serve lowest common denominator junk food at such events.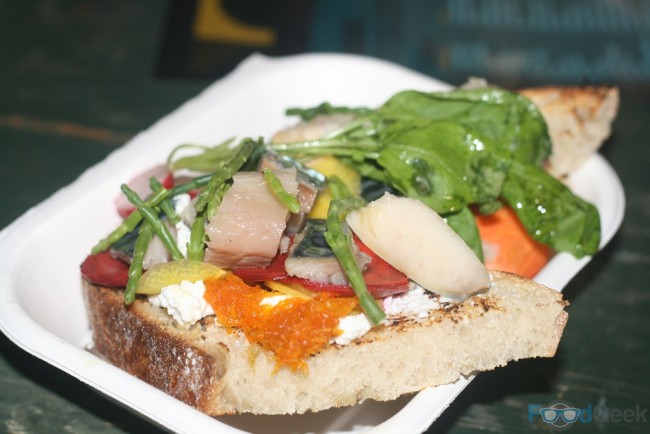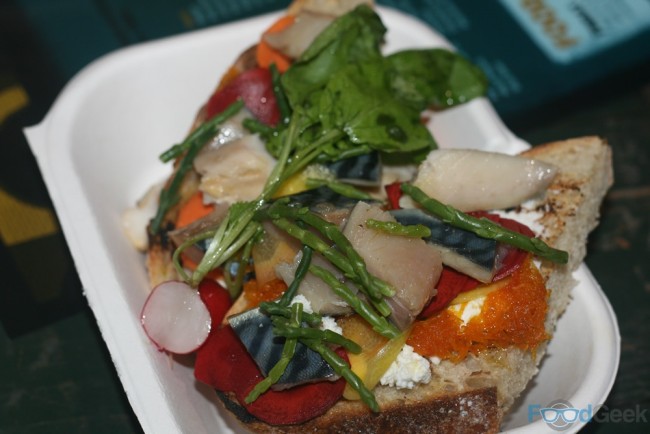 Having said all that about Season's Eatings though, certain foods are just made for beer festivals and the next trader has two of them well and truly covered.
'Bangers and Bacon' are a collaboration between Richard (previously of Flavours Found) and James of Bobby's Bangers fame.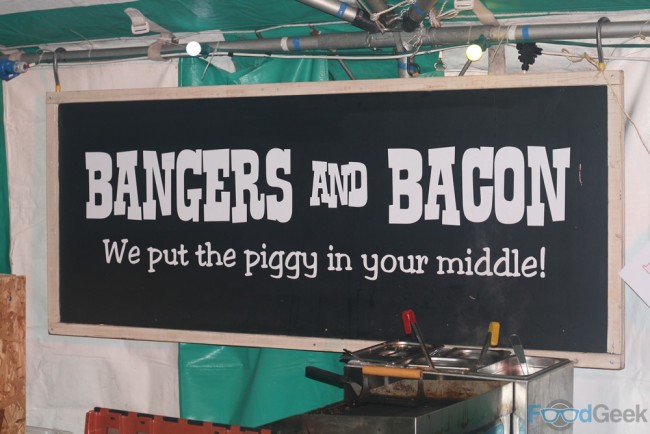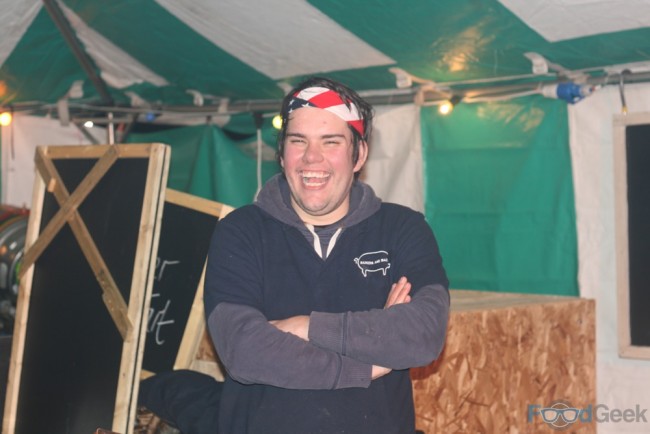 'Piggy Poutine' gets no marks for appearance but tasted incredible; a box of chips drenched in thick, rich sausage gravy with chunks of quality Bobby's Bangers cumberland sausage, topped with crispy onions and cheese.
It's trashy but oh so good, particularly after <insert random number> beers.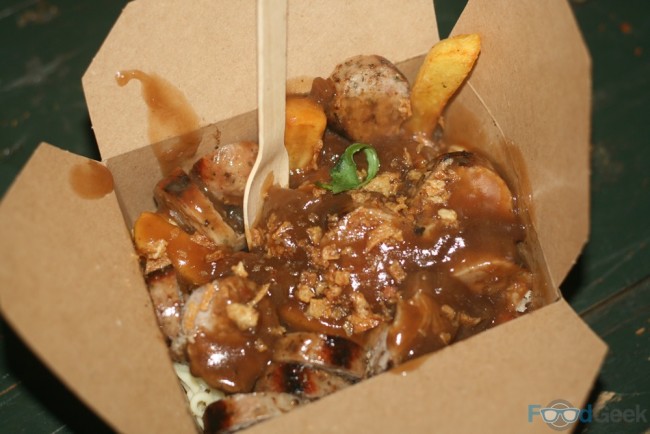 It seems James and Richard are fond of a pun or two when it comes to naming their dishes. 'Yippi Kai Yay Mutha Porka' sounds a bit silly to me but was a great burger nevertheless.
A semi cured pork patty with fennel, chilli and garlic wrapped in bacon on a soft bun with salad and slaw. The fennel stood out and worked brilliantly with the pork.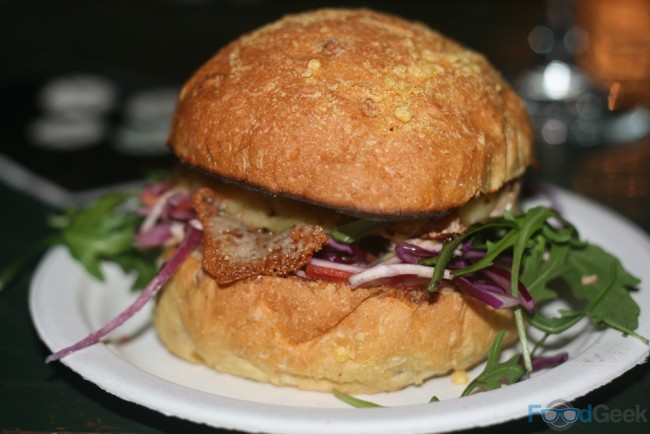 As the doors were closing and they were getting ready to kick me out there was just time for a quick dessert from 'Little Italy Kitchen'.
Nata's – Portuguese custard tarts – are one of my favourite things in the world. I enjoyed these but would've preferred it cold as rewarming it caused the pastry to go a bit soggy. Still a good tart and a fitting end.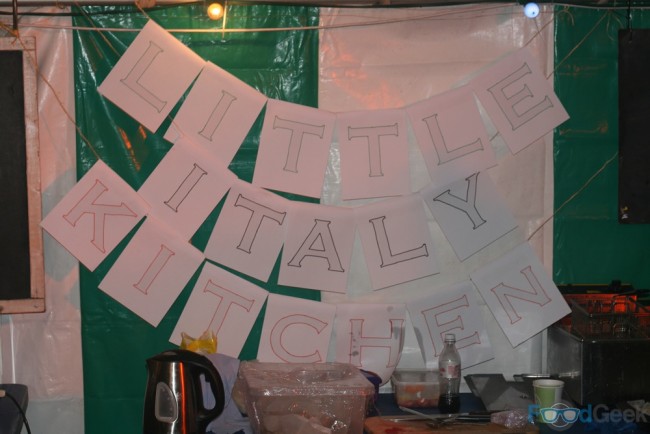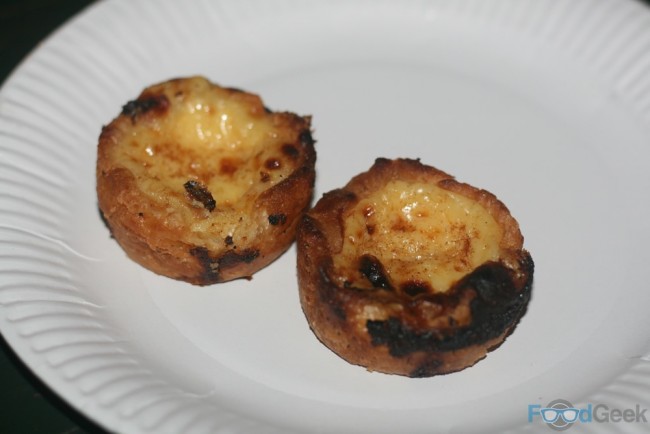 The festival also featured various entertainment throughout the weekend, with several live acts and DJs.
I won't lie and pretend I know anything about them though. I went to eat and drink, the acts were just background noise, and at times a little too noisy for me. But I appreciate people go to events for different reasons and others certainly seemed to be enjoying them.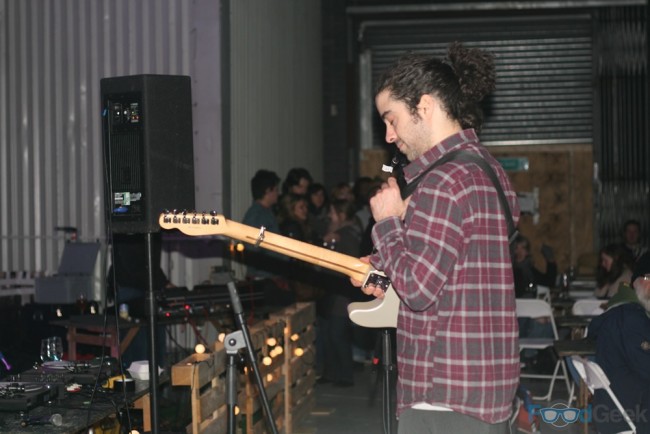 For me, the only real problem with the event – besides the cold that I won't hold them personally responsible for – was a lack of rotation with the beers. With 66 beers listed but only 30 lines (20 keg and 10 cask) they obviously couldn't all be available at once.
But there were only a few changes during each session and despite attending them all, some of the advertised beers didn't appear at all, much to the disappointment of people with carefully planned wish lists (okay, possibly only me!).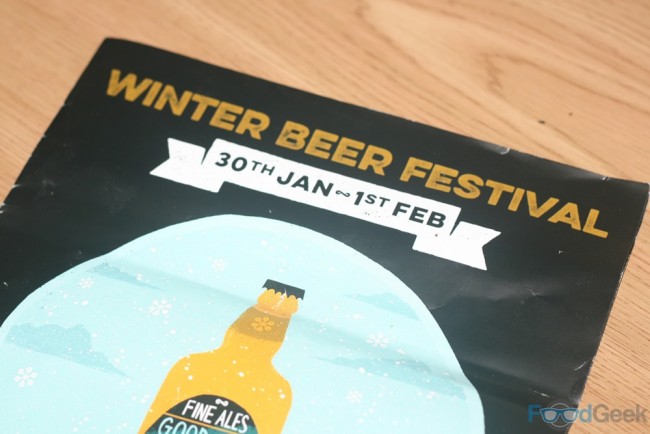 This was far outweighed by the many positives though; a great atmosphere at every session, quality food, the beers that were available were excellent and a good range across the four sessions. Tickets were cheap, beers even cheaper and the glasses were returnable, we kept ours because they're great but it's nice to have the option.
Overall it's a brilliant addition to Manchester's festival scene and I hope it's the first of many. In fact, their next event is already planned for May; not just a beer festival but a multi venue event with each unique location (all in the Green Quarter) offering something different. From street food and beer to music, comedy and even art installations!
You Can Help!
Blackjack, Shebeen and GRUB have got together as a new company called Keystone. They need our help to build a top quality venue so they can bring us more great events. They've setup a Kickstarter campaign to help fund their plans. I've already backed it and you can too here.
Date of event: 31.01.2015, 01.02.2015 & 02.02.2015