When planning a trip to Harrogate last year, my first choice for main evening meal was fine-dining restaurant Van Zeller. However, after stumbling upon Norse, a Nordic inspired restaurant with stunning Noma-esque dishes and a glowing Jay Rayner review, I just had to go.
Rearranging Van Zeller for lunch the following day, I booked Norse for the Friday evening.
Located within Baltzersen's, a café offering traditional Scandinavian inspired dishes, they close for an hour in the evening before reopening as Norse, serving a more modern, innovative menu.
It was incredibly busy inside; there was a wait for our table so we ordered a couple of cocktails from the bar whilst perusing the menu; Dirty Beets and a Chipotle Margarita. The beetroot drink was fantastic – a combination of beetroot vodka, Cointreau, lemon and Bramley apple – but the margarita wasn't so good. I didn't pick up much chipotle and it needed far more lime for me.
Head chef Murray Wilson is a former Masterchef 'The Professionals' finalist who went on to work in top restaurants including Claridges and Michelin starred 'The Yorke Arms' before Norse. The food here is clearly influenced by Noma, the menu is full of references to pickling, curing, fermenting and dehydrating.
There are no starters, main courses or sides, just a choice of eight savoury and two sweet dishes. We went for the tasting menu, six dishes selected by the chef.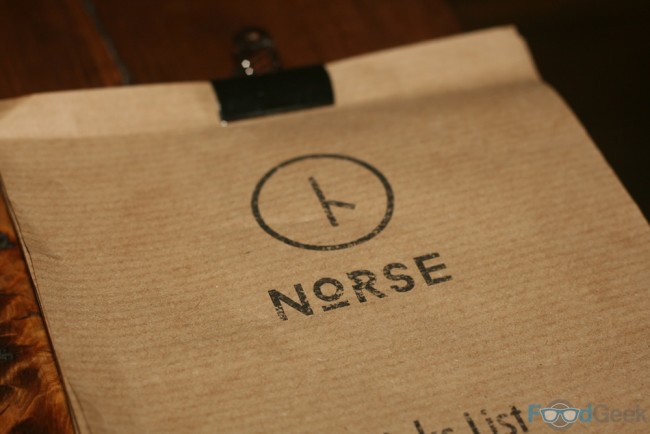 Whilst waiting for the food to arrive we were offered a couple of 'Snaps'. I'm not generally a fan of shots of anything but these house infused vodka's were actually quite nice, particularly the pine flavoured one.
Next we were served fresh crusty bread with lovely goats milk butter and intriguing mixed seeds, puffed rice and lemon zest for dipping.
The first course saw a poached baby globe artichoke served with pickled pear, blue cheese, chervil puree and chilled chervil broth. A pretty dish and an unusual but beautiful combination of flavours that worked well together.
Then soused mackerel, fennel and apple salad, burnt apple puree, sour cream and bacon crumble. The quality of mackerel was excellent and worked brilliantly with the fennel and apple salad. The addition of burnt apple puree and bacon crumbs really elevated the dish.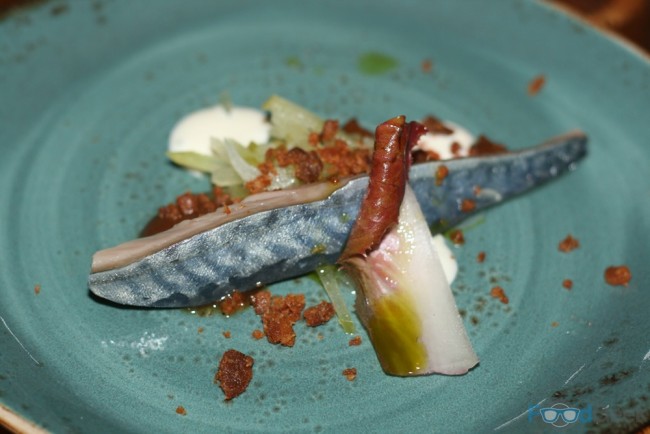 Another good fish dish followed; pan fried plaice with mussels, salsify, samphire, burnt cream and hay baked celeriac.
The delicate fish was cooked to perfection, as were each of the other components. There were so many different flavours on the plate but they all worked together in perfect harmony, the burnt cream was particularly good with the mussels and baked celeriac.
My favourite dish was pig cheek, braised in Bad Seed Brewery's Saison; dark, meaty and ridiculously tender, served with whipped goat's cheese, trompette de la mort (mushrooms) and squash. The contrast between the rich, sticky pork and light, tangy goats cheese was brilliant.
Mrs FG had opted for the drinks pairing menu and was disappointed to have received three fairly average white wines with the courses so far. But this course came with the Saison that the pig cheek was braised in, the best pairing yet.
The duck dish was also excellent. Seared breast of wild Yorkshire mallard, duck rillette, chantenay carrots, braised red cabbage, chestnut crumble and smoked duck sauce.
Again there was a lot going on on the plate but everything felt like it was there for a reason. The duck was superbly cooked and tasted fantastic; the highlight of the dish was the intense smoky duck sauce.
The drink choice was spot on again too, a lovely fruity Shiraz.
Dessert was poached pear with tonka bean and brown sugar, white chocolate sorbet, pear & nutmeg puree and rosemary crumble. The quenelle of white chocolate sorbet was immaculate and everything tasted so good together, another perfect combination of flavours.
I found the dish a little dry though and would've liked more of the puree on the plate.
Dessert was paired with a cocktail, 'Tea Thyme', a combination of lemon thyme vodka, cloudberry liqueur and green tea.
It was incredibly sweet and had a background flavour that can only be described as kitchen cleaning products. Neither of us were able to finish it.
We loved everything we ate at Norse, but weren't particularly impressed with the drinks pairing, only really enjoying two of the six selections.
I definitely got the best deal by sticking to a few beers from nearby brewery Bad Seed. I've been a fan of them for a while so was happy to find some interesting specials that I'd not tried before.
Despite my reservations about the drinks pairings I loved the food at Norse, service was good and we had a great time overall. So much so that we returned the following day to see what it's like in the day time as Baltzersen's. The cafe menu looked amazing but we only sampled a savoury pastry and a few drinks since we already had a lunch reservation at Van Zeller (review coming soon).
I'll happily return to both Baltzersen's and Norse next time I'm in Harrogate.
Date of visit: 28.11.2014
Follow @FoodGeekUK