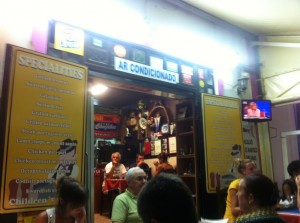 For my last day on the Algarve (sniff) I wanted something really traditional and very Portugese. After some searching I found O Alentejano which sounded like exactly what I wanted. It was another win for the internet as not only would I never have heard of the place without TripAdvisor reviews but I wouldn't have found it either without Google Maps on my phone.  Located in a back street just off the main road in Albufeira old town, I probably would have walked past if I didn't have a map telling me I was there. The place is tiny, with no more than 8 tables outside and half as many inside. It was quite full when we arrived and completely full very quickly. There were even people standing around waiting for the tables later on so it clearly has a great reputation. By the time our starters had arrived I was beginning to see why.
We went for 3 starters and all 3 were excellent. The 'Tomato & Mozzarella Salad' was light and fresh, perfectly seasoned with amazing quality tomatoes and just delicious. 'Smoked Cheese & Sausage Platter' was equally good, with a selection of excellent chorizo style salamis and some of the best smoked cheese i've ever tasted. Finally 'Mushrooms & Ham' was really 'Mushrooms & Bacon' which we all know is a classic combination, it works and it was great.
Although i'd eaten a lot of seafood over the previous 7 days I hadn't yet tried one of the famous Algarve dishes 'Cataplana'. I'd seen it on many menus so being my last day I knew I had to order it as soon as I saw in on Alentejano's. It arrived in a loverly hinged copper dish with it's lid closed, the lid was then lifted to reveal a looking fish stew full of seafood and a gorgeous smell. I later found out that like a Tagine, Cataplana is the name of the copper dish as well as the recipe itself. The fish, prawns & mussels were all cooked to perfection, the sauce was deep and rich with an intense seafood flavour and full of tomatoes and peppers. It was so good I only wished that i'd ordered one earlier in the week and ordered it from a few other places.
It was a struggle to choose from the dessert menu once again, being the last day we decided to try 4. They were Crema Catalana which is basically a Creme Brûlée and a good one too. Profiteroles which were excellent, really light and soft choux pastry filled with delicious rich cream and topped with chocolate sauce. The almond tart was good as well, the only disappointment was the Chocolate Mousse which was like 2 separate parts,  the top was so light and airy it just disappeared and the bottom was runny and not at all mousse like. I've no idea if it was supposed to be like that, i'd like to think not.
The only other slight negative was the incredibly slow service, after our starters we waited an increasingly long time between courses, for orders to be taken, extra drinks and especially for the bill. Even though there were many people waiting around for our table, you'd think they'd want to get us out as soon as possible to give the table to somebody else but apparently not. Although let down a little but the service the food was good, simple cooking but done well with good ingredients. It was a good representation of Portuguese food and worthy of my last meal in the country.
Date of visit: 22.08.2012
Follow @FoodGeekUK